No one's dressed like they are— glitter-pressed like the are— no one's show's as incredibly blessed as they are! For their whole run is already sold out! There are definit'ly worse problems to haaaaaave! Their production's so unique and awesome! That September Song packed all the seats that they have! Who do they think they are? That theatre has tangled up with the right people— darn right they have! Well, gosh it disturbs me to say this, you see, 'cause it sounds like I'm gloating— I know. But I'm very lucky because I got to be, in the audience of their fabulous show! And there's no show in town quite as magic, you see— they've got glitter and glamour and poise. With epic great sounds and performances 'round, it's a shame you'll miss these girls and boooooys! They'd invited you to be their guest Beauty and The Beast if they hadn't already sold out!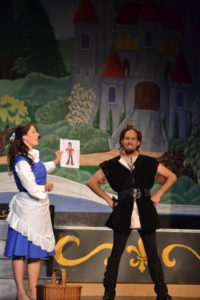 Magical enchantment is crackling in the atmosphere— seriously, it's in the air with September Song's current production of Disney's Beauty and The Beast. There's actually glitter everywhere, you can see it twinkling in the darkness between scene changes and at first it looks like a trick of the eye but you soon realize that it's an ever so subtle intentional approach to making the show that much more whimsical, livening up the fairytale production that's run rampant across Maryland this 2017 theatre season. Directed by Laura-Beth Wonsala with Musical Direction by Diane Jones and Choreography by Amy Appleby, September Song is putting a unique spin on the iconic Beauty and the Beast, making it a signature production all their own.
Jim Stoneberger has crafted a simple yet lovely set upon which the fairytale unfolds. The steps leading up to the proscenium stage are fairytale book spines— remarkably clever, no? But look closer— they aren't just any storybooks, they're various production titles that the company has produced over the years, with the various directors as their authors. Without wanting to spoil the magic entirely, it must be said that Stoneberger employs simplistic theatrical magic when it comes to making Belle's library pop to life. The castle tower too is a thing of solid constructed beauty. Vivian Davis has added her talented hand to the scenery, providing a custom backdrop, which ever so subtly features the company's logo in the flag flying atop the castle, against which the story is set. Prop Master Missy Grimm throws her hand into the ring as well, assisting with lots of intricate little details that make the show a treasured Easter-egg hunt for anyone who thinks they know Beauty and The Beast.
Excellence in excelsis deo are the praises to be sung at Costume Master Sandy Baker and Assistant Costumer Denise Frazier. Their vivid and imaginative take on the enchanted objects alone is astonishingly marvelous! They've thought outside the box when it comes to outfitting the company— creating adorably sweet costumes for the children in the production including two sugary cupcakes (Jordan Blackburn, Jeri DiBuono) and a sugar cube (Ashlan Wonsala), all of which include miles of sparkly glitter and shimmery shine in their construction and fabrication. Baker and Frazier do quite the number on the Silly Girls' (Compton Little, Brooke Nixon, Lillian Stoneberger) costumes as well, taking three shades of avocado, lime, and cream-green, and patterning them into mix-matched skirts, peasant tops, and aprons so each girl looks just a little bit different while curiously the same. They even think outside the box when it comes to Gaston— giving him a rogue and ruthless black hunting outfit for the first act to create the loathsome villainy in his character early on. Naturally the iconic looks— like Belle's blue and white affair for the first half of the show and the glorious glamorous gold gown for the dancing scene— are still featured, but these costumes too have their own uniqueness about them, making them exclusively a part of the September Song vision for the show.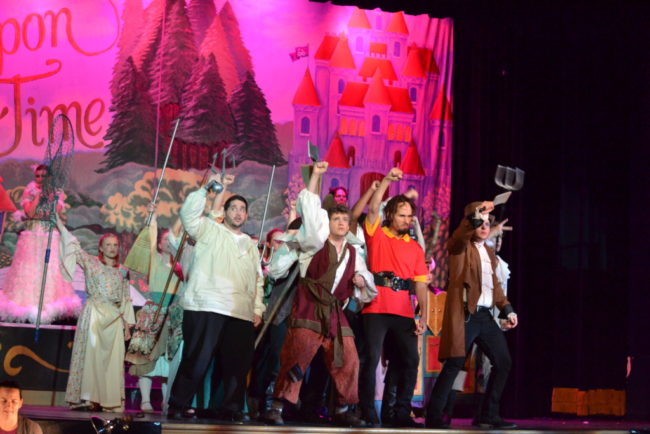 Speaking of vision, Lighting Designer Tabetha White and her assistant Lindsay Sier brighten and darken the overall appearance of the show with great strokes of color and mood lighting all throughout the performance. Their use of shadow and dark light are most intriguing— particularly the murky gloomy shades of purple, blue, and green featured during "Maison des Lunes", a haunting tale whose lighting matches the grim and grotesque countenance of Monsieur D'Arque (Nicholas Cloutier) himself. White and Sier again employ this deep blue lighting during "If I Can't Love Her", the beast's torch song at the end of Act I, and the effect is quite striking. Masters of illumination, White and Sier provide epic pops of fantasy colors all throughout the vivacious number "Be Our Guest."
The aforementioned end-all-be-all show-stopper-style number has so many things happening, you'll just have to watch closely and carefully! There are Napkin Tappers (Emma Cambley, Katy Cooper, Joan Firestein, Compton Little, Danielle Rizzo) and a Salt and Pepper Shaker (Justin Patterson) who just can't stop showing off his marvelous ballet forms and acrobatic flipping and leaping ability. Madison Sadler, as the enchanted carpet, gives Patterson a run for his money, however, doing several backflips of her own during the routine. All of these wildly energetic moves come together under the enthusiastic eye of Choreographer Amy Appleby. Infusing several ballet-style moves— especially when it comes to the foreboding yet fluid and frightening yet fierce Wolf Dancers (Emma Cambley, Katy Cooper, Joan Firestein, Justin Patterson)— Appleby shows of a great deal of fun movements during the various numbers throughout the show, encouraging the cast to have a dazzling good time with their dances.
With so many marvelous and new interpretations happening in this production, you'll find that you may not know Beauty and the Beast quite the way you think you do. Getting to watch Mike Ferrante transform into the Prince at the production's end is one such stellar moment, truth be told. Ferrante, who is not an ingénue-aged teenager, makes a realistic transformation (which is achieved with a suspension of disbelief when he and the Beast start twirling back to back through the fog so that you can see them both quite plainly, shifting from one to the other) into an eager and grateful prince. With a hearty warm voice that makes his minor solo at the end both inviting and delighting, Ferrante gives realistic credibility to the fact that he's spent years trapped in the Enchantresses' spell as a beast. There's a delightful moment between Ferrante, early in the production where he doubles up as the Bookseller, and Belle where they exchange pleasantries, and he finds humor in the insurmountable stack of books he struggles to carry. Little moments like this— and then subtly realizing that the man who gives Belle books is the beast transformed— are what make the production truly astonishing.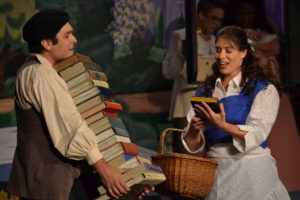 Director Laura-Beth Wonsala is full of these cleverly constructed minutia, making her production standout from the dozens of others that have been popping up here, there, and everywhere this season. The opening narrative is no longer a voice over, but told in live time by The Prince (Ferrante), The Enchantress (Erica Hansbrough) and The Beast (Michael Livingston.) This authenticates the story, drawing you into this precursory narrative, making it feel alive, making it feel as if it were their story to share with the audience. There is another unusual twist to Wonsala's Beauty and The Beast, though as it happens quite close to the end, it wouldn't feel right to give it away. Her casting is the stuff of divinity when it comes to all the right people in all the right places; even humorous moments arise from such choices— like the bubbly and effervescent Chip (Josh Bowden) being taller than his mother when he's finally human again! Bowden is effervescent and just bursts with energy, so much so that he nearly erupts straight out of his teacup! He even takes a few solo lines during "Human Again", a musical choice made by Musical Director Diane Jones. Coaxing gorgeous sounds from the ensemble, Jones gets blended harmonies all throughout the major ensemble numbers and ensures a sound of dozens when the cast is only the standard size for such a magical production.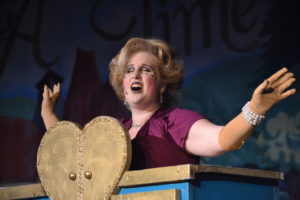 Following the vein of unique and awesome, Spencer Nelson, playing Madam de la Grande Bouche, gets her own sparkly agenda well underway in both her enormous wardrobe costume (which she designed and created herself) and her painstakingly painted and bejeweled face. Nelson approaches the Grande Bouche character with a heavy Italian accent, like a true opera diva, and the face paint, attitude, and enormous personality to match. The wardrobe costume is striking, very unusual, and garishly vibrant, a perfect fit for the character's larger than life persona.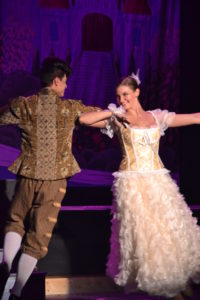 Babette (Amanda Polanowski) too is an example of uniqueness. The costume she wears— with feathers lightly trimming the bottom and the illusion of feathers through ruched tulle— is ever so slightly scandalous, making her tartly ways and wicked humors perfect for flirting with Lumiere (Jack Merson.) With a surprisingly articulate French accent, that both delivers the vein of the character but allows him to be easily understood, Merson is crème de la crème when it comes to playing the cheesy candelabra. With a mouthful of feathers, and torches that noticeably light every time he's excited, Merson lives up the lavish role, and really lays it on thick for "Be Our Guest", which he shares generously with many of the other enchanted objects and ensemble members.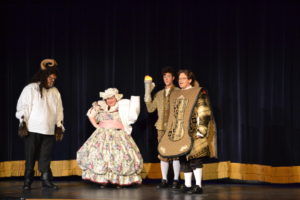 Tightly wound, tersely tense, and terribly terrific, Ethan Brown approaches Cogsworth with a stodgy British accent, a stiff upper lip, and sensational caricature in mind. Playing well off Lumiere and the others, there's just something joyously amusing about the way he ticks along through the show. Why, even his innocuous whistling when nervous in front of the Beast is the tune "Human Again." And let's not forget Mrs. Potts (Melissa Valdivia), who takes the surprisingly high top soprano notes during "Human Again" and allows them to ring true with a sturdy resonance. Like a sweet cuppa hot tea, Valdivia pours her heart into "Beauty and The Beast", setting the perfect mood for the iconic dance scene between the winsome Belle (Alyson Marks) and the gentlemanly Beast (Michael Livingston.)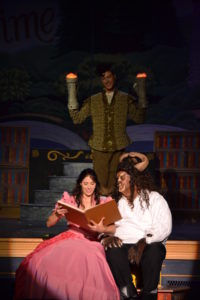 Both Marks, as Belle, and Livingston, as the Beast, play exceptionally well off one another. Livingston— whose personal make-up artist Laura Harrison creates a miraculous detailed beastly mask of paint upon his face— rumbles in the low range for "How Long Must This Go On?" and "If I Can't Love Her" and its reprise. There is a gentle chemistry that blossoms like a rose between the pair, carried gently by Belle's tender ministrations. Marks, who is as delicate sounding as she is winsome, puts forth quite the sound for "Belle (Reprise" and "A Change in Me." The delightful little familial bond she has crafted with Maurice (Dennis Skinner) is precious, at the conclusion of their well-performed duet, "No Matter What", they stack-tackle their hands, giggling and loving one another like a true father and daughter team.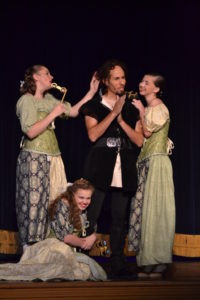 But it's Marks' performance against Gaston (Matthew Lamb) that really deserves praise. During the whole of "Me"— again in that vein of uniquely taking the show where no one has previously taken the show— she manages to deftly evade his advances, pulling humorous faces, almost looking as if she's flirting with him, until she puts him in his place, both out-muscling him and outwitting him.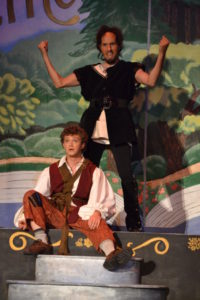 Lamb, whose aesthetic is more along the lines of a SlenderMan ghoulish nightmare of a villain— though let's be clear the boy's got biceps for miles— and looks even more frightening in his Act I goth garb, is a skulking villain that really crawls under the skin early on. But the one who steals the show is most definitely his sidekick, Lefou (Adam Yastrzemsky.) Taking the brunt of the abuse— in an uproariously comic fashion— both in every day interactions with Gaston and during "The Battle"— Yastrzemsky truly understands comic timing and execution. His animated facial features and expressions are to die for, especially when defying Gaston. The shenanigans he executes during "Maison des Lunes" might be some of the funniest moments in the entire production! Watch out for this character, he's going places.
It's a spectacular effort and truly enchanting, if not entirely glitteriffic, this production of Beauty and The Beast at September Song. It's an honest shame that they've only six performances and all six are booked completely to capacity.
Running Time: Approximately 2 hours and 30 minutes with one intermission
Beauty & The Beast plays through September 4, 2017 with September Song at The Carroll Arts Center in downtown historic Westminster— 91 W. Main Street in Westminster, MD. Tickets are available for purchase at the door or in advance online.
PLEASE NOTE ALL SIX REMAINING PERFORMANCS OF BEAUTY AND THE BEAST ARE CURRENTLY SOLD OUT. FOR FURTHER INFORMATION, PLEASE CALL (443) 280-9184