That's great! It starts with an earthquake— birds and bees and airplanes— and LiveArt DC is not afraid… because it's the end of the world as they know it! It's the end of the world as you know it. It's the end of the world as we know it— now appearing with LiveArt DC in the new work Noah: Apocalypse written by Amanda Quain. Directed by Clare Shaffer and labored upon by the ensemble cast of LiveArt DC, this gripping immersive theatrical experience takes you beyond the brink in its end of the world scenario. Rain cannot wash away the wickedness inside the hearts of men; what will you miss when all that remains is the walls of the bunker wherein you've found shelter?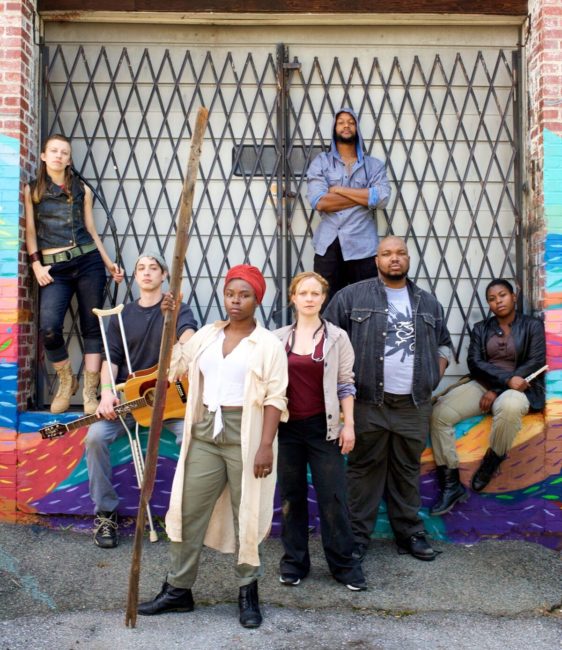 Be prepared: full immersion is eminent. You are now entering a world that has barely survived outside of its own existence. Playwright Amanda Quain has constructed a fantasy world that is brutally realistic, not all that farfetched, once examined wherein a year ago today the world ended. Bombs were set off in the air above Washington D.C., followed by 150 days of acid rain, and The Covenant is the doomsday cult responsible. In this poignantly constructed and rivetingly compelling drama, the audience becomes part of those saved. Tempers snap short and tensions run high when all manner of things begin to happen inside the bunker, the only safe space in this post-apocalyptic word.
Quain is an exceptional playwright with both message and vision in her arsenal in addition to having the ability of expressing this in an intriguing and hair-raising fashion. Taking great inspiration from the notion of Noah's bible story, Quain crafts tight twist after daring turn throughout this thrilling exploration and takes a visceral examination at what happens when chaos and destruction rain in place of order and logic. The play happens in live time, though there are these harrowing anecdotes frozen in a moment's reflection that each character experiences. Director Clare Shaffer isolates these moments with a flash of blue— throwing the bunker into shadowy darkness as if these modernized soliloquys were happening outside of the scene's natural existence. Astonishingly detailed, Quain exposes raw vulnerabilities and ugly truths about each of the characters in this fashion, with each of these asides being motivated by a unique quality specific to each character.
With options to sit directly on the wall of the bunker— lined with comfy pillows— or against the bar of the bunker on stools elevated ever so carefully above the action, the audience is plunged into the throng of things. Though less participatory than anticipated, there is never a moment where the audience does not feel as if they are 100% a part of the maelstrom that is brewing deep within the walls of the bunker. With boorish fights erupting right in front of your eyes, weighted decisions requiring full group votes, and ultimately discovers that will emotionally blindside you, Noah: Apocalypse might hit a little too close to home if you're not fully prepared for what's in store.
There are a great many more praises to be labored upon both Quain's writing and Shaffer's directing (and a ferocious shout of praise to Fight Choreographer Carl Brant Long) but for fear of spoiling the thrill of what's in store, it can only best be said that it's a show that is desperately in need of experiencing— not just seeing as it is a total theatrical experience— because of everything happening in our own city all around us at this very moment in time. There are lessons to learn, and Quain, Shaffer, and the cast have created something remarkable and deeply moving as well as evocative and forcibly thought provoking.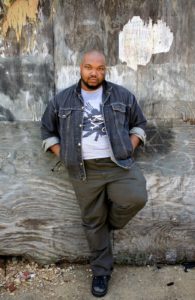 With just seven in their ensemble, each of the players takes up a critical role, each playing their part with marvelous dedication and dynamic commitment to the nuances of these characters. There's Jay (Jasmine Jones) who is a quick-talking, sharply tongued…outsider. But that's really all that can be said on the matter, save for the fact that Jones holds her own against the others as if her character were truly from the inside. And then there's Shem (Shaquille Stewart) whose words are few but his message powerful. Stewart relies primarily on fierce facial expressions and rigid body language to communicate his bouncer-brute role inside the bunker. But there is a harrowing heaviness to the one and only aside his character gets in the blue-freeze of time. Like spoken word as a modern day poetry slam, Stewart goes after that section of his existence with unrelenting passion and unguarded emotion, finding himself in the fray of reminiscence and dragging raw unadulterated pathos from the audience as well during his rant.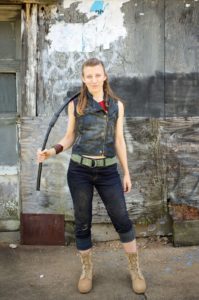 There's Dalia (Lizzi Albert), who is delicate, but not without her own spine to contribute to the situation. Albert's most notable moments occur as the show reaches its conclusion, with her responses and reactive listening playing a critical role in how the audience comes to understand what's really happening. Albert is convivial and plays the character in earnest, especially once the truth is unveiled; her reactions are haunting. Opposite of Dalia is her little sister Sarah (Nerissa Hart), whose outfit and demeanor is not dissimilar from Katniss Everdeen, though it's likely this is an ultra-intentional directorial choice to go along with the way the character is written. Hart, who is spunky and loaded with novice-level enthusiasm and energy— again perfectly suited for the way Quain has penned the character of Sarah— readily roles with the punches and bristles brutally and almost violently when it comes to the shouting matches that erupt between her character and Lee.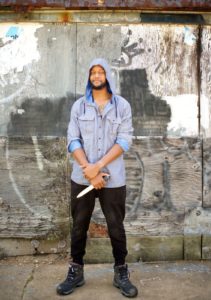 Christian M.A. Campbell, responsible for the bottle-rocket of Lee, is a smart-assed, wise-cracking, short-fused potent punch of perturbing poison that is all but deadly in an isolated bunker. Not as recklessly rogue as the inexperienced Sarah, Campbell's character possesses this fury, driven by survivor's guilt, regret, and fear, that ultimately makes his character a loose cannon, at least vocally. With a humorous edge to his character, before things turn dark and stormy, Campbell is the most invested when it comes to audience interaction, drawing participants into the reality of the bunker's atmosphere.
Every post-apocalyptic situation needs music. Ollie (Daniel Westbrook) is the song man, the guitarist, the keeper of the tunes at the end of the world. Westbrook's character is deeper than just strings and a melody, however, though this is not really revealed until the action and chaos gets well underway. There is a gentleness to the way Westbrook approaches Ollie, making him a peacekeeper, a tender shepherd of lyrics and song, as if what's left of the world can be healed through music. Not to be discounted when things get heavy in a hurry, Westbrook is emotionally charged, just like the other six players in the bunker around him, and is the grounding force and factor of reality when it comes to the grim truths of the situation. And he's one hell of a guitarist and singer too.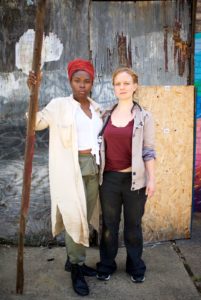 Noah (Raven Wilkes) found you. Noah has the answers. Noah is the savior. God spoke to Noah. Isn't that right? Wilkes is a powerful force on stage, creating balance and disorder all in one fell swoop when it comes to those inside of the bunker. The equalizer, for better or worse, Wilkes presents Noah with an enigmatic sense of passion and control, creating controversy among the ranks. Wilkes is mindful of her stage presence and what role her character plays not only on the situation but on the varying dynamics in the relationships of the others. There is an underlying ferocity that simmers to the surface in Wilkes' portrayal, making the conclusion truly astonishing.
This is theatre for the now. This is more than just a show. This is an experience, frighteningly engaging in how realistic it is and how very close to this being our present day reality it is. An experience not to be missed this summer at LiveArt DC, Noah: Apocalypse is a must-do for anyone in the district this season.
Running Time: Approximately 2 hours and 20 minutes with one intermission
Noah: Apocalypse plays through September 18, 2017 with LiveArt DC at DC Reynolds— 3628 Georgia Avenue NW in Washington, DC. Tickets are available for purchase at the door or in advance online.