What fire is in my ears? All of Shakespeare's women in one show? Can it be so? Well, that might be a bit absurd, even for The Rude Mechanicals, but they do come close, featuring a varied assortment of all of the Bard's leading ladies in just shy of two hours' stage traffic! Conceived and Directed by Leanne G. Stump, this selection of scenes showcases some of the finer moments of Shakespeare's female characters, giving the audience a sampling of how the ladies fit into the comedies, the histories, and the tragedies that are historically well known and still being produced with great frequency today.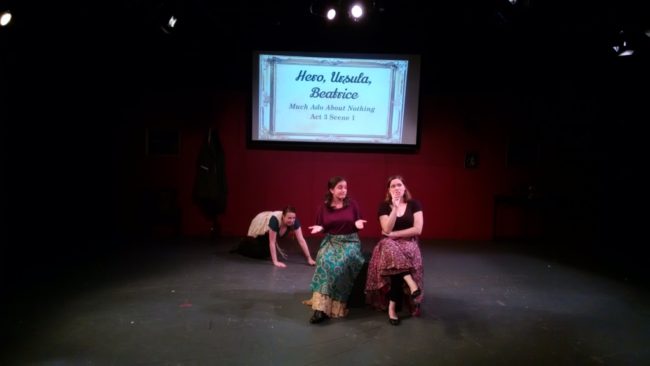 Leanne G. Stump has taken a good variety of characters from various scenes and plays and blended them together into a fluid-flowing, smoothly-moving evening's entertainment. Her praises should be loudly sung for her ability to pair scenes together; the most glowing example of this being the segment of the evening entitled "Why are you thus alone?" which features Portia of Julius Caesar, Lady Kate Percy of Henry IV and Brutus as well as Hotspur from each of the aforementioned plays respectively. Only Brutus and Hotspur are played by the same performer (John Wallis) simultaneously, while Portia and Lady Percy engage in their scene alongside their men. Stump has several moments like this throughout the evening that poetically beautiful and a ripe justification of how similar Shakespeare's plotlines were.
There falls only one real question over Stump's scenic selection, as the majority of the scenes showcase strong female characters in their most critical moments, and although some of the scenes do include male characters, they are not the focus of the scene. This, however, is not true for the Romeo & Juliet scene included under the "Tragedies" section of the evening. While the scene is no doubt a good one, with Peter Eichman bellowing away as Lord Capulet, the scene's focus is not on Juliet (Claudia Bach) or Lady Capulet (Liana Olear) but rather the bellowing monster that is Juliet's father. Three other scenes featuring Lady Capulet, Juliet, and the Nurse (or some combination thereof) immediately come to mind for this scene's replacement in the evening's entertainment, or perhaps even taking a different selection from a different tragedy would be another option as Romeo and Juliet has a scene featured during "The Lovers" section.  
Stump is smart in her casting choices as well; she keeps consistency with characters who appear more than once, Liana Olear being a prime example as she appears as Beatrice both times that the leading lady of Much Ado is featured. Stump also pays a nod to The Rude Mechanicals by casting women in roles that they have played in full length productions performed by The Rudes (such examples include but are not limited to Stump herself playing Katherine opposite of Olear's Alice for Henry V, and Jaki Demarest remounting her role as Lady Macbeth from Macbeth.) The wisely utilized epilogue from As You Like It comes into play to conclude the show; this is a fitting ending, and serves far better a show closer than the curious prologue from Antony and Cleopatra does as a show opener.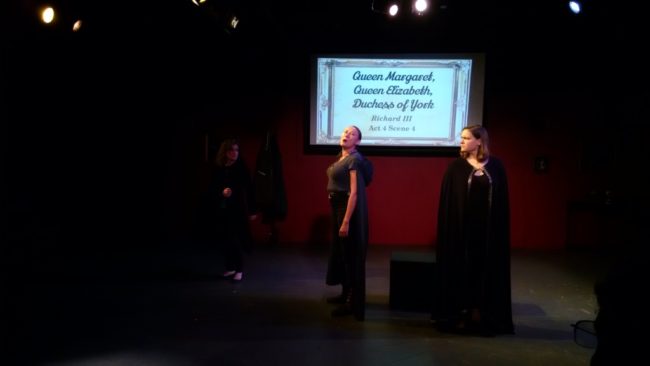 The costumes and set are minimal, a simple skirt here or there to delineate femininity, chainmail armor for characters like Joan of Arc, and a few portraits of ladies of the time hung on the back wall; but what more else is needed when the primary focus of the performance is the women and their roles in these scenes? Joshua Engel serves as the show's lighting designer, and at times Engel's work is brilliant— the misty lighting for "The Weird Women" segment, which features the witches from Macbeth, Ariel from The Tempest, and Titania from A Midsummer Night's Dream, and the darkened shadows used during Lady Macbeth's speech, which is a callback to the light and darkness concept from the show's most recent inception with The Rudes— but at other times the lighting is vaguely distracting, like when the characters are wandering all around the stage to make full use the space but the lighting is only focused in the center. Ultimately, it's not that big of a hang-up, but worth noting all the same because at times it really draws you into the text of what's being spoken and creates atmospheric ambience and at other times it truly distracts from the importance of what's being said.
Engel, who additionally serves as multiple sleazy men throughout the performance, gets to try his hand at playing braggadocio-based Benedick of Much Ado About Nothing and butt-kissing basic Betram of All's Well that Ends Well. Playing along with three other actors who take up the roles of "all the men", Engel makes himself the support to the scenes he's in, rather than overtaking them as Shakespearean male characters are so often wont to do. John Wallis plays the aforementioned Brutus and Hotspur, simultaneous, which is well worthy of applause simply because he tackles to characters at once! Wallis also takes up the iconic young lover Romeo of Romeo and Juliet during "The Lovers" segment. The previously mentioned Peter Eichman, plays a physically doddering titular character from King Lear in addition to his Lord Capulet, while Patrick Stump takes up the responsibility of four male roles: Petruchio from Taming of the Shrew, the chamberlain of Henry VIII, Troilus of Troilus and Cressida, and Horatio from Hamlet. All four men do a decent job of complimenting and framing the women of the show.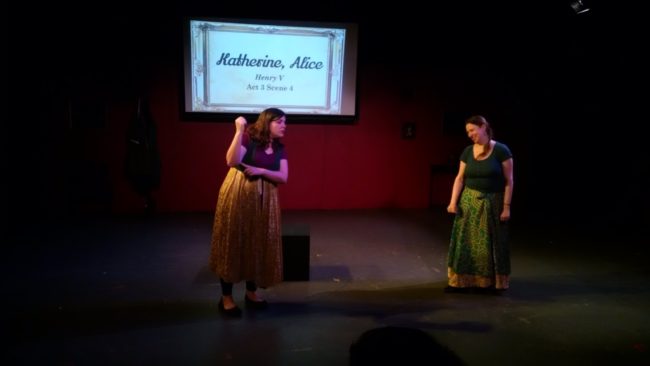 Liana Olear, mentioned as playing Beatrice from Much Ado as well as Alice from Henry V, as well as Lady Capulet and the Old Lady from Romeo and Juliet and Henry VIII respectively, is humorous in her portrayals, particularly that of Alice, when attempting to instruct Katherine (Leanne Stump) on the English for words of the body. Stump, who plays only in this scene and as Lady Percy during Henry IV, shows a drastic difference between the two characters, as the former is giggly and humorous, while the latter is wounded and soulful. Stump plays this scene as Lady Hotspur opposite both John Wallis and Claudia Bach, who takes up the role of the compassionately pleading Portia. Bach is also seen with a quick tongue in her head as Diana in the All's Well that Ends Well scene, as Juliet— both times the character is featured, as Regan from King Lear and the tittering and plotting Hero from Much Ado About Nothing Act3 scene1.
Playing opposite of Bach's humorous Hero, Christine Evangelista takes up the role of Ursula here and completes the comedic triangle of this scene. Evangelista also plays in the group scenes as Viola during "I Am the Man" (from Twelfth Night) and as Ariel during "Weird Women" (from The Tempest.) Once again paired with Bach, she is the Cressida to Bach's Juliet in that blended scene of lovers and is featured as the gentle-tempered Cordelia, who gets her snapping bight at Bach's Regan and the snarky Goneril (Ren Stone) during the King Lear scene.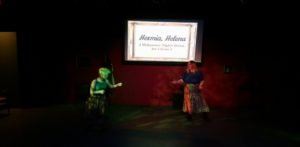 Stone, who is a compact canon of intense energy, spitfire spirit, and panache enough to punch down a great wall, gives Goneril that loathsome edge, which makes her easy to despise. Featured as the saucy Anne Bullen in Henry VIII she touts her own here as well. But her hands down best role in the production is as the hellaciously driven Hermia from A Midsummer Night's Dream. Though she be but little, she is fierce; a truer statement would be hard to make when concerning Stone's portrayal of the moxious maid. Pumped and ready to have at the throat of dear Helena (Lynda Clark), Stone starts the scene in the house and makes a ruckus ready to throw down with Clark's Helena, that is well worthy of applause.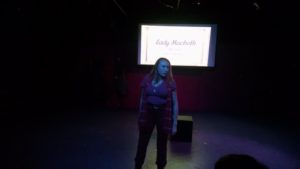 Waging a war of versatility against herself, Jaki Demarest takes up a great many iconic female roles in this performance, some of which she's played previously in full-length productions conceived by The Rudes. Her Lady Macbeth's "screw your courage to the sticking post" is riled and riddled with angry spirit, driving forth this infamous scene, and although Demarest is lit in darkness and shadow, her portrayal beams forth with a white hellfire. Performing a polar opposite role as Gertrude from Hamlet, there is a weary quality to her visage and her physicality when encountering the maddened Ophelia (Allison McAlister.) Ferocious, but in a much more haunting and sickening vein than that of Lady Macbeth, Demarest tackles Queen Margaret of Richard III, opposite both Claudia Bach and Allison McAlister as Queen Elizabeth and the Duchess of York, respectively.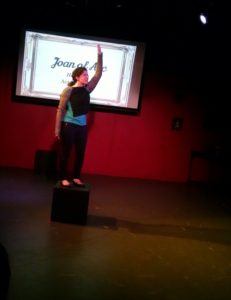 McAlister, much like Stone and Demarest, is a fortitude of femininity in every imaginable stretch, showing an exceptional versatility between characters. As the crestfallen Duchess of York her emotional prowess is strongest and witnessed readily through her expressive face. As the ill-tempered and ready to spar Katharina from The Taming of the Shrew, she takes hold of the scene, in a surprisingly non-violent fashion, and steers it forward with unwavering command. Utterly dissolved into melancholic madness as Ophelia from the Hamlet scene, McAlister is yet again transformed and delivers a convincingly different character here. Taking the stage by storm in her solo feature during Henry VI Part I, she takes up Joan of Arc and delivers a truly sensational monologue that traverses an emotional gamut often reserved for the Bard's tragedies. Using the epilogue from As You Like It, McAlister brings the show to a well-earned conclusion, and reminds the audience that women have voices too.
With so many different selections featured it would be a true shame to miss an opportunity to see Shakespeare's finest women on display all over the course of one evening. You get the essence of their character without having to endure the entirety of their plays.
Running Time: Approximately 1 hour and 40 minutes with one intermission
She Speaks plays through June 17, 2017 with The Rude Mechanicals at the Greenbelt Arts Center— 123 Centerway in historic Greenbelt MD. For tickets call the box office at (301) 441-8770 or purchase them online.