Happiness comes only in moments. And to ensure those moments, sometimes drastic action is necessary. Closing out their 2016/2017 mainstage season, the Maryland Ensemble Theatre brings to the stage a rarely produced darkly-driven British comedy. Fred's Diner, by Penelope Skinner, takes place in an American 1950's themed diner in present-day Britain just off the major motorway. Everything looks hunky-dory, as the Yanks might say, but upon closer examination, things aren't always what they seem. Directed by Peter Wray, this stunning show takes a while to get underway but the play's conclusion is well worth the wait.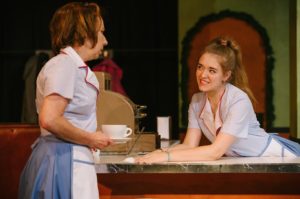 Despite playwright Penelope Skinner's lack of upward momentum for the duration of the first act, the play is crafted in a tight and concise fashion. It seems difficult to picture an entire first act that is little more than expository data and character establishment, but this is essentially what Skinner has developed. Despite its idling status, these details are important, even more so what's unsaid and seen rather than heard. Once the second act gets underway, it still takes a momentary spluttering hiccup to get going, but once it does, one can readily forgive and forget its sluggish start. The subjects are deep, the topics are dark but there's humor to be had.
The aesthetic of the 1950's diner can be credited to Set Designer Patrick Wallace, whose impressive work authenticates the dated reality in which these characters are working. Sprawling over the entire play space of the MET's main stage, Wallace has made the scenery one step short of being fully immersive for the audience. The craft work is striking, lending an air of reality to this timeless place, stuck frozen in the era of jukeboxes, kitschy color schemes, and tacky décor.  Costume Designer Cody Gilliam goes toe to toe with Wallace, cultivating a matching set of uniforms that echo the sentiments of the diner set, appropriately garish and wildly out of place for the modern era yet perfectly at home inside the diner.
Director Peter Wray, despite Skinner's languid motivation all throughout the first act, does keep the show moving. The actors are moving at a decent speed, conversations feel natural and it's almost shocking to realize how brief the first act is compared to how long it feels. This reflects poor playwriting tactics, but again is readily overlooked once the action slams into place. Wray hones in on the characters and their relationships, creating an ensemble feel from a piece that could easily be broken down into principals and cameos. Everyone feels inherently necessary to the plot's advancement, even characters that seem written simply for comic relief. Wray does his best to ensure consistency across the board with accents as well. Everyone seems to be sipping a different flavor of English tea, but at least each individual character has a solid handle on their sounds so that there isn't any wavering between lines and speeches.
The character of Greg (Matt Lee) is a prime example of cameos fitting seamlessly into the larger picture under Wray's direction. At first, Lee's character just seems like background noise, though Lee himself is fully present in delivering the odd duck's various lines. Wray draws your focus to this peculiar sideline feature in such a way that when he appears in the diner for the second time, you're beyond fascinated with what it is he could be doing there this time. His primary interacting track revolved around Chloe (Lisa Burl) who is essentially a comic reliefer, though she too takes stronger footholds in the performance. Burl's comedic attitude and general flippancy are greatly appreciated as the play goes on, but she balances these traits against more reverent ones, showing due concern and care for Melissa when they speak together in confidence.
Sunny (Ron Ward) has the most affected accent of the bunch, though his character claims history with living for large swathes of his life abroad in India, so this can account for his curiously muddled sound when speaking. Ward is convivial, a true burst of hopeful sunlight amid the dreary interior of all things happening inside the diner. Not false in his humors or his happiness, Ward puts the character forward as determined and perpetually optimistic if nothing else. The sweet interactions he shares with Heather (Julie Herber) are the delicate moments of happiness that the play warns about; if happiness only truly comes in moments then it is found in the moments shared between these two characters.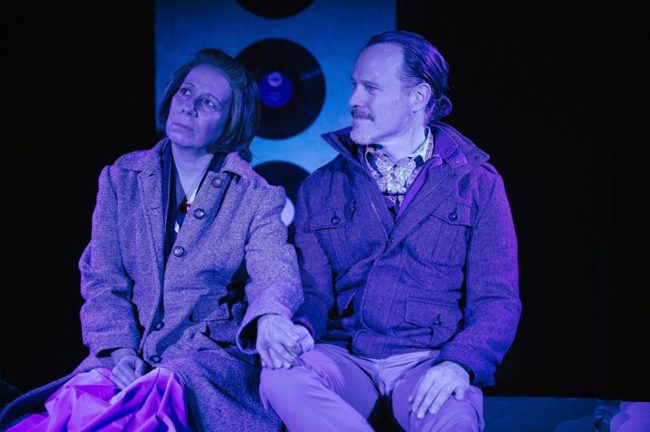 Herber, as the perpetually pessimistic Heather, is a hoot with her sharply delivered deadpan humor. There's a pungent blend of sarcasm, snark, and general bitchiness that just wafts from her character like a natural perfume. This makes her interactions with just about everyone that much more entertaining and generally intriguing. There is a deeper side to this character, however, one that Herber takes great care in tending; she minds the heavier and more secretive side of Heather with skilled restraint, letting it slip out bit by bit and only in the most exacting of moments. Though the show's central conflict only floats around her, while she weaves her way through it, Herber's presence and mindfulness as Heather makes her outstanding in the role.
The man whose name's on the diner, and in the title, surely must be a good egg. Fred (Matt J. Bannister) is always smiling, except for when he's not. And he's always happy, except for when he isn't. Bannister does an exceptionally fine job of toeing the line between false sentiment and devastating darkness. There are multiple layers of this character which are peeled away like a rotting onion as the play goes forward and Bannister manages each exposure superbly. His interactions with Melissa (Lauren Johnson) are intense and at times so thoroughly ingrained in the vice and logic of Fred that they become difficult to watch.
Johnson, whose sweet and sunny disposition as Melissa, is the beacon of desperate hope in the glum and grim greasy spoon on the side of the motorway. Her accent is particularly spot on and the way she handles her emotional outbursts is striking. Watch Johnson's physicality closely, the way she opens herself up both verbally and physically to certain characters but walls off entirely with others. These subtle shifts, which regrettably cannot be described in further detail for fear of spoiling critical plot points, are strong tells of the deep connection she has established to bring forth the dynamic nature of this character.
Well rewarding for the opening scene and the last half hour of the show, Fred's Diner will give you plenty to digest for the rest of the evening.
Running Time: Approximately 2 hours and 15 minutes with one intermission
Fred's Diner plays through June 18, 2017 on the Main Stage of the Maryland Ensemble Theatre in the Historic FSK Hotel building— 31 W. Patrick street in downtown historic Frederick, MD. For tickets call the box office at (301) 694-4744 or purchase them online.