Christopher Columbus! It's astonishing! Little Women playing now through May 21, 2017 at Third Wall Productions in the Hamilton neighborhood of Baltimore City. Directed by Christine Thomas with Musical Direction by Eliza Van Kan and Orchestra Conduction by Andrew Zile, this American classic story, based on the novel by Louisa May Alcott, will have a fire burning inside your soul for the bond of sisterhood! An exceptionally performed community theatre production with talent that rivals touring companies that visit Charm City, Third Wall Productions indeed has the four March sisters well in hand when it comes to this production.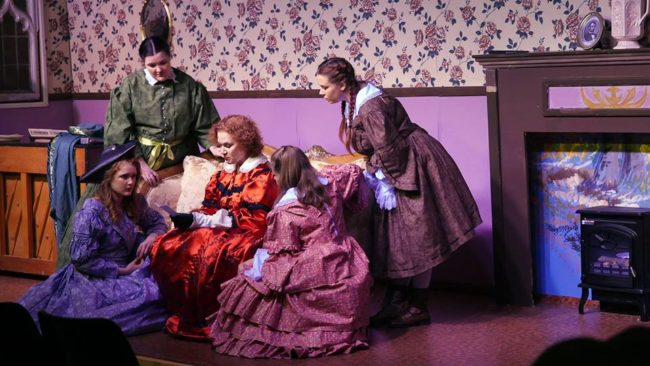 Laying out an L-curved proscenium in the basement of the Episcopal Church the Messiah, Set Designer Jordan Hollett, accompanied by Set Dressing Team Members Ann Pallanck, Amy Rudai, and Jenifer Hollett, brings the March household— most especially Jo's attic— to vivacious life! A simple flip of a portrait takes the boarding house where Jo stays in New York to the heinously posh interior of Aunt March's home. A projection screen and simple addition of a furnishing or two allows for the St. Valentine's Day Ball, an outdoor wedding, Cape Cod's infamous seashore, and a dark and spooky forest for Jo's stories. The interior of the attic is the design team's finest creation; it's wallpapered in old news articles from the Civil War and made to look as distressed as the characters often find themselves. The Scenic Team has gone all out for this production and the audience is well rewarded because of it.
Costume Designer Lisa Ann Dickinson, with her assistant Maggie Flanigan (working closely with Marie Bankerd and House of Bankerd costumes) outfits the cast sublimely. The dresses, in their full hooped-nature, and vibrant colors, defy description that would do them justice. Above and beyond the ball dresses for Jo and Meg, and even the wedding dress seen on Amy in later scenes, Dickinson's crowning glory to costume closet of this production are the outrageous ensembles featured on Aunt March. Decadent, haughty, austere, and dosed liberally in the monochromatic gray scale, these outfits define her character delectably and all but steal the show where costumes are concerned. Dickinson puts Mr. John Brooke in a nice union blue uniform when the time comes and keeps both Mr. Laurence and Laurie looking polished as the other featured gentlemen in Connecticut.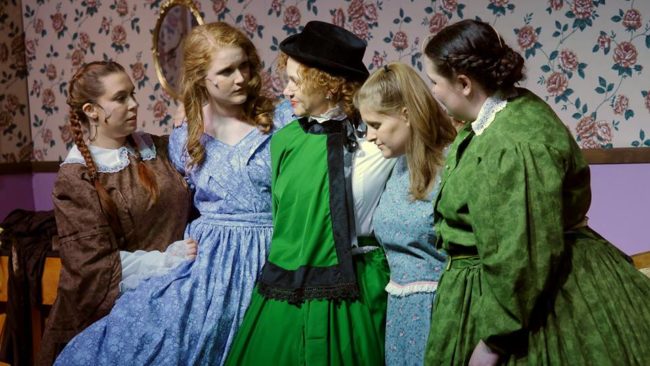 Lighting Director Jim Shomo deserves a great many praises for the work he does with the uniquely laid out space, particularly when it comes to threading mood lighting into the various musical numbers. Whenever Jo is on fire in her songs, which is often in this musical, there are strong undercurrent of red and orange sweeping into the scene, augmenting the song and the performer's emotional power. The moodier lighting comes into play when Jo takes to telling her blood and guts tale as well; the use of the video projections to create additional sets being a much appreciated bonus when it is used.
Orchestra Conductor Andrew Zile once again achieves the impossible, balancing the pit so as to not overplay or drown out the performers. With no hiccups to be heard, Zile moves the orchestra along smoothly, keeping pace with the performers through every number, and keeping the orchestra sounding easy on the ears as they play through the more convoluted and complex songs featured in the show. Musical Director Eliza Van Kan does her part as well, highlighting harmonies whenever the four sisters— and occasionally Laurie— sing together in unison. The trickiest piece of the production is arguably "The Weekly Volcano Press", involving both Zile and Van Kan's expertise to keep it on track.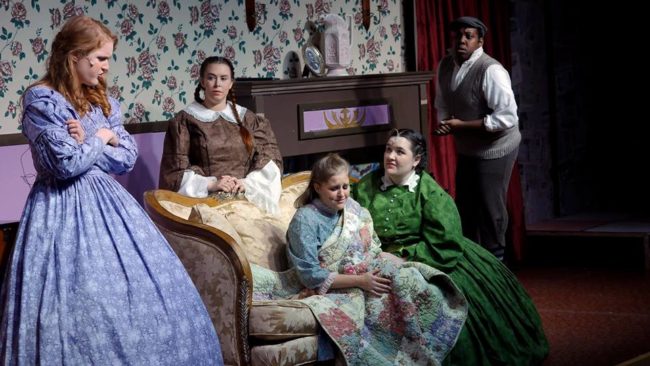 Living up to the company's mission statement of including the community, Director Christine Thomas gets an entire local family— the Rudai Family— to play 'The Troll Family' during "The Weekly Volcano Press", the number wherein Jo recounts her extraordinary story. Led by Amy Rudai, Andrea, Samantha Patrick, and Victoria take their turns chasing Clarissa (the sweetly voiced Lauren DeSha) toward her destiny as she outruns the ruthless Braxton (Patrick Rudai Sr.) Little nuances like this, give the production a wholesome feel, really bringing to the forefront the familial bonds of both the show's main message and the company's overall approach to doing theatre.
Thomas herself, in addition to directing the show, takes up the role of Marmee. And although her Marmee is not the tender, nurturing, and warmly open Marmee that most have come to experience when seeing the role, there is something deeply maternal, albeit aloof, about her portrayal of the character. Nary a bad word can be said for her vocal performance, however, as Thomas has a striking voice that is perfectly suited for her solo numbers. Filling both "Days of Plenty" and "Here Alone" with mournful sorrow and deep nostalgia, Thomas emotionally connects to the songs on a deep and earnest level, creating a much revered Marmee, which offsets her initial frigid nature.
Though his initial encounter with dear sweet Meg March (Maggie Flanigan) is awkward, albeit adorable, Mr. John Brooke (Andrew Pedrick) has a delicate and dulcet disposition, making him the utmost of gentlemanly gentleman ever to cross paths with the March sisters. Pedrick has a sweet voice, perfect for leading the duet, "More Than I Am", which he shares with Flanigan. Their chemistry, though subtle and demure, is pure and strong of heart. Flanigan has an equally delightful voice and fills in her half of the quartets delightfully whenever she takes to singing with her three sisters.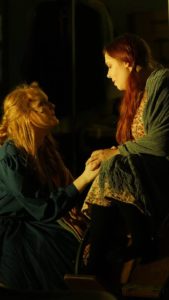 Mr. Laurence (Michael Zellhofer) is a furious grumbling crotchety old thing who is rather intimidating upon first encounter. Though once he's taken a paternal liking to that dreadful little March sister, Beth (Mea Holloway), his character softens tremendously. Sharing the duet "Off to Massachusetts" with Holloway, Zellhofer does add a nice and deeply benched male voice to the song, which makes the priceless moment of his character's transition from grousing grump to kindly father-figure a pleasant one. Holloway has a superb voice and plays the character gently, making her sweet and innocent, which is perfect for Beth. The solo feature that Holloway performs in "Some Things Are Meant to Be", a duet shared with Jo, is quite moving, drawing not only a tear to the eye but a proper hiccup to the heart.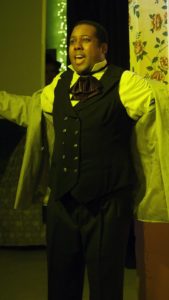 The exact opposite of his stodgy grandfather, young Laurie (J. Purnell Hargrove) is sprightly, spunky, and spiffy as he leaps his way about through nerves and excitement. Hargrove imbues the character with a youthful exuberance, a much needed does of gaiety when it comes to encountering the stalwart and stubborn Jo March. His characterization of Laurie is humorous but honest, giving the young lad a sincerity that serves him well over the course of the performance. His "Take a Chance on Me" is robust, rich, and full of heart, baring all of his emotions at once. This is a great contrast to the rather saccharine duet, "The Most Amazing Thing", that Hargrove shares with Amy March (Lizzy Jackson) late in the second half of the show. Jackson, who is petulant, obnoxious, and everything the youngest March sister ought to be when it comes to being whiny and fussy, transitions exceptionally from the adolescent pain to the prim and proper lady of society that Aunt March has groomed her to be.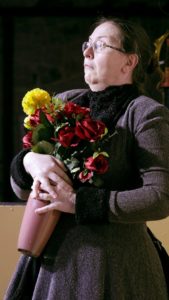 Scene-stealing showstopper Aunt March (Patricia Brunker) takes up every available breath and space in the room and not simply because of her overly puffed out hoop skirt! Brunker's personality precedes her into the room by a mile and announces her presence before her scene has even begun. Between the haughty airs, the vivaciously animated facial expressions and the overall austerity with which she comports and carries the character, Brunker is hysterical in the role, while playing the character with grave sincerity, making it all the more hilarious to watch. Her duet with Jo early on, "Could You?" is a remarkable showcase of her vocal talent as well as her acting ability. Hands down, if anyone is stealing the attention of the 'Five Forever' family, it's Patricia Brunker in this performance.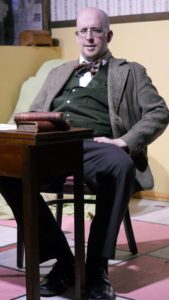 Equally as stubborn as Jo, though perhaps not quite so bombastic, Professor Bhaer (Daniel Plante) is a perplexing character as he could seemingly disappear into the periphery of the action if it wasn't for the fact that Plante was playing him so exceptionally strong. Plante's approach to the character keeps him ever ruminating in the back of Jo's and the audience's mind so that whenever he is out of sight he does not fall out of mind. The vocal affectation that he presents to the character is a bold choice, one that works well rather than forcing a trite accent over the text. His singing voice is hearty and does great justice for "How I Am", particularly when it comes to traversing the emotional tracks of this roller coaster number. His chemistry with Jo, though strange in its path of growth, is astonishing.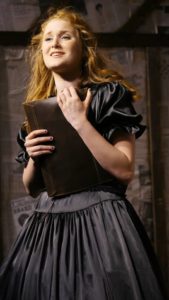 Leaping lizards she's got a voice, that Grace Dillon! Carrying the character of Jo and subsequently the torch of the show, Dillon blazes a path through every scene, hardly off stage for a moment's breath before delving into the next scene's adventure. In as many group numbers and duets as she is solos, Dillon proves that her voice blends when necessary, carrying harmony lines for songs like "Five Forever" and "Our Finest Dreams" but leads with great compassion, conflagration, and spirit during solos like "The Fire Within Me" and "Astonishing." Traversing the emotional gamut in this performance, Dillon does the character of Jo a great justice, making her versatile and enjoyable so that the audience feels justified by the show's ending.
A remarkable presentation, well worth seeing, well worth enjoying; this is a story of bonding, family, love, and survival. This is a story that you shouldn't miss this spring time!   
Running Time: 2 hours and 50 minutes with one intermission
Little Women plays through May 21, 2017 with Third Wall Productions at the Episcopal Church of the Messiah— 5801 Hartford Road in Baltimore's Hamilton neighborhood. Tickets are on sale now and can be purchased by calling 443-838-4064 or purchasing them online.