Jesus Christ Superstar, do you think you're what they say you are? Now appearing for a limited engagement at Signature Theatre, the Andrew Lloyd Webber that defined rock musicals is now being presented as sleek and modernized. But before you cast your first stone of judgement, take a step back and look at what you're witnessing. Directed by Joe Calarco with Musical Direction by William Yanesh and Choreography by Karma Camp, this production is certainly not without talent, but regrettably is conceptually overcooked and simultaneously under-directed.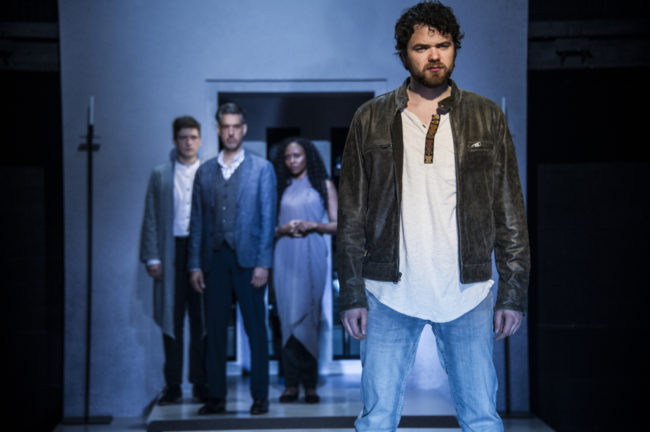 Conceptually the show has a loose focus. Director Joe Calarco layers in a few too many elements into his visionary approach for the production. Black Panther Power Jesus revolutions, Judas gay for Jesus, modernity without a time stamp but projections (as conceived by Projection Designer Zachary G. Borovay) that surface at the end to stamp specific instances of history to the show, gender-fluid characters, all of these concepts and a few other minor ones come crashing atop one another, pulling focus from one another and deteriorating the original narrative of Andrew Lloyd Webber and Tim Rice's game-changing musical. Clearly and simply put, while any one or even two of these concepts could have worked superbly in this production, having all of them stacked on top of one another gives the production no sense of guidance.
Calarco takes a large misstep in his use of Sherrie L. Edelen as King Herod as well. For the record, Edelen's performance in the role is strong, her vocals are decently suited for the music and her overall performance during "King Herod's Song" is noteworthy. The concept of gender-fluidity here (and it is used in other places, like the cross-casting of Awa Sal Secka as Simon Zealotes and Kara-Tameika Watkins as Priest) does not gel with the rest of the production. But the larger issue is Calarco utilizing Edelen in the ensemble for all of the group numbers and dance routines. Other character performers— Caiaphas, Pontius Pilate, Annas— are pulled out of the group numbers and held off-stage, but Calarco keeps Edelen in these routines and songs. While she keeps pace with the choreography and her voice blends with the musical numbers, it drastically offsets the aesthetic that Calarco has crafted among the rest of the ensemble, which is dominated by young, tall, brunette males. Calarco's decision to include Edelen in the group routines, rather than pull her as he does with the actors playing Caiaphas and Pontius Pilate— who would just as readily offset the aesthetic that Calarco has cultivated— is a poor one.
Claiming modernity and sleekness lets Costume Designer Frank Labovitz and Scenic Designer Luciana Stecconi relax liberally in their creations. Though Stecconi does emulate a temple of sorts, the layout of the space— impressively spun in the round for the show— is basic. Lighting Designer Jason Lyons achieves as many successes as he does failures with his design work for the show. The illuminating tactics deployed during "The Temple" are confusing and not initially clear that they are representing what they are representing, yet at other times— like during "I Don't Know How to Love Him", Lyons is spot on with his light work. Most striking in his lighting effects is the shadow play that arises from the freeze frame of motion every time the lights dim and Judas walks among the scene undisturbed as an observer outside of the play's natural existence.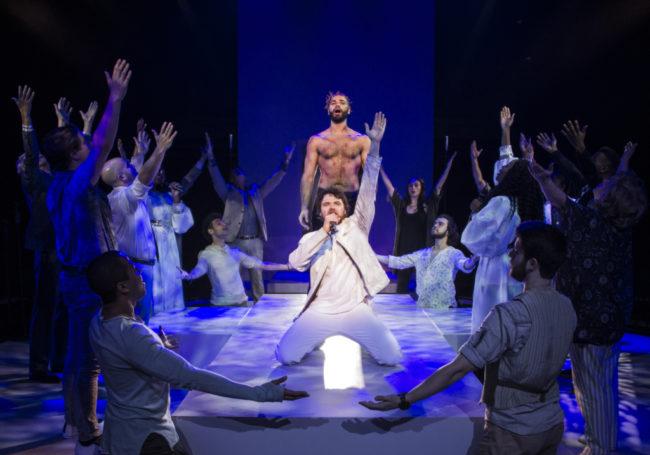 Equally unbalanced in her success is Choreographer Karma Camp. There are times when a 90's mosh-pit vibe overtakes the routines, which locks the production into a time period that doesn't match the overall aesthetic or the varying concepts that are floating around in the performance. Camp is, however, wildly successful with her routine used during "King Herod's Song." This routine features four members of the ensemble— Calvin McCullough, Solomon Parker III, Michael J. Mainwaring, and Vincent Kempski—  swaggering with sinister sneers through their steps and garnering the attention of every available eye because of the crisp snap with which they deliver each and every movement.
Despite the production's many faults and flaws, the talent that is contained within is sensational. If the singers were delivering the show as a concert version, it would be virtually flawless. The strength of the Apostles and various others when they are singing as members of the ensemble during numbers like "What's the Buzz" and "Simon Zealotes/Poor Jerusalem"— which is led by the vocally impressive Awa Sal Secka— is quite striking. Filled with heart, soul, and vigor, the voices of this ensemble rise above the confliction and convoluted visions layered onto the show to deliver the emotional truths behind the music and the story.
Kara-Tameika Watkins, playing the priest, makes a lasting impression on the ear as does Sam Ludwig and his screaming high tenor voice as he plays the role of Annas. Ludwig, who is partnered opposite Thomas Adrian Simpson, playing Caiaphas, makes numbers like "This Jesus Must Die" and "Damned For All Time/Blood Money" most memorable. Ludwig is consistent with the pitch of his high tenor sound, which is a brilliant compliment for the robust and heady bass sound produced by Simpson, which matches to perfection the sleazy and villainous nature of the character of Caiaphas. This trio of performers are a well-rounded example of the extraordinary talent featured in the production.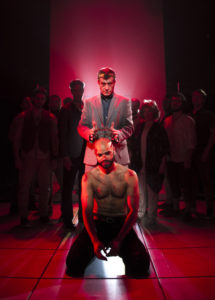 With an unyielding and emotionally daunting voice, Bobby Smith takes on the role of Pontius Pilate and wears it like a truly radiant crown. "Pilate's Dream" is haunting; the mesmerizing way in which Smith captures the phrases of this song, aligned against his smooth and rich vocal tonal control, is hypnotic to say the least. His encounter with Jesus for "Pilate and Christ" is intense but not nearly half so as the entirety of "Trial Before Pilate." Herein is the best of example of Calarco's modernity at work as the various members of the ensemble take their turns beating at Jesus with pro-wrestling style moves as Smith counts through the 'lashes.' Watch Smith's facial features closely; as he approaches number 30, his expressions reflect that of someone desperately struggling not to choke and vomit on their own words and it is beautifully brutal to behold.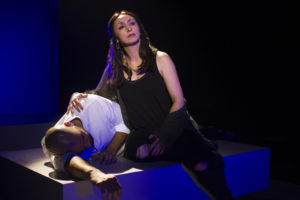 Though her blocking and guidance feels at times misplaced, Natascia Diaz as Mary Magdalene has the appropriate vocal sound and emotional sentiment attached to the character. "Everything's Alright", though directed at the wrong characters, is a beautiful vocal moment for Diaz. So too is "I don't Know How to Love Him", wherein she pours out her inner most confusions to Jesus' sleeping backside. "Could We Start Again?" which features Diaz, Peter (Michael J. Mainwaring) and the Apostles, is another striking moment of vocal purity and clarity.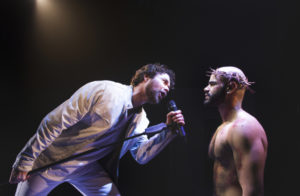 Both Judas (Ari McKay Wilford) and Jesus (Nicholas Edwards) are exceptional singers and well-gifted with outstanding control over their ability to sustain pitch, imbue emotion, and generally carry a number to fruition, though there are moments when the question rises: would the production have been better served if the performers roles' had been switched? Wilford plays this unabashed gay love for Jesus, and subsequent jealousy of his attentions both to and from Mary, with reverent honesty. His voice is powerful, especially when blasting out his portion of "Blood Money" and "Judas' Death." He becomes a roaring vocal sensation for his resurrection of "Superstar." Edwards too is gifted with vocal clarity and tackles the emotions of Jesus with rigorous aplomb. "Gethsemane" is stunning; the fire that pulsates through him to push him into the final screaming belt is astonishing.
It could effectively be a "superstar" production as the vocal talent is indeed on the level of super stars, but be cautious of the design elements and wary of the modernized concepts. Familiarize yourself with the story of Jesus Christ Superstar and just of Jesus in general as this production strays far and wide from the path in many different directions.  
Running Time: 2 hours with one intermission
Jesus Christ Superstar plays through July 2, 2017 in The Max Theatre at Signature Theatre— 4200 Campbell Avenue in Shirlington, VA. For tickets call the box office at (703) 820-9771 or purchase them online.
To read the TheatreBloom interview with Awa Sal Secka, playing Simon Zealotes, click here.