Christ, you know you love it— Jesus Christ Superstar— what more do you need to convince you to come and see it at Signature Theatre? Perhaps a one-on-one interview with Awa Sal Secka, playing Simon Zealotes will do the trick! In this TheatreBloom exclusive one-on-one, we speak with Awa about the current production and her part in the show.
Thank you, Awa, for giving us your time! If you would just give a quick introduction of who you are and some of your DC credits, we'll get going.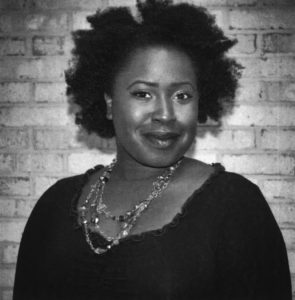 Awa Sal Secka: My name is Awa Sal Secka. I'm based in DC. I was born in New York but I grew up here in Gaithersburg, Maryland. I fell in love with the DMV and I now proudly call it my home. I started acting in the area professionally in 2013. My first professional production was Avenue Q at Olney Theatre. That's what started it all. That's where I met David Landstrom and Sam Ludwig who I am now in a cast with again and am so happy to be reunited with them. Some more recent productions that I've been a part of include Caroline, Or Change at Round House Theatre, and before that I did James and the Giant Peach at Adventure Theatre MTC, and I did a play at Mosaic Theater Company of DC called The Promised Land. This upcoming year I'm getting ready to be a part of a show at The Kennedy Center for young audiences called Me…Jane, and next year in 2018 at Ford's I'll be working on The Wiz.
What is it about Jesus Christ Superstar that has you so excited to be a part of this production?
Awa: It's my first production at Signature. I have been itching and scratching to be in this place with these people for a very, very long time. Of course, I love Bobby (Bobby Smith, playing Pontius Pilate) and Sam (Sam Ludwig playing Annas), but Joe Calarco, who is such an incredible director and I've been fortunate enough to have seen some of his work prior to me working with him, the pleasure of working with him is just incomparable. Getting to know Joe a bit before we started rehearsals for this was wonderful too. He is just such an open-minded individual. He's very detailed at the same time. He has a vision but he's so inclusive with this idea that everybody gets to say their piece and ask questions in a very open and accepting way. It's always been a dream of mine to work with him. The best production, in my opinion, as an actor that you can take part of is one where the director allows you to be just as much a part of the vision that they see and Joe is very much that director. It is just such a blessing to be in the room with him.
Now you've been cast to play Simon Zealotes. What has that been like?
Awa: When they first told me, I remember being slightly confused. I mean I remember being cast but not knowing for what, and being excited. And then when they said Simon Zealotes I said "Oh, wow. Great! Let me go home and do some homework." So I went through and did all of the homework, finding out who he is in relation to this show, what his relation to Jesus both in this show and in the bible. I was very excited even before I heard the song. Then when I heard the song I was just enthralled and elated. The song is so powerful. I've only been a lover of rock musicals for a little while. Rent was my first and favorite rock musical, so hearing this gave me an idea of where it came from in the mind of the writers. It made me realize how much of a pioneer this musical was for other rock musicals and for musicals outside of the scope of Oklahoma and the classics like that. I was so excited! In the song Simon is trying to rile them up and get them into gear. The song is just so energetic! And they really get into believing in Jesus as this leader, as this front man of revolution for change. I really, really enjoy being the person that gets to sing that song.
How would you say that this role and that song compares to other roles that you've performed recently?
Awa: This is very different from what I've been doing recently just because it's such a rock-oriented style. In the past six months the things I have been singing are very different. Caroline, Or Change had a lot of jazz and soul influence to it. With this one, the place that the song is coming from is very different. It's not difficult but it is very different for me. I had to switch up how I approach it because it's a different style of singing for me. But once you get into the groove of this song, it feels really great.
How are you adjusting to the character of Simon? Do you two have similarities with one another or differences?
Awa: I would say that Simon in my mind— and who he is set to be in this show— he's always been contrary to the government. Or contrary to government power. He never agrees with those in power, he's always going against the Roman way. He's against the idea that the Romans are elite. I don't see myself as angry as he is. Or as contrary as he is, but there is a fire in his heart that I think that I have. And I think everybody has that fire when it comes to standing up for what's right and I think it's a beautiful thing. There is a love in his heart for Jesus, not that everybody has that, but I think everybody can have that idol in their life— somebody that they can look up to and say, "wow, I really could follow you" or "what you say really resonates with me." I think those are the things that I have in common with him. His level of contrariness, I don't think I carry that with me.
What would you say has been your biggest challenge in tackling this role?
Awa: Definitely the music. It's so, so intricate. I love the music, so I pay a lot particular attention to nuance and things like grace notes and glottals and all that stuff. To be as true to the music as I could hope to be is to be extraordinarily meticulous and I think that I can do that to a fault. Some of the music is just so beautiful, well all of it is so beautiful. One of the things that Bill (Musical Director William Yanesh) has said to us is that Tim Rice wrote this musical like someone composing for the piano. There are certain things that are written for the piano that you just wouldn't write for the human voice to do but Tim Rice has done it. It's definitely been a challenge to keep up with that, but it's also such a beautiful experience to sit down with this music and really envelop yourself in it, take it in, and just experience the whole truth of it.


What do you think people are going to take away from seeing this production?
Awa: I think it's all about perspective. The way that we're tackling the show, we're looking at it as the story of Jesus of Nazareth, the man. We're examining him as Jesus the person and the people around him, as opposed to Jesus in the usual sense that people approach him, either as a God or son of God or a spiritual leader, you know what I mean. We're looking at him as a man with words that we believe in, and understand, and connect with as opposed to the latter. Even then, there's a certain level of wonder, amazement, and drive and draw that comes with somebody like that. When you think about Martin Luther King Jr. or somebody with words that really connect with you; there is that level of "Wow. I could listen to you speak forever and ever." There is a level of idolization there. I don't think we quite get to that because we're trying to focus on him as a man. But it's always in the eye of who's watching. Someone watching might observe the way one of us looks at Jesus and might say that we were seeing God even though we were just simply seeing an amazing man. Some people might say that's blasphemy, I don't see it that way. I'm hoping that people will take away this idea that Jesus was a man. He was a person with a gift that helped a lot of people, but not take that to mean that we're denouncing anything else that goes along with how people perceive Jesus. We're just saying he was a person, and he was loved.
What would you say working on this project has taught you about yourself? What have learned about yourself, what is your takeaway?
Awa: I would definitely say that I'm taking away the idea that I can definitely push myself to do more as an artist than what I thought I was capable of. As an artist you are constantly learning; life is a master class. You are always trying to become better than what you were. Being in the room with Joe and Karma (Choreographer Karma Camp), and this wonderfully diverse, beautiful cast, and really getting to know people and see the show come together, and see my place in the show; I am just so excited for the journey ahead as an artist. I am excited to see how this show comes to shape my experience as a maker of theatre. I want to see how this show settles into Joe's vision. For me, I think— especially with the music— I'm excited to be able to just have it in my bones and be able to sing it every single day. I think that's what I'm most excited for; having the music in my body and being able to live with it every day.
Why do you want people to come out and see Jesus Christ Superstar at Signature Theatre?
Awa: Oh my goodness! Because it's going to be amazing! The cast is incredible, incredible, incredible. I've never been so blessed. It's everyone you know and love from shows you've seen in DC lately; you're going to see them in this show most likely. We're going to give you a great time. We're going to give you everything; we're going to lay it out all on the table. The show is about love. It's about coming together and ideas clashing! This is such a volatile time in our history right now so this is a very special story to tell about a man leading other men, other people with beautiful words and loving words. I think it's a really special story to tell.
Jesus Christ Superstar begins previews on May 9, 2017 and runs through July 2, 2017 at Signature Theatre— 4200 Campbell Avenue in Shirlington, VA. For tickets call the box office at (703) 820-9771 or purchase them online.
To read the TheatreBloom review of Jesus Christ Superstar, click here.