Cinema today is in crisis. That's why we all prefer to go to the theatre for our entertainment. The Colonial Players of Annapolis has wondrous entertainment in their production of Nine. Directed by Ron Giddings with Musical Direction by Andrew Gordon, this edgy and strikingly beautiful piece of musical theatre is brilliantly performed, smartly directed, and overall a thrilling engagement for an afternoon or evening of entertainment!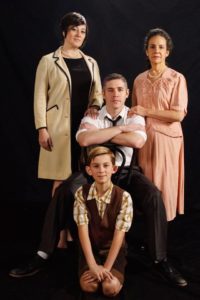 Credited as the show's Choreographer, Director, and Scenic Designer, Ron Giddings hits his mark with this stellar production. His clever ingenuity comes quickly into play with the simplistic outlay of the set. Tiling the stage floor in white with blue accents to create the atmosphere where the majority of the musical takes place is lovely, though not unexpected. Concealing the spike tape markings for each of the bench shifts into the tile patterns so that unless you're specifically watching how a transformation happens you never see garish markers glowing all over the floor is genius. With these simple trunk-style benches, which enable both impressive on-stage costume changes and allow for fluid shifts from scene to scene, Giddings relies primarily on the work of Lighting Designer Frank Florentine to set the location, the tone, and the atmospheric mood throughout the production. Florentine focuses on blues and soft whites to keep the spa motif going; his lighting plot for the finale number of Act I is divine.
Further praises must be extoled upon Giddings for his keen understanding of how to block in the intimate and rectangular space of Colonial Players. Keeping the actors engaged to the entire audience while making sure that they are projecting to a full house and not just to whichever side they are facing has indeed provide challenging for many productions in previous seasons at this venue. But Giddings soars over this challenge with flying colors, making nuanced use of the entrances and the full length of the play space itself. Arranging 15 women, one young boy, and one Guido Contini on a stage designed to comfortably accommodate half that, and doing so in a way that never leaves the stage feeling crowded is an accomplishment of which Giddings can boast and be proud.
But the highest of praises laid upon this director's shoulders is not for his smart use of the space, his clever guises for spike tape, or even the intrapersonal relationships he encourages the character of Guido to develop with the featured women in his life. The crowning glory of Giddings' production is the dazzling choreography that shimmies its way into the iconic number, "Be Italian." Mesmerizing moves have audiences marveling over the speed, accuracy, and coordination that befall these women during this number. And it's all done with tambourines! This glorious routine reprises itself in snippets later in the second act, reminding everyone of just how sensational it is.
Following the vein of simplicity that Giddings has established in the scenic approach to the show, Costume Designer Beth Terranova gets the women settled into couture that is fitted to their physiques and suited to 1960's Venetian fashion. The red affair featured on Carla and the green sartorial selection on Claudia stand out in sharp contrast to the perpetual black fitted to Guido's wife Luisa. This makes a subtle statement of who brings what sort of spice and variety to his life, or rather how he sees the roles these women play in his world. Fiery red passion suits Carla while the lusty vibrancy of lime encourages him to go on. The stalwart unmoving black wardrobe selections for Luisa grounds Guido in a sense, providing a stable anchor where he can seek asylum.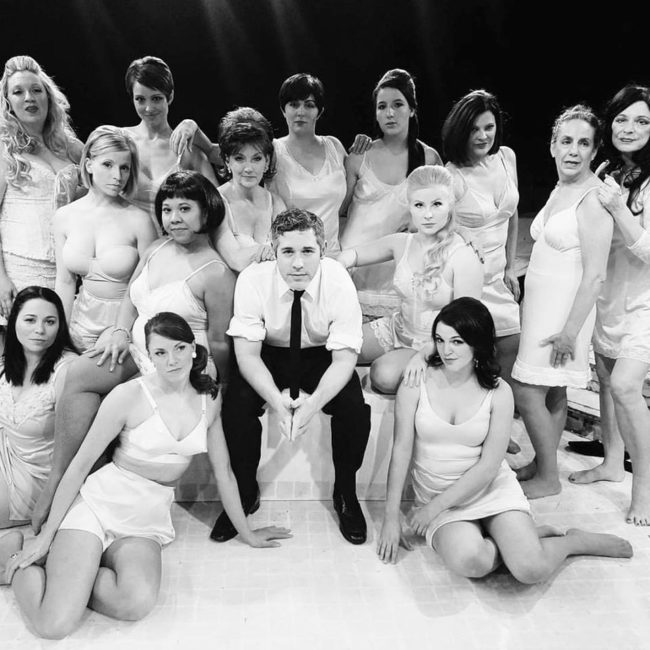 Musical Director Andrew Gordon is praiseworthy as well in this production for his work with the chorus of ensemble women. While the show is structured primarily around Guido, his younger self, and nine supporting and featured females, there is a chorus of half a dozen additional women that make up the difference in the cast. Gordon gives these women a voice through their blended harmonies and strong vocal presence, particularly during numbers like "Folies Bergeres" and "The Grand Canal", which is arguably a half dozen different musical numbers all rolled into one unending epic. Gordon's work with "The Bells of St. Sebastian" radiates otherworldly divinity from this choral sound, with the harmonies and blends supporting Guido's song in a way that sounds like a flock of heavenly hosts alighting upon the number.
Though a minor supporting female among the featured nine, Stephanie Necrophorus (Katie Gardner) grabs the audiences' attention straight away. In her featured number, "The Script", Gardner dazzles the audience with her sharp, precise patter, in addition to her scathing and biting sarcasm. Cara Marie Pellegrino, playing Our Lady of the Spa, is equally noticeable, though garners attention to her character with the way she employs vibrato and other operatic techniques to numbers where she is featured, like "Spa Music."
Mama Contini (Susan S. Porter) is a nostalgic vision in pristine pastel, wafting through Guido's recollection and imagination. Porter is stern yet maternal, doting in her own reserved fashion when it comes to trying to express why and how her boy turned out to be the way he is. Her dulcet tones lend themselves delicately to "Nine", and again Porter displays a deep emotional connection to the presence of mind of her character here. The exchange between Porter and Young Guido (Jackson Parlante) at the end of the first act is striking. But so too is their reunion when it comes towards' the show's natural conclusion. Parlante, as the main character in his youth, seizes his moment in the spotlight and puts his cherubic vocals to the test for "Getting Tall", winning over the hearts of everyone listening.
Sultry, if a bit silly in her disposition, Carla (Jamie Erin Miller) delivers a robust burst of personality when it comes to appearing to Guido both in his dreams and in person. "A Call From The Vatican" is an intensely salacious number; Miller's voice possesses the smoldering tones necessary to drive home its seductive intent and her finale will knock you upside down. "Simple" is the number that showcases Miller's versatility, allowing her to more readily emotionally connect to the tempestuous turmoil churning through her situation.

If not Carla, then Claudia (Erica Miller) will saunter in and steal your heart in her viper jaws. Though she's only given one true moment of solo singing, featured during "A Man Like You/Unusual Way", a duet shared with Guido, Miller proves herself to be more than vocally competent. Bringing the hot-blooded passion of a true Italian woman, her accent is the most consistent of the three principal flames of love in his life. Watch her body language and facial expressions during "Only With You", a solo performed by Guido, which features Claudia, Carla, and Luisa.
Show-stealing sensation Debbie Barber-Eaton, who wears Sarraghina like a second skin, only has one moment in which to truly shine, but it is the moment that you will remember above all others in the entire production. "Ti Voglio Bene" may be the first half of the number, but no one is paying attention to that bit, even though Barber-Eaton performs it masterfully. The show's iconic "Be Italian" is like fresh kneaded pasta dough in Barber-Eaton's hands, being twisted, spun, and tossed about by her superior voice, sensational personality, and ferocious attitude. Tackling the number with passion, gusto, vim, and vigor, Barber-Eaton belts her heart out, maintains a flawless Italian accent both while singing and speaking and delivers the most exciting moment of the show in this routine.
The true love of Guido's life, his one and only wife, Luisa Contini (Alicia Sweeney) is the rock upon which Guido stands. Sweeney is exceptional in the role; her emotional connection to the character, particularly when in song, is bright and readily present. "My Husband Makes Movies" features Sweeney's mellifluous voice spinning a fantasy of justification when it comes to her husband and his wayward practices. "Be On Your Own" is a heartbreaking number that fuels the fires of catharsis for Guido as he leads into his 11 o'clock number late in the second act. The chemistry she cultivates, both doting and disgusted, loving and loathing, with Guido is that stuff of theatrical legend, finding the balance in both so that her character arc is a complete one.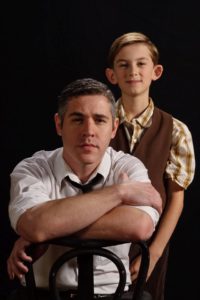 There's only one of him and he's the only one you've ever met— this Guido Contini— this Jason Vellon! The man behind it all, the voice that inspires the piece to perfection, Vellon is the epitome of the Italian film maker by every stretch of the imagination. His comic timing and deadpan delivery during moments of frustration is impeccable. His sharp accent sounds authentic; his singing voice carries that accent through the lyrics without compromising his vocal integrity. There is heart, soul, passion, fearless and flawless emotion invested in his performance, as witnessed in "I Can't Make This Movie." Traversing the emotional landscape in an unfathomable journey, Vellon crafts Guido Contini to the height of perfection and is unstoppable as the principal in this performance.
Be Italian! Get your tickets! Don't wait until it's too late! See Nine! You'll be glad you did!
Running Time: Approximately 2 hours and 30 minutes with one intermission
Nine plays through April 30, 2017 at 2016 at The Colonial Players of Annapolis— 108 East Street in historic Annapolis, MD. For tickets call the box office at (410) 268-7373 or purchase them online.