Are you prepared to experience the mesmerizing wonder that awaits you inside a brand new cabinet of curiosities? Are you ready to undertake a most daring expedition to explore the excitements of an immersive theatrical endeavor that exists outside the bounds of time and space? Then step off with Submersive Productions and ready yourself for the most unusual and unique experience of a lifetime. In sentient residence at The Peale Center, one of Baltimore's treasured historic buildings, H.T. Darling's Incredible MUSÆUM presents The Treasures of New Galapagos: Astonishing Acquisitions from the Perisphere. Indulge in the experience, expose your senses to these astonishing acquisitions: the sights, the sounds, the sensations.


Following the wild success of The Mesmeric Revelation of Edgar Allen Poe, Submersive Productions brings forth the second in its series of gargantuan installation-experience theatrical productions with this cabinet of curiosities, this parlor of peculiarities, this wardrobe of wonders. Dare you venture with them to explore the magnificence that awaits you? Encounter landscapes and terrestrial exhibits of New Galapagos, as discovered on the most marvelous expeditions of the larger-than-life H.T. Darling himself. In traditional Submersive fashion, the ground floor of the MUSÆUM is open to your exploration upon arrival where mingling with the guests— and denizens of the enclosure— is encouraged as it is the only free-speaking opportunity you are provided during the evening. There's plenty to see and do just waiting for the MUSÆUM to open— you will of course check in with Clayton (Josh Aterovis), the concierge and guard of the main gates for the evening, who will check your bags, present your identity for the evening, and encourage you to partake in refreshments or explore the gift shop. Be mindful of Maggie (Emily Hall or Martha Robichaud) who tends the aforementioned gift shop and has a wealth of knowledge about the artifacts that are for sale.
Conceptualist Lisi Stoessel, one of three Co-Directors to the project alongside Glenn Ricci and Susan Stroupe, has created an experience that defies description in the most imaginatively miraculous way possible. Truly a mesmerizing wonder, entering H.T. Darling's Incredible MUSÆUM is nothing short of venturing to another planet somewhere beyond the reaches of our temporal and spatial understanding. It is spectacle, adventure, mystery, and so much more all captured in one experience. And like all Submersive Production experiences, it is strongly recommended that you undertake the venture at least twice to increase your chances of experiencing everything there is to experience.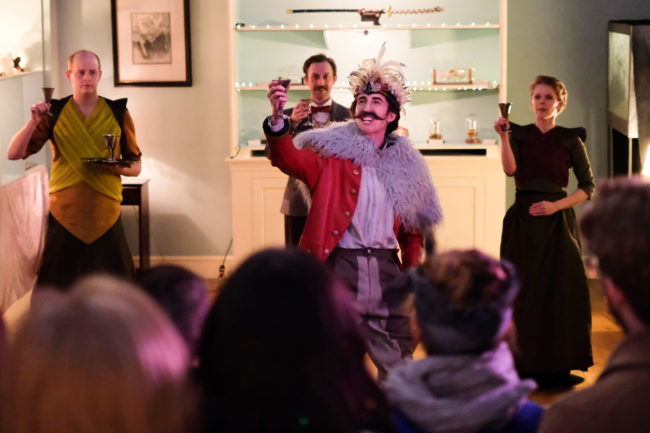 Ricci, Stoessel, and Stroupe have created a living, breathing enigma inside of the grandiose historic Peale center, utilizing all four floors of the space for their installation. Stoessel, who is credited as the show's Set Designer (along with a team of Set Dressers including Samantha Kuczynski, Ursula Marcum, Jess Rassp, and Alessandra Torres) creates fully articulated landscapes inside various rooms across the center, nothing short of exhibits that would mimic the Smithsonian's Natural History Museum. There are wonders and marvels to discover around every turn and you simply cannot absorb it all in just one go. There are dozens upon dozens of unique things to explore and encounter.
Ricci, Stoessel, and Stroupe have included a new element to the production: the working element of puppets. With Puppet Fabricators Francisco Benavides, Ursula Marcum, Jess Rassp, Lisi Stoessel, and Alex Vernon as the helm of these creations so much more of the exhibit becomes interactive and twice as engaging. Rassp, who like so many also engage as an active puppeteer in the progress of the performance, deserves a nod for her unique work with the Ice Picker Bird. Without going into too much detail for fear of spoiling the enchantment and the marvel, Rassp— much like the others— creates a unique personality for this mythical creature and uses the puppet as an extension of its persona to engage with visitors to the MUSÆUM. Look carefully and closely throughout the enclosures as movement via puppetry is ever lurking just around the corner, sometimes even lumbering in a massive and awe-striking state.
Heightening the mystique and mystery of the experience, Sound and Video Designer Glenn Ricci and Lighting Designer James Johnson include a great deal of spectacular magic into every room. There are hidden experiences that benefit from these illuminating and aurally captivating designs, many of which must be discovered and uncovered for one's self, but credit must be given for the sensational work they've provided in making both these lighting and sound effects blend seamlessly and naturally into the scenic scape created throughout the MUSÆUM, as if they were naturally occurring elements of the bizarre enclosure. Add to this the wondrous sartorial selection concocted by Costume Designer Stephanie Parks and assistant Ben Kress, and you've an inexplicably delightful and indescribably daring experience for the evening.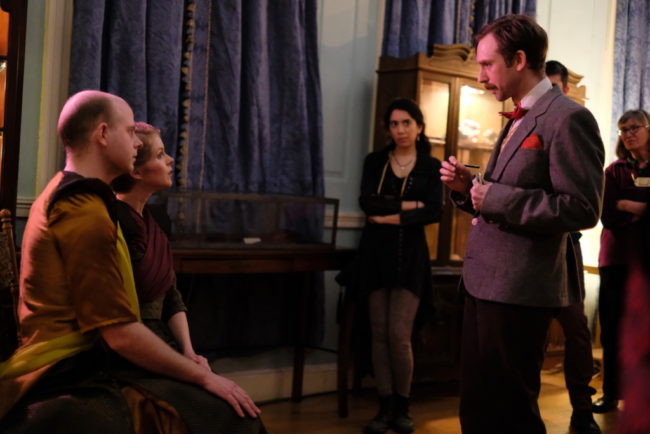 It is impossible to describe the experience as a whole without filling multiple diaries with entries of every encounter. And to that end every person's experience will be different depending upon the path you choose for the evening. As one who takes interest in what lies on the periphery, my exploration of H.T. Darling's Incredible MUSÆUM is quite unusual from that, which many others may experience. Though therein lies the beauty. One could attend the MUSÆUM a dozen times and still have a unique experience upon each visit. Guests of the MUSÆUM are encouraged to roam freely through the halls, with certain restrictions in mind: if a door is closed off it may not be opened until a denizen of the enclosure opens it, certain areas are restricted but denizens may escort you there, and there is no speaking once the MUSÆUM is open unless you are spoken to directly by a denizen.
The Denizens
Such an elaborate undertaking is outfitted with colorful characters— the simplest way to describe such an assortment of curious creatures. Ricci, Stoessel, and Stroupe along with Movement Coach Dody DiSanto and Fight Director Brad Norris, craft over a dozen little narratives that wend throughout these denizens and the way the experience the MUSÆUM and encounter the guests. Each denizen has a bold personality, some more lively and loud than others, but every entity has their place. Ricci, Stoessel, and Stroupe have even found ways to incorporate the guardians of the MUSÆUM into the active storylines, with Guards (Caitlin Bouxsein and E'Tona Ford) ringing bells to alert guests to events as they occur, should they wish to attend. Note Bouxsein and Ford's nametags, there is a mirthful little joke therein as their names are exactly what they do for certain aspects of their duties. And let's not forget Cedric (Stage Manager Brad Norris) who makes a brutish appearance here and there throughout the evening, and for all intents and purposes might be the proper muscle behind a burly security figure.
The Curators
What sort of MUSÆUM could exist without Curators? But be warned, these two Curators (David Brasington and Lisi Stoessel) are no ordinary Curators. There is something ever so slightly off about them. Perhaps it's the way they are constantly at one another's side, a bit like symbiotic parasites unable to exist without one another, or the way they sweep across a room when moving, as if gliding without feet and surging forth with great purpose no matter where they are going. The little moments experienced with them— both in private encounter with Stoessel and background endeavors with Brasington— showcase the versatility of these performers; both are subtly expressive of face when experiencing nostalgia in hidden moments that pepper their storyline throughout the evening.
Aku Maxilla
A living specimen to be encountered at your own risk. Embodied by Trustina Sabah, this ghost-like apparition drifts through the MUSÆUM of her own accord. Like all the denizens, there are opportunities for private encounters, though unlike the rest of the denizens, what you experience with this denizen is utterly otherworldly. Sabah has very distinctive patterns when it comes to the style in which she moves; there is a grace and fluidity to both her physicality and her vocal cadence that is unsettling in an entrancing and ensnaring manner.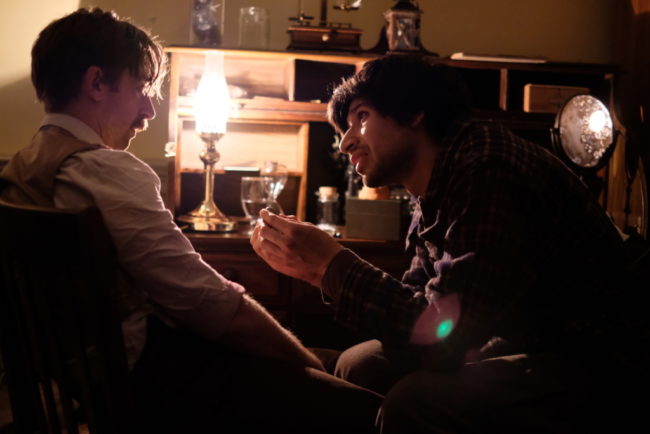 Dr. Percy Warner
In charge of various and sundry things, all of which he'll tell you about in his nasally, nervous manner, Dr. Percy Warner (Alex Vernon) is the stereotypical brains of the operation or so it would seem. But like all denizens of the MUSÆUM, there is more than meets the eye to Vernon's character. It's the vocal affectation and way in which Vernon lets this nuance inform the rest of his characterization that stands out most profoundly when it comes to encountering Dr. Percy Warner. Reserved, nerdy, and a bit too intelligent to be truly popular, Vernon molds the character into one that you both enjoy and pity. Dr. Percy is quite knowledgeable when it comes to various living artifacts in the exhibit and will be happy to explain them and display them to you over the course of the evening.
H.T. Darling
With all the hype and hysteria that precedes the great expeditionist, it is refreshing and relieving to see H.T. Darling (Sarah Olmsted Thomas) live up to his reputation! With a robust personality that radiates off the character in waves, Thomas can be felt before H.T. Darling enters a room. Hearty, albeit zany, the charisma and charming energy that surges through the character of H.T. Darling is potent to the point of suffocating. This makes for a rich experience whenever the marvelous explorer is encountered, even when Thomas is trying to save face or falling to pieces. H.T. Darling is one of the denizens that simply must be experienced to be believed and to speak further on the matter would hardly do Thomas' portrayal justice.
The Grounds Keeper
A curious underling who seems ill at ease with himself and everything and everyone around him, The Grounds Keeper (Francisco Benavides) is an odd man out, which is difficult to say as the gathering of denizens inside the MUSÆUM is essentially a collection of odd men out. Benavides has a frightening dedication and commitment to his character portrayal that speaks volumes to individuals so inclined to hear it. The unfocused stare, the slight stammer in his voice, the vividly unsettling facial expressions, and the overall way that Benavides processes what's happening around him, with him, and to him, are most disturbing in an utterly astonishing fashion. One simply cannot…look away… Like so many of the denizens in the MUSÆUM, all is not as it seems with The Grounds Keeper, though you'd do well to remember your name around him as he is liable to forget.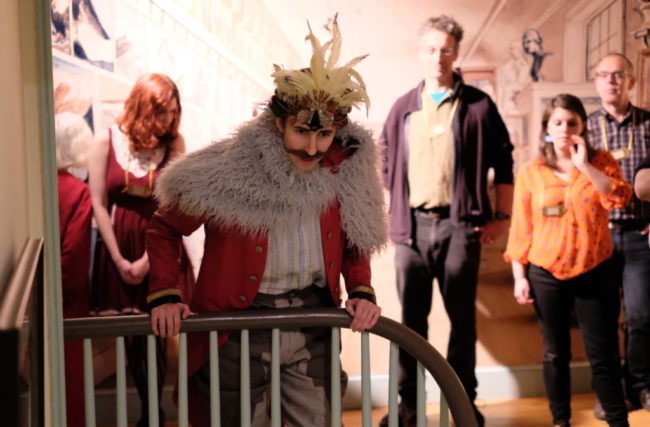 Enough praises cannot be extolled upon H.T. Darling's Incredible MUSÆUM presents The Treasures of New Galapagos: Astonishing Acquisitions from the Perisphere. It cannot be said emphatically enough that this is a rare experience not to be missed. Several dates have already booked up and as the exhibit can only contain a limited number of visitors to the MUSÆUM, it is wise to book a reservation as quickly as possible.
Running Time: Once the MUSÆUM opens its doors, the entire evening stays on course for its two-hour schedule.
H.T. Darling's Incredible MUSÆUM presents The Treasures of New Galapagos: Astonishing Acquisitions from the Perisphere exists through May 7, 2017 with Submersive Productions currently ensconced in The Peale Center— 225 Holliday Street in Baltimore, MD. Reservations to for the experience are required and can be booked online.