Hey, ho! Baltimore— take heed! Take all in good worth what is intended, which is nothing but mirth, of course! How could it be anything but merriment and entertainment at this time of year? Baltimore Shakespeare Factory is embarking upon a bold new endeavor— producing for the very first time— a non-Shakespearean production! Debuting a non-Bard classic, though penned most excellently by a contemporary of Shakespeare's— one Thomas Dekker— BSF brings The Shoemaker's Holiday to the stage under the hearty Direction of one Tom Delise. Both bawdy and brilliant as the Director's Note purports, this delightful little encounter is most unlike any Shakespeare of recent encounter upon the traffic-laden boards of the BSF and exposes a broader spectrum of stories from the Elizabethan era to the eager theatergoing public. Still true to the company's signature 'Shakespeareance' of era-grounded garb, open space lighting, and live music. The Shoemaker's Holiday is scrumptious treat and perfect for sampling before turkey day!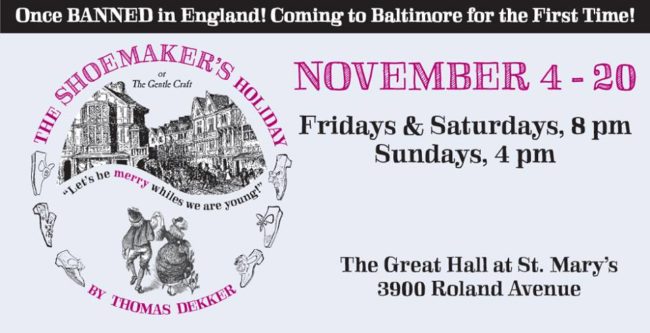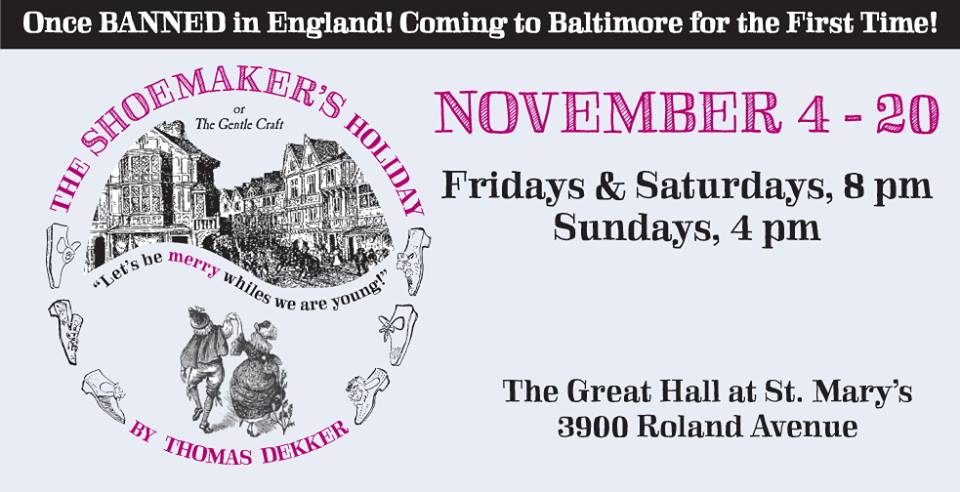 The usual suspects are in play when it comes to the mysteries of thread and shoe; April Forrer takes point on the Costume Designer, which lends itself to the Elizabethan era quite nicely. The pieces worth mentioning, in addition to Forrer's traditional offering of doublets and boots include a decadent red French hood and farthingale to puff her equally impressive gown on Margery. Note also the bright and festive poofed pantaloons featured on Firk, a most whimsical garment fitting of such a fool, and perfect for Firking. Pleasing the ear as well as Forrer's costumes please the eye, Musical Director Jamie Horrell finds songs of appropriate weight, relevance, and mirth to feature among the cast both before the show and during the intermission. The cast comes together to make magical music happen, though Jim Knost wins the 'Bard-y' for best musical solo with his rich and honeyed-timbre voice featured during "Streets of London" just before the intermission concludes.
Director Tom Delise takes the strength of the company's ease when it comes to Shakespearean textual delivery and transfers that into this production. While Thomas Dekker's text is not so esoterically focused as Shakespeare's, rhyming verse is still present and the language is still somewhat foreign to the modern ear. Delise focuses on emotional cues and character traits laced into the words to drive the point home, something with which the company has always exceled, and makes this contemporary Elizabethan comedy readily accessible to the masses. The choice of production is delightful as well as it is rarely performed, let alone locally, and to see it done with such enthusiasm and vim gives great hope and promise for this newly established path in regards to producing other classics in the BSF future.
The beauty of this particularly ticklish little comedy, in addition to its bawdy nature and salty humors, is the simplicity with which the comedy is formulated. Not quite the grandiose errors of mistaken identity but nothing boring either. Gentle little laughs, all of which fall squarely on the shoulders of the ensemble, making their flattened storybook characters into lively animated caricatures. Even Jim Knost— whose plethora of side-characters exist but briefly— plays his primary character as the King, featured late in the final moments, finds energy in expressing justice with a firm hand and delivering text in a regal manner. Other ensemble members who deliver similar energies include Tegan Williams, whose primary representation of Jane is a-blubber with grief and otherwise stalwart when it comes to shooting down the off-putting Hammon (Thomas Bowers), and Davon Harris as Ralph. Harris finds an ire with which to rail at Bowers' late in the production, though the reasons must remain a mystery until you see the show so as not to spoil the intricate plot details.
Craig Allen and Ben Fisler take on the antagonistic roles of the needling Sir Roger Oatley and Sir Hugh Lacy respectively. Somewhat whingy in their portrayals, though this well befits the characterization of Oatley and Lacy, both Allen and Fisler find their niche among this rowdy bunch of performers and deliver their intentions cleanly. With their seasoned oration skills in practice, the audience finds it easy to dislike their fusty ways and burbling tempers when it comes to the situation of the young lovers.
The frolicking freeboots— Firk (Ian Blackwell Rogers) and his band of flatfooted shoemakers: Hodge (Emily Su), as well as Shoemaker #1 (Allie Pres) and all the rest— find a great deal of the show's comedy el within their general craft. Rogers has a fine handle on all of the snarky comments and silly shenanigans that his archetypal fool gets up to over the course of the play, particularly when it comes to threatening to storm out of service of his good master, Simon Eyre.
Such a puerile playful punk, this Simon Eyre (Conrad Deitrick) who well earns and owns his title as madcap mayor. Deitrick and his character's wife, Margery (Bethany Mayo) nail all of the saucy innuendo boldly blazoned into the text with rigorous aplomb and unabashedly sling insults to and fro with great merriment. It is an honest delight to watch them play together, particularly as Mayo holds her own against Deitrick and all his ridiculously dismissive comments. Roaring with a hilariously engaging energy, Deitrick takes point in leading the show to its mirthful fulfillment and guarantees a splendid time for all.
Chris Cotterman takes the cake when it comes to hilarity, despite Deitrick's best efforts. Winning at life when it comes to Elizabethan one-liners, Cotterman steals the funniest moment in the performance as his own when bent at Rose's (Allie Press) feet and utters the line "your father's presence pinches, not the shoe." Delivered with such sarcastic bite and off-handed cheek, it's impossible not to laugh, this— mixed with his Finnish accent of absurd proportions when in guise as Hans— has the audience swooning over the character of Roland Lacy as skillfully crafted in Cotterman's hands.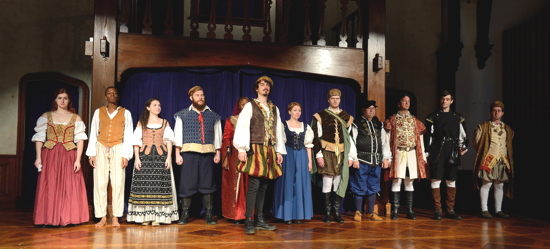 A delicious good time that tickles the fancy of anyone who enjoys a good comedy, if this is to be the path that follows when it comes to producing non-Shakespearean classics at the BSF, then there is a great deal more enjoyment to be had on the stage at St. Mary's!
Running Time: Approximately 2 hours and 20 minutes with one intermission
The Shoemaker's Holiday plays through November 20, 2016 at The Baltimore Shakespeare Factory at the St. Mary's Community Center— 3900 Roland Avenue in Hampden borough of Baltimore, MD. Tickets can be purchased at the door or in advance online.