My friends! You've got trouble— right here in Windsor Mill! If you don't get over to see The Saint Gabriel Miracle Players' production of Music Man and you've got to know the territory, which means getting a ticket— with a capital 'T' which rhymes with 'P' and that stands for POOL! Oh yes, you'll be in trouble! Right here in Baltimore County— if you miss a show like this, that's simply bliss and glee! You don't want to be in trouble— not here at St. Gabriel's, which is where you'll be if you don't get your ticket, which starts with 'T' and rhymes with 'P' and stands for POOL! Leading the band— as both Director and Musical Director— Lynn Graham brings Meredith Wilson's iconic classic to the stage with vigorous aplomb! A wonderfully cast and directed show, Music Man is fun for all ages at St. Gabriel's this fall.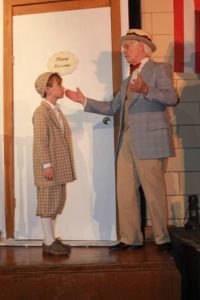 There are not 76 trombones or 110 cornets over in the live orchestra led conductor Matt Elky, however, there are about two dozen musicians who keep all of the familiar tunes rolling along at a brisk and brilliant pace. With only a hiccup here and there, the live music is a lovely touch to the show, giving the actors and the audience the real experience when it comes to musical theatre. Working with Lynn Graham as the show's Musical Director, Elky succeeds in rolling through familiar tunes as the show rumbles along just like the Wells Fargo Wagon!
Wearing a multitude of hats, Graham not only directs the show from an acting and musical standpoint but she's also responsible for the Set Design, as well as the River City Mural design. Graham also led the paint crew for the mural, comprised of a half dozen others from the cast and crew. The set itself is delightfully simple and yet aesthetically pleasing, the mural in particular, which features all of 'Old Miser' Madison's buildings and looks like something fresh out of a River City picture book. The faux flowers woven into the lacy lattice of the trellis on the Paroo front porch is a tender touch as well when it comes to the show's overall appearance.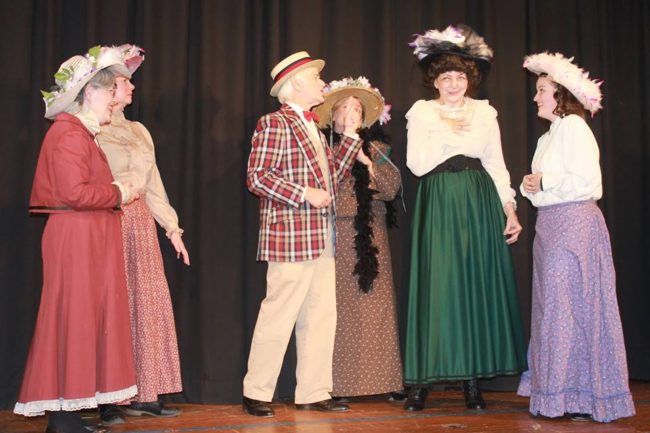 Costumers Heidi Toll and Sally Kahn (of Liberty Showcase) deserve props and applause for all of their 1910 costuming. High-waisted skirts and full-collared, high-necked lace shirts for the ladies and dapper suits for the gents go hand-in-hand with Toll and Kahn decking them out. The full nest of feathers featured in the hats of the Ladies' ensemble make "Pick-a-Little, Talk-A-Little" a delightfully fowl number. And the matching vests for the School Board Quartet a lovely both in their sky blue and later their proper red and white barbershop pole stripes!
The barbershop quartet isn't the only quartet in the show that knows the territory! There's a quartet of dinner coordinators that make the evening extra special for anyone who decides to join The Miracle Players for their pre-show dinner, making it a marvelous dinner theatre experience. Dan Conley, Barbara Sealover, Zoe Sealover, and Kathie Welsh contribute to the fantastical feast of food provided for dinner patrons. A bright, fresh salad, lemon caper chicken, delicious buttered salmon, pasta and vegetables are all on offer with rolls, coffee, and tea. And let's not forget the exciting array of desserts featured by the fantastic four— pumpkin pie, brownies, chocolate cake, lemon cake, spice cake! In addition to a wonderful show there's a magnificent meal awaiting people who hop the junction to River City!
Coordinating a large cast in a limited space is indeed a challenge, all the more so when it comes to dancing. Though Music Man is not known for its dancing throughout, everyone expects the big shebang when it comes to "Shipoopi." Choreographer Lori Kahn lives up to expectations by keeping it simple. Focusing on six dancers (Autumn Anderson, Emily Lambert, Kyle Maize, Tom Nisbet, Sadie Roussell,  and Timothy Zyla), Kahn keeps this wild and whacky number more than entertaining. There are also little moments, like during "Marian the Librarian" where subtler dance moves come into play and keep the audience engaged with the movement of the music.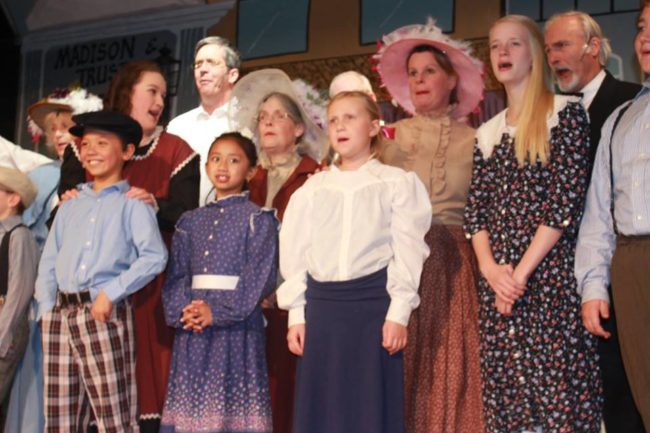 The ensemble is chocked full of enthusiastic and eager performers of all ages who do their part to give big ensemble numbers like "The Wells Fargo Wagon" a great roaring community feel to it. Egads— for the few seconds that Zaneeta Shin (at this performance Sadie Roussell) is featured, opposite the spunky Tommy Djias (at this performance Kyle Maize), she makes quite the impression! Jeely kly those kids, who share the roles with Autumn Anderson and Timothy Zyla respectively, are just swell! And all four of them get to show off how good they are at dancing when it comes to "Shipoopi."
Little Winthrop (Finn Smith) and Amaryllis (Georgia Kelley) are equally impressive in the production as well. Smith has a bold voice that's just bursting at the seams to get out and he gets a chance to show it during his solo verse of "The Wells Fargo Wagon" and again during "Gary, Indiana." Kelley, who just has one singing solo moment during "Goodnight, My Someone", is adorable with her cheeky interactions when it comes to Marian. Both youngsters hold their own in a cast full of adults. Mrs. Paroo (Anita Spicer-Lane), as one of those many adults, brings a bumpy Irish brogue to the character but finds all of the great humor to be had in the meddlesome mother figure, particularly when getting her digs in at Marian over the 'think system.' Spicer-Lane has a lovely voice, which provides good harmony for "Piano Lesson/If You Don't Mind My Saying So."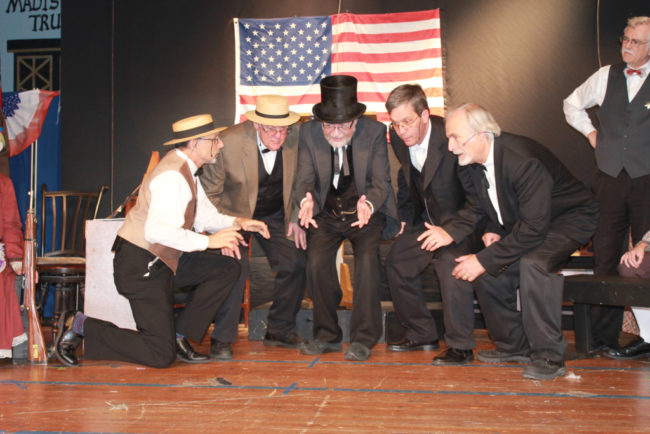 But the two adults running away with the show's comedic moments are Mayor Shinn (Rodney Bonds) and his wife Eulalie Makecknie (Heidi Toll.) The pair are perfectly matched as two spastic peas in a pod; between Bonds' perpetual grumping and blundering about and Toll's over-the-top melotheatrical response to everything, the two are an absolute scream. Bonds in particular when it comes to his character getting flustered really makes the audience laugh, almost ensuring him the title of comic scene-stealer, only Toll, who is a sincere hoot because of her wild facial expressions, steals the crown with her Grecian urn dancing and her bombastic "Balzac!" during "Pick-A-Little, Talk-A-Little."
Scooting in just under the radar of comedy, Marcellus Washburn (Scott AuCoin) laughs his way into the audience's heart with his gimmicky little moments of nonsense. AuCoin has a rich, robust voice, perfectly suited for leading "Shipoopi" and you really get to hear his diva belt in this number. But it's all of the flamboyant shenanigans and gestures that AuCoin delivers during Harold Hill's solo, "The Sadder But Wiser Girl" that really get people to take notice of his performance.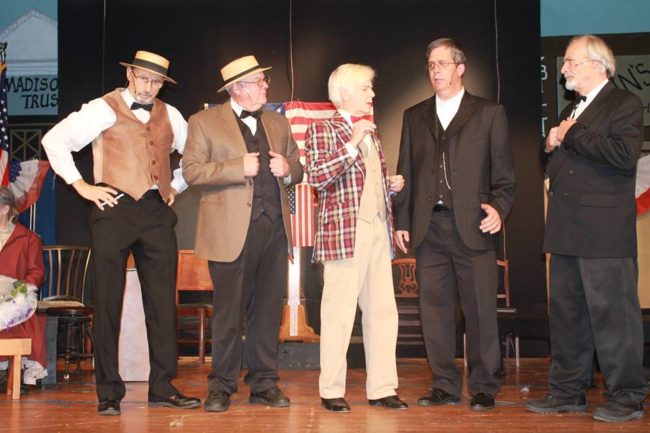 Vocal splendor wends its way into the production in the form of a Barber Shop Quartet. The Three Wise Men Quartet (featuring Joe Chilcoat, George Korch, Tom Nisbet, and Jeff Whall) as the singing school-board members, is musically enlightening and an utter joy to have as a part of Music Man. Gloriously meliflous in every moment in which they harmonize— but especially during "Lida Rose" and "Goodnight, Ladies"— the quartet is an aural delicacy that puts this production a step above other community theatre productions. Tom Nisbet especially, with a bass range that melts the ears like butter, blends into those complicated four-parts with an incredible sound that just cries out for praise.
Marian (Ruth Hulett) and Harold Hill (Michael Hulett) are so well-matched in this production it's simply astonishing. Mrs. Hulett carries the frustrations of Iowa stubborn like a hard chip on her shoulder when it comes to initially encountering the good professor. And I'm going to be perfectly frank when it comes to Mr. Hulett as Professor Harold Hill— he's the bee's knees! Smooth talking, charming, spellbinder, and that's all carried in his physicality and verbal delivery. There's something utterly appealing about the way Mr. Hulett delivers the titular character, and he's got the singing chops to carry the musicality of Harold too. Both Mr. and Mrs. Hulett have wonderful singing voices, and they harmonize divinely for "Till There Was You."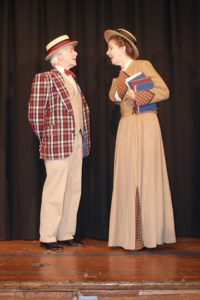 Mrs. Hulett gets to shine as Marian, taking every vocal opportunity she gets— from "My White Knight" to "Goodnight, My Someone" to showcase her delectable soprano range that drifts gently above all the others in the show. And Mr. Hulett patters with a driving tempo that really makes numbers like "Ya Got Trouble" jump the tracks and roll on down the line. Enough praises cannot be lauded onto the pair for how exceptionally well they undertake the characters, in all aspects of the performance. The best hope one can have to truly understand how masterful they are in these roles is to go and see the show!
Don't miss your chance to see Music Man, you wouldn't want to find yourself in trouble, which starts with 'T' and rhymes with 'P' and that stands for POOL!
Music Man plays through November 20, 2016 at The Saint Gabriel Miracle Players— 6946 Dogwood Road in Baltimore, MD. Tickets can be purchased at the door or with an advanced reservation request online.