Unable to take our eyes off these Midtown Men, the readers of TheatreBloom are eager to see what Christian Hoff has to say in part 2 of the "Oh, What a Night!" interview series, featuring four of the original Jersey Boys who now tour the country as The Midtown Men.
Thanks so much for giving us your time today! If you want to give us a quick introduction, we'll get going!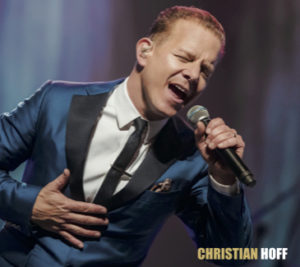 Christian Hoff: My name is Christian Hoff, I'm one of the founding member of The Midtown Men that segued off a hit Broadway show called Jersey Boys.
Which one of the Jersey Boys were you?
Christian: I was the founding member, the one who put them together and held them together, his name was Tommy DeVito, the guitar player.
How did you end up making the transition from Jersey Boys to The Midtown Men?
Christian: The transition that got me into Jersey Boys was a very unique one. I was running another business. I was a single dad and I get this phone call telling me I need to switch gears and get back on the stage. That happened seamlessly. The transition to Broadway was amazing. Of course it was an incredible run, the whole Tony Award thing, it was just an amazing thing. The transition out, it was natural that the guys and I— the ones we'd really attached to, which was Michael Longoria, Daniel Reichard, Bobby Spencer, and myself— we had a passion for singing outside of the stage, outside of the theater, outside of our press requirements. We liked to sing together. That made a natural progression when it turned out the people also wanted to hear us sing and they basically wanted to hire us to continue this journey. So we said, "Okay!" And we've ridden that wave now for seven years on the road. Us doing what we love to do and making people happy. It's been a combination of a love and a passion for performing and fulfilling a need where there was a void. Nobody had ever done this before. No Broadway cast had ever left the show and went on to start a completely new entity together.
What is it about that era of music that really draws you to want to do a show like The Midtown Men?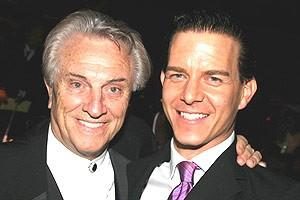 Christian: I think the best thing about it is it's reach. It reaches multiple generations. It's one of the only decades of music that I know that is as relevant today politically, socially, musically, culturally, as it was when it debuted. It seems like an era of great innocence but it was also an era of great— not rebellion— but of big change. It was a great era of innocence and change. And when you put those two things together, there's something very special. At the time it was very regional. And I'm not talking about The Beatles versus The Beach Boys, I'm talking about inside the country. East coast, west coast, north or south, you had the Detroit sound, you had the Memphis sound; all of the great regional music was represented on the radio and in these records. I love that melting pot which we don't have today as much. It's a little bit more engineered now.
Do you have a song from that era either from Jersey Boys or The Midtown Men that really speaks to you?
Christian: Right now one of my new songs is a Buffalo Springfield songs written by Steven Sills called "For What It's Worth." We all know it, it's basically in the top-ten list of protest songs from the 60's. But funny enough, Steven wrote it as an anti-protest song. It was about the division being the real problem. Nobody's right if everybody's wrong was the mantra and it was about people coming together to stop the protesting, to stop the division, and to come together and find the middle ground. That's one of the greatest protest songs to me because it says "enough already."
The Midtown Men is different from Jersey Boys because you're just playing yourselves. What is it like to be in a show that features all of this iconic music but you're performing it not as a character but as your individual person?
Christian: That was one of the exciting things about the first show, or the first few shows as The Midtown Men. For guys that had shared the stage together for thousands of performances together in New York, we had seen each other on stage but we were playing characters. We were seeing each other in these characters. But then to look across the stage and just see each other outside the character and have the character be us and the story be ours, it was like turning inside out. We felt very free. We felt very scared too. You're naked in front of an audience. We instantly went back to exactly what we did to bring Jersey Boys to life and into the world, which was: story. What's the story? What are we doing? We went straight to the lyric, we went straight to the connection that we have personally to the music. That's what's selling it to the audience. They want to hear the songs that they know but they want to share a connection. It's almost like we're trading and sharing this music, just like we did with Jersey Boys, but it's innocent because we're not playing characters anymore. We are the band, we are the audience when we're performing at the same time if that makes sense.
What would you say has been the biggest challenge in taking on a show like The Midtown Men where you are just yourselves on stage but delivering music that has all of these expectations behind it?
Christian: The challenge in that was making sure that people knew that that's what they were seeing. There's no way to really describe that. You can't really tell somebody what you're not, effectively. You need to tell them what you are. You need to show them what you are. That's what we did when we brought Jersey Boys to Broadway. The buzz was "Oh, no. Not a jukebox musical. Oh, no. Who are The Four Seasons?" What we were taught to do by a brilliant director, visionary Des McAnuff, and the writer team Marshall Brickman and Rick Elice, we were taught to demonstrate who we are and what we are, not what we aren't. Just like we do now as The Midtown Men every time we step on stage it's an expression of who we are. It's not "okay, we're not Jersey Boys anymore" or "we're not on Broadway anymore." All those things are scary, when you think about it. And that's when the fear would creep in, if it were to, trying to identify with the things that we're not. We literally put a suit on. That's the only unifying thing that we have because we're all very, very different. We put the suit on, we tune-up, we warm-up, we do a sound check, we put the audiences in the seats, and we deliver. That was the greatest— not challenge— but opportunity that we get in bringing that Broadway pedigree to audiences across the nation and globe.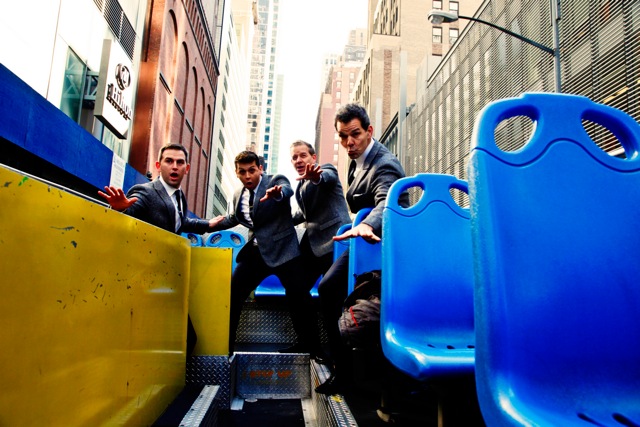 Is there a moment in The Midtown Men show that defines the show for you?
Christian: We've come full circle. I've found comfort in singing songs like "Ain't No Mountain High Enough" or "River Deep, Mountain High." Those songs about overcoming obstacles, those unifying songs. Now what I'm finding, because it's been so long since we were in Jersey Boys— it's been what, nine years? So what I'm really enjoying is rediscovering the simplicity of what brought us back together. The four-part harmonies, The Four Seasons, those roots and those standards and the influences that The Seasons [sic] had. That's what really turns me on still, getting back to the simplicity of what it is we're doing. This is an entertainment tradition that we are carrying the torch for. This is live entertainment, four guys, off-the-cuff, doing what they were trained to do. It's a show of craft and of care but it's also very, very in the moment. It feels like a 60's variety show with Andy Williams and Don Rickles, and Sammy Davis Jr. and maybe Sinatra will stop by.
What is it that you are hoping the audiences are going to take away from seeing The Midtown Men?
Christian: That we can all come around together. The gaps in generations can be bridged. Personal and political differences, all of those things can go away. We can find true unity in a shared experience. That's what the 60's music does for us as entertainers. It puts us in the spotlight on the stage to share that message of camaraderie and demonstrate what it means to make a sacrifice. We're four very different actors with different career paths and different mind sets that come together because they're committed to one another.
What would you say working on The Midtown Men has taught you about yourself?

Christian: Well it's reminded me that collaboration is key. It's an affirmation of what I've always believed and what I was taught early on. It's a concerted effort and a group effort to really bring forth anything great. Independent success is one thing, but let's be realistic, all success has to do with helping others. It's about service. That's what I've always loved about the theatre. I've always taken a very athletic approach to it because it's like a team. You've got a team, you've got the audience and they're like fans in the bleachers. It just so happens that our game play and our game plan is written and scripted, usually, or there's a song with a lyric with a musical structure and those are our play. But ultimately it's about executing. It's about going out there and helping others to drive your own success. We help each other on stage. It's a family.
Why should people come and see The Midtown Men?
Christian: Just to have fun. Let go for a little while and reminisce and go for a musical ride with us.
The Midtown Men will play a one-night only engagement at The Weinberg Center for the Arts— 20 W. Patrick Street in the historical district of downtown Frederick, MD. For tickets call the box office at (301) 600-2828 or purchase them online.
To read Part 1 of the Oh, What a Night! Interview quartet featuring Michael Longoria, click here.