They're the big men in town and they're coming to town quite soon! The original Jersey Boys all grown up into The Midtown Men are here with TheatreBloom offering up the fourth and final installment in the quartet series featuring Michael Longoria, Christian Hoff, J. Robert Spencer, and as the finale, an exclusive interview with Daniel Reichard.
Thanks for giving us your time! If you'd just give us a quick introduction, we'll get going!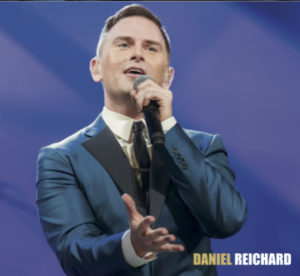 Daniel Reichard: I'm Daniel Reichard and I'm from Cleveland, Ohio originally. That's where I was born. I'm the eighth of nine children. Theatre became a way of setting myself apart. I grew up with such a flare for it, I remember when I was taught how to read, I would read in dialects. I loved the idea of play and the idea of portraying people. As I went through my high school years, I went to an arts school, I went to University of Michigan School of Music, I graduated and I kind of worked my way up. I worked from regional theatre to off-Broadway theatre, to Broadway theatre. It's been a wonderful and very satisfying experience so far.
Which one of the Jersey Boys were you?
Daniel: I was the original Bob Guadio. It was a wonderful part.
How do you find The Midtown Men to be different from your experience with Jersey Boys?
Daniel: Well what's amazing about it is that it was an opportunity to continue to have the excitement of singing together but at the same time to sort of set ourselves apart from it by just being ourselves. The idea that for the past six years and over 600 concerts that we've just been ourselves? That's not something that a lot of actors in the theatre get to do. We're really drawing inspiration from the old "Rat Pack" type shows. Our show is inspired by Sinatra at The Sands, Sammy Davis Jr. at The Coconut Grove. It's old-fashioned show business.
What is it about the music of the 60's that draws you into it and make you want to do over 600 shows?
Daniel: That era is just so inspiring. I think the fact that it's still so impactful is really a factor. We're still blown away by how it reaches across generations. People of all ages find ways to connect to this music, whether they're in high school, college, my age group, or the baby boomer generation, it just crosses generations.
Is there a song of that era either that you're performing in The Midtown Men or maybe that you performed during Jersey Boys that really speaks to you as the song of that era?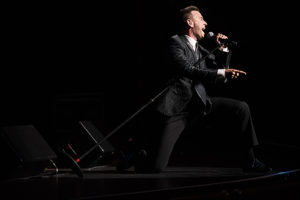 Daniel: We really have this incredible Motown section that we love. Also, of course we love doing the songs from Jersey Boys together, like "Big Girls Don't Cry", "Sherry", and "Oh, What a Night!"; they bring back memories. Let's see, what else? I think the really fun thing about this show is that we have such an eclectic set of songs. The Drifters, The Turtles, The Mamas and The Papas, The Beach Boys, there are just so many different groups. It's really incredible to tell the whole story of the 1960's. There are songs in our set that are of a social significance or that have a that personal significance. You can't really do a piece like this without songs like that that have that call for peace and social justice.
What would you say has been the challenge in taking on a show like The Midtown Men?
Daniel: I think the biggest challenge is maintaining the healthiness and the happiness of our relationships amongst each other. We've been working together for 11 years now. I'm happy to say that we really know how to talk to each other but that's taken years of practice in learning how to collaborate with each other, how to listen to each other. We learned how to know when we wanted to stick to our guns and know when we needed to let somebody else's idea come to the forefront. That's been the biggest challenge, maintaining the health of our relationship and I think we've done it. But it never stops, we're always working at it.
What is it that you are hoping the audiences will take away from seeing The Midtown Men?
Daniel: What I really hope it is? Joy. We have a strong opinion about letting our audiences escape from this extremely complicated world. When you think about when these songs came out, what a complicated world it was, how tumultuous things were. I wasn't there for it but I would imagine that these days things are much more complicated what with social media, with 24-hour news, and with communication being as accessible as it is, we live in extremely complex times. We really stress to our audiences that we want them to let all of that go away and to really let these songs come into their hearts. It's not a nostalgic show, it's a show about re-experiencing these songs in 2016 and letting them effect your spirit.
What would you say being a part of The Midtown Men has taught you about yourself?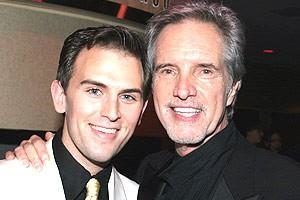 Daniel: I think, getting back to what we were saying, it's taught me about how to be a friend, how to be a business partner, how to be a collaborator, and how to be an artist on stage. We have a craft. Our show is a creation that we all do together and it continues to evolve and it continues to change. We are continuously evolving and changing as people. As our families grow, as our circle of friends change, we go through the ups and downs that all people go through in life. We've learned how to maintain this piece of art that we've created together and we've learned how to let it grow and let it change. At the same time, we've learned how to still maintain a passion for it and how to still maintain a respect for our audiences, whether they're seeing us for the first time or the 30th. We want to make every show special. It's about keeping yourself as clear and as centered and focused and happy so that you can share that passion for this era with other people.
Why do you want people to come and see The Midtown Men?
Daniel: Because it is a revival of an era that is so important in our country's history. It's a way to feel good for a few hours. You'll feel relieved from the pressures of the world. This show is an opportunity for the audience to see how we play out our relationships with each other. The show is about music. It's about friendship as well and it's about people sharing a moment in a space together. There's no processed music, there's no tracks, everything is live and in the style of the old bands that sang these songs originally. We are making everything happen right there. It's a shared experience. The audience shares their community with us and what the vibe of the city is like and we share our experience with them. It seems to be a very satisfying experience for everybody in the room to be sharing that larger moment. That's the most important part of it.
The Midtown Men will play a one-night only engagement at The Weinberg Center for the Arts— 20 W. Patrick Street in the historical district of downtown Frederick, MD. For tickets call the box office at (301) 600-2828 or purchase them online.
To read Part 1 of the Oh, What a Night! Interview quartet featuring Michael Longoria, click here.
To read Part 2 of the Oh, What a Night! Interview quartet featuring Christian Hoff, click here.
To read Part 3 of the Oh, What a Night! Interview quartet featuring J. Robert Spencer, click here.