One voice have I, one task to tell, but I shall need to borrow your breath to tell my story. Breathe in…breathe out…and prepare yourself for a fantastical journey the likes of which one could never imagine. The Missing Peace, a new musical with Music and Lyrics by Ron Melrose, is making a three-performances-only whirlwind reprise in the home space of Stillpointe Theatre. After a successful run at the 2016 Capital Fringe Festival, where the show was voted among the "must-see" performances of over 115 featured this year, the original creative and performance team returns to alight this tale most wondrous strange to the audiences of Station North. But will you heed the call and find your place in the great story? Directed by Kelly Williams Carlson, this one-woman musical with an orchestra of just three will inspire, amaze, and ignite a spark of fantasy inside your mind, heart, and soul before the evening is through.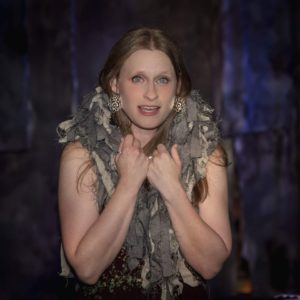 Creator Ron Melrose is a marvelous weaver of storybooks old; the fantastical tale that he sets down in this one-woman musical could come from any far-off realm of fantasy that has trickled its way through the sands of time to our ear at present. Though there are minor spots in the lyrics that could use a sweep of polish or a breath of finesse to keep the show from that slightly pedantic and esoteric feel, Melrose's music is inspiring. Fully capturing the essence of mystical whimsy and foreboding adventure in the score, which is exceptionally articulated by Musical Director Mandee Ferrier Roberts (who plays piano and keys during the performance), Melrose's music is a story in itself. A beautiful and at time haunting parade of imagination for the ear, a pleasing and titillating triumph of notes and chords, harmonies and melodies, and remarkable sound that are woven together into a tapestry of music that depicts the emotional fiber of the show's tale.
Roberts, who leads the three-person orchestra comprised of herself on piano and keys, Karina Carter on flute and piccolo, and Kris Miller on violin, is an exceptional musician whose talents seemingly know no bounds when it comes to the intense shifts in mood of the show's music, which are articulated through stylistic slides and tempo changes. The trio takes to the score with great aplomb, particularly during "The Spice of Fear"— a song where Carter's wind instruments underscore the voice of Brianna and Miller's violin does the same for the dragon. These musicians play the music as if it flowed forth from their fingertips directly, keeping the audience in rapt attention as each number unravels more of the journey.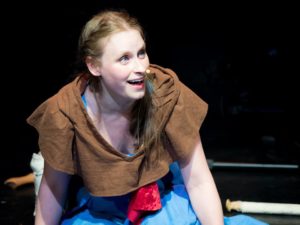 With just a simple dress and versatile cloak and hood, Costume Designer Bethany Marx lets the imagination fill in the gaps of this mythic tale. Marx' work, though small in quantity, does not lack for quality and fits the bill for the creative constructs of the show on the whole. The double-sided green glowing and barren earth-cracked cape is as remarkable as the old crone's headdress. These landmarks of imagination are tethering points— along with Brent Silvestri's prop construction (most notably the dragon)— and create a skeletal framework for the show; this framework is then filled in with gloriously vivid color by the three musicians and vocal performer, Christine Demuth.
A one-person show is demanding, a musical is exhilaratingly exhausting, but a one-person musical requires performance divinity to carry off successfully. Vocal performer and one-woman extraordinaire Christine Demuth is a goddess of the stage, who much like Atlas bears the weight of the story's world upon her shoulders. Transporting the audience from the ordinary walls and floors of Stillpointe Theatre's space, Demuth unpacks the trinkets of her trunk as if her touch alone alighted each one with magic, spilling them into an unseen realm of fantasy that unfolds before our very eyes. In a stunning combination of vocalization and interactive eyes, the way Demuth visualizes what she is seeing and singing brushes art to vibrant life with a welcoming invite to believe in the mystical fantasy that is happening all around her. Transforming a world of listless rubbish and trinkets into magical artifacts and scenery, Demuth not only paints a living landscape but gives birth to this chimerical world using only her voice, her facial features, and the movement of her body.
Singing for eight different characters, Demuth astounds and amazes the audience with a unique sound for each one that she portrays. There are affectations of timbre and pitch that distinguish Brianna, the story's heroine, from The Storyteller, and further still from Mother and Rose. Layered techniques create the craggy mountainous sound of the Old Crone for "Childhood's End" without ever compromising the vocal clarity or integrity of the lyrics. In just blinks and breathes Demuth is able to switch seamlessly from character to character, demonstrated most intently with slicing precision in "The Greening" where she flips between Brianna and the Crone. The emotional spectrum is fully traversed by Demuth's performance, deftly articulating each emotion as she tumbles through unfathomable oceans of feelings all with jarring vocal clarity and phenomenal consistency.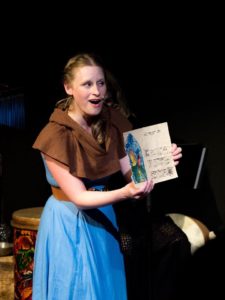 There is a sense of adventure bursting from Demuth from the moment she steps into Brianna with "The Forgotten Song", which takes flight on her voice, sails through her expressive eyes, and soars through her emotionally engaged physicality, leaving the audience awestruck with wonder and intrigue. This sense of fearlessness thrills all who listen and keeps the house teetering on the edge of their attention, half desperate to learn how the story concludes, the other half desperate to plunge headlong into the tale itself and take up the flute or sword to restore Brianna's homeland and aid her on her quest. Nothing escapes Demuth's abilities— whether its Scottish Lowland jig-kick-dancing in "Childhood's End", a powerful blast of belted sustain at the end of "Unready and Rising", or her harrowing break of conscious when slipping from "Ferryman" into "You Can No More Change It." Sensationally gifted, the acapella moment of "In My Dream", which is cast into darkness with the perfect balance of shadow play by Lighting Designer Alexis Sheeks, is turning point that clings to Demuth's soul and cleaves the audiences' hearts in twain.
All stories must unravel to reveal an ending, be them happy or sad, and The Missing Peace finds its conclusion in a remarkable light, with Demuth— as The Storyteller— rewinding her threads of fantasy and fiction back into her trunk as if it were nothing more than a simple bedtime story she were sharing and we— her captive audience— no more than wildly imaginative children dreaming before slumbering through the night. There are only three performances of this stellar new musical; this is a once in a lifetime opportunity to which you must lend your breathe. Find your place in the great story by attending The Missing Peace at Stillpointe Theatre.
Running Time: Approximately 80 minutes with no intermission
The Missing Peace plays through August 21, 2016 at Stillpointe Theatre— 1825 N. Charles Street in the Station North Arts District of Baltimore, MD. Tickets can be purchase at the door— cash or card $20.