Think about your day. Think about all you do in your day. You wake up, you shower, you go to work, perhaps you live alone and you do everything on your own. You are self-sufficient. But what if that changed? What if something happened and you were no longer able to complete your daily routine on your own? In a uniquely engaging and compelling theatrical performance, globally traveled performance artist Siobhan O'Loughlin returns to Maryland and under the aegis of Submersive Productions brings her world-famous Broken Bone Bathtub to Charm City. Unfolding her tale and entreating the audience to a truly captivating and unusual performance experience, O'Loughlin immerses herself and the audience in her world for an hour; this remarkably tender tale of the human condition wends its way out of reality and circumstance to touch the hearts of all in attendance.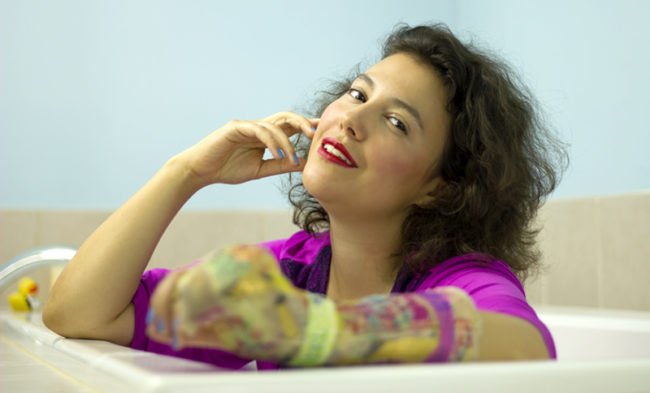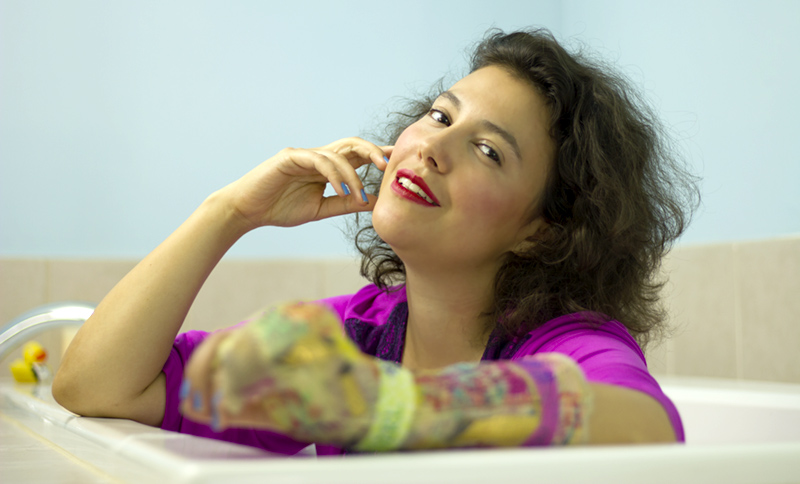 The location is undisclosed (until you've purchased tickets, of course.) The mystery begins. In the vein of Submersive Productions' mission there is something serenely surreal about the entire experience. With installation art by Amanda Burnham featured throughout the historic townhome, the performance is more than just a show in a bathroom, but a fully inclusive experience. Between the installation art and the theme music, selected by O'Loughlin herself (with additional soundscape provided by Submersive Productions Co-Artistic Founder Glenn Ricci), there is a world waiting to tantalize the senses as the audience ascends two flights of stairs to the performance space— as might be surmised by the title of the piece— inside a bathroom.
Balancing what to say about the production is a tricky task— so much of what occurs in the space is an exhilarating experience that should be experienced rather than read about or discussed. Important things to note include the 'no speaking unless spoken to' rule, a quick-growing hallmark of Submersive Productions, as well as not touching the performer unless being cued to do so. The intimate space awakens possibilities that a stage or other performance venue would deny this story, and as one might imagine, there is in fact a bathtub and a performer is in it. She is taking a bath. There's nothing questionable about the presentation— all the important things stay tastefully hidden from view— if anything there is a vulnerability to the way O'Loughlin exposes her character and her tale in this setting.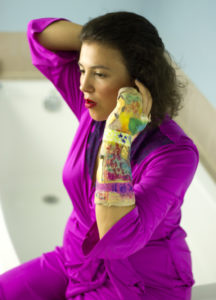 Don't be fooled by this interactive experience, however. This is more than just a naked girl in a bathtub asking questions of her audience. O'Loughlin understands how to interact with individuals in attendance of her show. She provides multiple opportunities for feeling inclusive without being intrusive. For those individuals wishing for a slightly more engaging role in the performance it is recommended to enter the space last, taking the seats closest to the bathtub. All members of the audience are encouraged to participate in building the story throughout the evening, though those closer to the bathtub may find themselves a bit more involved in the process.
O'Loughlin is convivial in her approach to unpacking her story. It becomes so much more than a woman telling her life experience involving a particular incident. Working the vices of memory and tangential supply, she creates a beautifully meandering narrative that allows for the unexpected and intriguing input of the audience and their own real life stories. The unapologetic openness with which she approaches her own leg of the tale is strikingly beautiful and at moments evokes a fair plethora of unanticipated emotional currents. In addition to her own exposure of pathos, O'Loughlin is a natural at finding the humor of a situation and diffusing tension without blinking an eye. The pristine balance, which cannot be praised enough in her work, of traversing the emotional road map of her experience is related to us in such a fashion that the audience feels welcomed in her tale, a part of her narrative, and included in her story. Whether or not the audience knows O'Loughlin— personally or professionally— before entering the performance, just moments into the evening and the general feeling is that of deep and time-tested kinship with the woman in the bathtub.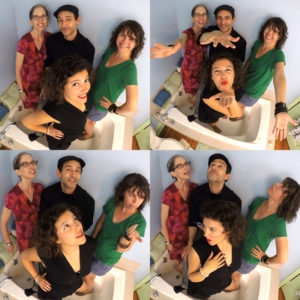 The experience begins long before the ascent to the bathroom— with complimentary soaps provided by Mount Royal Soaps; these are the very same soaps used in the experience with O'Loughlin upstairs. Local craft brews— donated generously by Checkerspot Brewing— as well as tasteful snacks are available to help the audience mingle pre-show as the evening requires spending just over an hour together with strangers in an intimately confined space. Amanda Burnham's installation art is featured everywhere inside the house and adds a fascinating element to the experience on the whole. A truly remarkable work of art, and most definitely unlike anything else happening in Baltimore City on the performance art scene, Broken Bone Bathtub is a must-see to wrap up this summer season. Don't dawdle to get your tickets as several performances have already sold out.
Running Time: Approximately 60 minutes with no intermission
Broken Bone Bathtub: Submersive Edition plays through September 11, 2016 in a historic rowhome in Baltimore City near Patterson Park. The location will be disclosed once tickets have been purchased. Tickets may be purchased here.
For more information regarding upcoming Submersive Productions, click here.