I'll tell you a tale of the bottomless blue, and it's hey— to Glyndon Area Players— heave-ho! Look out, folks, a mermaid be waiting for you in mysterious fathoms below! Not just one mermaid, but a dozen or so. And one wicked sea witch. Oh, and a cantankerous crustacean. And a lovesick guppy. And a prince! And so much more if you'll just plunge in and take the journey with GAP for their 19th season as they present Disney's The Little Mermaid for the summer of 2016. Directed by Henry Cyr, with Musical Direction by Andrew Zile, this heartwarming iconic Disney family classic is just what the blazing days of summer ordered and the dedicated community theatre does not disappoint when it comes to the music, the aesthetic, and the overall talent of the show.
The nautical creativity that laps upon the set like waves upon a shore for this production is strikingly beautiful and ingeniously imaginative. Taking a village of volunteers in true community theatre fashion, everything from the rolling coral reefs (made with pool noodles, insulation foam, and even flip-flops!) to the gorgeous Caspian coastline backgrounds painted on the periaktoi is hand-crafted, painted, and developed to give each of the scenes a wildly wondrous look. Some of the finest scenic resplendence comes from the 3D effect in the painted windows of Prince Eric's castle. Creative Director Homero Bayarena oversees these fantastical designs; everything from the perfectly balanced treasure grotto filled to the gills with human stuff to Ursula's dark and creepy lair— populated with 'unfortunate soul finger puppets'— falls into place to create an inviting and enchanting aesthetic to the show on the whole.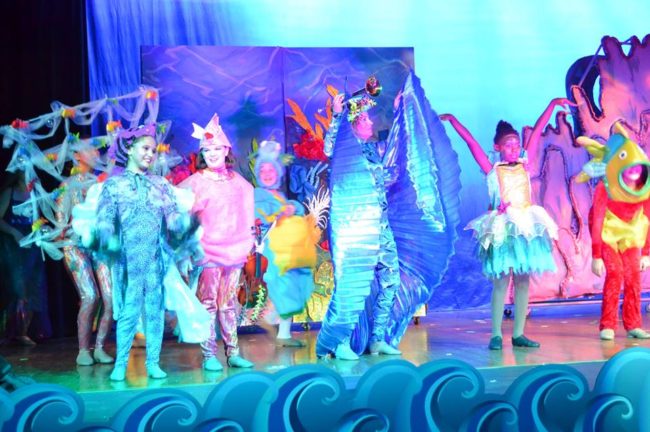 Bayarena's creative supervision extends into the realm of Costume Design and construction as well. No two costumes are the same. The teeny tiny downside to the show is the way the "mermaid tails" are handled. The concept is solid, as the sequined tails clip onto the back of the merfolk's skirts like a tail-shaped bustle, but the execution is a bit limp, leaving them dangling like oddly pointed capes. This aside, the costumes are radiant, filled with magnificent colors and wild streaks of creativity that gives each character their own unique pump of persona. An extra-special nod is deserving to the show's makeup consultation team, between the glitter contours on the Mersisters' faces and the flawless abs and gills blended into King Triton's bare abdomen, someone is paying attention to detail.
The show's only other downside (besides a somewhat lengthy intermission) is the scenic shifts. While Musical Director Andrew Zile provides adequate vamps and transitions, the moves themselves of these larger than life set pieces often take just a bit too long. The main issue here seems to be not jumping to action the moment a scene finishes to get these laborious transitions underway. If these scenic shifts could be tightened, the show's overall running time would tighten and there would be fewer air-bubbles of inactivity between the glorious moments of talented singing and performing happening in each scene.
Zile, who does an exceptional job of balancing the live pit of some dozen and a half musicians, keeps the show moving and has the cast following him quite closely throughout the performance, making sure each song is appropriated to a tempo that best suits the show and the stage performers. Keeping the pit from overplaying the stage voices is a critical task, which Zile handles with aplomb, the result of which is an even blend of voices and instruments that make the music of Disney's The Little Mermaid thoroughly enjoyable.
Technical Director Michael Parks oversees Lighting Director Jim Shomo and Sound Director Charles Hirsch; all three of these tech-savvy visionaries add nuance to the performance, particularly in the realm of special effects. Shomo's incorporation of color, motion, and projection keep the visual component of the show's technical trials looking most resplendent. This is particularly true as the transition for Ariel from mermaid to human gets a little hung up (drat to those awkward fin-tails!) and Shomo's blinking gobos are a nice distraction. Praise should also be noted for the spiraling projections of actual tropical coral reefs and fish on the side walls of the auditorium during "Under the Sea." Parks and Bayarena also 'make the magic' as it were by flooding the stage with live bubbles during appropriate musical numbers and celebratory scenes.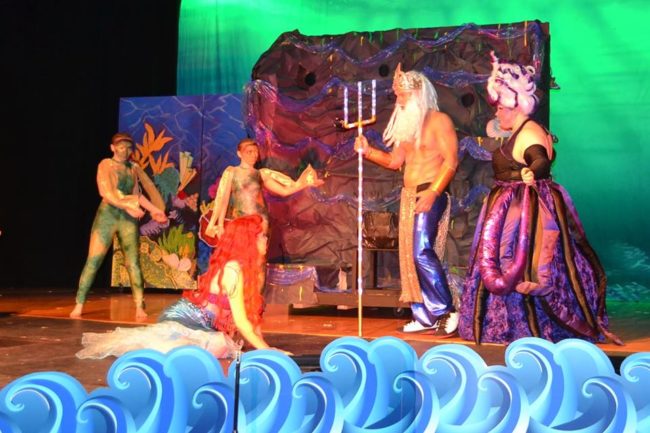 With an expandable size ensemble, Director Henry Cyr, with the support of Assistant Director Teresa Ertel, finds clever ways to incorporate all sorts of performers to give everyone their moment in the spotlight. Foregoing the traditional double casting of Mersisters and Princesses at the contest, Cyr gives six other talented soprano ranged females— Lauren DeSha, Corinne Ertel, Emily Pulling, Emily Signor, Sophie True, and Alycia Wepasnick— their chance to shine during "The Contest", a number that also features Grimsby (Donald Ertel) doing his finest spoken introduction. Ertel, who is subtly humorous in the role, is well suited for the cranky yet sensible old guardian, particularly when it comes to his astonished responses to King Triton at the show's conclusion.
There is a great deal of magic unfolding throughout the production, whether it's the simplistic choreography of Maia DeBaugh— who finds a way to make dance numbers look entertaining while keeping them within the basic realm of 'appropriate for all dancer abilities'— or the dedicated involvement of everyone that captures the essence of the iconic Disney moments like the floating boat scene of "Kiss the Girl" (look out for a sparkly blue Homero Bayarena-type fish that might be moving the boat), there are wonderful things happening in each and every moment of the lively production.
Cyr's blocking of the production is sharp. Making use of the full stage, he carefully uses the periaktoi to delineate sea from shore and every place in-between. One of the more striking moments of staging occurs during the infamous quartet, "If Only" where the voices of Ariel, Prince Eric, Sebastian, and Triton are on display in four-part harmony. Cyr sets each of them in front of a periaktoi that represents their world and lets solo lights fall upon them amid the subdued blue overhead light bath. This creates the appropriately heartfelt and somber atmosphere that the song requires, augmenting that sentiment which is carried heavily in the singer's voices.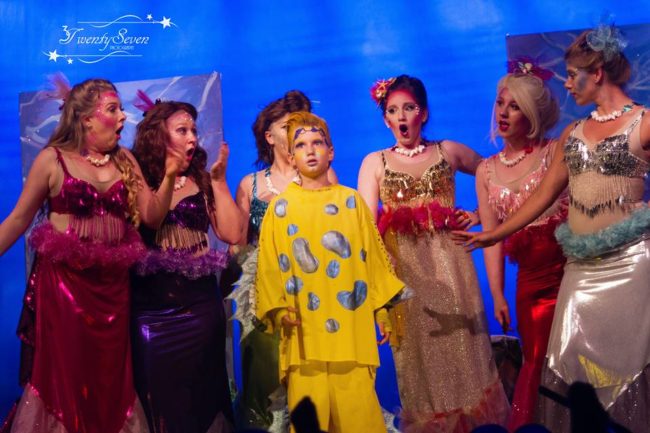 Cameo performances worth mentioning include those of the six Mersisters— Aquata (Aly Marks), Andrina (Colleen Esposito), Arista (Lily Ertel), Attina (Jenny Yarmis), Adella (Ava Ertel), and Allana (Ellen Manuel-Smith)— who are featured as a group in both "Daughters of Triton" and later in "She's in Love." Both songs allow the sextet of performers to sing to their simpering sweet heart's content, with each mersister having a moment to showcase their general jealous distaste towards their youngest sister— the show's titular character— and display their particular flavor of uniqueness, be it through smiles or sassy attitude.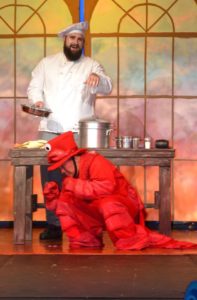 Playing both the Pilot and later Chef Louis, Tom Zepp puts his operatic abilities on display in this production. Looking a bit like a nautical nightmare in the opening scene, Zepp's Barbosa-inspired ghost-pirate look is a subtle nod to another Disney classic, but it's his voice ringing out clear in "Fathoms Below" that catches the ear quite readily. Appearing in a completely different fashion in the second act, Zepp adapts an outrageous French accent for the character of Chef Louis and goes to town with the zaniness of the character. But once again his gloriously pitched and well-sustained vocals are on display for "Les Poissons." A memorable performance given in both roles, Zepp is a cameo character well worthy of praising for his dual efforts in the show.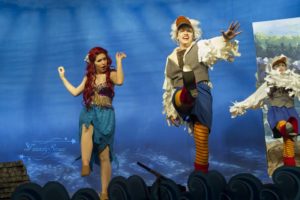 Equally ridiculous as Chef Louis, the feather-brained seagull Scuttle (Willem Rogers) roosts in the audiences' hearts with all of his "positoovity." Rogers has a most peculiar accent that fits the flighty bird well, even if it is a bit unidentifiable. Without "Human Stuff" (as Disney saw fit to slash it from the current produced version), Rogers is forced to rely on his acting ability in the first act to give his performance as Scuttle the wings of success. Fortunately for him, he's quite adept at chumming around when it comes to explaining the dinglehopper and the snarfblat. Fleet of foot, Rogers gets to showcase an even sillier side of the seagull in the second act, leading the other seagulls (Corinne Ertel, Daniel Plante, Emily Pulling, Emily Signor, and Sophie True) in a back-to-basics tap routine for "Positoovity."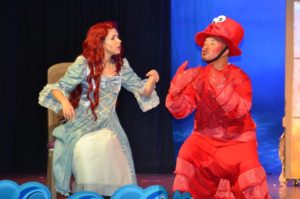 The bird and the French chef may be funny, hysterical even, but when it comes to comic timing, no one knows it better than the court composer, Horatio Thelonious Ignatius Crustaceus Sebastian (at this performance Raph Paredes.) Sharing the role with Xavier Brebnor, Paredes is too precious for words when it comes to his comedic delivery of the Jamaican accent. Paying homage to the animated film version of the cantankerous crab, Paredes is most humorous when delivering one-liners and fussing at or about Ariel. With a robust and surprisingly clear singing voice, "Under the Sea" and "Kiss the Girl" become delightful show-stopping numbers with Paredes in the lead. His fourth of the vocal quartet, "If Only" is striking and well-matched against the other three featured in the number.
Precocious and loaded with attitude, little Flounder (Ian Jones) is one guppy fish who won't easily be forgotten. Though he has no songs all his own, his solo feature for "She's in Love" is delivered with boisterous flare, but it's Jones' flirtatious moments with Ariel that really have the audience turning heads to pay attention to him. With a shock of yellow-sprayed hair to match his traditionally inspired yet uniquely individual fish costume, Jones is easily spotted in the group numbers as well as when he's slip-sliding about on his heelies. Moving most smoothly on them, perhaps the smoothest heelies-bound performer on the stage, Jones glides around the stage as the moxie-marinated guppy that won't be ignored.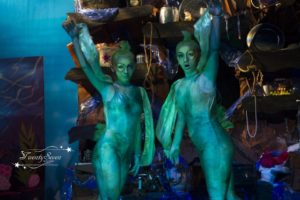 Flotsam (Lucy DeBaugh) and Jetsam (Cecelia DeBaugh) do not have heelies but the DeBaugh sisters give their own electrifying jolt of movement to the slithery eels that really generates a current of fascinating motion. Both Lucy and Cecelia are slinky and slithery on their feet, allowing their bodies to ebb and flow upright creating the illusion that they are really electric eels, the unctuous henchmen of that vile villain Ursula. Their full body and makeup intensive costumes take the cake as far as glittery and impressive when it comes to the show on the whole. Be sure to watch their charming choreography during "Daddy's Little Angel" a trio shared with the sea witch, and watch their bodies closely for when they drag Ariel about during "Sweet Child."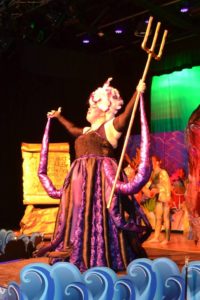 The wickedly revolting and sinisterly sincere Ursula (Kat Lemon) is indeed the epitome of the last great era of Disney villains. Channeling all the sass and nuance of Pat Carroll, Lemon unfurls her tentacles and lets loose as this wicked witch of the sea. Unapologetic for her nasty ways, she even finds a way to make the dreadful number "Daddy's Little Angel" not only palatable but enjoyable. Lemon's true stellar moment comes during "Poor Unfortunate Souls" and its Reprise, both of which are maniacally marvelous and laced with rich showmanship in addition to that renowned sense of villainy that only a scorned Disney cast-off character can purport. Full of pizzazz and serious diva attitude, Lemon is every bit effective and effervescent as Ursula.
King Triton (Casey Gomes) holds his own as one of the principal characters in the performance. Gomes, who should be praised for his incredible ability to fake both a six-pack and mer-gills through highly detailed makeup contouring on his torso, has a rich booming voice both when yelling at Ariel, trying to maintain order in his court, and when singing. His fourth of "If Only" rounds out the deep baritone and bass sounds of the quartet. His presence is keenly felt, even though he is only present in a handful of scenes; this is the power of his acting ability permeating through scenes in which he's only mentioned, conjuring a sense that he's always watching or always on Ariel's mind.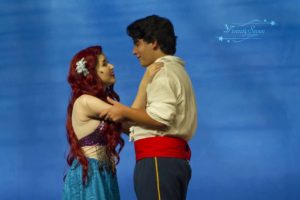 Prince Eric (Emilio Bayarena) and Ariel (Ilyssa Rubin) are the show's true stars. With the starry-eyed dreams and wild adventurous heart of the prince turned sailor and the wondrously curious and determinedly hopeful will of the youngest of Triton's daughters, the pair were a match made for one another. Their chemistry is delightful, even at the initial encounter when the prince remains unconscious, and carries to exponentially jovial heights as they meet in the second act once Rubin has gained her legs but lost her voice. The way they respond to one another, particularly while dancing during "One Step Closer", is laced with that innocent nubile love that can only be articulated through happy dancing feet.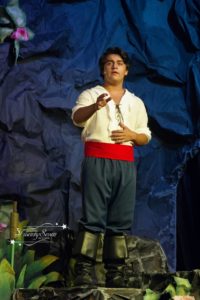 Bayarena is perfect for the role of Prince Eric, with a strong voice to support his multiple solo numbers and an equally strong stage presence so that he doesn't fall to the wayside of the titular character. Hearing him first in "Fathoms Below" it becomes evident early on that his vocal capacity to emote and tell the story are well grounded. "Her Voice" is awash in vocal splendor as she shines the bright light of his heart on the lyrics of the number, really presenting the prince's emotions for the entire audience to experience. "One Step Closer" is filled with a lighthearted glee, infectious by nature, which spreads from his singing to his dancing and takes over the number. Fully felicitous, Bayarena is the perfect Prince Eric for Ilyssa Rubin's Ariel.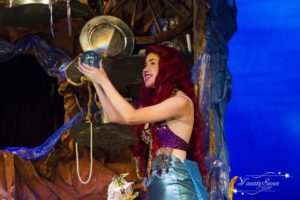 Truly a mesmerizing mermaid, Rubin has the voice of a sea siren, which is perfect for all of the well-recognized and lesser-known musical numbers featured in the production. In addition to having the vocal capability that is required of a successful Ariel, Rubin is a delight to watch acting out her scenes, particularly those where she buts heads with her father, King Triton. Her vividly animated facial expressions go a long way in the second act once her voice has been taken from her, but that doesn't stop Rubin from alighting upon "Beyond My Wildest Dreams" with extreme enthusiasm and an undaunted sense of wonder and delight. Both this number and the initial rendition of "Part of Your World" are filled with the beauty of discovery in her voice and across her face. Sensational when it comes to singing, and perfectly balanced between strong-willed discovery-driven teen and compassionate individual, Rubin is the Little Mermaid for this production.
It is a fun-filled family-friendly show that is a real treat to experience. Be sure to catch this year's nautical catch at Glyndon Area Players with their production of The Little Mermaid, don't be shellfish, share it with everyone you know!
Running Time: Approximately 3 hours with one intermission
The Little Mermaid plays through August 7, 2016 at the Glyndon Area Players in the Sacred Heart School Auditorium— 63 Sacred Heart Lane in Glyndon, MD. Tickets are available at the door or in advance online.