Summer is sizzling up a creativity storm down in North Beach as the 11th Annual Kids' Playwriting Festival gets underway at the Twin Beach Players. With two dozen scripts submitted from area youth playwrights, six winners were selected for performance in this year's festival. Festival Director Sherry Lehnen brought six groups of young actors and directors— many of whom have participated in previous KPF events through the years, some of whom have even had their plays produced— together in addition to a series of volunteers of all ages to help run tech and crew for an amazing opportunity for these young and gifted writers. From a panel of four judges (José de la Mar, Matthew Koworth, Mark Scharf, and Ann Turiano) six submissions— one from the elementary school grade level, three from middle school, and two from high school— were chosen and comprise this year's KPF.
Amber's Science Lesson by Elizabeth Kiechkhefer
Directed by Cheryl Thompson with playwright Elizabeth Kiechkhefer working as the assistant director, this play is set in a typical middle school science classroom where every kid's greatest joy— getting to play with the cool chemicals— meets every kid's greatest dread— having the teacher assign your lab partner. Kiechkhefer's play is smartly written and has a firm handle on character development, particularly when it comes to the titular character of Amber and the main antagonizing character of Sam. These two middle school tweens, played by Emma VanBuskirk and Connor McLaughlin respectively, have the perfect screaming attitudes when it comes to being forced to be lab partners. Kiechkhefer has captured the know-it-all bossy verve of Amber in the way she writes dialogue for the character, a detail that VanBuskirk latches onto in her portrayal of the mouthy and smarty-pants-minded girl. McLaughlin plays Sam a little like the class clown, but makes it easy for the audience to feel sorry for him given the way his lab partner treats him.

Kiechkhefer infuses a valuable lesson into her play, which grows in intensity from the beginning of the script through to the end, but is highlighted most clearly in the scene with Amber's Mother (Ellee VanBuskirk) and Father (MJ Rastakhiz.) Amber whines, "But I'm not a teacher!" referencing the fact that Sam is dumb and doesn't understand science and therefore working with him as her lab partner is simply impossible. And her mother and father say "That doesn't mean you can't teach him." The morale of the story, in addition to learning to not judge people by what you think they know about something (spoiler alert there might be a little twist at the end), is that you can help others in places where you succeed simply by being nice and trying. Director Cheryl Thompson makes the scenic change-overs quick and uses authentic sound effects for things like the school bell to give the piece an overall realistic feel to it.
Changes by Sadie Storm
Directed by Annie Gorenflo, Changes is a powerfully poignant play that addresses the heavy subject of racism and discrimination as a cultural normative in the American public school system. Playwright Sadie Storm does not shy away from introducing the harsh realities of racism and bullying in her play as she introduces Canan (Grace Henderson) a Syrian girl who wears her hijab to school and is teased in a brutal and merciless fashion because of it. Setting the play in an average middle school classroom and cafeteria in South Carolina, Storm takes the subject matter hard in hand and unabashedly exposes the cruelty of children and adults alike when it comes to preconceived notions that are based in prejudice, fear and hate. Storm's writing speaks beyond her years as she includes the literary device of soliloquy, though more modernly approached here as direct audience address. Director Annie Gorenflo takes these moments of asides from Canan's character and sets them in subdued lighting so that we can see the difference between an 'in-scene' moment and an 'inner-monologue' moment.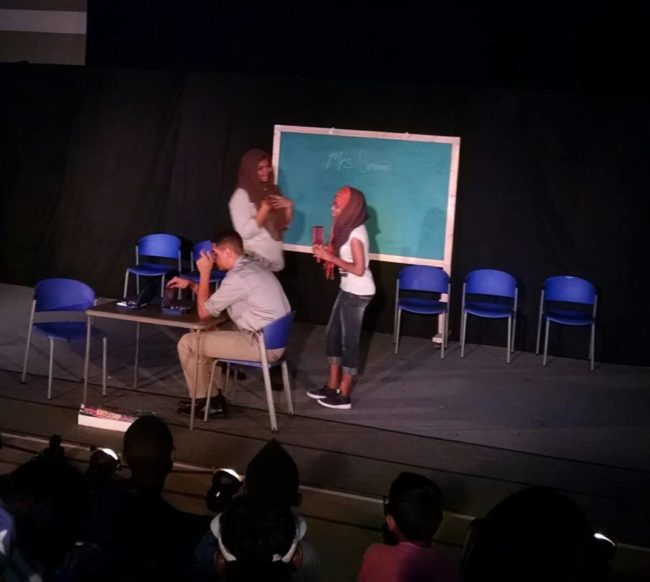 Storm's writing is finely balanced, delicately toeing the line of making clear her point on racism and civil unjust without being overstepping the line of 'too insensitive' for younger audiences. Unafraid to address the reality— as both the children and the adults in the play are particularly harsh, even the teacher, Mrs. Smithers (played by Jasmine Heminger) jumps on the bandwagon of being frightened that the girl in the hijab could be a terrorist and kill them all— Storm finds a beautiful balance of normalcy in her work as well. The scene where she features Canan at home officiating a game of Battle Ship between her mother (Aaliyah Roach) and father (E.J. Roach) shows that people— regardless of race, creed, or religion— are ordinary folk just trying to live their lives and this is a profound juxtaposition to the vitriol that she lets fly in the dialogue during the school scenes. Remarkably poignant, it's easy to see why this play was selected among the winners.
Objection! by Taylor Baker
The genres are mixing! Hold onto your hats, Indiana, because this isn't your run of the mill "slice of life play about high school kids dealing with their problems." Taylor Baker has penned a hilarious and comedic-driven science fiction/fantasy adventure saga that doesn't just break the fourth wall, it completely obliterates it and serves as a harbinger for the meta-involvement of characters with audience members. Directed by Vivian Petersen with Baker serving as the assistant director, the props, costumes, sounds and lighting featured in this play only add to the hysterical madcap mishaps that Baker has penned so perfectly in her writing endeavors.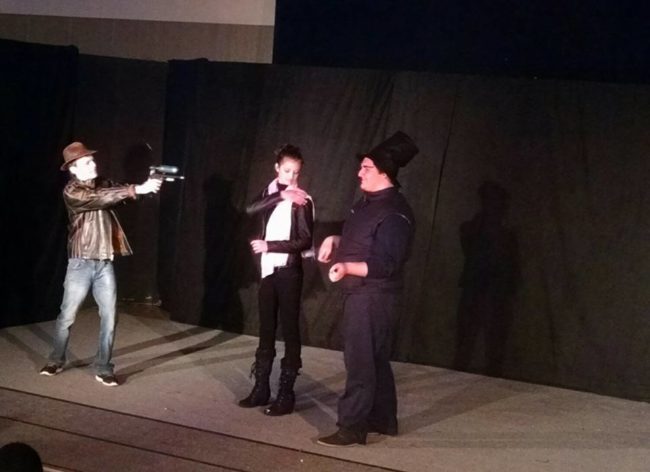 The characters are hysterical, particularly the ones that live in the fiction world. One of the most profoundly striking yet simultaneously humor lines that Baker delivers in the piece comes from addressing such an existence, "Fictional life is perfectly normal, it's just like real life only people are watching your every move." The show's plot hops all over the place, with great moment of explanation that add hilarity to the comic script. Petersen, as the show's director, makes the wisely hysterical choice to outfit Warren (Cameron Walker) in a brown adventurer's jacket and fedora, a la Indiana Jones, even though his character carries a blaster, this is a lovely nod to the fact that Harrison Ford played both Indy and Han Solo. Walker is a show stealer with his hyper animated facial features and his ultimate meltdown over discovering that he is in fact a fictional character living inside of a play. His antics and shenanigans are given a good run for their money with the cameo arrival of Dawn (Elizabeth Cullens) whose bombastic attitude and total ferocity when it comes to handling such situations becomes a comic crack-up of a moment.
Ultimately the play is a fantastic hybrid of magical realism, traipsing through well-recognized tropes and parodies of science fiction-fantasy, adventure, and playwriting as an adventurous endeavor; Objection! is the perfect piece with which to end the first act of the festival.
Science Mistakes by Leah Hartley
Directed by Sherry Lehnen and Travis Lehnen, Leah Hartley's Science Mistakes as slightly reminiscent of Alex Mac, a television program from long before the playwright's time. In this zany middle school adventure, Nicole (Callie Patterson) and Melissa (Bridget Gildersleeve) are best buddies who get to partner together in science class a lot. But Nicole is always using Melissa as her own personal guinea pig for the wild scientific experiments she performs when they're not in class. Patterson and Gildersleeve get along just fine in the performance, with Gildersleeve having hyper animated facial features and overall responses when things go haywire with Patterson's latest experiment.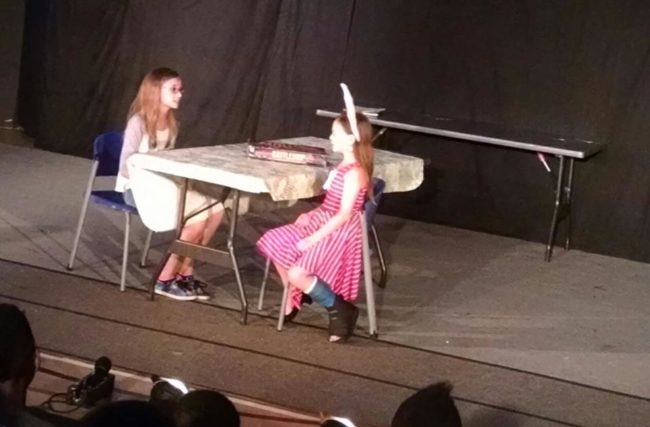 Hartley's play is fun, pure and simple. It invites the imagination to suspend its disbelief into the world of magical realism where a scientific experiment gone wrong grows bunny ears on top of human heads. The dialogue flows easily, the characters are believable and there's even a surprise twist at the end of the script! Watch out for the spunky cameo arrival of Melissa's little brother Randy (Braden Heath) who adds a dose of adorable agitation to the mix.  Sherry and Travis Lehnen keep the play moving swiftly, which is a good pacing approach to this short and spunky piece of theatrical hilarity.
The Mystery of the Hum of Nachitti by Lucie Boyd
It happens all the time on Broadway and in the grown-up world of theatre. If something is well-received and enjoyed, a sequel must be made! Playwright Lucie Boyd presents The Mystery of the Hum Nachitti follows suit in the vein of sequels as it is Boyd's second mystery play to win at the KPF event. Directed by E.J. Roach (who also steals the scene as Old Man Jenkins with his wobbly walk, bent physicality, and affected voice), this charming little play is a collision course of Scooby Doo Mysteries meets reality television with teenaged drama thrown into the mix for good measure. Roach, who not only directs the play but acts as a minor character, really handles the multiple scenic shifts with practiced ease, making it easy for the audience to follow along as the gang of mystery-solvers shifts from location to location to location.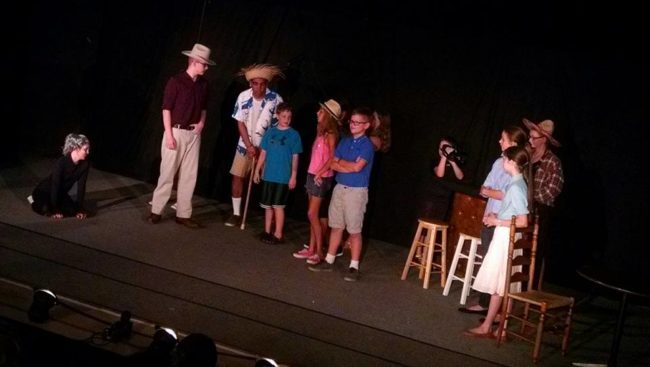 Boyd's writing is sharply comedic. She captures the essence of these tween and teenaged characters with exacting precision and flavors them heavily with comedy that is suitable for all ages, but pays particular attention to references that older members of the audience will enjoy. (Nothing dirty— just good clean jokes like the "Jake, from State Farm" commercial being worked into the dialogue in her own special way.) The mystery unwinds in a believable fashion with the four main mystery solvers— Sarah (Kendall Heath), Brittney (Riley Ann Johnson), Jed (Luke Rannacher) and Darren (Hayden Reeves)— trying to focus on what's happening while dealing with their own adorable intrapersonal dramas, particularly when it comes to the hilariously flippant attitudes of the boys and the boy-crazy dreamy meltdowns over the girls (though not until Brad (Andrew Brinegar) is introduced.) Keep an eye out for the wild Chupacabra (Olivia Heath) too! As you never know what you're going to find in this crazy adventure that takes the mystery solvers all the way to New Mexico!
Shoes, Pizza, and Spirits by Sidney Baker
"God bless us, everyone!" Wait a minute, this isn't Christmas Carol, and Sidney Baker isn't Charles Dickens, though her play Shoes, Pizza, and Spirits, has a lovely homage to the classic playwright as she takes a cantankerous and money grubbing shoemaker (played by E.J. Roach) and gives him the Scrooge treatment. Directed by Sherry Lehnen, this clever play helps change the greedy ways of the business man with a few intervening "spirits." Props to Lehnen's costume and prop choices, particularly for the adorable animal onesies featured on the children Morgan (Tabitha Petersen) and Tyler (Luke Rannacher.)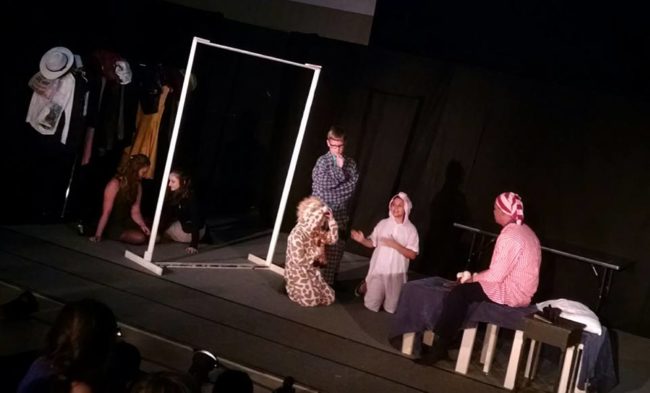 Aided by his co-workers Vanessa (Kiera Gallagher) and Sandy (Sarah Rannacher), Thompson (Hayden Reeves) sets out on a quest to change his boss' mind when it comes to cutting corners and making cheap shoes. Baker's play is witty and teaches a good lesson. Following through the stages of the "past, present, and future"— a well-recognized cultural trope that enables the audience to engage on a comic and classic level with the plot— her writing really reflects a good understanding of comic intuition in addition to knowing how to advance a plot naturally.
Conclusion
With 70 children involved with the festival, there are a great many things to enjoy whether it's the performances or the plays themselves. This year's Kids Playwriting Festival is the bees knees and showcases just what sort of talent is sprouting up and thriving in the North Beach region of the state.
Running Time: Approximately 2 hours with one intermission
The 11th Annual Kids' Playwriting Festival plays through August 14, 2016 at The Twin Beach Players in the North Beach Boys & Girls Club— 9021 Dayton Avenue in North Beach, MD. Tickets are available for purchase at the door or in advance online.