The Robert L. Drake Jr. Middle School would like to welcome everyone to this year's Science Fair! Do to the unfortunate ant-colony incident, this year's project display will be taking place in the outdoor multi-purpose gym-pool-cafetorium, graciously set up at Druid Hill and Patterson Park on alternating weekends. Miss Waters (Kay-Megan Washington) will be announcing this year's participants and everything will be just dandy, what could possibly go wrong with entries from The Young Environmentalists, The Reanimation Club, and The 4H Rocketeers— because there simply weren't enough individuals in the 4H Club or the Rocketeer Group to let them enter alone— among others? Fluid Movement's 15th annual water ballet has taken on a scientific verve, and as the title implies for their official hypothesis? It's gonna be awesome! And they certainly did not disappoint when it came to the show' overall awesomeness, or really any other way in which one could be disappointed at a water ballet (unless you were hoping to participate somehow, in which case you should totally drop them a line on how to participate for next year!)
It is no small feat to coordinate an all-original devised work with dozens of performers, not to mention that these performers are all swimmers of varying degrees and the performances themselves happen primarily in the water. Some might call such an effort Herculean, getting such a show off the ground and into the pool. Fluid Movement proves that such a task takes a village, but village do they have and the result is a wildly successful, visually beautiful, and highly entertaining water ballet that incorporates dance and swimming into fascinating performing art. With more names than could be listed in one newspaper article (lest it just become one long article of names), Fluid Movement's team of creators, writers, directors, and performers for the 2016 production of Science Fair! The Water Ballet— Hypothesis: It's Gonna Be Awesome! create art and a good time for everyone in attendance.
Kay-Megan Washington, who serves as a master of ceremonies of sorts, adapts that too-sweet personality of the high-strung school teacher who's been assigned to the school science fair and has to slap on a smile to get through it. Washington's saccharine persona is plastered to her face and voice with art room glue and never falters even when bad puns float to the surface of her cue cards. A hysterical delight with her introductions, Washington threads each of the seven movements of the ballet together under the unifying theme of the science fair, enticing the audience to really get into the school spirit.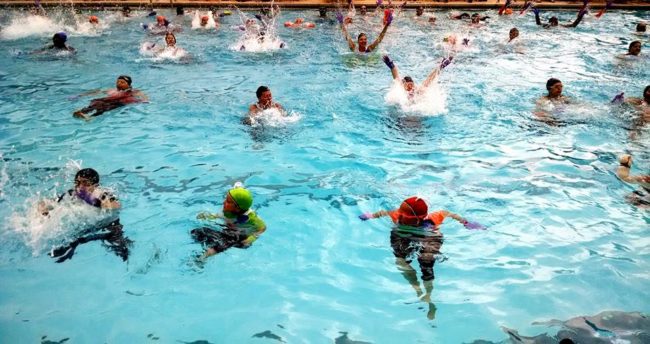 Set Designers Virginia Byrne, Ryan Haase, Danielle Nekimken, and show Producer and current FM Board President Valarie Perez-Schere get that middle school science fair feeling bubbling through the air with the brightly colored banners draped across the backdrop at the head of the swimming pool. Fluid Movement's production team made the decision to name their fictitious middle school in memoriam for the late Robert L. Drake Jr., a lifeguard and supporter of their work. Add to the aforementioned list of designers some two dozen more people who created various props— like the five-foot tall science beaker— featured during each of the movements and the show's aesthetic was complete.
Listed in the program as "Glitter Mentors", to which one can only assume they hold the secret knowledge aof how to apply glitter in a water proof fashion, Margaret Hart, Ellen Jenkins, Joe Meduza, Jan Pumphrey, Rick Wilson and Lisa Wiseman, ensured that the show was pleasantly sparkling, laced and loaded with all sorts of glitter— a Fluid Movement hallmark. The intricately amazing makeup plots featured on the swimmers' faces— like the electric shock green and white look that was appropriated for "Reanimation: Brides & Monsters"— appeared compliments of Makeup Guru Joe Meduza and Lori Travis, with Travis consulting and advising on waterproofing techniques and maximizing the sparkle. Overall a group effort, their creations gave the show an extra-special sparkle!
Scene One: Out of Gas— How can we put a shine on our energy future?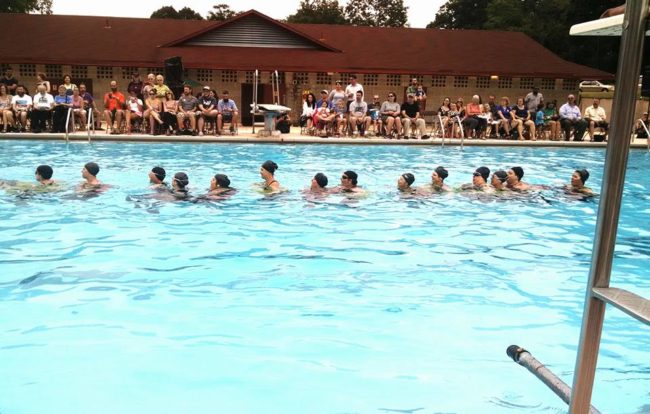 Directed by Eva Farrell and Katie Leser, this particularly movement featured 16 swimmers who started up on deck dancing, under the choreographic consultation of Lisa Wiseman. In full toxic-awareness garb (another impressive feat as each movement featured hand-crafted and individually designed costumes both on the land and in the water to suit the theme of their particular project), the performers got their groove on to Imagine Dragons' "Welcome to the New Age" before taking to the water with much a much more chipper sounding song, "Why Does the Sun Shine?" from They Might Be Giants. Both of these musical numbers were excellent selections to fit the energy crisis vibe of this routine. The swimming portion was lovely as at one point a group formation resembled circles of the sun. With their world in the water comprised of energy and synchronicity, the not quite two dozen swimmers focused on large group formations with their swimwear appropriately reflecting solar flares and flames.
Scene Two: Reanimation— Brides & Monsters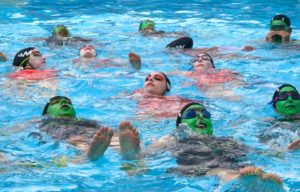 Directed by Kirsten Brinlee, Margaret Hart, and Joe Meduza, this freakishly monstrous routine was just what the doctor ordered! Well, what Dr. Frankenstein ordered at any rate. With costumes (designed by Leanna Powell) that jolted the audience to attention— a healthy mix of green-faced monsters and pale faced brides— the 17 swimmers started on deck with a smashing rendition of the Monster Mash, showcasing their land-leg dancing ability, which was just as impressive as their swimming routine once they took to the water. The musical shift from Monster Mashing to Xanadu's "I'm Alive!" was received to claps and laughter as the zombie creations launched into the water and started in with the aquatic routine, which focused a great deal on small cluster formations and presenting smiling green and white faces.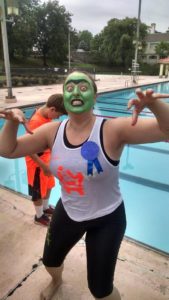 Spreading a positive message and a fabulous sentiment, the music shifted again to Lady Gaga's "Born This Way" and supported some of the more jarring monster-inspired style movements, particularly the ones with arms and legs sending lively splashes towards the audience. There was even a backwards zombie paddle that moves the nearly dozen and a half swimmers en masse back to the jump-off point before they climbed out and took their bows. With the most enticing makeup of the performance, the group was shockingly bright and their makeup plots didn't run at all after leaving the water.
Scene Three: Mr. Trash Wheel— What is the effectiveness of a rotary debris collection device in an urban waterway?
Directed by Laura Knapp & Kelly Quinn, with a special guest appearance by Mr. Wheel (William Archer) himself at the scene's end, this routine took home all the blue ribbons for most creative costumes. Literally constructed out of garbage with no two costumes looking the same, almost two dozen swimmers— with adorable youth swimmers (Claire Williams, Lamont Peace Arnold, Kelsea Cobbs, Khori Cobbs, Gracie Pendell Jones) who served as Lighting Bolts and Weather during the routine's introduction. With appropriate musical selections, though what they were escapes me at present— I'll be honest, I was too busy trying to examine each of the fabulously unique "trash-dazzled" swimsuits— the aquatic acrobatics were filled with the company's namesake.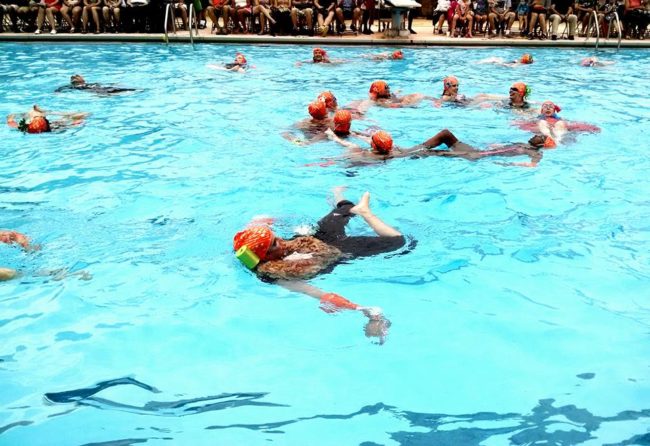 Focusing the routine around spinning rings and lots of bobbing up and down, which effectively mimicked both Mr. Trash Wheel and the garbage he collects, the swimmers were lively and gave the whole scene a fun and funky feel to it. There was even a water snake (puppeted by an individual swimmer) making the rounds throughout the pool while the swimmers performed. With flutter-kicking clusters and lots of circular motions, the whole thing felt like an enormous homage to the great efforts made by the real life Baltimore Harbor Trash Wheel.
Scene Four: Project Spudnik— Will There Be Sufficient Nutrition?
Directed by Kelly Causey and Rachel Kassman, the blast-off themed routine featured just ten swimmers but with such striking music and costumes that it was easily one of the more memorable scenes. (Though truth be told they were all memorable, for varying reasons and their wildly unique qualities.) Featuring potato and Black-Eyed Susan costumes— so deemed because of the 'black-eye' makeup featured on the swimmers— this routine's costumes were fabricated to life with Costume Assistant Alice Kallaugher. The Potato swimmers had actual eyeballs on their suits for their "eyes" and the green suited Susans had precious floral headbands with golden yellow petals, which were both rejuvenating and adorable as they broke the surface of the water during a few of the submerge/emerge moments of the routine.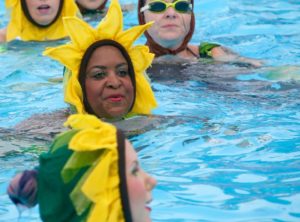 With a mesmerizing musical selection, the string instrumental version of Bowie's "Life on Mars", the swimmers moved about in a fashion that suited the space-exploration-plant-life-hybrid overarching theme of the scene. There was even a delightful sidestroke that allowed everyone to see the smiling faces of the Susans and the Spuds. But the element of the routine that took the cake was the life-sized cardboard cutout of Matt Damon from The Martian, which appeared itself on deck by the routine's end.
Scene Five: A Unified Field Theory Combining Gravity and Electromagnetism
Directed by Emily Aubrey and James Brumfield, who appeared as Sir Isaac Newton at the top of the sketch, this routine featured full scientific costume before sending the little wave lengths of color off into the water. With only eight swimmers— each appearing first as a renowned scientist and then as one of six colors or two blacks on the spectrum— the routine was highly scientific, perhaps the most aesthetically influenced in this light. With a refracting glass that transformed the scientists into their counter-part colors before taking a leap into the water, there was a quick costume change shifting from the "Wave Length Surfing Cotillion" party affair attire into basic colors of red, orange, yellow, green, blue, and violet, with two striking jet blacks to cap the mix. The octet of swimmers made waves, pun intended, and had a vibrancy about their routine that was rainbowriffic.
Scene Six: Procrastination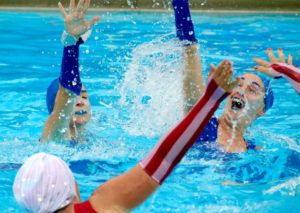 Featuring six accomplished synchronized swimmers— Karen Alexander, Beth Marshall, Siri Ming, Brianna Patrick, Val Perez-Schere, and Regina Shock— the penultimate routine paired off the sextet into three sets of two, each starting life as a colorful half of a molecular structure up on deck. With their seasoned experience coming into play, the aquatic portion of this segment focused on the intricate nuance of coupled synchronization. With an overall mellow and calming feel to the routine, there was a fair bit of floating and complex formations performed by these six featured swimmers. This served as the perfect closing showcase for each of the wonderfully presented 'scenes' of the water ballet.
Closing the show, a routine called Finale: Poetry in Motion, directed by Jane Osbourne brought all of the aquatic performers together in one final adventure. True to its namesake, the pool was filled with performers of all swimming levels and they worked together beautifully as one to present one spectacular finale. Dancing on deck, diving into the water, pumped full of pizazz and a great party feel, the full pool of swimmers was a delightful ending to a fantastic show and gave everyone a chance to be proud of their hard work.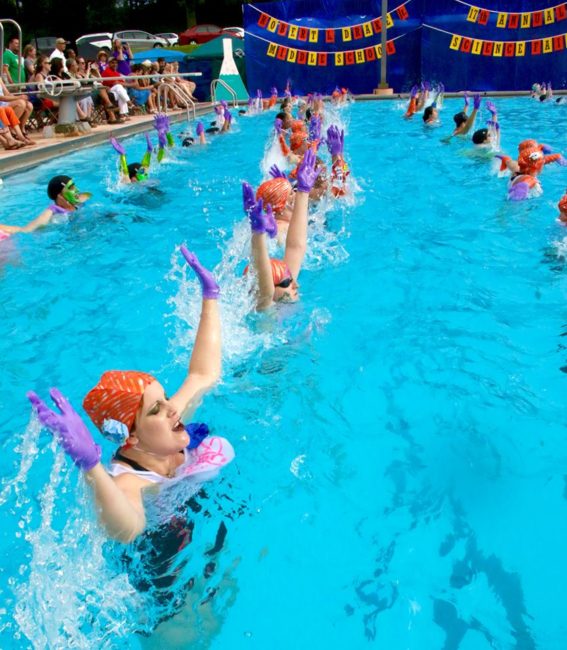 Fluid Movement, whose mission involves juxtaposing complex subject matter with delightful and unexpected mediums as well as creating accessible art for all ages and backgrounds, lives up to their purpose with this water ballet. A unique and beautifully exciting experience for everyone— first timers, repeat visitors, and everyone in-between. This is a brilliant experience to have this summer and tickets should be procured as soon as possible.
Running Time: 60 minutes with no intermission
Science Fair! The Water Ballet— Hypothesis: It's Gonna Be Awesome! plays five more performances on August 5, 6, and 7th 2016 with Fluid Movement at the Patterson Park Pool— 148 S. Linwood Avenue in the Patterson Park neighborhood of Baltimore, MD. Tickets are available at the door or in advance online.