Isn't it delightful when a musical does what it ought to do? When it takes you away and gives you a few tunes to carry with you when you go? A feel good, honest fun, good comedic romp with some catchy numbers that lets you disappear for a while into the decadent world of the 1920's, why that could only be The Drowsy Chaperone now appearing on stage in the Rice Auditorium with STAR Ltd! Directed by Michael Juba, with Musical Direction by Scott AuCoin, this madcap musical is filled with mix-ups, mayhem, and marvelous talent soaring with spirit and overflowing with heart; a must-see during its four performances!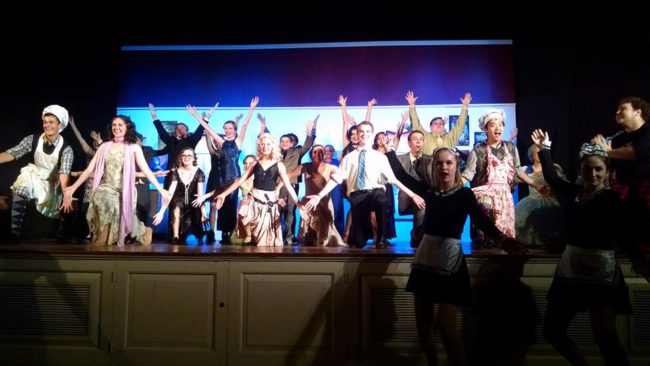 The underdone and extremely underrated musical, with Music by Lisa Lambert & Greg Morrison and Book by Bob Martin & Don McKellar, is the perfect vehicle for showcasing the plethora of talent running rampant at STAR Ltd among their upper-aged young-performers. Director Michael Juba, Musical Director Scott AuCoin, and Choreographer Lauren Lowell work tirelessly to great success to produce an outstanding show filled to the brim with energetic and enthusiastic young performers who are not only talented but radiate their passion and love of musical theatre directly into the hearts of the audience.
A true team effort comes together to get the production design of the show looking polished and professional. Between Technical Director Daniel Goodrich— and a crew of a few dozen constructionists— who also serves alongside Juba as the show's Lighting Designer; Sound Designer Bob Frank (and his assistant Matt Sekira) and Costume Designer Cami Wise (and her assistant Missie Carter, plus Lauren Lowell and Alice Martinek on construction assist) there is finesse in the finished product and the design elements could easily pass for those crafted by paid professionals.
Wise's costumes are simply smashing, effectively capturing the essence of the swinging 1920's all across the board. Each of her sartorial selections appropriately layers on characterization for these larger than life archetypal— and occasionally stereotypical— characters. Wise's finest frippery is not the period appropriate swimsuit for "the number by the pool" or even the lavish cocktail gowns reserved for the titular character but the knee-high, pastel-tinted argyle golfer socks featured on the gangsters, which are worn regardless of what getup guise they're playing— even and especially during their bathing costumes number. The glamorous couture of the 1920's is reflected strongly in Wise's design work and really invites the audience into the world of The Drowsy Chaperone, an assisting force to the show's narrator, Man in Chair.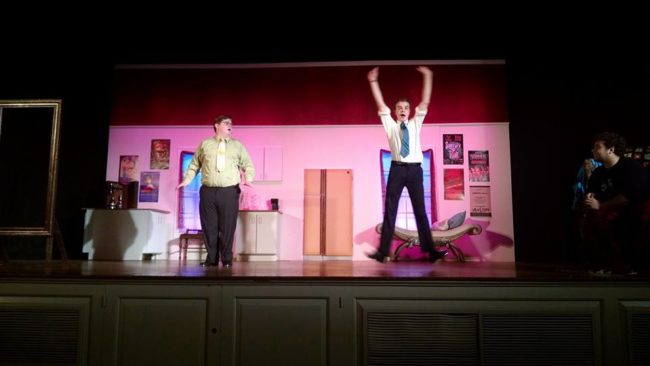 Juba and Goodrich run technical miracles, particularly when it comes to getting the correct proportions of lighting on the stage. The carefully synchronized "freeze-frame" cues are solid and are sharply timed with Man in Chair's pausing the needle on the record to not only actualize the plot device but maximize its comic potential. Other nifty lighting effects include the red, white, and blue color scheme and star gobo filter used during appropriately patriotic numbers, as well as the red floods to announce the arrival of a Latin lover, and the blue floods for mood adjustment.
Having a live pit for a musical is always a blessing, but certainly a challenge when they exposed in a space with design flaws in the acoustics. Musical Director Scott AuCoin handles his task of balancing the orchestra with rigorous success, ensuring that they carry the score without drowning out the performers. Keeping lively tempos and well-tuned deliveries of each of the numbers as the show moves from grandiose overture— the musical appetizer if you will— through to the finale, AuCoin invites the audience to snap and tap along with the show's catchy music.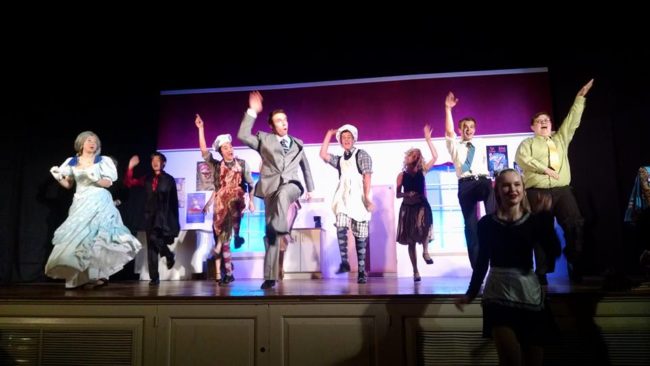 The verve of the 20's gets its natural boost from Choreographer Lauren Lowell. Infusing swing, jazz, and a few dance moves that are fondly reminiscent of both the Follies and Vaudeville, Lowell finds exciting ways to electrify the great era of decadence through dance. Pulling the dancers who really know their stuff to the frontal focus for big group routines like "Toledo Surprise" and "Show Off." Nodding an homage to Gene Kelly and his fleet-footed tapping work during "Cold Feets", Lowell gets Robert Martin to mimic the iconic dancing star and really put his tapping toes to good use in this routine.
With an ensemble filled to capacity with eagerly energetic and elatedly enthusiastic performers, group numbers which feature the entire cast in various and sundry guises— as party guests, reporters, house staff— are utter delights to watch. "I Do, I Do in the Sky" as well as "Show Off" and "Fancy Dress" are bursting at the seams with the wonder and enchantment that defines musical theatre and it is reflected readily on every smiling face, in every deliriously dancing body, and just tickles the audience pink with wonder, joy, and jubilation. Populated with some dozen and a half sparkling sensations, the ensemble sounds powerful and filled with cheer whenever they burst into song.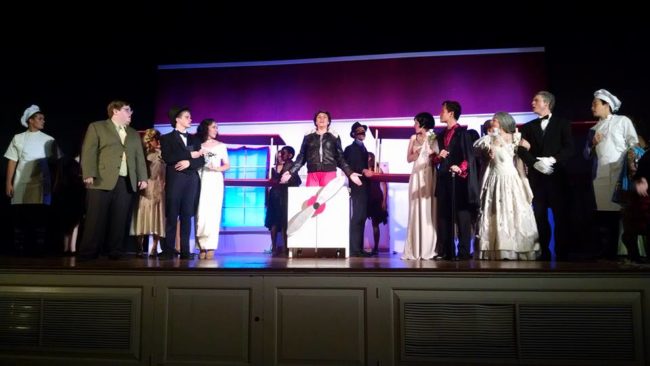 Cameo characters like George (Dave Martinek) and Trix (at this performance Elisabeth Wall) really find ways to make their presences pop throughout the performance. Martinek in particular has a clever trick for showing off his "best man" character, immortalized by his freeze-frame hold in what should be a solo feature/reprise number, but is interrupted (per the script) by Man in Chair. Martinek even holds his own in the tap-off lead-and-follow portion of "Cold Feets", the dancers duet shared with Robert Martin. Even his over-the-top moments of spazzing out are worth noting in this performance.
Wall, who shares the role of Trix with Claire Noppenberger, is only featured twice vocally and visually. But each time she touches down in a scene you hear her loud and clear. "Fancy Dress", which is not only a feature to get the show going, serves as a quick character guide for who's who in the story. This is where Wall first makes her vocal debut with just a few boisterous lines that are smooth as the sky is blue when it comes to sounding like the era of the jazz and swing heavy 1920's. Her chance to truly soar and shine among the sunshine comes during "I Do, I Do in the Sky." Delivering a brave and brash alto sound, Wall lands the number successfully amid the rest of the cast.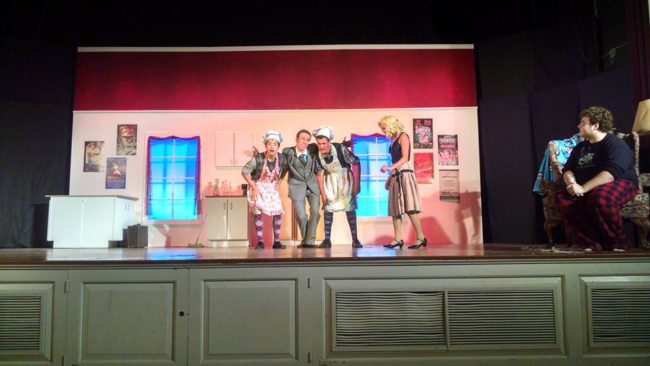 Scene-stealing shenanigans are aplenty throughout the production, but it's hard to say which duo wins the award for comic crackup team. There are the Gangsters (Michael Stromberg and Han Wagner) who deliver the epitome of your 1920's Brooklyn street urchins in everything from accent to physicality. Rough and gritty, both Stromberg and Wagner affect flawless accents and ripe gangster attitudes while delivering perfect patter and patois of speech when it comes to making them caricatures. Their baking puns are so overdone they should be sconed! With tack-like intuition when it comes to comic delivery, as well as astonishingly clear voices for their big feature "Toledo Surprise", the pair never cease to amaze when it comes to generating laughs from the audience.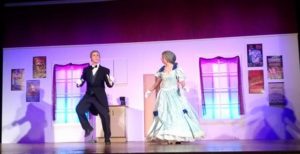 Vying for the comedic couple's title on the coattails of the gangsters are Mrs. Tottendale (at this performance Abby White) and Underling (Charlie Roberts, also Assistant Director of the show.) White, who shares the role with Elizabeth Ryan, is spot on as the dotty and delectably demented old lady of the house, while Roberts brings the perfect comedic balance to their duo, handling her with slowly bubbling irritation that eventual explodes into a hysterical volcano of vivacious outbursts. Roberts is a talented dancer and vocalist as well, but what takes the cake is the pair's spit-take scene, hands down owning the show as the funniest moment in the production.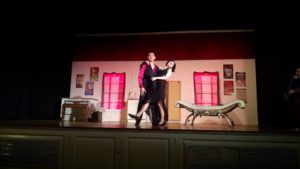 With a cast full of leading talent, it's no wonder each character pops vivaciously from the stage right into the eyes and ears of the audience. The flamboyantly passionate Aldolpho (at this performance Timothy Huynh) is no exception to this, nor is his inadvertent counterpart— and titular character— The Drowsy Chaperone (at this performance Meghan Hanlon.) Both Huynh and Hanlon, who share their roles with Michael Weiss and Bridget Edmondson respectively, have hot-blooded chemistry readily on display for "I Am Aldolpho." This number is ripe with humorous dancing and is a good vocal display of what Huynh can do with the character in addition to his outrageous accent, precocious pelvic pops, and highly caricaturized delivery of the rogue Romeo.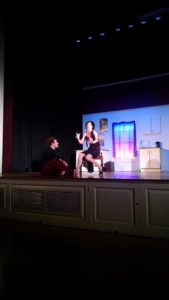 Hanlon, who handles the drunken character with nuanced finesse, possesses the suave vocal prowess of an alto with a forceful belt. Embodying that sensually ensnaring tone when it comes to alighting on her solo feature, "As We Stumble Along", Hanlon is a musical dessert if overtures be the appetizers of musical theatre, wherein she is sweet, satisfying, and filled with indulgent decadence. Her quick quips and one-liners, revolving around the drink, are delivered with zest and perfectly metered when it comes to the timing of her delivery.
With facial expressions for miles, Feldzieg (Zach Roth) and his bubbleheaded sidekick, Kitty (at this performance Lydia Newman) are the recreation of an accidental Broadway couple. Roth's hyper animated facial expressions capture the sheer hilarity of the circumstances in which his character is found, whether it's with the two tough-cracking gangsters, or the wind-tunnel of an airhead that he finds himself caught up in with Kitty. With a strong vocal set, and an equally impressive keenly developed sense of comic timing, Roth is the perfect fit for the character.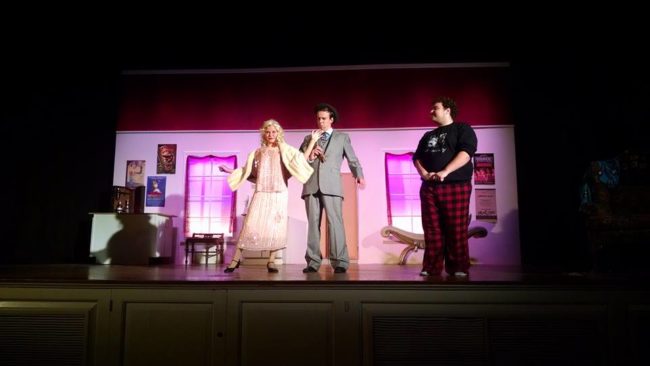 Newman, who shares the role with Lauren Linsao, is too much for words when it comes to being the stupid starlet who has yet to be famous. Nasally, whiny, and downright prima donna diva wannabe, Newman packs a saccharine punch a Kitty and doesn't let the audience forget who she is or how her syrup-brained shenanigans roll her into the spotlight. Getting her chance to show off her stuff in "Toledo Surprise", as does Roth and the gangsters and eventually the rest of the ensemble, Newman gives the audience a real run for their money when it comes to being a song and dance gal.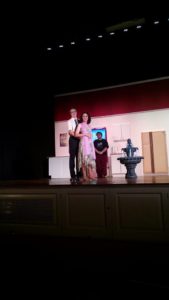 Speaking of showing off, the show's leading lovers— Robert Martin (Nick Zuelsdorf) and Janet Van de Graaff (Mary Morency) do exactly that with exceptional consistency all throughout the performance. Zuelsdorf and Morency are matched toe to toe when it comes to vocal talent, character development, stage presence, and overall ability to perform leading roles in this show. Their voices are merrily married for "An Accident Waiting to Happen", which serves as a fragrant whiff of their floral romance, wafting gently to the noses of the audiences' heart. Perfectly pitted against one another, particularly when it comes to their fallout, Zuelsdorf and Morency were made for these roles.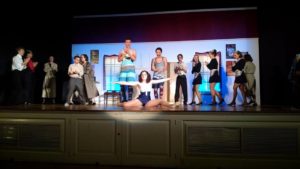 Zuelsdorf is stellar. Possessing a phenomenal voice, as witnessed in "Cold Feets", he shows off even more than his cheeky and charming nature might suggest from his initial introduction. Filled with gumption and gusto, his tap routine in this number is simply sensational.  Morency is a songbird when it comes to her solo feature, "The Bride's Lament." This is a complete contrast from "Show Off" where she simply goes to town and radiates in all the glory that the song has to offer. Really owning the number in a way that puts certain recent Broadway revivals to shame, Morency lives up to the title of the song in every way imaginable.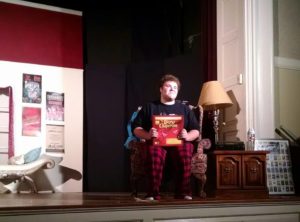 And that's the show. All wrapped up in a nutshell. A cozy, convenient, musical within a comedy within a musical. As narrated by Man in Chair (Jack Buzard.) Nestled into his own little corner of the sky— wait, that's another musical— nestled into his own little corner of the stage, Buzard rules the roost with his hysterical antics and portrayal of the character referred to only as "Man in Chair." This is his show. With an unapologetic sense of earnest vulnerability he invites the world of the audience into his heart, his joy, and his hilarity as he guides us through the experience that is The Drowsy Chaperone. Remarkably sharp when it comes to presence of mind, Buzard is witty, exceptional with comic timing, and just all around stunning when it comes to all elements of the show. A strong improviser, an impressively entertaining background character, and a talented singer— as witnessed when he leads the finale "As We Stumble Along (Reprise)"— Buzard brings the show to life and is worthy of the highest praise.
There aren't enough good things to be said, enough praises to be sung; the simple fact of the matter is that there are four opportunities to see this marvelous show and you should take every chance given to see these incredibly talented performers and the fantastic job they're doing at living in the world that musical theatre has offered to them.
Running Time: Approximately 2 hours and 10 minutes with one intermission
The Drowsy Chaperone plays through July 31, 2016 with STAR Ltd in the Rice Auditorium of the Spring Grove Hospital Campus— 55 Wade Avenue in Catonsville, MD. Tickets can be purchased at the door or in advance online.