Zip! Zoom! Wowee— does Infinity Theatre Company ever have the most precious and invigorating dose of Saturday morning entertainment that you'll find this side of the Bay Bridge for the 2016 summer season. Proud to present this musical play with plenty of panache, ITC brings Elephant & Piggie's "We Are in a Play" to the main stage for children and children at heart under the energetic Direction of Tommy Iafrate. With script and lyrics by Mo Willems and music by Deborah Wicks La Puma, this zany fun children's musical is based on Willems' book by the same name and will have everyone in the audience excited to follow the story! Quality entertainment for young audiences, Iafrate and the production team as well as the cast does a spectacular job of filling the hour-long show with exhilarating amusement, wonderful song and dance routines and an experience that will make memories that last a lifetime.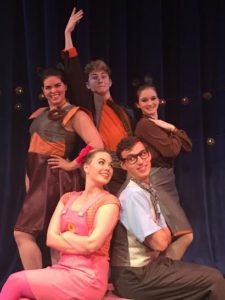 With a sketch-book inspired set Designed by Diana Chun, the cartoonish nature of the morning's entertainment is well-established right from the moment the audience enter the theatre. Supporting this animated feeling, Lighting Designer Nathan Hawkins and Costume Designer Julie Bays provides a series of illuminations and clothing that respectively exaggerate all of the zany fun and shifts in the story that occur on this wild ride of a theatrical adventure. Hawkins in particular provides bold visual cues when the mood fluctuates from silly and playful to the more frustrating moments— like when Piggie goes off the rails in anger over having her brand new toy broken. Bays keeps the characters toeing the finely imaginative line of living actors and anthropomorphic creatures using color schemes and patterns rather than replications of animal body parts to communicate their natures as an Elephant, a pig, squirrels, etc. S
Director and Choreographer Tommy Iafrate understands the nature of children's theatre and parlays that understanding to his energetically charged cast of five. Whether it's powerfully potent caricature representations of the titular characters or the enthusiastic incorporation of fun and funky dance moves, which populates almost every single number including a number which gets the audience clapping and playing along for fun, Iafrate pulls together an engaging and overall amazing children's production that will keep audiences of all ages thoroughly captivated.
The trio of background performers— J.P. Coletta, Sarah Goldstein, and Emily Woods— really amp up the playful nature of the performance. With each of the aforementioned performers playing one of the "Squirrelle" members, there's no telling what zany shenanigans are going to unfold! In addition to these super silly Squirrelle characters, Coletta and Woods also take on the cameo characters of Ice-Cream Penguin and Delivery Dog respectively, the former of which has such an overly-exaggerated physicality that it inspires uproarious laughter all across the audience. All three actors devote their high-octane energy and zany facial expressions to these backup style performers, and really give it their all when it comes to their dazzling dances.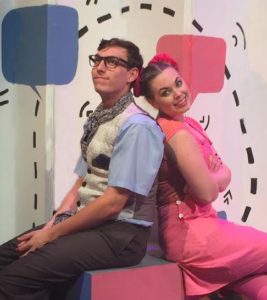 Elephant Gerald (Rhys Scheibe) and Piggie (Bella Muller) are the absolute best of friends, though they could not be any more opposite! With Muller playing Piggie at the height of her perky and precocious potential, she creates a stark contrast to Scheibe's nervous and slightly spastic portrayal of the fearful but not forgetful elephant. The pair make for an exceptional duo when it comes to both song and dance (each are blessed with stellar vocals in addition to their ability to provide quirky character voices to Elephant & Piggie) and they play off one another with friendly ease, making the premise behind the story that much more earnest. Muller is exhausting to watch as she bounces about the stage with boundless energy, though Scheibe's fits of worry and upset are equally entertaining. They bring radiant life to the titular characters and really invite the audience into their world.
A remarkable children's theatrical experience, Elephant & Piggie's "We Are in a Play" is a must-see this summer for children, as well as children at heart. There's even a hearty musical theatre nod in the vein of Les Miserables tucked carefully into the ice-cream section of the show, proving that Infinity Theatre Company knows how to cater to everyone in their audience.
Running Time: Approximately 65 minutes with no intermission
Elephant & Piggie's "We Are in a Play" plays every Saturday at 11:00am through August 6, 2016 at Infinity Theatre Company at The Children's Theatre of Annapolis Complex— 1661 Bay Head Road in Annapolis, MD. For tickets call the box office at (877) 501-8499 or purchase them online.