Talented performers and lots of new faces, wondrous fun costumes and well lit-up stages, Rogers & Hammerstein for a summertime fling, these are a few of my favorite things! And The JC Summer Community Theatre, now appearing live at The John Carroll School, has them all in their inaugural production of The Sound of Music. Directed and Choreographed by Kimberly Brueggemann, Orchestral Direction by Richard Hauf and Vocal Direction by Bonnie Dubel Burns, this timeless musical theatre classic fills the auditorium with the lively and hopeful heartwarming sounds of music, just as its title promises; the show is a remarkably well-polished production with exceptional talent put to perfect use under Brueggemann's seasoned skills.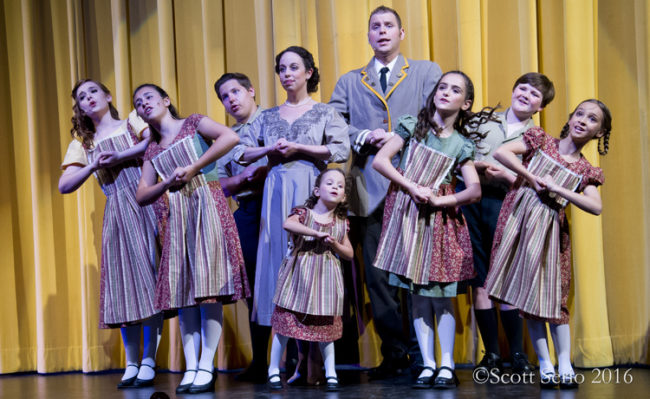 A lavish set lies tucked away behind the stage curtains, compliments of Set Designer Shawn DeVoe and Scenic Artist Beth Sapitowicz. The household of the family von Trapp is elegant and tastefully decorated with rotational ease to keep transitions from inside the house to outside fluidly occurring throughout the performance. Technical Director Ed Lake with Light Crew Jonathan Kauffman deserve a nod of recognition for their projections that create the interior of the Nonnberg Abbey as well as the simple shifts in lighting to denote time of day and interior and exterior locations.
Costume Designer Stella DiPeso outdoes herself with the professional quality of the appearance of the show's costumes. All of the habits are uniform and adorned with rosaries while each of the party guests to the von Trapp family dinner party have a unique yet period appropriate black-tie affair for their character. DiPeso furthers the impressive quality of her sartorial selections with the marching uniforms, play clothes, and party outfits for the von Trapp children, keeping these aligned with their lively and spirited personalities. Crowning glories of the costume parade include Maria's glorious full-train and lace-layered wedding dress as well as the haughty and highly fashionable outfits debuted on Elsa Schraeder.
While The Sound of Music is not often a show thought of for its extensive choreography, Director and Choreographer Kimberly Brueggemann finds subtle ways to infuse musical numbers with lively movements that add a hint of Broadway panache to the show as a whole. Little moments in "So Long, Farewell" and "The Lonely Goatherd" get the von Trapp children actively engaged with the music as they sing, and the same can be said for Brueggemann's approach to "Do-Re-Mi."
As the show's Director, Brueggemann presents an impressive understanding of how to keep the classical show on track with pacing in addition to wending the threads of Rogers & Hammerstein's beautiful tale together in a fluid manner. Casting the show to perfection and knowing how to balance the ensemble in a way that keeps the focus on the principal players can be a trying task, one that Brueggemann rises to with vigor and succeeds at with aplomb. Running a tight directorial ship, Brueggemann keeps the hills— as well as the cast— alive in this production, making it thoroughly enjoyable for all in attendance.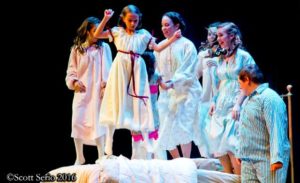 Vocal Director Bonnie Dubel Burns works glorious magic all her own when it comes to the musical sound of the production. Corralling an ensemble of nearly a dozen nuns together and evoking pristine and heavenly sounds from them for "Preludium" as well as "Morning Hymn" and the more recognizable "Climb Ev'ry Mountain" puts Burns' sincere dedication and directorial prowess on display. Working to seamlessly blend seven part harmonies among the von Trapp children proves to be another one of the highlights that Burns accomplishes in the performance. In a combined effort with Orchestral Director Richard Hauf, Burns finds a delicate balance between the singers and the live pit so that no one group is drowning out the other— a truly rare blessing in community theatre.
Firmly an asset to the abbey, Mother Abbess (Catherine Washburn) as well as her named nuns— Sister Berthe, Sister Margaretta, and Sister Sophia (played by Becky Titleman, Anne Acerno, and Laura Pohlenz respectively)— provide a rich and praiseworthy sound to numbers like "Maria" and its reprise. They make for entertaining little exchanges in the scenes where they are either talking about or talking with the wayward nun-to-be, with facial expressions ripe and aglow in these moments. Washburn in particular has a classically operatic sound that serves well both her part in "My Favorite Things" and "Climb Ev'ry Mountain."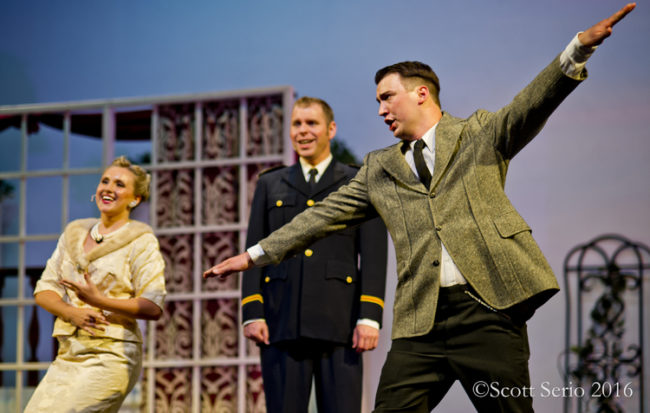 Collaborative comic relief arrives to the scene in the forms of Max Detweiler (Ruben Ward) and Elsa Schraeder (Lindsey McCumber) with the latter being used to balance out the former from all of his hysterical shenanigans. Both Ward and McCumber are gifted with strikingly talented vocal ranges, as witnessed in "How Can Love Survive?" and "No Way to Stop It", with McCumber displaying her haughty airs with great consistency throughout the performance and well into her moments of song. Ward, who toes the line of flamboyance in his performance as Max, delivers a comic nuisance who is simply delightful to laugh at.
Seven stupendous children, each more delightful than the next take up the roles of the seven von Trapp little ones. Marta (Kerrigan Allred) and Brigitta (Sophia Bordner) are as sweet as cordial on a lazy summer's afternoon, while Louisa (Julia Banashak) has a tart and yet playful personality most befitting of her tricks. The boys— Kurt (Tyler Sabatino) and Friedrich (Matthew Trulli) are equally wonderful, especially during the storm scene that sends all of the children running into Maria's bedroom. Little Gretl (Amelia Parrish) is too precious for words and earns a world of adoration and praise from the audience every time she so much as bats an eye or squeaks a word. Coming together with the eldest von Trapp sibling, Liesl (Isabella Bordner), the septet have tremendously polished sounds when singing in group numbers like "Do-Re-Mi", "So Long, Farewell", and "The Sound of Music (Reprise)". Each with a unique and brilliant personality, the children are a radiant delight in this production.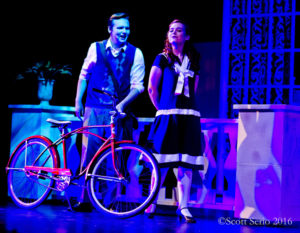 Isabella Bordner, as the eldest von Trapp child, is somewhat sassy, at least at first, when it comes to defying the need for a governess. Sweetly smitten with Rolf (Zachary Miller), she finds herself united in duet with him for "Sixteen Going on Seventeen" and the playful chemistry that alights between them is sincerely divine. Miller, who showcases a thorough and dynamic portrayal of the telegram delivery boy, makes his journey a harrowing one to watch as he transitions from the sweet, love-struck youth, into a bitter and guarded soldier of the Third Reich.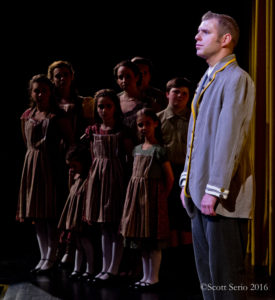 It is hard to imagine that the fires of love could ever be reignited in the empty fortress of Captain von Trapp's heart given how absolutely militaristically and utterly cold Tyler Daniel Zeisloft plays the character. Zeisloft proves himself to be a stellar actor as well as singer, giving the Captain a rich sense of conflict in his existence. Mining the depths of the character's heart and soul, Zeisloft is present every step of the story arc and goes beyond the basic surface of emotions that are so often attributed to the standoffish man of the navy. In addition to his striking physicality and overall active portrayal, his voice is the epitome of well-tuned and smartly delivered, particularly when it comes to the bittersweet melody of "Edelweiss."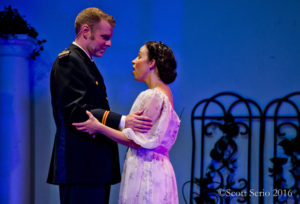 Twining his voice with that of Maria's (Julie Parrish) for "Something Good" becomes one of the most heartwarming moments in the production as the characters come together in the way that only fairytales of the stage can bring true love out to play. The gradual build of chemistry between Zeisloft and Parrish is no small feat accomplished, but both more than rise to the occasion, keeping the story on track while investing the audiences' emotions in the tale. When they sing together at The Concert Hall Stage— accompanied by their seven perfectly voiced children— it is a true show of conviviality and heart both in sight and song.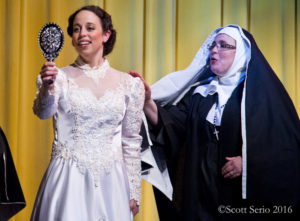 Parrish, as Maria, most simply put— is alive with the sound of music. Her voice is a lullaby from the mountains, a hymn from the abbey, and a vocal blessing from above all rolled into one spirited performance that deserves all the praise and accolades words can attribute. Bubbling with joy and overflowing with love, Parrish alights on each musical solo, duet, and group number with her glorious voice, radiating vocal sunshine with great consistency throughout the performance. Sprightly and vivid of nature, yet grounded and humble when the moment calls for it, Parrish takes hold of the role of Maria and delivers it sensationally.
A remarkable first production for The JC Summer Community Theatre, The Sound of Music as it appears for this brief engagement is a stellar mark that has set the bar high for community theatres of Baltimore and must be seen and enjoyed this summer.
Running Time: Approximately 2 hours and 50 minutes with one intermission
The Sound of Music plays through July 17, 2016 at The JC Summer Community Theatre in the main auditorium of The John Carroll School— 703 E. Churchville Road in Bel Air, MD. Tickets are available for purchase at the door or in advance online.