Do you know what the most beautiful thing in the world is? Why, it's a shoe! And the world at The John F. Kennedy Center is brighter because it's six inches off the ground right now as Kinky Boots settles into the Opera House stage for the first half of the 2016 summer. Preaching a powerful message, this Tony Award-winning musical— with Book by Harvey Fierstein and Music & Lyrics by Cyndi Lauper— is a sizzling sensation of a show that will blind you with how brilliantly it shines. Dazzling, daring, and downright fantastic, Kinky Boots is the superstar stiletto of the stage world, and is fully ready to kick your summer into high gear!
The dynamic duo of Fierstein and Lauper could be the modern day Rogers & Hammerstein, transforming tales of everyday life into stellar, sensational musical theatre adventures. Fierstein's book packs a powerful punch when it comes to embracing your true personality and being true to your passions in life. Combined with Lauper's electrifying score and show-stopping lyrics, the show is pure dynamite on stage. When it comes to providing a congenial and heartfelt story that is perfectly balanced between emotional rawness and feel-good fun, Fierstein is a master and the proof is in the proverbial pudding of his book, particularly with the way he's written the character arcs of Charlie and the overall creation of Lola.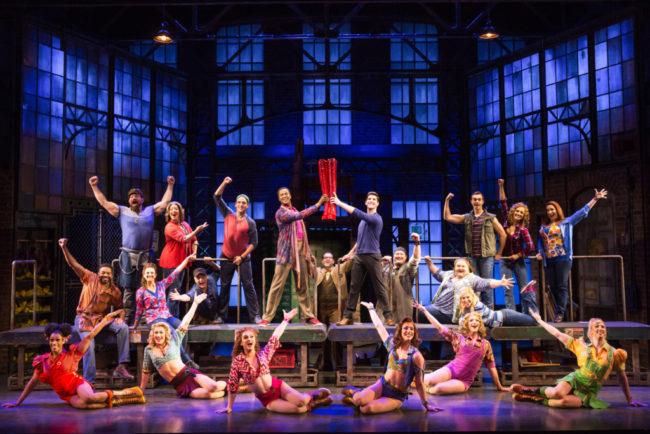 Director Jerry Mitchell takes the show to task superbly, ensuring that each moment moves seamlessly one to the next. But it's Mitchell's Choreography that sparkles throughout the show like all of the sequins on Lola's boots. Each routine is pumped powerfully with intentional attitude, layers of sassy, foxy, motion which is strutted through confident walks and kicks all over the stage for a glorious visual appeal. "Everybody Say Yeah" and "Raise You Up/Just Be", concluding the first and second acts respectively, are pulsating punches of pizzazz that drive the show home as a fun-filled, feel-good performance.
Aesthetically the show is stellar, and would naturally have to be to keep up with Lola's ferocious larger-than-life personality. This arduous task falls to the Scenic Designer David Rockwell, Costume Designer Gregg Barnes, and Lighting Designer Kenneth Posner. Fabricating a real-life Milan fashion walk atmosphere through undulating sweeps of neon glow befalls the shoulders of Posner and he succeeds with gusto. The sharp switches in scenery, emotional verve, and overall thematic elements of the show are felt keenly in his illumination work, particularly when emotions find themselves falling into the heavier side of reality like during Lola's 11 o'clock number "Hold Me in Your Heart."
Barnes and Rockwell work in tandem to balance one another out over the scenescape of the production. Rockwell's set is intentionally drab, capturing the dull listless life of the fading shoe factory, which very well may be on its last leg. Enter Lola and her Angels, who in the thematic sense are the godsend the factory needs to keep from getting the boot. Displaying each of Barnes' sensational sartorial selections as if they were the models of Milan, the audience is rewarded with the sharpest contrast of set to costume since the black and white picture days of The Wizard of Oz. Barnes' fashion plates are teaming with style, particularly the shoes, and really make Lola and her girls pop right off the stage. Detail and care are given to the exacting levels of vibrancy in each of Lola's outfits, from the snazzy sapphire working-girl motif to the wicked black widow couture featured in her club number.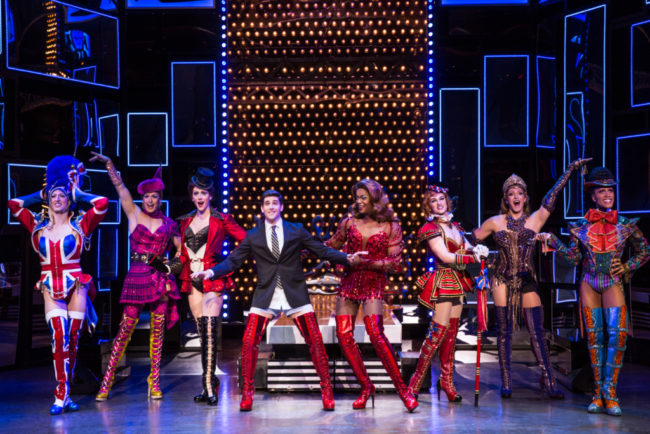 The aforementioned Angels (Joe Beauregard, Joseph Anthony Byrd, Sam Dowling, JP Qualters, Xavier Reyes, and Sam Rohloff) pack the show with tons of pizzazz. Their stellar dance routines are striking and loaded with punchy personalities that really showcase the meaning behind numbers like "Sex is in the Heel" and "Land of Lola." Elegant, sophisticated, and full of sass, the seductive six really work their charms every chance they get, especially during the finally where they get to really strut their stuff in the show's namesake.
Exceptional supporting performances arise from Nicola (Charissa Hogeland) and George (Jim J. Bullock.) While neither Hogeland nor Bullock have any featured solo numbers, both bring sturdy character work to the stage with their portrayals of the doting yet impatient fiancé and foppish factory worker, respectively. Bullock in particular really rallies the audience's support with the way he owns the character's sexuality, refusing to stand down in the face of Don's (Aaron Walpole) antagonistic behavior. Walpole, who like Bullock and Hogeland, has no vocal singularity to speak of, but does a formidable job of making Don easy to dislike. Walpole finds depth in his portrayal of Don as well, bringing the character full circle by the show's end.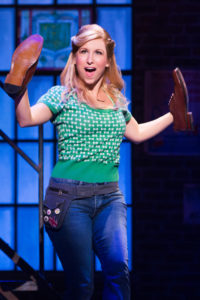 Lauren (Tiffany Engan) though small is mighty and is a proper show-stealer when it comes to her shenanigans, which are almost read like musical soliloquys, singing about her potential feelings and involvement with Charlie (Adam Kaplan.) "The History of Wrong Guys" is an outstanding number that draws forth a great deal of hilarious response from the audience. Between Engan's hyper-animated gesticulations and her rock-star, powerhouse vocals, it's easy to see how she makes the role of Lauren stand out in the trendiest fashion. Kaplan, though co-credited alongside Lola as the show's principal, does less than a stellar job when it comes to articulating through his musical numbers. The emotional integrity is somewhat lacking for "Soul of a Man", a disappointment to the turning point number for the character.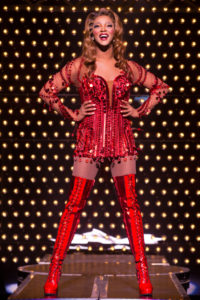 Fierce. Hands down, the word for Lola (J. Harrison Ghee) is fierce. Ghee is ferocity incarnate and takes the notion of "larger than life" to the next level when it comes to embodying the phenomenal cosmic power that is Lola. The 11 o'clock number, "Hold Me in Your Heart" is a maelstrom of raw heart and wounded soul blasted in full voice from beginning to end, tearing at the hearts of the audience and earning Ghee a well-deserved double-time ovation. Perfection in the duality of Lola and her "inner Simon", Ghee delivers a remarkably convincing, dynamic portrayal of the super-star drag queen with no fear, no holds bar, and nothing to hide. Saucy and fearless, Ghee puts panache into "What a Woman Wants" while turning it out on the dance floor with Pat (Patty Lohr) in this sensually charged number directed at Don.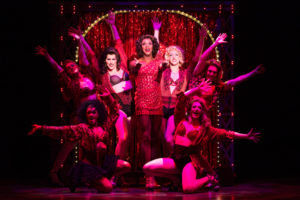 Stellar in every sense of the word, Ghee is a knockout when it comes to numbers like "Land of Lola" and "Sex is in the Heel" but provides such beautiful, heartfelt strength and compassion for "Not My Father's Son," a duet shred with Kaplan. Riveting in the role, everything from Ghee's zany laugh and wild bounding about with a fully engaged physicality to the way Ghee carries Lola through more difficult moments, like at the end of "Hold Me in Your Heart", there isn't a single moment in the performance where all eyes aren't on the way Lola is being played.
Just be! At The Kennedy Center, that is, so that you can raise you up to feel the glory of life six inches off the ground, when you get to see Kinky Boots this summer season.
Running Time: 2 hours and 30 minutes with one intermission
Kinky Boots plays through July 10, 2016 on the Opera House Stage of The John F. Kennedy Center for Performing Arts— 2700 F Street NW in Washington, DC. For tickets call the box office at (202) 467-4600 or purchase them online.