An audience knows what to expect and that is all they are prepared to believe in. Such a premise as this is where the initial notion of "suspending one's disbelief" came from, and thus theatrical extemporanea, et. al and so forth. When playwright Tom Stoppard dared the audience to believe in his tertiary character-exploration of Hamlet, he had no idea that Stillpointe Theatre would be putting their hands all over Rosencrantz and Guildenstern Are Dead in only a way that this innovative, bold, and edgy company can. Directed by Jon Kevin Lazarus, and now featuring puppets, the oddly unbalanced tale of the two largely unimportant characters from the great Danish tragedy is underway on an oddly intriguing theatrical journey like no other at Stillpointe through the middle of July. There's rabble-rousing Tragedians! There's a vaping clown in a skirt! There's puppets! PUPPETS! What more could one want from a theatrical performance? Death perhaps? There's probably some of that too. Did we mention puppets?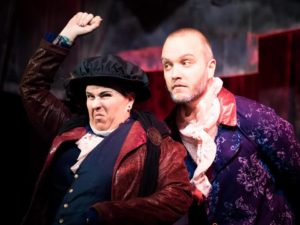 When one thinks Hamlet, one tends to think exasperatingly drawn out melancholic drama which ends in traumatic death. When one thinks Rosencrantz and Guildenstern are Dead, the thoughts err more to a quirky and amusing vein, though quite dark. This foreboding sentiment is echoed in Set Designer Ryan Haase's strikingly strange backdrop. Juxtaposed against an eerily serene sounding splash of waves against a shore, curtains drape from the ceiling and frame the space almost like sails splattered asunder from the mast of a ship. They appear dreary at first, a listless dull gray and black, but upon closer inspection bare the mark of darkness to them; this enigmatic swirling of black and gray splotching looking like some ominous omen that forewarns the audience that doom is coming, or perhaps already readily present.
While the particular outfits held on the titular characters are nothing overly impressive to write home about, Haase teams up with Costume Designer Danielle Robinette to cultivate a roguish nature for the Tragedians. Capturing the grody visage of these players in their sartorial selections, Robinette and Haase fine-tune the menacing nature of their costumes right down to the gritty feathers laid into their caps. Subverting what could be a playful band of merry actors into a derelict band of raunchy and festering creatures that only a demented Alice who was shoved down the rabbit hole could concoct, Robinette and Haase scare up some rather unsavory outfits for this bunch.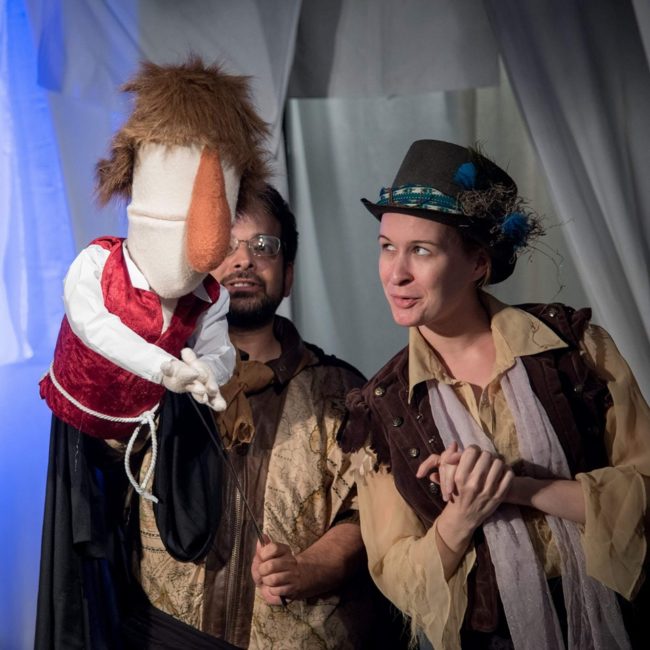 Props to the Puppet Master, Michael Paradiso, who willfully succeeds in taking an innocent artistic expression like puppetry and transforming it into something truly nightmarish. The puppets utilized in the performance are highly stylized, almost mimicking those found on Sesame Street to an unbearable familiarity. Only Paradiso has exaggerated certain features, be it the enormity of their foreheads or full-flushed bushiness of their eyebrows, to the point of distortion, giving them a creepy appearance. Furthering the warped existence of these hand-mounted creatures, Paradiso has purposefully left them without eyes. In addition to being disturbing, this accurately represents the intentional blindness of the characters from Hamlet, as interacted upon by the characters existing in Rosencrantz and Guildenstern are Dead.
Director Jon Kevin Lazarus seems to have as many good intentions as he does questionable ones with his overall vision of the production. It is largely unclear exactly why puppets were deployed in the production other than an affinity for them, though his use of them does draw forth some great humor. The motivation behind the puppets is also muddled, but again not without its redeeming comedic factor as well as its startle-factor, as they are quite monstrous to behold despite being very close to human in their appearance. Lazarus also throws a second intermission into the mix, separating the first act from the second and the second from the third. This feels somewhat unnecessary, but doesn't seem to detrimentally impact the overall momentum or pacing of the performance.
Rosencrantz (Meghan Taylor) and Guildenstern (Tyler C. Groton) are somewhat uneven in their existence within the context of the play, with Groton being the stronger of the two performers. Taylor, while finding a few moments of comic integrity here and there, feels mostly uncertain of her placing and timing throughout the performance. Groton, who does a great deal of explosive erupting and does so with vehement vigor, starts near the top of his expressive game, which makes it difficult for him to achieve an even higher sense of emotional catharsis as the show calls for it. There are striking moments of delivery, however, from Groton when he does fall back into mellower and more subdued moments of realization and confession.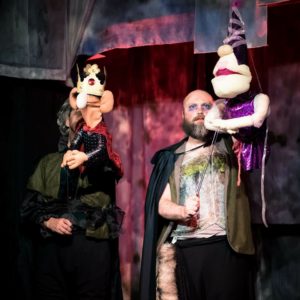 The Tragedians (Ken Jordan, Jim Knost, Tommy Peter, Rafael Spike Regales, and Dana Woodson) are deployed comically throughout the production and make for amusing background furniture when not actively enacting the "play-within-a-play-within-a-play" moments, which invites their puppet-ego counterparts to the stage. Jordan in particular is a standout hilarity worth noting if for nothing but the shenanigans that happen in his dress, or rather getting him in and out of the gossamer garment. Knost and Regales are also worthy of praise for the severe sincerity that they take to Claudius and Hamlet respectively.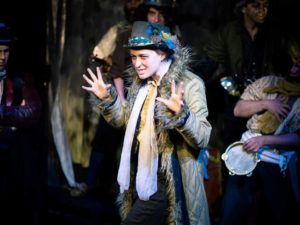 Elle Marie Sullivan, serving as the principal 'player' in the performance, is an extraordinary entity on the stage. Possessed of a carnal grin, feral attitude, and earnest expressivity of both facial features and vocal utterance, Sullivan dominates the show with her wily presence. There is something unsettlingly unctuous and yet congenial and simplistic about her portrayal of the lead player, even more so when she takes up the obscurely absurd puppet that represents Polonius. Marvel at her madness, it twinkles in the eye just so, keeping you on the edge of your seat every time she entreats the titular characters to the potential her troupe of tramps has to offer.
Stoppard's remarkably well-penned script will do you a world of good in this bizarrely intriguing performance, and all the more so if you have a working familiarity of all the events from Hamlet. The jokes buried into the text become that much wryer and more enjoyable if your intimate working knowledge of the Bard's greatest tragedy is up to par.
Running Time: Approximately 2 hours and 15 minutes with one intermission
Rosencrantz and Guildenstern Are Dead plays through July 10, 2016 at Stillpointe Theatre— 1825 N. Charles Street in the Station North Arts District of Baltimore, MD. Tickets can be purchase at the door or in advance online.