This show is the rice krispie treat. It's also nine people's favorite thing, which is better than being 100 people's ninth favorite thing. And I am one of those nine people after seeing [Title of Show] at Milburn Stone Theatre Elkton Station. I don't usually write reviews where I self-insert, but since this musical— which is going to make it to the mainstage at Milburn Stone any day now, just as soon as they get enough interested producers— is all about self-insertion, insular jokes, and the meta-theatrics of a play being written about a play within a play wherein the players are writing the play that they're playing in, oh and it's a musical, I figured it might not be such a bad idea. And as they say, when in Rome…so why not in Cecil County, Maryland? Directed by Shane Jensen, this four person show— well, five if you count the pianist (sorry, A.J.)— has a tremendous deal of heart in it for those willing to take the trek to come and see it. And I'm saying, you should come and see it, because Jensen and his cast (including A.J. LoPorto on piano) are doing incredible things to transform this obscure self-referential musical into something that is enjoyable and relatable for a broader audience.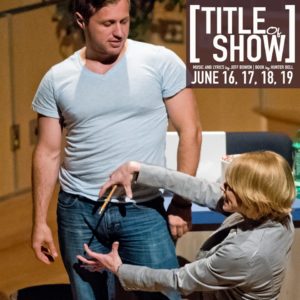 Jensen wears many hats in the production. He's the show's Director, Musical Director and Set Designer. He lets Bevin Hensley focus on the lighting, which is the show's only real hiccup, but not for lack of intent and effort on Hensley's part. Jensen's conceptualization takes the musical out of the "just four chairs and a keyboard" stage, which was how it was written, and creates an additional layer of meta-theatrical-occurrence and symbolic ambiance simultaneously. The play space is blocked off in quadrants, two downstage on the floor level flanked on either side of the upright piano and two upstage on the raiser spaced directly behind the two downstage spaces. Each quadrant has a desk for each of the characters, decorated accordingly to fit the personality of both the performer and the character, which at times become one in the same.
Here's where the tricky bit comes in as Hensley tries to make the lighting keep pace with Jensen's blocking. There are quick moments where lights are meant to snap up and down for conversations happening on the phones, and the way the lights are structured in the Elkton Station location, they just don't happen quickly enough, which leaves awkward moments of ill-placed darkness in these scenes. Otherwise, Hensley's lighting of the five compartmentalized spaces, including the piano in the center, is really smart and draws focus to those scenes at appropriate times.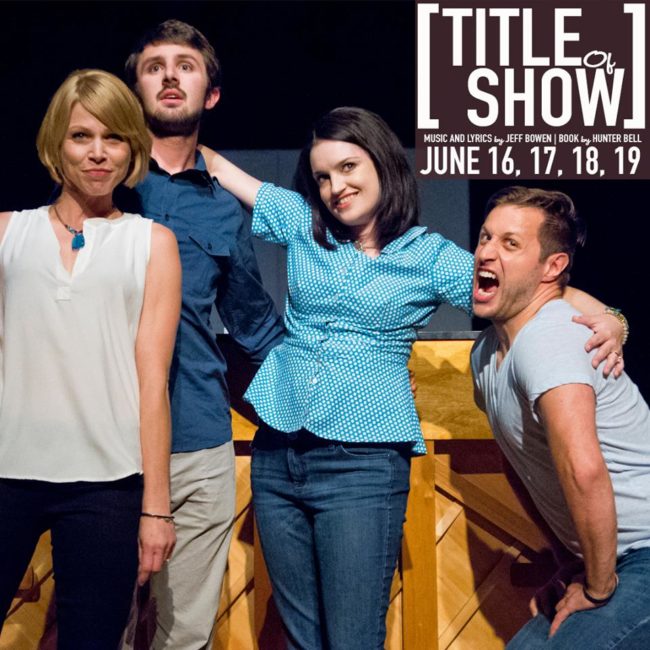 Jensen really pulls the show out of its dated, self-referential existence and broadens the material to make it read to a broader scope of audience members, but there is a method to his balancing of this and what's penned in the original book by playwright Hunter Bell and lyricist Jeff Bowen. The show feels modern without smacking of an exacting present date, and has an earnest emotional appeal to the heavier numbers like "A Way Back to Then." Jensen also tugs at the heartstrings of the audience by making good use of the projection screen stationed between the ladies' desks upstage. For the aforementioned number, a series of flashback photography is displayed of actress Gina Dzielak (playing Heidi) as she sings the tune. Jensen also uses the projector to showcase all of the great Broadway flop playbill covers during "Monkeys and Playbills." This is most clever as it really lets the audience experience what the four characters are going through in this absurd little number.
The cast performs well with one another. LoPorto, whose spoken lines are exceptionally brief (and penned so intentionally) fits the vibe that is crafted in this small-cast ensemble. His piano playing skills are beyond sufficient, and markedly graceful, particularly when transitioning from the more jovial, upbeat numbers into s slower more emotionally charged one. Keeping a sturdy tempo along with the four singers, particularly during complicated rhythmic routines like "Die, Vampire, Die!", LoPorto earns his keep as the musical assist in the performance.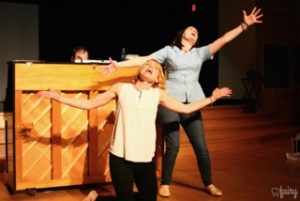 Gina Dzielak, who tackles the role of Heidi with rigorous aplomb, is a vocal delight and mainstreams her sound flawlessly to fit the quartet. While not as vivaciously theatrical as Susan, simply because the character does not warrant such lavish melodramatical campiness, Dzielak finds little moments of comedy to make her own throughout the performance, the one immediately coming to mind being the sassy biting shade that comes shooting out of her mouth during "Awkward Photo Shoot." Holding her own against the zany, over-the-top, madcap performance given by Rebekah Latshaw as Susan, Dzielak brings a healthy dose of her own hilarity to their duet, "What Kind of Girl is She?" and rises her portrayal of Heidi to the level of hysterical shenanigans that the Susan character brings to ever moment in "Secondary Character", another duet left solely to the girls. Dzielak's heartwarming rendition of "A Way Back to Then" is bittersweet and filled with a gloriously touching nostalgia.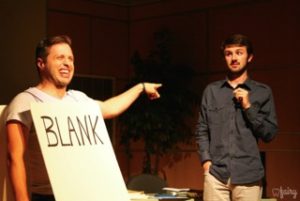 The other half of the 'creative team' comes in the form of Jeff (Nick Madden.) Though at times Madden's sweet voice is too soft to be heard clearly, when he does find the vocal support to get under his pipes, he's great for the part. Playing the more grounded of the two male characters, Madden brings a self-doubting honesty to the pair, which balances out the egomaniacal surge that overtakes Hunter (Rob Tucker) as they press onward and upward toward Broadway. Unlike the Heidi character, Jeff has no solo numbers of his own, but Madden does finds ways to make his character recognized, which is a trying feat when performing opposite of Tucker and cattycorner to Latshaw, as the pair of them are bank-grade scene stealers who are running away with the show on their shoulders. His breakdown after Hunter says "Us just being us isn't good enough anymore" is deeply mired in a sticky emotional mud that sucks the show down a peg or two from its comedic campy nature.
Where do I even start with Latshaw and Tucker? The really easy thing to do would be to say "go see them, trust me, their eyeballs and all the circus-tricks they do with facial expressions will cover the cost of admission." But that seems a bit self-indulgent on my part and not fully noting and praising all of the hard work that they're both doing on the stage. You can't really call them scene stealers as they are the focus of the scene, and as I've discovered lately the actual notion behind "scene-stealer" is that someone who is not the focus of the scene is 'stealing the attention' of the scene from whoever's scene it is meant to be, that's what makes them the scene-stealer. I'd go a step further and say show-stealer, but since they're part of a four and a half person cast, I dare say at least 55% of the time the time the show's focus should be on them.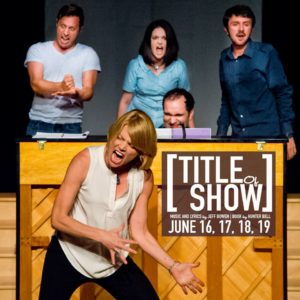 Latshaw is a comic hoot. She goes to Funkytown on a soul train of physicality when it comes to strutting her stuff during "Die, Vampire, Die!", though that song also showcases her versatility and dynamic shifting ability as she goes from wild and crazy dance tart into something deeply earnest and vulnerable within the blink of an eye and back. Latshaw periodically lets loose with her facial expressions as well, just really going to town with her responses, especially to things that Hunter says. And there must be a note in the script somewhere that contracts her to be perpetually rocking out on some air-invisible instrument, mainly guitar, because a great many of her dance moves are inspired by if not driven through that particular gesture. In addition to all of her comic shenanigans, which are exceptionally well-timed and delivered, Latshaw has a delectable voice which fits easily into the vocal structure of the quartet. Hearing her solo feature in the penultimate number, "Nine People's Favorite Thing" really strokes a peaceful fire in the heart.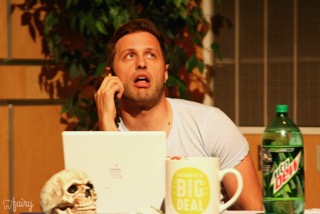 Rob Tucker is a tremendous asset to the performance. While it's most definitely an ensemble piece, a great burden of the show's humor seems to fall squarely on his broad shoulders. (80% of that is just how the show is written, but he handles it with lively enthusiasm as if it were a cherished gift.) Whether its moments like "sweaty left pit" or being "Blank Paper" in "An Original Musical" which is both offensive and absurd to the point of utter hysterics, Tucker makes his presence felt consistently throughout the musical. In addition to being a comic gold mine, Tucker's vocal abilities are striking. Clear and gorgeous with intense sustains and belts, Tucker is a vocal sensation when it comes to the role of Hunter and numbers like "Two Nobodies in New York" and "Part of it All." There is something wildly unnamable in Hunter's eyes and facial expressions that just keep you staring at his pretty face throughout the production, and the way he synchronizes his ability to emotionally express the feelings of his songs with those physical expressions is astounding.
They're going to the main stage, honest! Any day now! And hey, the main stage at Milburn is like Broadway. Right? Well, off-Broadway at least, anyway. You won't want to miss [Title of Show] because it's really unlike most things that are happening and passing for musicals these days. It's not Hamilton (and you certainly don't want it to be because you'd never afford to get in to see it) but it has four talented performers (five if you count the piano guy— I count you, A.J.!) and a world of fantastical fun just waiting to be experienced in 90 minutes or less. (Or less if Rob drinks all that Mountain Dew before the show…there's no intermission.)
Running Time: Approximately 90 minutes with no intermission
[Title of Show] plays through June 19, 2016 at The Milburn Stone Theater:  Elkton Station— 107 Railroad Avenue, in Elkton, MD. For tickets call the box office at (410) 287-1037 or purchase them online.