Dreams are the children of idle brain, but let your mind sit still no longer! It is time for your imagination, your mind, your brain, and every other part of one's thinker that by any other name reasons just as soundly, to engage with the Bard's most iconic romantic tragedy. Tightened for core efficiency and pared to its essence, Romeo & Juliet is now the two hours' traffics upon the Annapolis Shakespeare Company's stage. Directed by Sally Boyett, the tale of star-crossed, woebegone lovers finds its footing with some unusually creative script edits and a scenic shift to Post World War II Italy.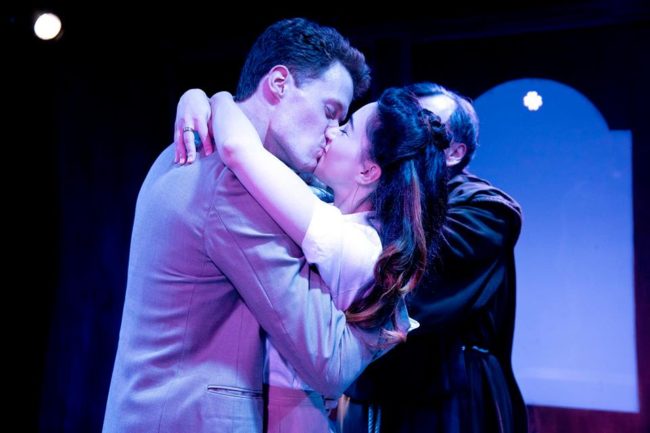 Director Sally Boyett wastes no time in stripping away the superfluous gristle of the five-act drama. Jumping right into the heat of things, Boyett starts the play with the well-recognized "thumb-biting" brawl, foregoing the prologue in its entirety. This is a bold yet satisfying choice as the prologue is both pedantic and repetitive in its natural existence. For as rewarding as this choice is, the way Boyett closes the play— with a rather dramatically lit moment inside the Capulet family vault underscored by a chilling soundscape in that moment— feels dramatically inconclusive. This is not for a lack of effort in the moment that she does create, which in and of itself is strikingly beautiful, but rather because expected payoff delivered by the Prince never arrives.
Boyett's decision to shift the play's setting is not uncommon, but her design of the execution is what makes the concept connect to the play and stick whilst the audience watches it. Pre-show the house is flooded with jaunty dance-style tunes of the late 1940's, a good few with a strong Italian undercurrent. Music in a similar vein surfaces during the feast and ball held at the house of Capulet and strummed string sounds of a Veronese vein aid in the scenic shifts by cover of three quarters darkness. Lighting Designer Adam Mendelson and Sound Programmer Dante Fields see to it that these transitions move smoothly, urging along the galloping pace of the play. Mendelson's lighting is a touch dramatic, but suitable for the overall morose flare Shakespeare penned into the tragedy, particularly the stark lighting featured in this production's final number.
Grounding the play in late 1948 post World War II Italy, the couture fits the performers as exceptionally well as the movement and overall carefully choreographed street-fighting violence. Fight Director John Bellomo keeps the switchblade knife scenes moving at a hot-blooded tempo and gets the down and dirty brawls scuffing about on the floor like the painted tile of the ASC studio might actually be a filthy Veronese street. Matched only by the fleet-footed dancer's choreography, designed by Boyett, during the masquerade moment at Lord Capulet's house, Bellomo's fight work has an authentic verve to it that harkens home to the period with gusto.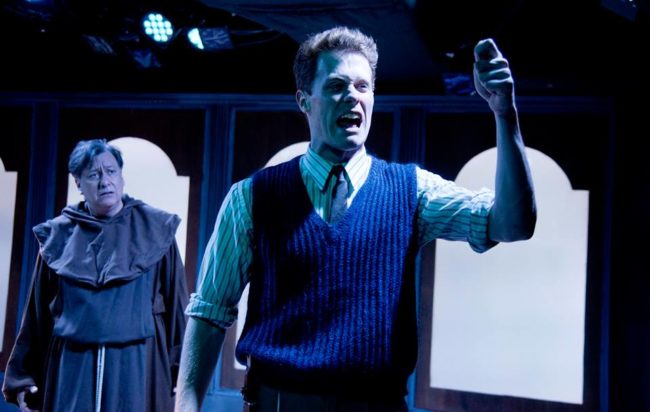 Boyett continues to entreat the audience to experience this tragedy with new eyes by her curious use of double casting. Though dual and triplicate roles are no stranger to Shakespeare, Boyett's approach has the audience investigating double meaning in her choices. The initial street fight scene fight features the actors who play Romeo and Mercutio, as Sampson and Balthasar respectively, sparring first with words and then with switchblades, which is followed immediately by the arrival of the Prince— also portrayed by Balthasar/Mercutio. There is some deeper meaning in this peculiar casting, a notion that all men are prone to violent outbursts when provoked, yet all men insist on peace even when they must use force to achieve it. The double casting of the Apothecary and Tybalt is also an irony lost on no man as it is the Apothecary's poison that takes Romeo's life only after Romeo has slain Tybalt.
The three strongest performances given in the production arrive from supporting characters, aiding in telling the tragedy of these two youthful lovers. Rob McQuay, as the surly and occasionally quirk-witted Capulet, delivers a vivid range of emotions throughout his brief scenes. The full gamut includes drunken merriment as well as firm authority— though not in the same breath— during the feast and ball scene, giddy stupidity upon his daughter's repentance, and a blasting inferno of fury when he threatens to disown Juliet. The blasting tyranny that rages forth from McQuay in that moment nearly shakes the studio down and easily brings Juliet to hysterics.
Zesty and compelling, Tony Tsendeas gives Friar Laurence a previously unexplored depth with his portrayal. There are several moments of humorous entendre that Tsendeas unearths in his delivery of certain lines, particularly when directed at Romeo. Honing in on the over-sexed nature Shakespeare's words, Tsendeas does not shy away from the sexuality and raunchy proclivity of the play, a concept that is glossed over by everyone else involved. Tsendeas has a presence of mind that grabs the attention, particularly when chastising Romeo after he falls into weeping despair, and his overall stage presence is something to focus on, even though his character is quite minor in its stage-time.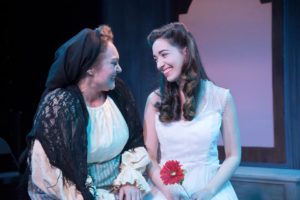 Embodying the rambling flavorful character of an old world Italian grandma, Renata Plecha delivers an impressive rendition of The Nurse. Though she, like most everyone, glosses over the sexual innuendo tucked firmly into the Bard's words, there are a great many other things potent and pleasing about her performance. Fending off Mercutio (Brian Keith MacDonald) is one of her better moments, and draws her firm matronly character to the forefront. Plecha bubbles like an old scrubbing cauldron with caustic little remarks that jibe and tease, and when she's not being playful, her deeper woeful sentiments carry strongly through natural tears and wailing.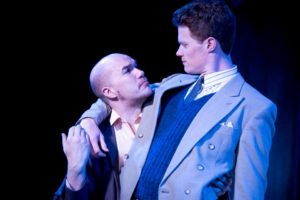 MacDonald, as Mercutio as his other two roles are brief blinks of existence as far as this production is concerned, feels out of step with himself in this play. Containing an exhausting amount of energy that seems to come from nowhere and go nowhere, MacDonald delivers a rendition of Mercutio that feels out of sync. His interaction with the Plecha's Nurse feels a bit contrived, and the street brawl with Tybalt (Rob Schumacher) that results in his untimely demise is delivered with a strange juxtaposition of fury and mirth that don't quite gel. To MacDonald's credit, his Queen Mab monologue is delivered with exacting imbalance, starting frivolously with folly clear in his speech and ending off the rails in anger and resentment.
Much of the performance feels as if it exists on one emotional plane. Rob Schumacher's Tybalt rages at the top of his character's ire from the moment he encounters Romeo at the Capulet party through to his death in the street. It is a refreshing change of pace to witness him as the shady and somewhat underhanded Apothecary later in the production. James Carpenter's Benvolio is much the same, experienced as a smiling sidekick to Mercutio. Lady Capulet (Emily Karol) also exists in a hollow sense when it comes to her interactions with Juliet, though this does not feel entirely unintentional as the character is somewhat dismissed on the whole in a good many productions.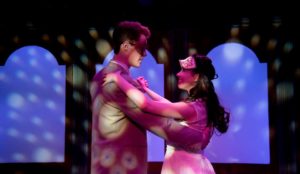 Juliet (Olivia Ercolano) and Romeo (Brendan McMahon) behave as one expects these newly met lovers to interact. Given the brevity of their encounter at the ball— true "love" at first sight as it were— Ercolano and McMahon's interactions float at the very crest of the surface when it comes to professing their emotions toward one another and sharing chemistry. Both actors lean heavily on the impetuous and whiny sides of the star-crossed lover's characterizations, delivering a great many of their mourning monologues and protestations like ill-tempered teenagers. Ercolano's line of the show— delivered with a surprising shock of emotional depth— comes when the nurse delivers news of the fatal brawl between her cousin Tybalt and her husband, chastising her for her tears over Romeo. McMahon and Ercolano do have a strong hold on their textual delivery even if the emotional undercurrents run a bit shallow in their performances.
Running Time: Approximately 2 hours with one intermission
Romeo & Juliet plays through May 29, 2016 at the Annapolis Shakespeare Company in their Studio111— 111 Chinquapin Round Road Suite 114 in Annapolis, MD. To purchase tickets, call the box office at (410) 415-3513 or purchase them online.