Everything's tickety-boo at the Dundalk Community Theatre this February as they bring a thrilling production of Alfred Hitchcock's The 39 Steps to the stage. This thrilling farcical adaptation (thusly adapted by Patrick Barlow) arrives by rail on the mainstage of the John E. Ravekes Theatre in Building K at the College of Baltimore County Dundalk just in time to shake off the winter blues. Directed by Todd Starkey, this racy Hitchcock Masterpiece will have your side-splitting with laughter and the only mystery you'll need to solve is how to see it again before it's curtains on the production!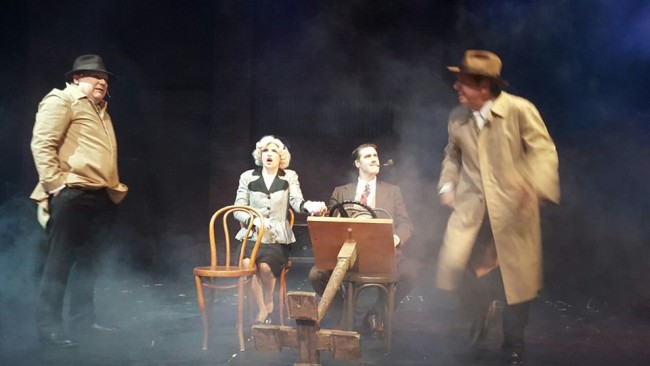 The quartet of actors may wear many hats, taking on 150 quirky characters, broadly shouldered mostly by the two 'clown performers', but multi-hat mastery is not exclusive to the actors of the production. Marc W. Smith takes on many titles for this show including Scenic Designer, Lighting Designer, Sound Designer, and touts the label of DCT's Technical Director to boot. Having Smith design the trifecta of aesthetics for the performance is a smashing way to ensure universal cohesion among these production elements. The starkness of the set, along with the simplicity of the rolling props, is a genius model of operation for this play as it keeps the flow of the show on the go without stalling unnecessarily. Smith's masterpieces include the blinking overhead train-car lights, synced perfectly with the chugging railway sounds, and the spinning wardrobe cabinet bedroom suite, appearing later in the second act at the McGarrigle Hotel.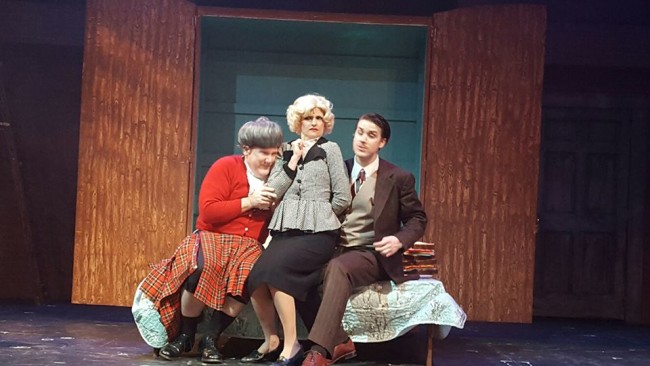 While the play is pure farce and utter delightful enjoyment, Costume Designer Mark Briner plants his foot in the reality of 1935 to ensure that the audience travels backward through time to a place of wild intrigue. Crafting nearly two dozen separate looks that are meant to encompass over 100 characters, Briner rises to the challenge with vigorous stamina and makes tempting sartorial choices consistently throughout the cast. The deliciously decadent chocolate satin drape that serves as a dress for Annabella Schmidt is as fitting to her enigmatic femme fatale character as the crisply pressed and complimentarily coffee-colored suit seen on Hannay throughout the entire show. Take note of little Easter Egg-nods featured in Briner's design work as well, particularly the Whovian Fez for Professor Jordan and highlander rogue kilts featured on the march across the moors.
Director Todd Starkey is serving up textbook farce with a heavy hand of physical comedy that makes for a superb evening of comic entertainment in the theatre. Owning the piece of theatrical tomfoolery for what it is, Starkey pushes the camp, shtick, and overall undeniably hysterical nature of the script to its outer limits, throwing in modern references that still fit the time-period of the play, as well as masterfully commanding when and how the fourth wall is obliterated. With spitfire pacing, and an earnest sincerity in playing those comic scenes for truth— so as to maximize their uproarious potential— Starkey directs a masterpiece worth laughing through. There is consistency in the scenic shifts as well as the way the comic gags are approached, and Starkey drives the level of commitment and follow-through in his ensemble into sublime perfection from the opening scene through to the thrilling conclusion.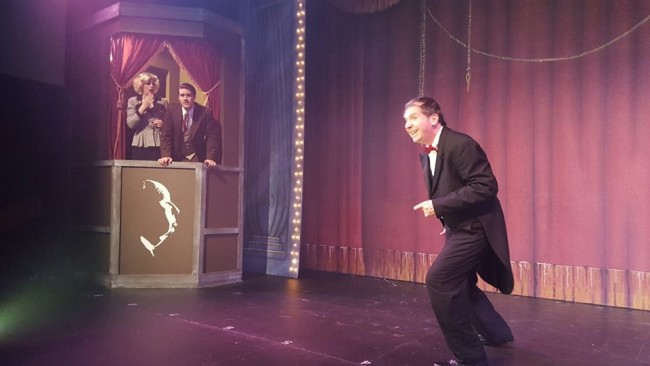 Between Starkey, Briner, and Smith, there are dozens of brilliant things that enhance the humorous nature of the production, all of which culminate into one gut-busting riot of an evening; this production is a true squeal of glee. Watch the silhouette puppetry scene carefully to spy a shadow of Hitchcock himself (and also Hannay escaping across the Loch on Nessie), or look carefully at the blue-wood grain paint of the ever-present rotating door (is that a TARDIS?) There are far too many ingenious details to list and one could easily spend an entire performance just trying to catch all of the clever Hitchcock titles as they are worked in willy-nilly throughout the show.
The four performers of DCT's The 39 Steps work together as if they were psychically linked, sharing an internalized telepathic communication of understanding and responding. This is what makes the performance truly remarkable and insanely enjoyable. Working together to hit the highlights of the comedic meter in this show, Tatiana Dalton, Thomas C. Hessenauer, Charles Lidard, and Patrick Martyn present a flawless rendition of Hitchcock's tale. All four performers are on the same page, deeply engaged in moving the story from point A to point B and doing so with a rigorous commitment to their jobs. Understanding each other's comic timing and delivery enhances scenes like the swampy-marsh chase tenfold as Hessenauer and Martyn serve as entertaining, albeit antagonizing, background furnishings. The sharply honed ability among these four that takes turns at blinding the audience with the comic spotlight is phenomenal; their trust among each other makes this performance an incredible one.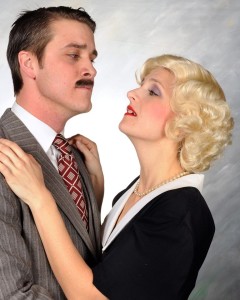 Tatiana Dalton, though only taking on three female characters as opposed to three dozen, commands a firm stage presence and distinctively splits her accents from one character to the next. This can be said of all the performers who take on multiple roles, each character having its own unique voice, physicality, and clear-cut portrayal regardless of how suddenly the actor has jumped into it. Dalton's sensual spy character Annabella Schmidt steals the audience's attention early on with her sultry talk and seductive ways. Playing exceptionally well off Charles Lidard— who plays only Richard Hannay— she creates a volatile but intriguing chemistry with him once becoming the button-headed and stubbornly English Pamela.
Lidard is charming as Hannay. Brusque in his dismissive narrative fashion as he opens the show, brutal when it comes to slinging about snappy and witty insults, but beautiful just the same with his dashing looks and ownership of that physique. Lidard has a firm handle on comic timing, just like everyone in the cast, and holds his own against the team of comic crackups as he fights his way through situations fraught with dangers, missing pinkies, madcap maladies, and other varieties of madness— mainly romantic attraction to the lovely Miss Dalton.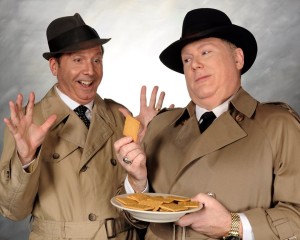 Stealing the show, Hessenauer and Martyn are comic cads who earn their title of clowns early on. Over the top, melodramatics, ham-tastic performances are radiating off these two geniuses in full-force tidal waves and crashing into the audience only to be met by uproarious laughter. Their ability to yuck it up together without taking things too far is beyond impressive, and really drives a great deal of the comedic urgency in this performance. Martyn's trademarked "Thankuuu…" as Mr. Memory keeps the audience rolling with laughter by the barrelful in just a few minutes of exposure to this absurd character choice. His swanky leg flapping as Mrs. Jordan is also noteworthy, but some of his best work comes from his "wind" scenes as Scottish John out on the moors.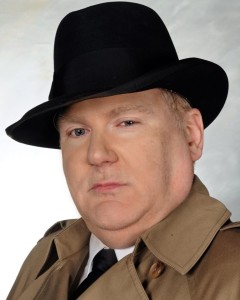 Hessenauer is the cat's meow when it comes to comedy (the line of the show might very well be "why does no one make a good mouse-flavored cat food?") and he really owns those moments of improvisation that are fitted so perfectly into his half of the clown characters. From his shenanigans on the train— complete with mouth-made SFX for the windows— to his cheeky and utterly indescribably portrayal of Mrs. McGarrigle, Hessenauer's clowning around is a real scream. Comically on point with all of his accents and myriad of physical presentations he affects to each of his characters, Hessenauer is leading The 39 Steps to comedic triumph.
Don't miss the excitement! The danger! The gunshots! The Downtown Abbey Reference! There are so many brilliant things to say about this performance, they can't be said enough, so what shall be said is this: GO SEE The 39 Steps at Dundalk Community Theatre.
Running Time: 2 hours and 15 minutes with one intermission
The 39 Steps plays through March 6, 2016 at Dundalk Community Theatre— College of Baltimore County Dundalk in Building K, at the John E. Ravekes Theatre – 7200 Sollers Point Road, in Baltimore, MD. For tickets, call the box office at (443) 840-2787, or purchase them online.