The master of the macabre, the navigator of the netherworld, the antiquarian of the insane— why it can only mean one thing! That it's 9:00 o'clock, Baltimore, it's the last Monday of the month, and it's time for Horatio Dark's Between the Lines at Yellow Sign Theatre. Commemorating a milestone on this very last Monday of the 2015 calendar year, Horatio Dark concludes its first season of broadcasts with this latest episode. Four live radio plays— two recurring serials and two non-sequiturs— round out a prolific year of 1940's radio entertainment happening under the roof of YST. Of course, even YST and Horatio Dark are not immune to the Christmas cooties as a bonus live-reading of A Chrome Christmas: A Bennington Marcus Mystery was sprung on the audience (and the cast) as a festive holiday treat to close out an evening of truly captivating radio plays.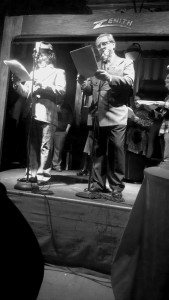 The gang's all gathered, with Mr. Anthony C. Hayes serving as the advertisement announcer and general introductions to each of the new tales, Mr. Jon Freedlander serving as the delectably unsettling and haunting voice of Horatio Dark himself, and as always, Mr. Dave Marcoot on foley. Marcoot's foley work is kicked into high gear for the December broadcast, with a great deal more action-packed sounds resonating from the Marcootery— the foley booth term coined by Horatio Dark writer Alix Tobey Southwick— with precision timing to make the most of the live broadcast sensation. Marcoot delivers striking sound effects using ordinary objects in the time-honored tradition of radio foley-men, and even a few extraordinary sounds that might defy the laws of time and space. It's the bangs and crashes timed impeccably from Marcoot's exacting delivery and keen understanding of sounds as they are plotted in the scripts that heighten the excitement of the broadcast as it unfolds, particularly in the more suspenseful tales.
The Incident at Red Belle Farms by Alfred Underhill
In an homage to 1950's 'red-scare B-grade sci-fi' films, writer Alfred Underhill takes a mildly humorous approach to what could potentially be an alien invasion on a backwoods farm. But it's never aliens when the Russians are involved, or is it? In this case, the plot twist arrives somewhat early to reveal the truth of these aliens, and bring the plot to a typical horror-sci-fi ending by the episode's conclusion. Underhill has a clear tonality written into the character of Rob Becker (as read by Michael Stevenson with frenetic urgency throughout.) As the hyped-up press journalist, the character of Becker arrives on the scene in both narrative and active dialogue with a sense of necessity, penetrating all of his words with a driven intensity that grows exponentially as the dramatic action of the show unfolds.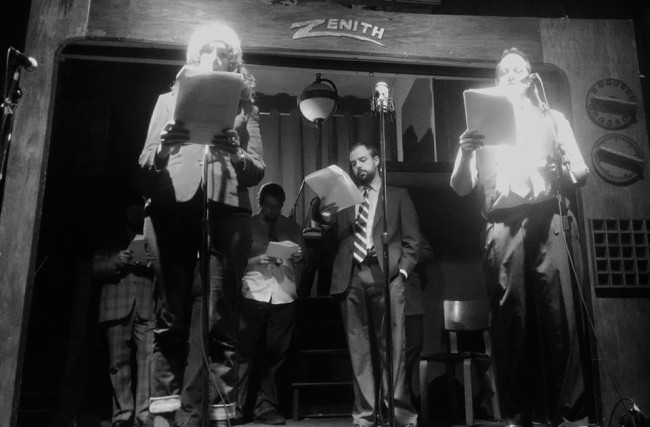 The writing is styled perfectly to the film genre which Underhill is paying homage, as there are gaps in the occurrence and overall moving action and character development, but this settles intentionally, allowing the audience to draw conclusions of what's happening in their minds. Voice actor Marty Day delivers a hysterical sound effect every time Becker and Irene Payton (read by Emily Ward with gumption and country-bumpkin twang) are under attack. While Underhill's characterization of both Colonel Hodge and Peyton are a little underdeveloped, he makes up for this with his eager enthusiasm penned into the Becker character. Underhill does an exceptional job with his grotesque description— delivered by the Becker character— of the "unidentified terrors" once they are finally scene. He also focuses the story exclusively through the eyes of Becker, giving clean margins on the viewpoint therein.
Line of the Script— Miss Irene Payton: "Dang burn jackbooted thugs!"
Down to the River by Horatio Dark
With an M. Night Shyamalan style twist, Horatio Dark sets this quaint, albeit basic, story in the countryside in a timeless moment frozen in the memories of its characters. A simple story with just four characters, Horatio Dark takes this non-sequitur and uses it as an opportunity to flesh out his descriptive ability in a fashion most picturesque. The narrative falls on Cousin Jill (read with a winsome nostalgia by Lori Travis) who recalls fondly her days spent at Aunt Clara's farm with her cousin Oscar and John, the boy she played with in the river. It's these vivid moments of still-captured imagery that more fully articulate the author's versatility to provide descriptive scenery amid his dialogue-heavy radio play script.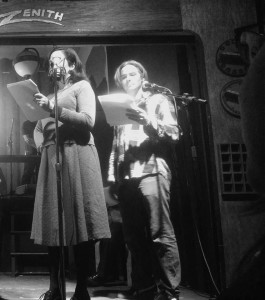 The show-stealer of this somewhat humdrum plot (which is actually a bit of genius in its simplicity because it's slow start and delicate crawling pace immediately sets the audience to suspect ominous happenings) is voice actor Mike Jancz, playing Cousin Oscar. His highly affected accent and vocalization turn an ordinary character in a cheeky and flamboyant fop that delivers laugh line after laugh line to liven up the country side. Reminiscent of the 'bunburying' attitude seen in The Importance of Being Earnest, this jovial approach to the chipper chap character of Oscar is hands down the thunder of the script.
Line of the Script— Jill: "Oh, I do remember that fussy old heifer!"
Haunted Chrome: A Bennington Marcus Mystery by John Higgins
In perhaps the darkest delve yet into the rich inner psyches of Bennington Marcus and his Chrome gumshoe partner Theodore16, John Higgins unearths a heavy emotional turmoil in the darkness of his recurring serial. Themed for Halloween and delivered post-Christmas, this installment of the brilliantly penned radio play is emotionally brutal. Higgins success is a combination of his flawless imagery and exacting detail delivered through the Bennington Marcus character (as read by Craig Coletta.) With Coletta's spine-tingling delivery that is the epitome of smooth gravel and fluid grit, Higgins' words take on a life all their own and the narrative becomes an additional character which guides the episode forward without artifice. This episode features a ghost tail, delivered by Coletta's Marcus that keeps the audience leaning forward in rapt attention.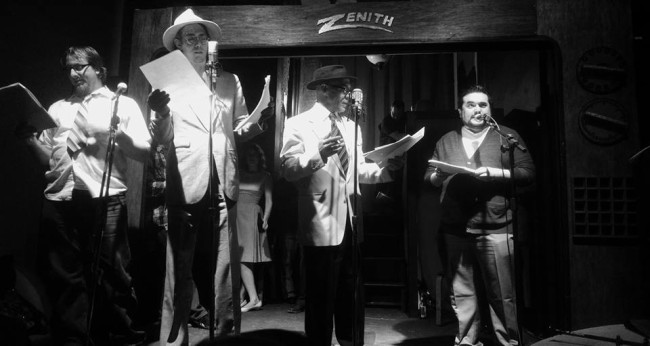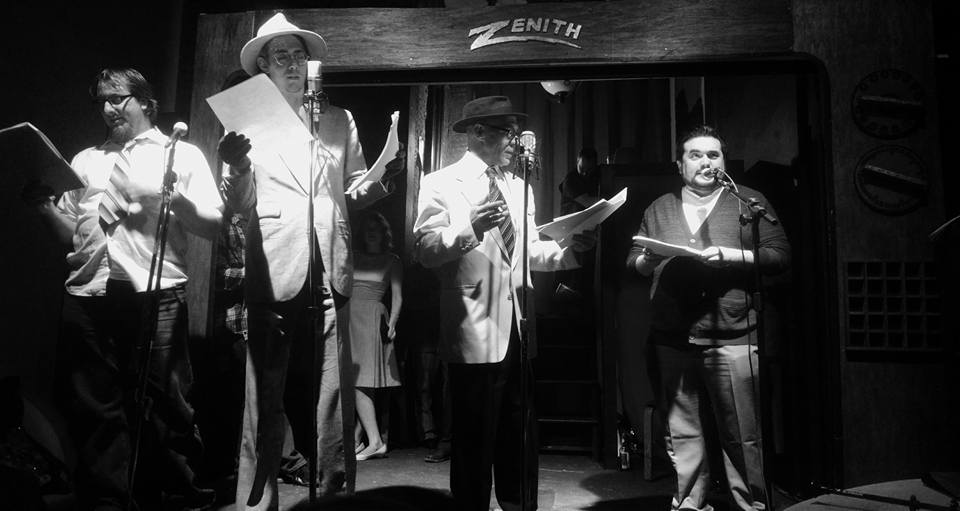 Higgins' construct of his recurring characters is as solid as his new characters are refreshing, both sets of characters being exceptionally well penned in their voice, patois, and general cadence— the other half of which comes from the striking delivery provided by series regulars like Jeffrey L. Gangwisch (voicing Theodore16) and John Bennett (voicing the bombastically spastic Chief.) Again Mike Jancz is stealing sections of the scene with his heavy-accent work, this time in the form of a lowly Bawlmer Hon, an accent which is so flawlessly delivered it's hilarious, despite the character's ruthless actions. Foley master Dave Marcoot really gets his timing spot on in this episode as well.
Higgins' possesses a mastery of layering in this characters, making them multidimensional beyond just their brilliant surface painting. This is particularly true of the leads— Marcus and Theo16— and this episode shows a tenderness in Marcus' cold heart and a brutal determination of will in Theo16's chrome soul. Gangwisch's delivery in his monotone pattern is second to none in this episode, despite the introduction of a new Chrome character, Greta32 (read by Miriam Doyle.) There is a heart-wrenching delivery once Theo16 undergoes torture that mists the eyes quite soundly as well. Other honorable mentions to this serial include Michael Stevenson as Rasheed, for much like Jancz, his accent is truly impressive.
Line of the Script— Chief: "Slow down, Marcus! I respect your chronic inability to relax, but you've been at this all night!"
Duplicity: A Rex Pylon & Dot Planet Tripper Adventure by Horatio Dark
Are you ready Junior Planet Trippers? Because this installment of Rex Pylon & Dot Planet Tripper Adventures will have you seeing double! Literally! Kicking off the episode, Craig Coletta and Jon Freedlander give the audience an audio-visual double take as Freedlander stands ready at the microphone to start in as Horatio Dark but it's Coletta's voice— in what I must say is sharply accurate mimicry— that gets things underway. Quickly learning that Coletta is the doppelganger, a creation of Freedlander's laboratory, the audience is primed and ready for the alternative universal paradox that is ripping a hole in the fabric of time and space. In short? TWO DOTS! TWO REXES! The WYST recording platform might just bust underneath the gravity of it all! In a truly hilarious approach to the paradox of encountering oneself, author Horatio Dark takes these zany characters to new heights— including the duplicate alternates in the commercial ad breaks between segments of the show.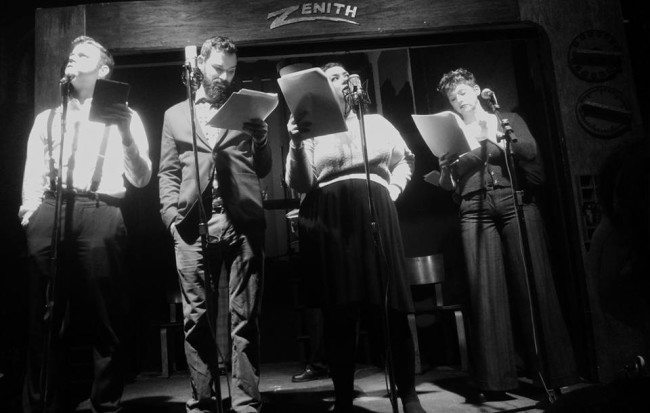 V Lee as your regularly scheduled Dot is plucky and springing with spunk as usual. Channeling the country bumpkin attitude of an Ellie May Clampett style character, her trademarked whine of "Rex?" (those of you that have heard are bursting with laughter right now) makes for a hysterical juxtaposition against her British counterpart, also Dot (as read by Lauren Aycock Anderson) who brings her own unique affectation to the character of Dot. Rex Pylon— in duplicate— is teaming with vim and vigor in both his incarnations (voiced usually by Derek Vaughn Brown and additionally in this episode by Rex Anderson.) And when they start attempting to deliver in unison that masculine flare takes over and results in hilarity. There are moments— though it is uncertain whether this is scripted or just general confusion among the actors— where the Dots and the Rexes don't seem to know who's meant to speak. Whether intentional or not, the result is cataclysmic hilarity, making this one of the funniest episodes to boot of The Planet Tripper Adventures.
Horatio Dark's ability to write a convincing into this month's episode is flawless. And nefarious villainy never rolled so unctuously from the lips than the way Coletta (who takes on reading the role of Doctor Salamagundy— a recurring villain in the Planet Tripper series) spins it out with a hint of Frank-n-furter influence in his inflection and intonation. Like a blend between Vincent Price and Tim Curry's sweet transvestite, Coletta's unsavory and salacious delivery is the perfect complement to the spunky pluck of Lee and Anderson's Dots, and Vaugh Brown and Anderson's bold and boisterous Rexes.
Line of the Script— Rex & Rex2: (in unison) JUDO PUNCH!
In Conclusion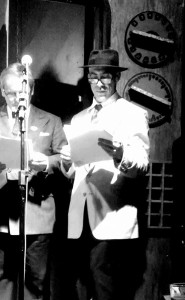 With new scripts and new installments and plenty of hilarity to provide balance for the heavily romanticized and romantically heavier bits of this month's broadcast, the December airing of Horatio Dark's Between the Lines provided an exceptional evening of entertainment. Great humor was had by the Planet Trippers, great depth was found in the Bennington Marcus Mysteries, and two new non-sequiturs gave authors a chance to have their radio plays read. Be sure to tune in next month for more opportunities for new works, and the furthered continuation of the two on-going serials.
If you missed the initial studio recording of A Chrome Christmas: A Bennington Marcus Mystery, and again at the December broadcast (as it was thrown in as a last-minute live surprise) the link to it's streaming holiday happiness can be found here.
Horatio Dark's Between the Lines is broadcast live on the last Monday of every month starting at 7:30pm at The Yellow Sign Theatre— 1726 N. Charles Street in the Station North Arts District of Baltimore, MD. Horatio Dark is a free event, and fills quickly so arrive early.
Missed a broadcast? No problem! You can hear Horatio Dark's Between the Lines online as an uploaded podcast. Just click here.