For such as we are made of, such we be! Cohesion Theatre Company is cutting right to the core of Shakespeare's words in their co-production of Twelfth Night alongside Iron Crow Theatre. Appearing as the second staged production in the Trans* Voices Workshop Series, Twelfth Night— Directed by Phil Vannoorbeeck and Assistant Directed by Sarah Maher— is shaking up the gender dynamics of the production to show one hugely important detail of existence as we know it: everyone wants to live their life authentically. With exceptional pacing, perfect trimming to make this identity-crisis-comedy fit just inside of 90 minutes, and a stellar ten-person cast, this production is a fantastic way to enjoy a Shakespearean classic while simultaneously gaining exposure to just how normal and positive the Trans* experience is.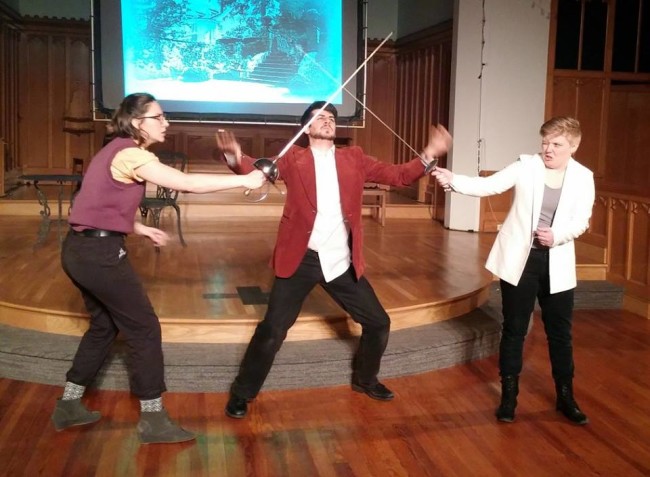 Thrown together in a whirling dervish of four rehearsals, the feats accomplished by the cast and creative team of this production are commendable. It is clear from their actions that had the piece been presented as mainstage show rather than a workshop piece the possibilities for Scenic Magic, Conceptual Layering, and Symbolic Representation would be infinite. That said, Director Phil Vannoorbeeck and his Assistant Director Sarah Maher have done an exceptionally impressive job of three very important things in this production. Vannoorbeeck and Maher articulate a clear and concise vision, which plainly exemplifies how normal Trans* existence can be— especially by comparison to the absurd shenanigans of a Shakespearean comedy (they set a man up for ruination and madness merely because they were being loud obnoxious drunkards.) Vannoorbeeck and Maher have a rapid-fire approach to the pacing and comedic timing of the show, letting one scene flood flawlessly into the next without missing a beat. Finding the perfect balance of that madcap energy without allowing the scenes to feel as if they're running atop one another is another mark which they tackle with aplomb.
Vannoorbeeck and Maher's overall vision is an exploration of character. Who do Shakespeare's characters identify as and how do they act accordingly? This is exemplified in the costume work of Kathrine Beem. Clothing that finds itself calling to characters who identify strongly as female— regardless of the actor portraying them— are styled in that fashion, and so are that of more masculine characters. But Beem's style is beautifully eccentric, adding poppy pink polka dots to Duke Orsino's outfit and clever purple sneakers and black acid-wash jeans to Viola's initial couture. When gender is unimportant to the character's motives and existences, such as with Sir Andrew Aguecheek, there is a fashionably neutral look layered into the costumery.
Doubling as the show's Projection Designer, Vannoorbeeck makes the transitions between scenes that much simpler by using decadent imagery against a simple projection screen. This moves the show easily from inside Olivia's house to the streets of fair Illyria in the blink of an eye. These simple approaches allows the actors to focus on the text that surrounds them as well as their character's motivations and interests, all crucial components to a well-delivered Shakespearean production, regardless of which lens is being projected upon it.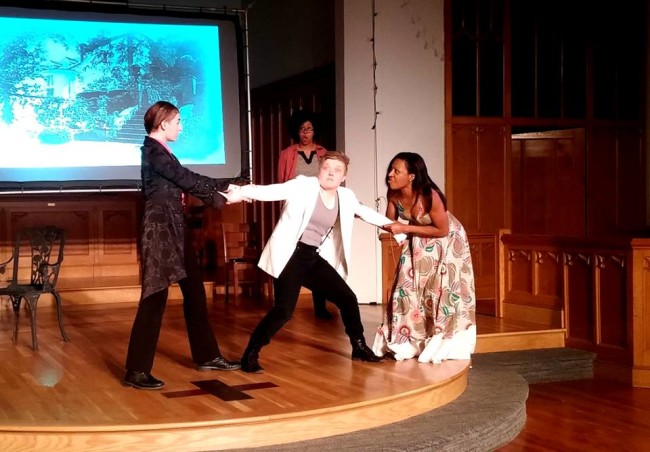 Performances across the board are nothing short of stellar, whether its Dana Woodson appearing as the loyal and love-heady Antonio, or Lilian Oben as the austerely haughty and yet simultaneously lovesick Olivia. Possessed by a sudden wave of twitterpated pining, Oben delivers an invigorating rendition of Olivia midway through the performance once the infatuation over Cesario settles into her blood. Jane Jongeward, as the edgy Orsino does an equally impressive job handling love-related emotions, even if they are initially to scorn its mockery in a fit of unrequitence.
The picture of those three— the fool, the drunk, and the nerd— as played by Alice Stanley, Matthew Payne, and Caitlin Carbone respectively— is a pure paragon of hilarity. Fully physically invested in the shtick of their shenanigans, this trio of performers carries a great weight of comedy upon their shoulders in the production. Carbone has mastered a trio of inspirations in her physical gait and posture, finding an uproarious blend of characters in her portrayal of Andrew Aguecheek, especially when she walks with her hunched shoulders. During one of Malvolio's particularly lengthy laments, Payne— as the drunken Sir Toby— pops up and down in the background like an excited weasel flaming out of a spring-loaded toaster, stealing the scene on that and numerous other occasions. There has never been a more invested display of experiencing schadenfreude than when the trio delights in Malvolio's initial misfortunes regarding Mariah (Nick Delaney)'s letter.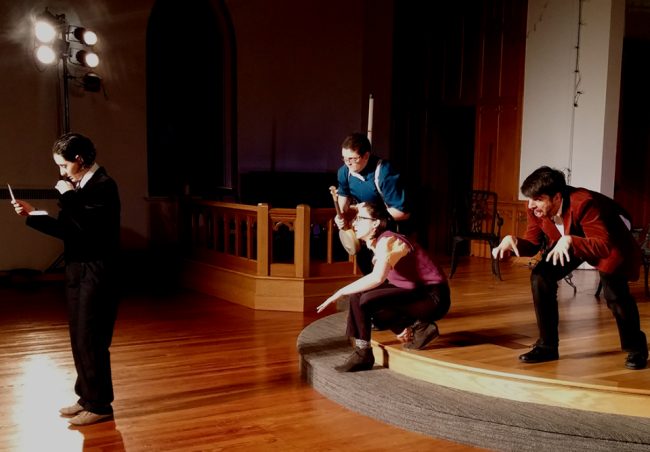 Alice Stanley, playing the funny fool Feste, is the epitome of a scene stealer in the show. Stanley possesses a flawless understanding of comic delivery as well as timing. But it's Stanley's scene toward the end of the production, doubling as Sir Topas and transforming Feste into a bible-thumping red-raving lunatic with a southern accent that steals the laughable thunder in the show. Warm, hysterical, and fully invested in making Feste larger than life in every sense of the characterization, Stanley delivers a rousing rendition of this fine fool and does so with finesse. Serving the show opposite Nick Delaney (who does give Mariah a lovely temperament, particularly when it comes to fending off Aguecheek), Stanley provides deep smoky vocals that set the singing mood of the show to stun.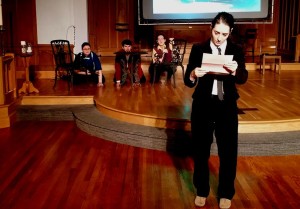 Melanie Glickman, as the melancholy Malvolio, is the epitome of a stalwart fusty stick in the mud when it comes to delivering the character as expected. A low-dropped, deadpan voice sets the tone of Malvolio early on so that when Glickman encounters the letter, the fissures of utter elation that then erupt from within are shocking and uproarious by comparison. Commanding of the role, especially when desperately strung at the end of the character's ropes, Glickman finds the delicious juxtaposition of a furious and fowl-tempered Malvolio against that of a maniacal Malvolio in love.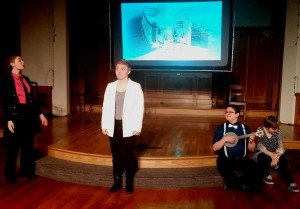 Director Phil Vannoorbeeck goes hog wild with the concept of how identities can really feel as if they are two separate halves of a whole and executes this by casting one actor— Logan Davidson— as Cesario, Sebastian, and briefly Viola, and another actor— Danielle Vitullo— as Viola, and briefly Sebastian. The notion sounds maddening but is rather impressive to lay eyes upon during the performance. Watching Vitullo exist often in shadow alongside Davidson— as a great many of the lines delivered in the split role belong to Cesario— is fascinating. Vitullo responds with vivid facial expressions that provide a window to the character's feminine understanding and processing of the situation. Davidson is equally impressive when it comes to facial reactions and responses, the scene coming to mind being the one where the pair reacts in kind yet completely separately to Olivia's forward advances.
Vitullo and Davidson both have a sharp understanding of Shakespeare as well as character development and execution upon delivery. The switching and swapping moments that occur between them happen fluidly, keeping the concept of the split identity rolling smoothly through the performance. Each makes the roles their own and the result is a unique and intriguingly engaging Shakespeareance.
Twelfth Night runs as a co-production with Cohesion Theatre Company and Iron Crow Theatre in the Trans* Voices Workshop Series currently playing at Church on the Square in Canton— 1025 S. Potomac Street in Baltimore, MD. Tickets can be purchased at the door or in advance online.
To read the first Interview in the No Darkness But Ignorance Series, click here.
To read the second Interview in the No Darkness But Ignorance Series, click here.
To read the third Interview in the No Darkness But Ignorance Series, click here.
To read the bonus fourth Interview in the No Darkness But Ignorance Series, click here.