Jingle bells! Elf feet smell! Santa's lost his mind! The North Pole's stuck in a mighty rut and there's murder close behind! When Mrs. Jingle Claus up and died a decade ago, the elves of the North Pole never thought it would lead to a befuddled and depressed Santa signing away the rights to a greedy corporation whose sole interest was profitizing toy production in the happiest place on earth. With Christmas just days away and a hostile takeover eminent, it's no wonder that things have all gone pear-tree-shaped in Christmastown! And what's worse? MURDER! Dead Ringer is just the dose of holiday hilarity that everyone needs this time of year when it comes to needing an escape from the chaos of Christmas. Do or Die Mysteries presents this uproarious interactive comedy, co-written by Ceej Crowe and Cybele Pomeroy, for an unforgettable night of accessible holiday comedy that will tickle even the grumpiest of Scrooges this year!
The costumes, eclectically gathered from Ceej Crowe's massive collection, are the epitome of holiday hoorayness. Looking every bit as festive as they do garish and sprightly, the outfits— some velvet, some patterned, and some utterly laughable— fit the bill for fascinating entertainment and make these zany larger than life characters that much more enjoyable as they weave their way through the casually classy dining atmosphere of The Sunset Restaurant and Lounge. Your dining room becomes your theatrically immersive experience and there truly is no better way to be involved and enjoy the merriment of a delightfully devious murder mystery as it unfolds around you throughout the course of the evening.
Pomeroy and Crowe have written a giddy and entertaining story that really goes with the flow of each individual audience. Conceptualizing characters and crucial plot moments, Crowe and Pomeroy leave the script loose and wide open, like a crisp winter breeze, to allow for the maximum impact of a live and participatory audience. Crowe, the show's Director— as well as appearing as the 'special elf' Snowflake— works her cast of performers with precision when it comes to improvisation and working the crowd.
Each of the performers has a solid handle on their character and responds in kind not only to the other characters as the plot unfolds, but to the audience as they pipe up with suggestions and interactions. All of these moments flow organically and there is never a moment's hesitation where something feels unnatural or out of place. The mastery with which Crowe and her cast handle the improvisational aspect of the performance is astonishing. Delivering the epitome of balance between the give-and-take relationship of improvisational playing with a live audience, the experience is a remarkable and hysterical one. They're willing to play ball and it becomes that much more of an enjoyable evening when the audience joins in for the ride.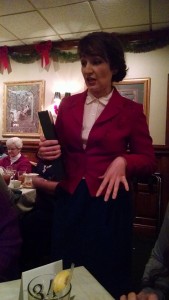 In true murder mystery style— something's rotten in the state of the North Pole! PC (as played by Erin Tarpley) has arrived with a plasticized smile plastered on her frosty face, but don't be fooled by her phony-bologna cloying sweetness. She's as rotten as they come— worse than a three-decker sauerkraut and toadstool sandwich with arsenic sauce! Tarpley, who delivers the revoltingly evil character with garlic and gunk in PC's soul, is the walking incarnation of a corporate— well alliteration isn't going to work here, it's a family show, folks! But you'll get the picture.
The Usual Suspects
When it comes down to the whodunit, no one is immune! Though the audience gets to suggest people for interrogation, you'd be surprised at just how many different opinions there are as to who had the motive and the wherewithal to commit the crime! A quick break-down for your reading pleasure and a further enticement to come see the show.
Santa Claus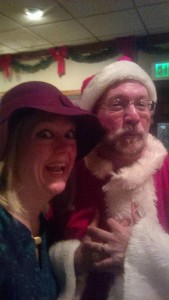 The jolly old head elf himself, Santa Claus is one befuddled old fuddy-duddy. Played in earnest by Stephen Kirkpatrick, this Kris Kringle just hasn't been himself since Jingle died. And while there are a great many suspicious things about the arrival of PC— including the fact that she looks just like Jingle— none quite so suspicious as the way Santa's been acting. Kirkpatrick takes a really convivial approach to the iconic character of Santa Claus, with a global accent that comes and goes in waves settling somewhere between a charming old southern grandfather and someone who is slightly British. His comic timing and delivery, especially when squirreling around looking for his special candy, is the stuff of Christmas legends, and really gives the character an extra jolly jiggle of hilarity.
Holly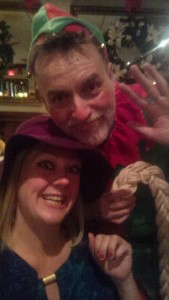 As the head Securitelf, now in charge of which elves go where, Charles Boyington delivers a great deal of hysterical improv throughout the performance. Fully engaging with any and every audience zinger thrown his way, Boyington has a sharp understanding of how to work the unexpected into the show so that it all comes together as a cohesive but still uproariously entertaining story. Pragmatic and simultaneously intriguing, Boyington leads the audience through the interrogation, but don't think that means he too doesn't have a motive for being a cold-blooded killer!
Tinsel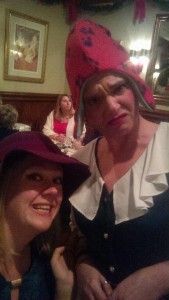 Played by Co-Writer Cybele Pomeroy, this holly jolly elf is Santa's new assistant. With an affected nasally sound that really brings the twinkle out in her Christmas spirit, Pomeroy takes to the audience with gusto. Her innocent misunderstanding of certain subject matters are an absolute hoot and of the cast she wends her way through the crowded dining room the best. (Folks, it's a dead ringer for the perfect holiday show, seats fill up quickly and some shows have sold out, requiring a second cast incarnation in the room next door!) Perky in that strange elven fashion, Pomeroy— like all the members of the cast— is eager to engage with the audience and encourages theatergoers to make the most of their experience by participating in the interactions.
Donald Grump
A newcomer to the Do or Die Mysteries family, Anders Tighe gives a rousing good-natured performance in the role, or at least as rousing and as good-natured as one can be when playing a moneybags tycoon with a name like Donald Grump. It's Tighe's spastic facial expressions that really convey what's going on inside his characters head, making him the perfect addition to the evening as the show unfolds.
Snowflake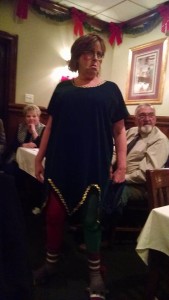 The special elf who tests all the helmets, Snowflake is tackled— and quite possibly restrained— by Co-Writer Ceej Crowe. Living fully in the character, Crowe delights the audience with her willingness to play with them as Snowflake. Things get crazy and Snowflake goes with it. Her most outstanding performance is perhaps when she's not the focus of the scene, but rather seated among the dinner guests amusing herself with spoons and various other things found on the dinner table. A true hysterical scream, her childlike misunderstandings create epic moments of hilarity and bring the whole show down in great moments of laughter.
The Conclusion
The short-winded version of this is to simply go see the show. These players and performers are delivering holiday magic realness the likes of which you just can't get anywhere else. It can't be said enough how truly masterful and impressive their interactive improvisation skills are; the more they play with the audience, the better time the audience has. It's an astonishing thing to bring quality enjoyable holiday theatre to everyman and Dead Ringer is doing exactly that this Christmas season.
Running Time: Approximately 2 hours with some pauses that resemble brief intermissions
Dead Ringer has two more performances on Monday December 14 and 21, 2015 with Do or Die Mysteries currently in residence at The Sunset Restaurant and Lounge— 625 Greenway Road SE in Glen Burnie, MD. Reservations are required and tickets are available for purchase by calling (443) 442- 3810 or by purchasing them online.
Additional performances of Dead Ringer are occurring at the Tremont Grand Historic venue in Baltimore, MD. For more information please visit the website.