When the holidays are frantic or your Christmas is blue—
You should pack up the family and do what I do!
Head to NextStop Theatre Company this holiday season
Just keep on reading I'll give you plenty of reason!
It's their family production, suited for people of every age
It's Seussical: The Musical now appearing live on the NextStop stage!
Directed by Jennifer Lambert with Evie Korovesis as Musical Director
These champions of family fun are this holiday season's protector!
For all the things you will see! And all the sounds you will hear!
Rocks onto the stage just before the New Year!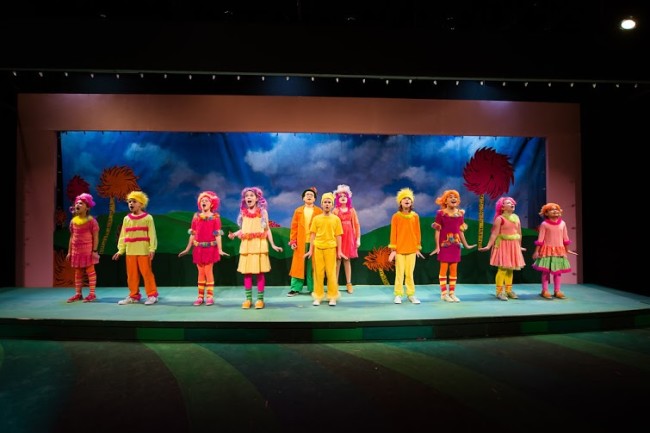 It's a magical outing! A Whimsical display! Fun for the whole family, it's true!
An honest recipe for holiday excitement, the only missing ingredient is— well? You!
Jack Golden masterfully captures whimsy as the show's Scenic Designer
Why his Truffula trees, they have never looked finer!
Golden's imagination runs wild and to the mind it fetches
The epitome of Seuss in all his bright scenic sketches.
Appearing in vibrant color, you'll want to take a close look—
Golden's background looks copied direct from the book!
But that's not all the fantasticalness waiting where the aesthetic is concerned
It's the Lighting and the Costumes, or so I have learned
That make this show incredible, wild and fancy free!
Just look at those colors, they're screaming with glee.
Brian Stefaniak illuminates the stage with precision and order
Catch his bright showy bulbs blinking round the scene's border?
Kristina Martin is responsible for the couture of the show
And she does a stupendous job, wouldn't you know?
There's fuzz and there's feathers, and there's rainbows galore!
With truly enchanting costumes from Martin, you couldn't ask for more.
But more there is— to be seen and be heard
From amazing jungle ensemble members— from monkeys to birds!
And a nod must go out, somewhere it would seem—
To someone unnamed in the creativity team.
For the paper lantern glow-fish are extraordinarily clever
They're majestic and wondrous, why they're quite the endeavor!
And I must quickly mention, while I still have the chance
Ms. Katie McManus, who fills the show with fun dance!
Yes, jungle boogies, and shuffles, and lots of busy moving feet
Why McManus creates choreography that's really quite neat!
She shows up much later, singing and acting too!
Why, McManus doubles up and plays the role of Sour Kangaroo.
And what a grumpus she plays, with an attitude unpleasant
Still, her strong voice and talent in the show are indeed quite the present.
Surprisingly enough NextStop appears to have an unlimited supply
Of adorable babies to put in costumes and onto stage, oh me! Oh my!
Little Miles Hoffmann is the most precious baby as Young Kangaroo
And shares that role with an anonymous baby at the end of the show too!
There are young performers by the dozen in the show, far too many to list
But they're all quite exceptional in creating a show not to be missed!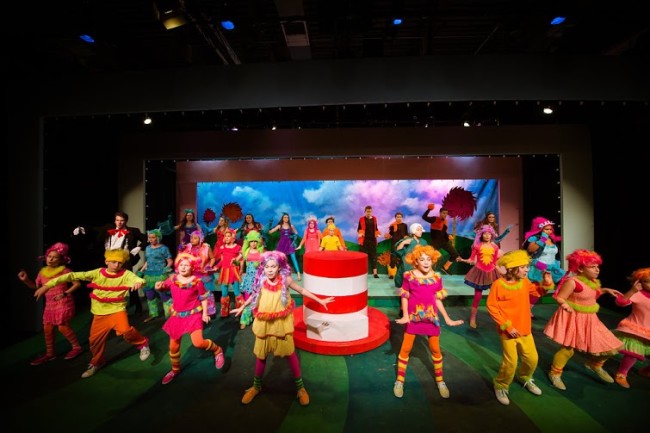 And in the true nature of showbiz, the show must go on and it does
With a special singing appearance in the role of Miss Gertrude McFuzz.
Jaclyn Young, acting and speaking for McFuzz, did exactly what every stellar performer must do
When a case of laryngitis strikes, she saw the part through!
Young's facial expressions were pricelessly animated and hilariously done
As she lip-synced her solo songs, and still made the show quite fun
Evie Korovesis, the show's musical Director, stepped in to pinch hit
Providing the singing voice of Gertrude McFuzz, and she was the perfect fit!
The show went on happening and what a great show it was
With two amazingly talented women carrying the role of Gertrude McFuzz!
There are so many great things that I still have to say
At the rate that I'm going, I'll be here all day!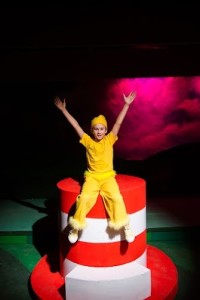 There's Erik Peyton, playing Jojo and it's a role quite tremendous
Peyton's voice is outstanding and his acting's stupendous!
Allie Lytle belts out with a voice that must be heard
In her precocious approach to the role of Mayzie LaBird.
With a sparkling attitude every time that she sings
Songs like "Amazing Mayzie" why they truly take wing!
Let's not forget Horton— for an elephant never forgets
And Matthew "Moose Thompson" is as good as it gets
When it comes to singing and having emotionally charged songs
With Thompson playing Horton you simply can't go wrong.
Well I think that's about all, with the dancing and singing for this show
I've reached the end here, now it's time to go
You must get your tickets to see Seussical: The Musical because— wait. What was that?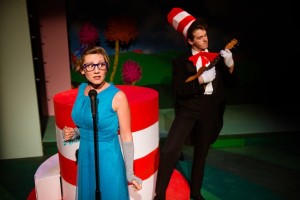 Oh my goodness! Oh my gosh! How could I forget? The Cat in the Hat!
Played by Mr. Ben Cherington, a brilliant stage delight
He'll tickle your fancy all day and all night.
With a charming personality and great singing voice
It's evidently clear that for this role he's a great choice.
Oh the things you will think, oh the things you will see, the places they'll take you when you see this show
There are so many wonderful people involved, I can't think of one single reason not to go!
Running Time: Approximately 1 hour and 25 minutes with one intermission
Seussical: The Musical plays through December 20, 2015 at NextStop Theatre Company— 269 Sunset Park Drive in Herndon, VA. Tickets can be purchased at the door or in advance online.