Football is one of the last places where the American dream truly still exists. Anyone from anywhere with any background, or any given Sunday; it's all right there within America's most treasured sporting event. A cultural phenomenon that unites a nation in wartime and in crisis that gives us common ground to stand on. This illustrious tradition creates a sense of pride and belonging in the heart. But what about the sensations and feelings it creates in the brain? Ringing? Seeing double? Irreparable damage? The darker side of the heavy-impact sport's long-term ramifications are as of late no secret, but do the ends justify the means? In an evocative exposé, Co-Commissioned by Centerstage and Berkley Repertory Theatre, X's and O's is a new work written by KJ Sanchez (with Jenny Mercein), which explores the impact of football— a collision sport— on former players and their families. Directed by Tony Taccone, the show arrives at Centerstage as the final performance in the 2015/2016 season before the temporary relocation to Towson University starting in January 2016.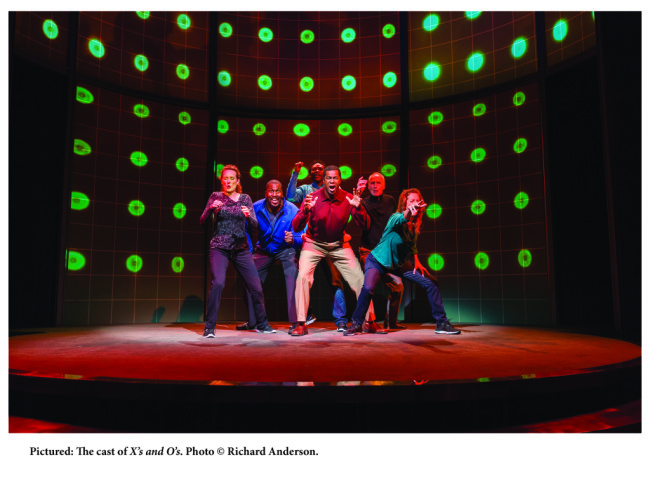 Familiarity is part of what draws the American population into the sport, the sense of belonging and comfort that the masses associate with its rules and rituals. Lighting Designer Alexander V. Nichols, Sound Designer Jake Rodriguez, and Scenic Designer Todd Rosenthal capture recognizable elements of football season in their design work— everything from the high school field style Friday Night Lights that flank the sides of the stage, to the iconic NFL jingle, to steel-grid structured "jumbo-trons" that broadcast images and authentic footage throughout the performance. While many of the design elements are simplistic in nature, as the play tells many stories but no one story in particular with any linearity other than a passage through history from the sport's early beginnings through to the present day, they are striking in their placement and their execution.
Nichols also serves as the show's Video Designer and works with Production Dramaturg Gavin Witt to seamlessly incorporate authentic footage from the sport's lengthy history at the appropriate moments all across the jumbo tron screens. Nichols works to include moving imagery not only from live-action game recaps but from iconic moments in history that were impacted by football, like the Kennedy family tossing a pigskin around. The exacting placement of these video segments drives a heightened awareness throughout the performance and is a stellar example of multimedia infusion into theatrical staging.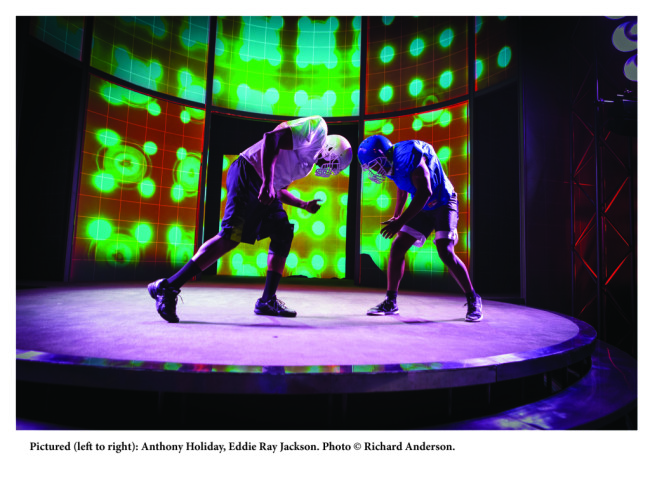 Playwright KJ Sanchez (with Jenny Mercein) haa taken a blunt approach to the trauma and overall detrimental impact of football and presented it in a raw and unapologetic format. But Sanchez cleverly juxtaposes these brutal truths against the fighting spirit, bold passions, and cherished love of the all-American game, often quickly vacillating between the two thematic approaches to keep the overall opinion of what's happening objective. Sanchez provides a comprehensive and deeply historic scope of football from both a medical and scientific perspective as well as an impassioned and emotional perspective, leaving a great deal of middle ground to be explored and discussed by the audience.
Sanchez may not be a harbinger of the futuristic fate of football but rather an informative messenger broadening the bigger-picture perspective on the impact of the sport. With source material gathered from interviews with players and their families, both Sanchez and Mercein present cases for all sides of the heavily debated issue, allowing the conclusions to be drawn in the audience among theatergoers. Director Tony Taccone takes this "interview-style" play and guides it carefully through various segments, following a loose linearity of time flowing from history to the present and does so in a fashion that keeps the audience fully engaged.
The most unique and potentially exciting element of Centerstage's production of X's and O's is former San Francisco 49's player Dwight Hicks performing as an ensemble member. Taking on the role of George Coleman and various others, Hicks brings a sense of realistic urgency to the performance when he tells the stories of these players. It is a double-edged sword watching Hicks perform some of the more emotionally exhausting exposure monologues, partially because the reality of the situation is more visceral being delivered by him, but on the other hand seeing that Hicks is a player capable of tackling the arduous task of line-memorization and performance-delivery shows that the brutalized severity of the game has not so detrimentally impacted his brain.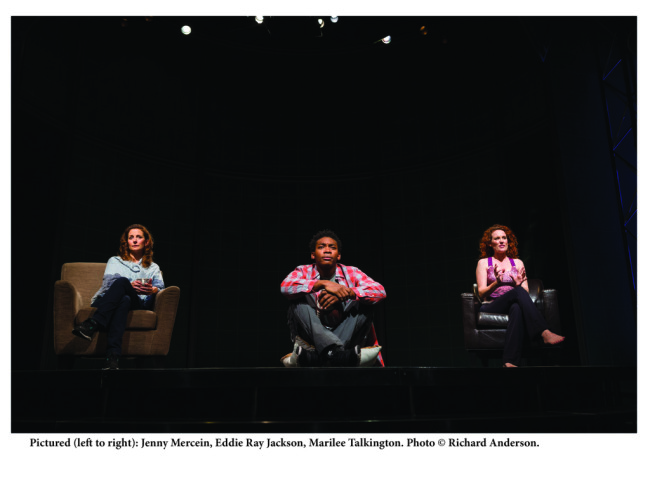 The show's co-conceptualizer Jenny Mercein is one of two female performers, the other being Marilee Talkington, and both women, alongside the energetic Eddie Ray Jackson, deliver one of the most poignant interview segments crafted into the piece near the show's conclusion. Taking turns speaking of their own family experiences, Mercein, Talkington, and Jackson unearth a raw vulnerability to these football legends— describing in heart-wrenching detail the struggle it is to watch and witness their loved ones go to war with their own brains and bodies and be able to do precious little to help them. Talkington also serves as the clinically detached voice of scientific reason, showcasing hard evidence in slide-show format throughout to keep a shocking awareness present among the more passion-laced stories.
Jackson, who delivers an indefatigable energy consistently throughout the performance, is noteworthy for his engaging role as the young high school athlete who simply can't stand still, and again near the end of the production as a local Baltimore voice that relates football to the bigger picture of how it can hold a city or even a nation together, especially in a time of great social need. Jackson spars verbally with Anthony Holiday during the bar scenes, both vehemently debating the need football serves verses the damage and destruction it causes with vigorous aplomb.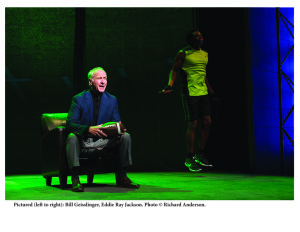 Holiday delivers several instances of praiseworthy versatility throughout the performance, shifting fluidly from one character construct to the next, often with differing opinions between the two. Discussing the difference between being in pain and being injured, as well as a great many other topics, Holiday delivers a reverence to his monologue segments, engaging the audience into the stories that he crafts into his own. Bill Geisslinger takes a similar approach as his characters are modeled after a great many actual football heroes, nearly all of which remain anonymous but are identifiable by Geisslinger's speech and physical expression. Geisslinger's characterizations are delivered with a strong sense of duty to the game, loyal and devoted to it regardless of the opinions and facts being presented against it.
Truly an intriguing piece of fact, opinion, emotion, and exploration, X's and O's raises a great deal of questions that spark brilliant debates among the audience, serving a true theatrical need in the Baltimore community— discussing live issues in a dialogue between performer and performance piece and theatergoer. A remarkably accessible piece of theatre that will interest any football fan— from the casual game-watcher to the die-hard sports fanatic— X's and O's is insightful, powerfully moving, and emotionally stirring on levels that one simply has to see to believe.  
Running Time: Approximately 80 minutes with no intermission
X's and O's plays through December 20, 2015 in the Head Theatre of Centerstage— 700 N. Calvert Street in the Mount Vernon District of the City of Baltimore, MD. For tickets call the box office at (410) 332-0033 or purchase them online.