Are you prepared to anticipate pleasure for a casual evening at the theatre? Are you ready to have to have a plethora of ripened sexual innuendo sweep over your senses and crash through your brain in a delicious and dizzying cacophony of brilliant chaos and farcical entertainment? Are you ready to taste the subtle yet eager notes of double entendre served to pristine perfection in a wild and zany new food-focused farce? Then you need to have what the UMBC Department of Theatre is having when they serve up their new production of Susan McCully's Voracious. Directed by Nyalls Hartman, this scintillatingly scrumptious soiree into the land of farce and food will fill you with the richest of laughter, sate you with the most scandalous sexual innuendo and leave you stuffed to the brim with a theatrical experience that is exceedingly entertaining.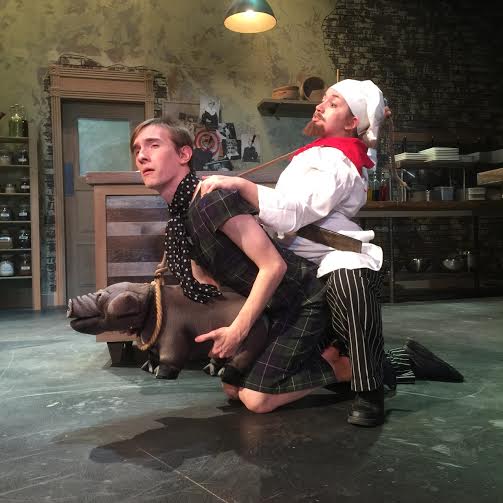 Sparse, sleek, and yet cozy, Scenic Designer Nate Sinnott captures the je ne sais quoi that is inherent whenever one encounters the atmosphere of a fine French restaurant. Sinnott fabricates a freeze frame that perfectly articulates the aesthetic of a French Bistro; the exposed brick that blends into the stone and wood alternating combination on the walls serving as a rustic reminder of culture that might be snootier than yours. Ensnaring the full atmospheric effect of such a fancy food house, Sinnott works with Lighting Designer Adam Mendelson to tame a romantically sensual verve into the air. Warm earthen tones of the set's color scheme highlighted in the dimmed shadows and subtle hints of low-hanging light fixtures are just one of the many nuances worked into the scenery by this creative duo.
Rounding out the French aesthetic is Sound Designer Christopher Baine who provides the stereotypical Parisian café style music both before the show begins and once the play is under way. It's Baine's off-stage sound effects, many of which serve to indicate the chaos of unseen shenanigans, which truly earn him his praise in this production. The recording of Ghee the Pig (as voiced by Benjamin Nabinger) is one particular sound cue worth noting if for nothing else but its exceptional comic timing in response to the impressive puppeteering of the porcine pet as mastered by Parker Damm and Abigail Funk.
As if the attention to detail weren't enough to please the palette in this production, Costume Designer Eric Abele further fleshes out the experience with fabulous couture that is fantastically fetching for any critic to be caught wearing. The electric pink trench coat and shaded down flushing fuchsia stiletto heels are the spirited incarnation of every mouthy woman with an opinion and Abele's dual creation of these costume pieces, as well as the chic and edgy dress saved for the pair of foodies, are delectable. The tailored and trim fit of a certain checker-plaid dress is worth applauding as well for its sinfully stylish fashion.
Keeping with the overt notions of stereotypically French, Vocal Coach Zach Champion selects the perfect blend of outrageously over-the-top accents for Jean-Jacques and Marie-Paule while leaving everyone else to their own blissful sounding neutrality. Because of the particular twists carefully crafted into the plot, Champion's vocal work becomes even more important, and hilariously praiseworthy as the play progresses.
Director Nyalls Hartman brings a welcome energy to the production, which falls heavily into the category of modernized farce. Finding natural moments of comedy within the scripts confines, Hartman fleshes out moments of interactive silence and allows a great many beats to live within the unspoken physical hilarity of the show. The more dialogue-intense interactions are exceptionally well-paced, building with vigor when the moment calls for it, which allows for an authentic build of catastrophe until the sauce is splattering against the fan as it were. Robust and fully present, each of the actors feels as if they are living in the moment of the show, focused upon their characters' goals and story arcs without ever feeling as if they are acting or contriving their way through beats to achieve these moments.
Playwright Susan McCully has cooked up an astonishing new comedic masterpiece. Her articulation of double entendre radiates with sparkling clarity throughout the play making it thoroughly enjoyable in every moment of the show. Zany and ripe with theatrical-insider humor, any theatre student, person of the craft, or individual who has experienced theatre-related insanity on an intimate level will leave sore from laughing so hard. By the same token, McCully has produced universal genius in her script, making this whacky farce easily accessible to the masses with her casual circumstances, fluid character constructs, and overall clear and concise course of action.
The beauty of her writing is in the absurdly hysterical plot twists. Having an indescribable mastery of emotional dialogue exchanges, McCully succeeds in shocking the audience with laugh after laugh as things continue to grow wildly out of hand the more the play moves toward its surprisingly heartfelt conclusion. The earnest moment of emotional reconciliation at the play's conclusion is both welcomingly refreshing and a true twist of events considering the layers upon layers of comedic insanity that is built into the show right from the beginning. McCully's specialty is her ability to serve up the sexuality of the script in an unapologetic and simply scrumptious fashion; you won't be able to get enough of it.
Performances across the board are compelling, engaging, and most importantly played for strong bouts of truth, the resulting effect is impeccable comedic timing and thorough enjoyment by the audience. Even the silent character of Carlo (Ramon Burris) steals the audiences' attention with his never-ending stamina and cheeky glances cast all over the restaurant. Marie-Paule (Jesssie Gilson) who is also brief of spoken interaction, delivers a sultry savoir faire in the way she struts through the place. Gilson and Burris play well off one another throughout the performance, driving home the naughty nuances of the show's double entendre play-by-play.
The play is by no means lacking in its naïve ingénue archetypes. Both Louise (Keri Eastridge) and Lawrence (Joey Bridges) serve these purposes in their own unique sense, though their paths do not initially cross. Eastridge is a sweet and earnest performer; watch her facial reactions to Jean-Jacques very closely. Bridges, though experiencing equal moments of spastic and neurotic outbursts, mirrors that sweetness found in Eastridge's portrayal and makes for a loveable side-character that the audience takes to with a smile.
It's difficult to say who wins the title of melodramatic queen between Ceely (Alex Reeves) and Michael (Chaz Atkinson.) Both characters, particularly when interacting with one another, are prone to maniacally enthusiastic outbursts that leave the audience screaming with laughter. Reeves and Atkinson are given some of the most text-intensive comedy in the script and work through it with rewarding gusto. Reeves' intense monologues over her vegetarian betrayal and lust of meat is simply to die for, while Atkinson works his humors in all of the wonderfully hilarious nods and Easter egg-cracks aimed at actors, theatrical creatives, and theatre people everywhere. The pair are hysterical, to put it bluntly. Atkinson and Reeves go head to head, often without directly confronting each other, for the audiences' attention throughout and are worth the price of admission alone to see what hijinks they achieve.
Brielle Levenberg is also in the running for most spastic entertainer of the evening with her portrayal of Jean-Jacques. Fully committed to the absurd accent and using her body as an extension of her short temper, Levenberg is bombastic and barrels onto the stage with both barrels of energy blazing full-throttle. Watching the dynamic shift that occurs between this explosive portrayal and the surprising reveals that occur near the end of the show are true hallmarks of a performer well on their way to great stage successes.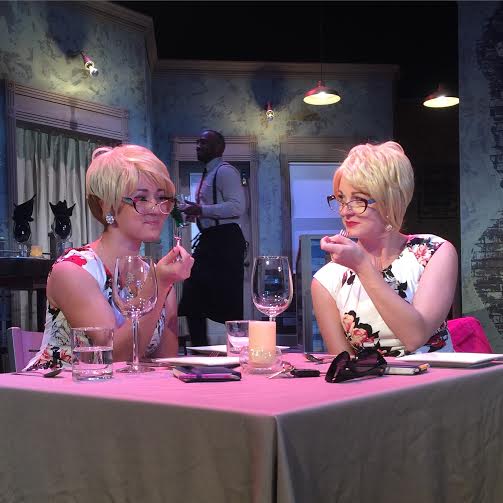 Mary Beth Kerley and Savannah Chamberlain master the roles of obsessively insane foodies. Playing Joanie and Suzanne Falmagne respectively, both Kerley and Chamberlain know how to deliver hyper-animated bouts of dialogue accompanied with drastically responsive physical and facial reactions. Whether its arguing with their characters' respective partners, facing off with Jean-Jacques or melting into each other's gooey and gushing compliments over the other, both Kerley and Chamberlain are powerhouse performers that own their roles with enthusiastic energy and vigorous aplomb. Delivering good on the show's title, both possess an insatiable appetite for the melodramatic and a true flare for comedy as experienced in farce.   
So hop to UMBC's production of Voracious tout suite for a comedic smorgasbord; a new menu of farce is debuting for your sampling pleasure and is proving to be nothing short of a splendiferous whirlwind of palette pleasing flavorful explosions of hilarity and merriment.
Running Time: 2 hours with one intermission
Voracious plays through November 22, 2015 on the Proscenium Stage of the University of Maryland Baltimore County's Performing Arts and Humanities Building— 1000 Hilltop Circle, Baltimore, MD. For tickets call the box office at (410) 455-2917 or purchase them online.