One thing stood out to me as I entered the Kennedy Center Family Theater to see Darius & Twig, the Kennedy Center's contribution to the ongoing Women's Voices Theater Festival and an adaptation by Caleen Sinnette Jennings of Walter Dean Myers' award-winning novel.
"One person can only do so much."
These words, spray-painted graffiti-style across Andrew Cohen's evocative set, immediately set the tone for the entire performance. Directed by Eleanor Holdridge, Darius & Twig opens up the 2015-2016 season of the Kennedy Center's Performances for Young Audiences with a well-crafted and heartfelt story of two best friends doing their best to follow their dreams out of Harlem and beyond. As Darius, a talented aspiring writer, and Twig, a gifted runner, struggle to balance their own aspirations with the needs and demands of family, bullies, teachers, and more, Jennings' adaptation and Holdridge's direction have given us a nuanced testament to both the limitations and the potential of just what a single person can do to achieve their goals.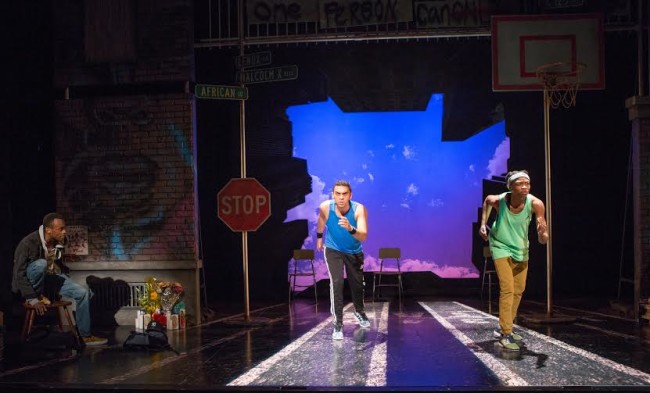 Adapting a 200-page novel into a 70-minute play is an unenviable task, but it is one that Jennings has handled wonderfully. Her adaptation is compelling and fresh; it combines the realistic troubles of two boys growing up in Harlem with the poetry of Darius' inner monologue, to the point that the whole narrative structure is linked together by sequences of rhymed spoken-word from Darius. It doesn't go too deep into serious issues, but it doesn't shy away from them either: Darius & Twig touches on several themes, including bullying, racial tension, poverty, alcoholism, and the cycles of violence and abuse that self-perpetuate in families and communities. But I think that Jennings' adaptation is particularly adept at showing the complexities of these issues—the bullies have their reasons to think that violence is the only answer, Darius' father didn't leave due to callousness, and both Darius and Twig find that their love for their families sometimes conflict with their goals and aspirations.  Although both boys struggle with the effects these issues have on them and their families, they ultimately realize over the course of the play that while there will always be someone or something ready to hold you back, they will always be able to find the strength and heart in themselves to succeed.
Technically, Darius & Twig had all of the quality one would except from a Kennedy Center production. Andrew Cohen's set design was uniquely suited to the Family Theater, and it gave the story a versatile foundation upon which to build. An amalgamation of a New York City street corner, a high school track, and a bit of sky surrounded by skyscrapers, Cohen's set allowed scenes to evoke a variety of settings and to transition between them seamlessly. This fluidity was complemented by Johnathan Alexander's Lighting Design, which alternately gave us the bright sunny wash of a track meet, the steely blue of a falcon soaring through the streets, and a darkened rooftop that may or may not have an armed gunman in the shadows.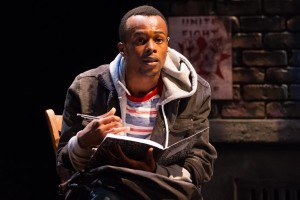 In addition to its literary and technical excellence, Darius & Twig was buoyed by a wonderful cast of actors. Acting as the emotional center and narrator, Justin Weaks as Darius proved just as adept with poetic patter as he did in last season's Dontrell, Who Kissed the Sea at Theatre Alliance—his transitions from a quiet and preoccupied high school student to a furious falcon avenger were a joy to watch. Filling out the titular duo, Christopher Wilson performed excellently in his double role as Twig and Brian, bringing a lot of heart and emotional depth to both Darius' best friend and younger brother. Their scenes together, both as Darius/Twig and Darius/Brian, were some of the best scenes in the show.
Rounding out the ensemble were Latia Stokes and Manu Kumasi, playing a revolving circus of adults, bullies, relatives, teachers, police officers, and more, often with conflicting advice and demands of our heroes. Stokes did an admirable job navigating the spectrum of her characters, including Darius' troubled mother, the boys' cloyingly earnest English teacher, a swaggering bully, and Twig's haughty running opponents.
However, it was Kumasi who very nearly ran away with the show, with his on-point portrayals of a go-get-em running coach, Twig's skeptical uncle who runs a bodega, and the troubled and violent bully Midnight (it's the time that they execute the prisoners on death row.) Kumasi balanced his dramatic and moving performance as Midnight with Coach Day's pitch-perfect comic timing, and he knew exactly when to go for a laugh and when to hold back and let the scene focus elsewhere.
All in all, Darius & Twig is a really fun and moving 70 minutes at the theatre. It is a production that was written for young audiences, but does not talk down to them. It presents its issues frankly and unapologetically, but it does not dwell in the unpleasantness of them. Those issues are not the only component that makes up these characters lives, as Darius tells his teacher when she suggests writing about a neighborhood shooting. They are only a part of the whole, and both Darius and Twig use them as inspiration to further their goals. Darius & Twig doesn't have a happy ending; rather, it has a hopeful ending, which I would argue is the more real, and ultimately more satisfying, ending.
Running Time: 70 minutes with no intermission
Darius & Twig plays through November 8, 2015 as a part of the Women's Voices Theater Festival on The Family Theater Stage of the John F. Kennedy Center for Performing Arts— 2700 F Street NW in Washington, DC. For tickets call the box office at (202) 467-4600 or purchase them online.