Meaning is often found by happenstance. If you should be seeking a meaningful theatrical experience for the spooky autumnal season, look no further than Happenstance Theater as they take to the stage of the Baltimore Theatre Project with their newest work, Cabaret Noir. Described by the company as 'A Film Noir Inspired Theatrical Montage,' Cabaret Noir rides in on the successful coattails of the last several years work, Cabaret Macabre. This newly inspired series of dark comic vignettes finds it niche among the cinema of the 30's and 40's, settling into the sultry smoke of a dark and unsettling night. Devised by the company, this new work is riveting and thrilling but worry not ye seekers of Macabre, all the hallmarks of a traditional Happenstance Theater piece are present, masquerading in this deliciously darkened veil of noir for the Halloween season.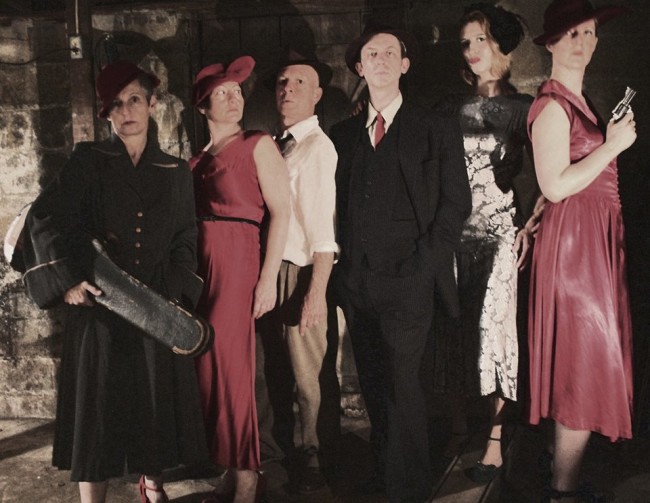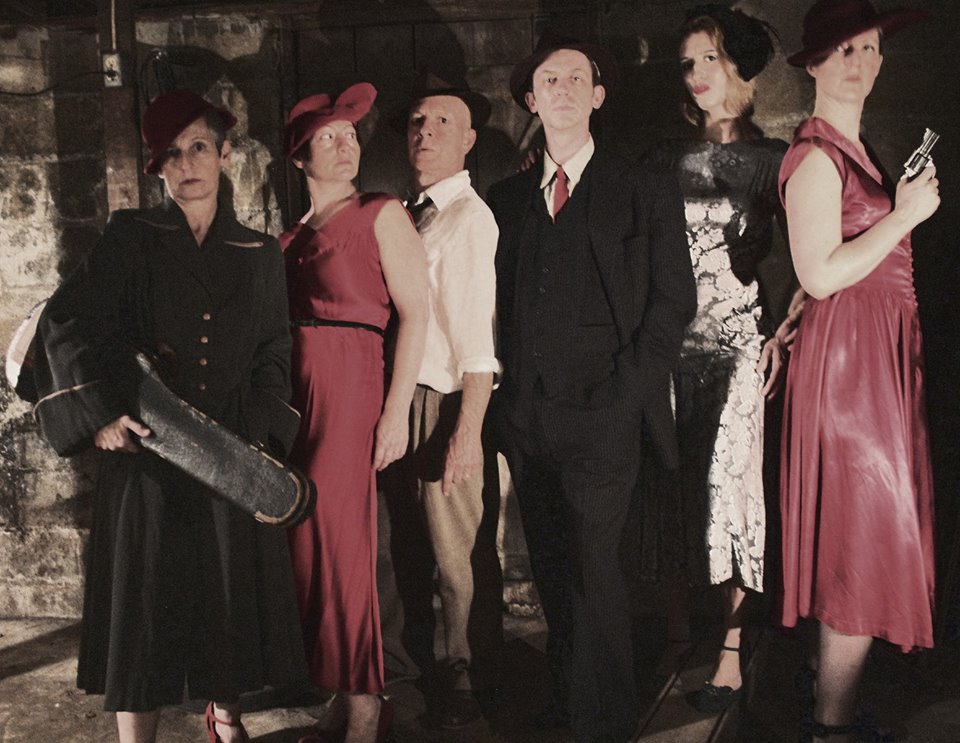 Femme fatales, fedoras, trench coats, and torch songs, you'll find all of that wound carefully into the inner workings of this series of freeze-frame moments captured by Cabaret Noir. The thread that winds them all together, like the final clue that cracks the impossible case, is the work of Lighting Designer Kris Thompson. Really playing with the visual elements of film noir and adapting that to the stage, Thompson brings in low light silhouette, mysterious shrouds of shadow and more to augment the smoky and unsettling atmosphere that populates these moments of delightful darkness. Making light a seventh playing character in several of the vignettes, Thompson includes overhanging streetlights— as held and executed by a company player— as well as interrogation lights— to the point of becoming a comic bit— drawing the focus to this particular design element. It's hard to say which of Thompson's special effects are more striking, the headlights of the on-coming car or the glaring shadow of the mysterious private dick projected against the back wall of the theater.
The brilliance of Cabaret Noir comes in the juxtaposition of new work against tried and true classics. Populated with Easter eggs for the Happenstance Theater core followers, the new work will delight and tickle the fancy of those who have found fondness in their hearts for certain vignettes of Cabarets past. Certain pairings still appear together, though the context is different, and certain scenic familiarities disguise themselves in the costumes of the noir genre but are still readily identifiable and thoroughly enjoyable. New songs, new music (composed and arranged by Karen Hansen) infiltrates the familiar format of the vignettes, as do new characters, new relationships, and powerful imagery saturated in the culture that is film noir.
One of the exiting new elements to the performance is the Puppetry creations of Alex Vernon. The Newspaper puppet appears frequently throughout the performance, one of many little threads that wends its way seamlessly through the scenes as an overarching and recurring entity. The fluid motion that Vernon commands when articulating this 'garbage-puppet' to life is astonishing. Sharing the rods with Sarah Olmsted Thomas and Mark Jaster throughout the performance, all three of the company performers bring a strikingly beautiful quality to the way the newspaper catches itself up in the air, deftly capturing the ephemeral and mesmerizing quality of an ordinary object transformed into something extraordinary.
Company musician Karen Hansen evokes a new gangster-type character for her involvement with Cabaret Noir. Still delivering astonishing and impressive segments of music on no fewer than half a dozen instruments, this edgier zestier character fits the bill for sharp-tongued seedy sorts of the time period. Adding to the rigorous edge of Hansen's new character, Sabrina Mandell outfits the company in shades of macabre and noir, focusing primarily on black trench coats, brown and black fedoras, and the occasional stunning red dress used on Gwen Grastorf and Sarah Olmsted Thomas for breathtaking effect. Both glitzy diamond dazzler dresses that appear on the aforementioned ladies during their initial faceoff are stunning to behold and add a racy verve to the subdued undertones of the noir genre.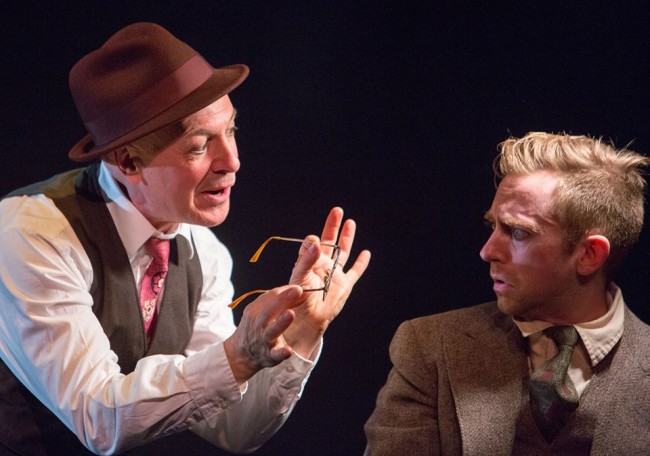 Alex Vernon, master of more than just puppets, takes to the iconic window-ledge jumper role with deeply invested sincerity. Recurring in several segments throughout the piece, Vernon's window-ledge jumper is his finest work, particularly when it comes to sharing the scene with Sarah Olmsted Thomas. The pair play exceptionally well off one another, particularly when it comes to delivering the earnest intensity of a scene, which reads as harrowing truth to them but as utter comic hilarity to the audience. The pair swap perfectly timed comedic violent blows during "Love Me or Leave Me." Thomas delivers her own breed of sensual seduction when she takes to singing like a sassy longue lizard loaded with savoir faire during "Put the Blame on Mame" a song that ends in a femme fatale faceoff with Gwen Grastorf.
Grastorf, who also takes to song with her fantastical rendition of "Falling in Love Again," understands the nuances of comedic timing in her delivery. Revisiting relationship dynamics from previous cabaret shows, Grastorf reminds the audience why they love these outings with Happenstance Theater as much as they do. Her snazzy under-the-street-lights tap-dance routine for "Tea for Two" is one of the most endearing and yet amusing moments in the piece. Sharing this scene with Sabrina Mandell, and Mark Jaster who poses as the lone-standing street lamp, Grastorf delivers the lightheartedness needed in a film noir to provide balance against all of the melodrama.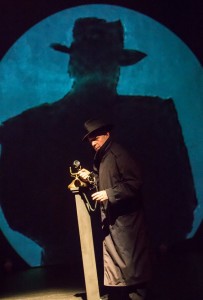 Mandell and Jaster are kings and queens of mime and movement. Several of Jaster's scenes occur in silence and he communicates more in those silences than most ever do using words. Remarkable masters of their movement based craft, the pair thoroughly engage with the shenanigans of speak-easy nonsense during an interrogation scene that goes awry in a comedic hurry. Mandell's haunting voice catches the audience early on with a rendition of "Blow Wind Blow" and is heard echoing throughout other sung moments as well. Jaster even finds his voice in solo song this time around, "Lonely at the Top" invoking Arnie the short fella which Jaster is fondly noted for. Jaster's still-life poses and vivid facial expressions occur throughout, rivaling Mandell's spirited nature that bubbles with that sweet-doll New York accent every time she chirps. It's simply impossible to use more words to describe their stellar performances than they themselves speak in the performance; one can only say it must be seen to be believed and enjoyed.
The somber yet somehow spirited song rendition of "Gloomy Sunday" showcases the entire ensemble and their ability to move six part harmonies into the world that they have created. The umbrella ballet is another such moment that engages all members of the company, swirling and twirling in a captivating carousel of movement that engages their entire bodies to create a visual masterpiece inspired by the era in which they've soaked their show. Not to lose sight of their impeccable mastery of slow-motion comedic violence, the company engages in a highly amusing vignette near the end of the performance that readily displays how truly remarkable they are as a physically-engaged movement-based company. There is an energy that flows between them, carried from scene to scene and person to person, whether it's in the wind noises that they make with their mouths, the way the portray a blustery breeze with their full bodies, or with the frantic way they engage in silly situations.
Cabaret Noir offers a thrilling new look inspired by a scandalous era of films, and with a Happenstance Theater spin on it, you couldn't ask for anything finer to haunt you this holiday season.
Running Time: 80 minutes with no intermission
Cabaret Noir plays through November 15, 2015 with Happenstance Theater at The Baltimore Theatre Project— 45 W. Preston Street in Baltimore, MD. For tickets call the box office at (410) 752-8558 or purchase them online.