Show business can be tough but more than that, it can be RUTHLESS! And that's what you'll learn at Dundalk Community Theatre's delightful offering of Ruthless! The Musical with Music by Marvin Laird and Book and Lyrics by Joel Paley. Under the very creative Direction of Baltimore theatre jack-of-all-trades John Desmone, and Musical Direction by Michael DeVito, this rarely produced show lets the audience in on what it takes to be a star whether it's in your blood or if you have to attain your success and stardom in other ways.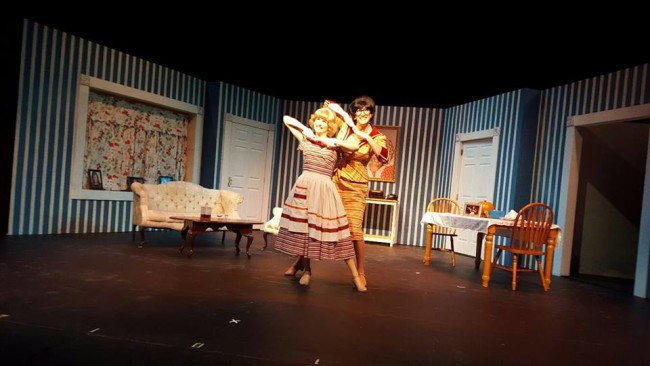 Let me begin by saying this was my first time seeing this show so I had no preconceived notions going in. That being said, I would like to add that the cast was brilliant in spite of the material they were given. The book was a bit trite at times and very predictable and the music was a bit forgettable. I wasn't tapping my foot or leaving the theatre humming any of the tunes, but with creative Direction from John Desmone, each member of the very talented cast managed to trudge through to make it interesting. The music was what I call "good ol' fashioned Broadway with a heavy hint of melodrama" but again the cast took the material and performed it very successfully.
To help the cast, the set was a fantastically simple design (a unit set for each act) by Marc Smith that was very well suited and made perfect sense for this production. Very clever use of the space in front of the curtain was also impressive and more cast members were even added in the way of shadows against the main curtain. Sometimes keeping it simple is the way to go and Marc Smith showed this with his creative scenic work. Let's not forget about James Fasching's Costume Designs that added a very welcome and needed pizzazz to the material. Fasching's use of sequins and glitter gave this production a certain flair that made it a pleasure to watch. His seamless transitions from middle-class to glamorous star and sensible businesswoman to sensation was flawless and a treat to experience.
It seemed as though Ruthless! The Musical didn't lend itself to being a show with a ton of dancing, Amanda Dickson, a Baltimore theatre on and off-stage veteran, created choreography that fit the production nicely and helped show off the actors' dancing abilites. Though there wasn't a lot of choreography, what was created and present was smart and lively, especially for young Kaitlyn Wise.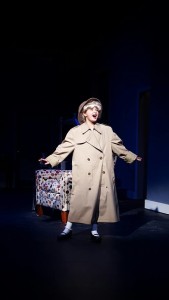 Speaking of the young actress, Kaitlyn Wise was a breath of fresh air as the very talented and quite ambitious Tina Denmark. I couldn't help but smile watching her with her curly blonde wig and baby-doll dresses, but what impressed me most was her ability to hold her own against the adult actors in this production. In her bio, I learned that Wise studies acting, voice, and dance in New York City and Pennsylvania and it shows as she is certainly a triple-threat on the stage managing intricate choreography (I was very impressed with her tapping), wide ranged songs, and comedic acting with veteran, well versed actors.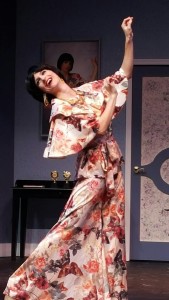 Tatiana Dalton as Judy Denmark— a quintessential 1950s-esque, middle-class housewife— knocks it out of the park with her charming and genuine portrayal of a woman who might be more than she appears to be. I've got to say, I liked her from the moment she first announced "I'll get it!" when her telephone was ringing. She manages to make the score more interesting with her lovely soprano sound. It made me stop taking notes whenever she had a song to sing. Dalton's ability to manage the melodrama into a believable character was impressive as was her character transition from Act I into Act II.
Taking on the gender-bending role of Sylvia St. Croix, Brian Jacobs is a comedic powerhouse, tickling the ribs every time he stepped onto the stage. He seemed quite comfortable in the wardrobe— having experience playing a gender other than his own from shows such as Pageant and La Cage aux Folles probably helped a bit. His strong voice brings a toughness to the character, especially in his number, "Talent" when Sylvia is trying to explain what it takes to be a star to an innocent Judy Denmark. Though funny, Jacobs played the part with grace and dignity when he could have been over the top campy and this particular audience member appreciates that immensely!
Jamie Miller takes on the role of Myrna Thorn, a frustrated, ex-actress turned 3rd Grade teacher, and her frustration shows through undoubtedly when she commiserates with a nice, booming voice in her number "Teaching Third Grade." At times over the top, she still managed to bring a realness and heartiness to the character that could have been easily be overshadowed with camp. In the second act, she shows her acting chops by playing a female reporter from the fictional Modern Thespian who wants the scoop but may also want something more than a story from the star. Her performance as both teacher and reporter were quite admirable.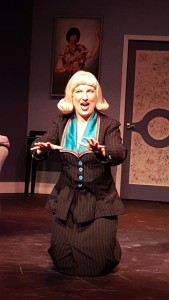 Tackling the roles of Louise Lerman, the unfortunate third grader who actually got the lead in the school play in Act I, and Eve, the ever-present, all-to-willing and abused assistant to the star in Act II, Kelly Rardon makes the transition look easy. She's got a big voice that made her number in Act II, "Penthouse Apartment" a pleasure to experience and lets the audience know it's "all about Eve"!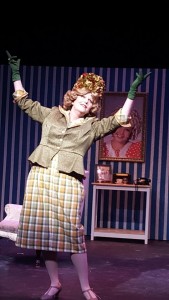 Rounding out the cast is Baltimore theatre veteran Shannon Wollman, who was the standout in this production. Wollman portrays Lita Encore, the very proud grandmother of young Tina Denmark as well as a famous theatre critic who loves plays but isn't too keen on musicals. Though it seems her character has less stage time than her co-stars, she makes the time she does have onstage pure magic and it's as if she called upon the ghost of Ethel Merman to guide her as she flawlessly belted out a very ironic "I Hate Musicals". I would think her turns in Gypsy and Mame got her ready for this role and she pulls it off with ease and confidence.
So, the book may be flat and predictable and the music may be melodramatic, I would still recommend giving this show a try because Desmone and the cast pulls it off beautifully! It's a case of, "I hated the show but I LOVED the cast!" It's a note to their talent that they made the material interesting and the audience seemed to appreciate their efforts. I may sound a little harsh about the book and music/lyrics, but, as I stated earlier, show business can be ruthless! However, give this show a chance and maybe you might pick up a few pointers on how to become a star!
Running Time: 2 hours and 30 minutes with one intermission
Ruthless! The Musical plays through November 8, 2015 at Dundalk Community Theatre at the CCBC Dundalk Community Center, John E. Ravekes Theatre – 7200 Sollers Point Road, Baltimore, MD. For tickets, call the CCBC Box Office at (443)-840-2787 or purchase them online.