When the walls fell down and everything ended; the bones rose out of the dirt. An epic poem, not your traditional format for what comes to the stage as theatre, but in keeping true to the mission statement of Venus Theatre, company founder Deborah Randall opens Dry Bones Rising, script #52 and the second of the 15th season, on the stage and it calls to mind more than just poetry in motion. Playwright Cecelia Raker's first produced work is provocative and introspective; layered with innumerable concepts that give the mind a plethora of topics to chew over as the show plays out. Directed by Deborah Randall, this poem adapted to the stage is an odyssey of the mind, of the written word, and of the apocalypse, if one can imagine such a thing happening all in one play.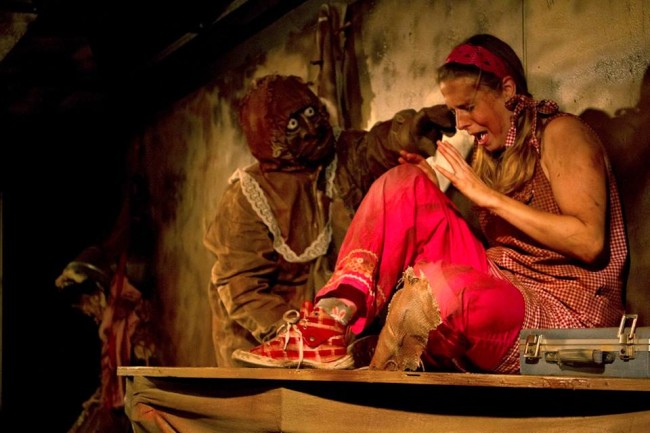 Cecelia Raker's work is unlike anything being staged across the region at the present time. With caution it is noted that epic poems are not often adapted to stage simply because they encompass another world entirely, but Director Deborah Randall rises to the challenge of staging the infinite number of concepts, topics, layers, and themes covered within Raker's play. Layer post-apocalyptic survival-instinct society on top of theological verses scientific debates; add in gender roles and their power struggle of importance, throw in zombies, magical realism, and hints of socio-economic imbalances and you're on the right track to scratching the surface of what all awaits you inside of this production. While the show is fascinating in the sense that it is a lot to take in, and provides even more to think about thereafter, there is a lot going on inside a very tight time frame. Raker's style is highly specific; a curious amalgamation of disjointed poetry and coarse reality. Evocative in an intellectual and emotional sense, Raker is onto something with her unique style, even if the ideas are not always concise, clear, or finished.
The creative team responsible for bringing Raker and Randall's artistic dream to fruition are phenomenal. Comprised of Lighting and Scenic Designer Amy Belschner-Rhodes and Sound Designer Neil McFadden, (with Randall throwing one of her numerous hats into the ring as Costume and Prop Designer), the reality of a time after the walls have fallen, and a place of "mud" comes to vivacious, albeit gruesome, life inside Venus Theatre. Belschner-Rhodes' work with the lighting at first seems minimal but it augments her Scenic work in a subtle, but brilliant manner. The hint of flickering yellows that occasionally dim at exactly the right moments encapsulates the notion of the end of the world as it is known; power barely functioning, future uncertain.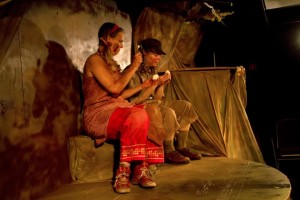 Becoming an entity in a show whose character count is questionable— is sentient mud a character, do zombie-corpses count too?— Belschner-Rhodes' set is striking and mesmerizing to behold. Encasing the borders of the intimate stage, the playground-esque set is a literal landslide of muddied platforms and crumbled walls. With a collapsed and broken ceiling tiles the illusion of the world dissolving around the characters that remain is a fully enveloping one. The complex layering of browns and earth tones across the set blend well with the dimmed lights; setting and lighting complimenting each other in a way that is perfectly suitable for the show at hand.
Sound Designer Neil McFadden does an exceptional job of supporting the post-earth disaster set with his low hums of destruction that are ever-present throughout the course of the show. It is an unsettling sound, something rumbling, albeit gently, from beneath the earth or within the rubble of the walls, filling the blank space of the ether with a pending dread. McFadden also creates character soundtracks, a unique underpinning for both of the non-human entities featured in the show. For mother, as she shall be noted, there is a disturbing and distorted xylophonic tinkling, a bit like a destroyed lullaby one might experience in a horror movie. For Mudman, there is a fierce jungle beat that thumps away like the beat of life pulsed into making it alive, echoing like bongos from the Congo. All of these aural elements fill in the gaps of the aesthetic, making for a well-rounded creative experience.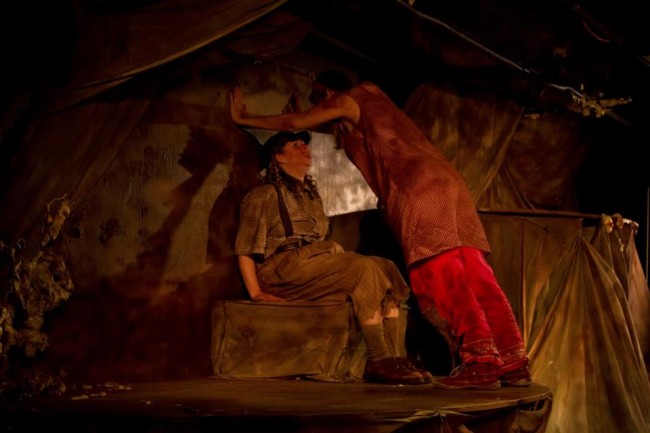 Mud and dirt cake the outfit of Him and Her. Director and Costumer Deborah Randall creates gender and socio-economical identities in her costume work in a cleverly concealed fashion. There is also an underscoring of different eras in time colliding together, which works brilliantly in this interpretation of the performance as there is no specific era for a setting. The clothing for Him is reminiscent of a traditional lad from a tong long forgotten with high socks, knickerbockers, and suspenders while the clothing for Her is of a much more modern and even futuristic look, though with distinctive gender and cultural markers, particularly in the embroidered edges of the bright pink pants. Randall's costume concept for Mudman is enhanced by Mask Designer Tara Cariaso, who crafts an extraordinarily creepy and lifelike face for this denizen. Vanessa Q. Levesque also deserves a nod for her nightmarish creation; a decaying delicacy that really threads some of the darker elements of the production together with unsettling delight.
As the show's Director, Randall works the complex concepts and unending themes of Raker's work fluidly into a cohesive piece of theatre. No one element— be it theology, religion, or even the temperament of children— has more of a focus than the others, a mark of Randall's ability to balance the rawness of the work in a way that suits her performers and her stage. Pulling the essences of imagery out of the work, Randall sets to the task of telling a story and informing the audience— through poetic device and emotional intent— the way the world has fallen apart as filtered through the eyes of children. Her choices in casting as well as portrayal are deliberate and followed through in a manner that best serves the work as well as her theatre's overall intent to set flight to the voices of women.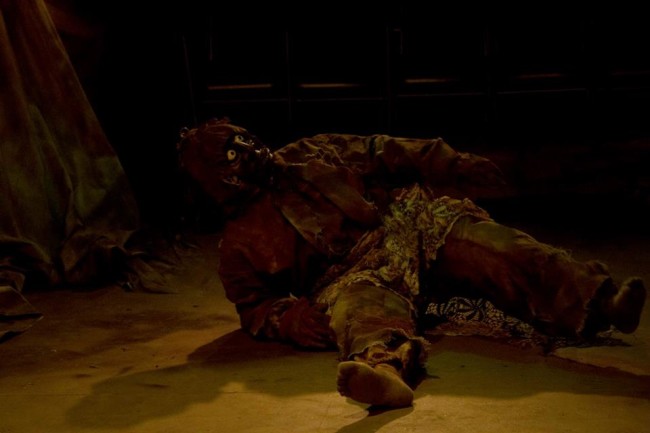 Allison Turkel is not seen for nearly the first half of the production and when her character graces the stage it is unique in that it is not a Him nor a Her, but a Mudman. Turkel's physicality is what draws the attention first; her flopping and flailing about as if never before having experienced movement the way humans do is shockingly on point. The dancing and gravelly voice come after; secondary and tertiary points of praiseworthy performance. There is a discombobulating energy coursing through Turkel's performance that binds her character to the mud it is made from as well as to its creators. Driven by the rhythmic underscore of McFadden's sound design, Turkel thoroughly embodies the process of animation and life.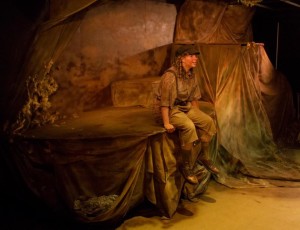 Erin Hanratty takes on the task of Him. Delivering the young boy with a nervous but feisty energy, Hanratty finds a comfortable physicality for the character which enhances the youthful nature of the banter between Him and Her. There is a hyper-escalated energy that fuels her character's side of the arguments that occur frequently throughout the performance. Embellishing the childlike speech patterns so that her portrayal of a young and frightened boy is convincing, Hanratty unearths an earnest and raw emotional core within the character of Him; a core that Raker has carefully wrapped in layers of culture, tradition, and confusion.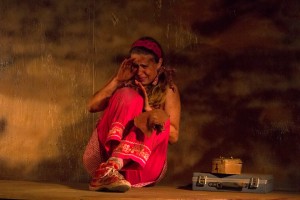 Ann Fraistat as Her is a dizzying whirlwind of bratty childishness and unsettling fear which masquerades itself as stubborn determination. Shattering emotional ceilings with her realistic tantrums, Fraistat lobs petulant barbs at Hanratty's character without so much as batting an eye and surges with rapidity through emotional extremes. Her physical commitment to exaggerating the childlike physicality of the character is astonishing— including her flailing struggles to mount the higher muddied platform. Engaging fiercely with both the Mudman and Him, Fraistat brings an unfathomably deep and remarkably poignant clarity to the character of Her; a true understanding of fear and change through the eyes of a child.
There is so much to be taken away from this particular theatrical experience; a world premier work of a first-time-produced playwright, a new format of theatre that is changing the way poetry fits into the genre, talented actresses who blur the lines of gender, religion, age, and humanity, creativity that knows no bounds. A show to be experienced, a show to be intellectually processed; Venus Theatre's Dry Bones Rising will awaken the mind, excite the senses, and make you question— how do you prepare your future for the end of the world?    
Running Time: 90 minutes with no intermission
Dry Bones Rising plays through June 14, 2015 at Venus Theatre— 21 C. Street in historic Laurel, MD. For tickets call the box office at (202) 236-4078 or purchase them online.