Let's take a moment to have a beer you and I.  There.  Now we are fully prepared to enjoy one of the finest forms of comedy ever put to stage: Commedia D'elle Arte.  Annapolis Shakespeare Company's adaptation of Goldoni's classic The Servant of Two Masters by Timothy Mooney is ready for us.  Ensconced, a jewel in the firmament of Reynolds Tavern Courtyard, Director Sally Boyett choreographs a "Commedia D'ell Right Now" that doesn't just tickle the funny bone it hits it hard and rubs it for you afterwards.  Punny to a quip from the couplets to the sound effects, this super tight performance feels like it has been rehearsed for months and months. In just ten days of rehearsal between, Sense and Sensibility and Two Gentlemen of Verona, this consummate cast and crew returns us to a form that brings the laughs to the audience firmly in the know of all the inside jokes.  
First Act: Hummus and a Tell-Tale Heart IPA
An appetizer of exposition served up spicy by Brian Keith MacDonald in the seminal role of Pantalone Dei Bisognosi.  MacDonald firmly grasps each pun with a shaking hand and physicality any Cremona master would be envious of.  Each phrase is covered in olive oil and stuffed perfectly in the pants of a true artist squeezing his…role for all it is worth.  With a tongue in cheek grace and quick slap of a stick he tries to manipulate and cajole his daughter Clarice, played by the bright and sensual Megan Morse Jans, into and then out of a contracted matrimony doomed by the ghost of her deceased betrothed Federigo Rasponi (The Good, The Bad, and The Ugly Whistle.)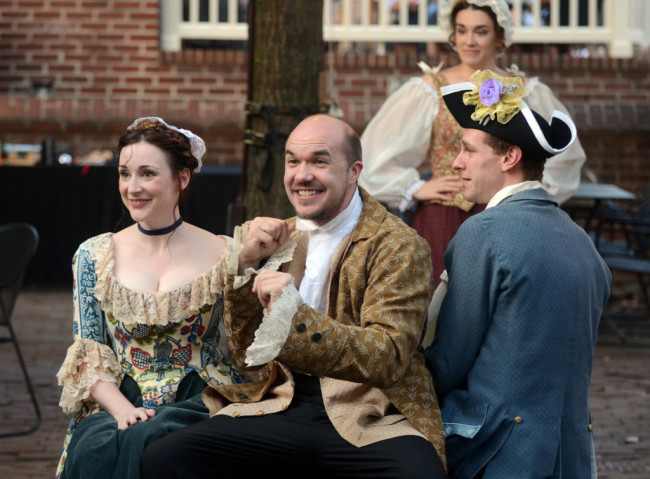 James Carpenter's pedantic pontificant Doctor Lombardi foils Pantalone's grimy greed with good form, diligently goading his very willing son Silvio, portrayed with panache as any Capitano character should by Michael Windsor. Sue Struve drops hints and drops bombs as Brighella, the innkeeper; teasing the audience into the know, with a sharp tongue and dead-on timing.  The act really takes off, however, with the set chewing, scene stealing, and smirking smolder that is Amy Pastoor as Smeraldina (Columbina for those playing Commedia bingo at home.)  Pastoor wears a few hats in this show including fight choreographer, for which she should be commended.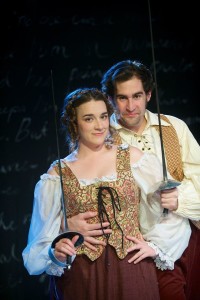 The show takes a conflict-ridden turn at the arrival of Patrick Truhler as Truffaldino (Arlequino for those more mask-orientated).  Rakish, self-servingly sycophantic, and most of all gourmand, Mr. Truhler's portrayal of the servant everybody loves to watch screw up and save the day again is not only firmly hung upon the framework set before him, but unique in his ability to shift from an ancient fool to a modern one.  He drives the show like an engine without a steering wheel; rambunctious, raunchy, and always on time.  A master at work.
Truffaldino's arrival and subsequent reveal of the living Federigo Rasponi (Whistle) brings the burning fire of Laura Rocklyn as Beatrice Rasponi, masquerading with bravado and gilt as her recently departed brother.  She turns the play on its head both with her arrival and quick-fire alternation between lovestruck Beatrice and bold, resurrected Federigo.  Her performance is passionate and driven; truly a joy to watch.
There is a saying at the Maryland Renaissance Faire that without the patrons we would all just be a bunch of strangely dressed people in the woods.  Well that strange dress, supervised by Jackie Colestock, plants us in two worlds in an instant and transforms as the actors transform from character to character flawlessly.  We are caught between Renaissance Italy and Colonial Annapolis and never left wanting. Richly patterned dresses for the ladies with corset styled tops and equally well-gibbed coats and vests for the gentlemen make identification of character in this fast paced performance instant and rewarding.
Mother nature did well with the lights, just a mini spot and some hanging bulbs illuminating as dusk smiled on the cast.  The actors tugged at every available shadow however, ducking in and out of audience space and leaving behind a smile, chuckle, or belly laugh while being seen and heard clearly.  The work of Nancy Krebs, resident Voice Coach is apparent and devoted.  Her disciples hardly mince a syllable without the express purpose of doing so and even then recovery was so swift the show never hiccups, just belches out loud.
Due credit to the cast and Sara K. Smith, Stage Manager, for maintaining the breakneck timing of sound cues, sight gags, prop and furniture placement.  Each punch line clinched with a horn or bells, putting sonic emojis in the air for the audience to "lol" at.  Letterman said that if a joke is sort of funny, keep doing it, and eventually the audience will die laughing.  He was right, each time we hear Federigo's whistle, or Pasquale's horn, or the cash money glockenspiel, the audience is pulled from dessert to the true feast of the show.
Acts Two and Three: A Turkey Reuben with a Schneider Weisse Doppelbock or two and Shortcake.
As this performance progresses, layers of tomfoolery, mistaken identity, jealousy, greed, and love are peeled away.  Michael Windsor cranks out two more physically demanding and character-nailed roles of the porter and the waiter, showing an excellent versatility and ensemble knowledge tying the story together.  The most drastic transformation belongs to James Carpenter, in his shedding the Il Dotore skin and stance to arrive as the romantic lover of Beatrice and lord Florindo Aretusi (a sighing Ah!)  The costume change is significant but he shapes his performance fluidly, embodying both characters with a distinguished skill.  This cast runs circles around each other, each one cranking up the volume of performance until the last moment rings out.  Keep an eye on Amy Pastoor too, two if you can spare them, she might just steal your heart. So raise a glass and let the comedy seep deep into your smile, feel free to laugh out loud, and if you see any sailors near the show buy them a ticket and a drink they deserve it.
Running Time: Approximately 90 minutes with two brief intermissions
The Servant of Two Masters plays every Tuesday at 7:30pm through September 29, 2015 with The Annapolis Shakespeare Company as a part of the Comedy in the Courtyard series hosted at in the Reynolds Tavern Courtyard— 7 Church Circle in Annapolis, MD. For tickets call the box office at (410) 415-3513 or purchase them online.