God, the all-knowing, has misplaced a cup and has tasked King Arthur of Camelot, along with his rag-tag bunch of British knights, to find it. As it turns out, it's hiding at the Milburn Stone Theatre way up in North East Maryland. Look no further on this quest for grails, Broadway shows, and knights who say "Ni" as Monty Python's Spamalot has been found. Directed by S. Lee Lewis with Musical Direction by Shane Jensen, this witty and wacky musical, lovingly ripped from the motion picture Monty Python and the Holy Grail, features Book and Lyrics by Eric Idle with Music by John Du Prez and Eric Idle. A gayer romp through dark and expensive forests will be hard to find this winter season and this limited engagement is worth the trek up into the midst of plague-ridden Medieval Cecil County.
Scenic Designer Bob Denton goes old school when it comes to getting his Medieval on in this production. While the Spamalot projection package permeates some of the performance, Denton relies on tried and true techniques to get his setting across clearly. Massive castle turrets flank either side of the front of the proscenium and are used frequently to play out bits throughout the show. A smaller castle, though no less impressive, sits further backstage dead center. Occasionally Denton covers the latter of the two in muddy Spanish moss for a more derelict and impoverished look. With fancy backdrops, and a roll-down portcullis gate, Denton's set has everything to assist the imagination through the Python experience.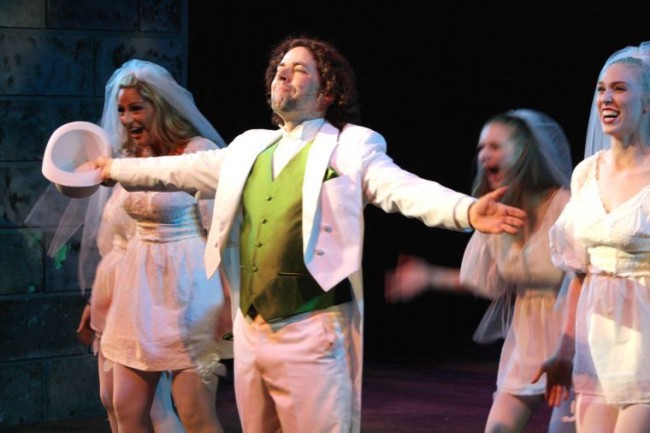 Costume Designers Brenda Kinzinger and Joyce Williams are to be knighted for their excellent work with tabards, shimmering Semite, and things that look like they belong in this musical. Using puffy white quilted fabric, Kinzinger and Williams create generic tabards for the various non-named knights, while using an almost burlap style material for those knights of name. The Lady of the Lake gets outfitted with several dresses severe enough for her diva tastes, one of her more elegant ones being the deep velvety blue number seen near the end of the production.
Lighting is a key component of a successful production of Spamalot and Lighting Designer Tyler Bristow is king of that element in this production. Bristow creates the club vibe often throughout the performance, first during "Knights of the Round Table" with his flashing blinking strobing lights and later during "His Name is Lancelot." Both scenes has distinctively unique feels to them; "Knights of the Round Table" having a more modern day Vegas ambiance while "His Name is Lancelot" marches more to the beat of a heated 80's gay night club. His use of softer tones to light The Lady of the Lake is also a mark worth noting for its precision and its use accenting.
Choreographer Bambi Johnson brings musical theatre's penchant for enthusiasm to the show with her dance work. The routines are not the flashiest or the tightest, but they are entertaining and suitable for the dancers of all levels on the stage. Similar in style to the original choreography of the show's Broadway and subsequent touring runs, Johnson puts her dancers through an aerobic workout, particularly with the twirls and whirls in "His Name is Lancelot."
Properties Master Eyvo Johnson runs away with the show's design team and should be awarded the MVD— most valuable designer— of the show for his cheeky umbrellas and silly little Vorpal bunny. The bunny is just cute fluff and stuff, too precious for the doom it is meant to inspire, but the umbrellas are priceless. Featured during "Always Look on the Bright Side of Life" Johnson has decorated some half dozen black umbrellas with bright yellow electric tape, each one with a different 'cheerful' emoticon face. Some are winking, some have x'd out eyes, but they all look hilarious and that's the scene stealer for that number.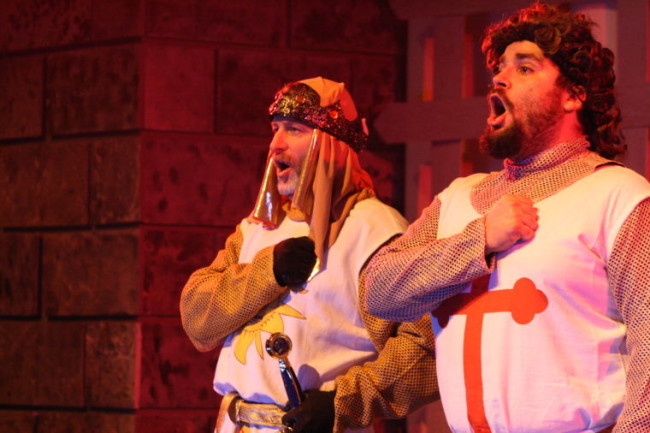 Musical Director Shane Jensen does a solid job of blending strong harmonies across the ensemble and with the various principle characters. "All For One" stands out as the best blend of succinct harmonies, six voices giving a sturdy path for the suave tone of the number to ring through clearly. Jensen balances out the performance as well; the ensemble pulling along strongly to the pacing of the recording, never over or under singing the prerecorded tempo of the music.
Director S. Lee Lewis cleverly works the trickier aspects of the show to suit the enormous Milburn Stone proscenium. The Black Knight Scene and Sir Bors scene are deceptively crafty to execute, and given that all the elements of these costumes are put together by the team, their execution is impressive. Lewis rolls in four doors during "Knights of the Round Table" for the sliding line (which alternates between push the pram-a-lot, like our pretty girls a-lot and slam the doors a-lot) and really makes a great visual gag out of this moment. He even gets a full wheeling "Phantom" boat for Sir Galahad and the Lady of the Lake's big duet, maximizing it's comic potential.
While the ensemble is not an impenetrable wall of vocal sound, what they lack in volume they make up for with enthusiasm. Bright smiles and eager dance moves keeps the audience engaged; and much like the knights in Arthur's court, they all just really, really want to be there. The comic delivery lands a good 75% of the time throughout the performance and on the whole the jokes read as they are meant to, with a bouncing British air of dry wit.
King Arthur (Mark Dixon) and Patsy (Steve Flickinger) lead the knights as they round them up across the countryside on their quest. Dixon has a kingly gait and is thoroughly in his sound. Though he doesn't do much singing, his song "I'm All Alone" is a sturdy solo that gives him weight as a royal leader. Flickinger doubles up as his trusty sidekick and pulls some facial expressions throughout the performance that are worth noting.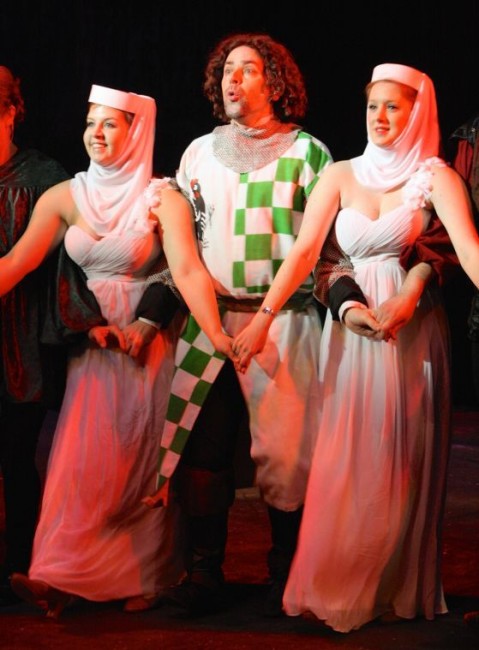 Brave Sir Robin (Tim Koob) is a featured knight who really steals the show with his rendition of "You Won't Succeed on Broadway." Koob actually plays the piano, and masterfully so, for this number, which makes it that much more entertaining. He muscles into his "traditional" dance segment three quarters of the way through with gusto and romps through the number with courageous fortitude. Doubling as Brother Maynard, Koob delivers a hilarious character voice in the cameo part and is one of the more memorable named knights.
Sir Bedevere (Matt Cannon) delves deep into the shallows of his intelligence for his big scene just before the end of act one. Cannon delivers Bedevere's severe stupidity with earnest and really finds the comic nuances of Bedevere's speech patterns.
His name is Lancelot (Greg Guyton) and he likes to dance a lot. Actually, Guyton likes to stomp around the stage with a shovel in hand maximizing the stereotype of masculinity so that when he gets midway through "His Name is Lancelot" the hilarity of the scene has erupted tenfold. Although he puts a bit too much forceful effort into being foppish for the showdown with Herbert's father, his character commitment in the Lancelot role is on point for the character arc. Guyton's accents as Tim the Enchanter, King Ni Knight, and the French Taunter, tend to run together a bit, but this becomes humorous in its own right, even if it's not intentional.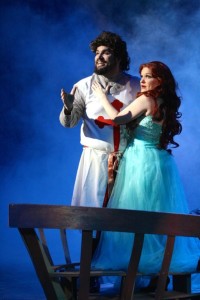 The dashing Denis Galahad (Ryan Wagner) runs away with the show vocally; his voice thick and robust, particularly when rolling into the obnoxious serenade with the Lady of the Lake (Lauren Spencer-Harris), "Once in Every Show." the delicious glazed hammy overacting that he exudes out into the ether for this number is priceless, perfect for the sentiment of the song. Wagner also doubles as the livid father of Prince Herbert and his anger knows no bounds. He works comedic bits to their fullest in this role as well, really making a discernible difference between this character, The Black Knight, and Galahad.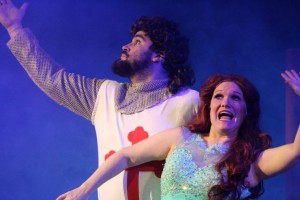 Lauren Spencer-Harris is simultaneously the best and worst thing about the production in the only leading female role as Lady of the Lake. Her over-the-top melodramatic diva performance fits the character divinely, but at times is so overdone that it's beyond tolerable. This, however, is brilliant commitment to the character. It's her wavering vocal consistency that calls her performance into question. With a strong set of pipes, that she clearly demonstrates in "The Diva's Lament" (including a dig at "Broadway World Awards") her limited and somewhat disappointing performance in "Find Your Grail" and "The Song That Goes Like This" becomes questionable. But what she lacks in vocal control Spencer-Harris makes up for in animated physicality and facial expressions. To her credit she does the obnoxious diva character a great credit with her overacting; 90% of it feeling authentic with only those last little moments feeling as if she's gone too far.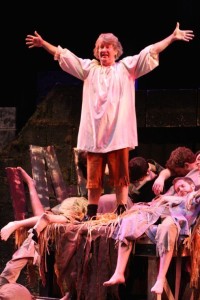 The surprising front runner of versatility and performance excellence in this production comes from Joe Francisco, playing the four-track character man. Assuming the roles of the Historian, Not-Dead-Fred, the Minstrel, and Prince Herbert, Francisco is a show-stealing sensation. As the Historian, Francisco adapts a jerky and almost robotic physicality; every line he says reads like he's an animatronic fixture in the Disney World version of a Monty Python attraction. His dancing as Not-Dead-Fred is a bit like a reanimated corpse; unsure but hilarious. Singing "Brave Sir Robin" Francisco showcases his vocal prowess, complete with committed character voice, and his ability to articulate comedy in meticulously penned patter. But it's as Prince Herbert that Francisco really takes the show by storm. Between his little musical dalliances that earn the scorn of his father and his flirtations with Lancelot, Francisco is unstoppable; a true triple threat performer!
Sally forth, to horse— don't worry you'll get the hang of it on the long ride up to Milburn Stone for this intriguing and humorous production of Monty Python's Spamalot. Do hurry along, the cast hasn't got all month, just two weekends!
Running Time: 2 hours and 10 minutes with one intermission
Monty Python's Spamalot plays through March 1, 2015 at The Milburn Stone Theatre— 1 Seahawk Drive in North East, MD. For tickets call the box office at 410-287-1037 or purchase them online.