Life is an obscure hobo bumming a ride on the omnibus of art. But what makes art? And who determines what is art? The artist makes the art and the critics determine if it is actually art or not; or so I'm told. The Yellow Sign Theatre is making art of a bold and bloody variety. In this darkly unsettling, albeit humorous, stage adaptation of Roger Corman's A Bucket of Blood, the company explores and examines the social layout of artists as the 50's close and the 60's bloom. A caustic and curious theatrical adventure adapted for the stage and Directed by Melissa LaMartina, the vibe of this production will give you shivers— both scintillating and unnerving. Are you down for that?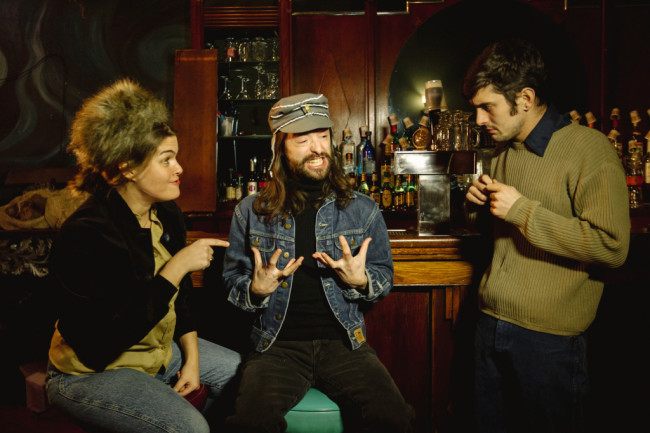 Working in the intimate space of a restaurant-store front-turned theatre, Director Melissa LaMartina, in conjunction with the company's Artistic Director Craig Coletta, transforms the performance into a fully immersive experience. Theatergoers aren't just getting a show, they're getting a submersion of the Baltimore art scene in every sense of the word. With a pre-show entertainment event designed to feel like a poetry jam local poets, and singers will set the atmospheric tone before the play begins. Visual artists are not forgotten as their art is hung along the walls and worked into the show, including local artist Margaret Peterson, the painter responsible for the art that is recognized as Carla's work during the performance.
This infused exposure of art in many formats is a showcase experience of just how artistic of a city Baltimore truly is and serves well the motif of the play as it focuses around discovering new art forms, though here's hoping that none of the local artists are fashioning their masterpieces in the same way that Walter Paisley does in the play!
Creative Designers for the performance's set comes in a team: Craig Coletta, Mike Jancz, Melissa LaMartina, and Miriam Cummons. Making use of every inch of available space in the building, the Scenic Team constructs a main dual-level play space at the front of the house, but weaves authenticity of an artsy café into the scene by having the characters arrive and exit through the establishment's main entrance. This immersive approach to realism further draws the audience into the world of the darkly humorous thriller.
Lighting and Sound Designers Eric Gasior and Mike Walls really electrify the atmosphere with a chilling intensity, particularly when shocking things occur in Walter's apartment. Walls' sound cues are spot-on and sound horrifically authentic at times. Gasior has similar approaches with his lighting, though to say much more would be to give away the truly shocking surprises that lie in wait for the audience. All of these design elements are augmented by the Animations of Chris LaMartina, which are not only a genius hybrid of yet another art form in this production, but also a sincerely clever way to cover certain scene changes as they occur.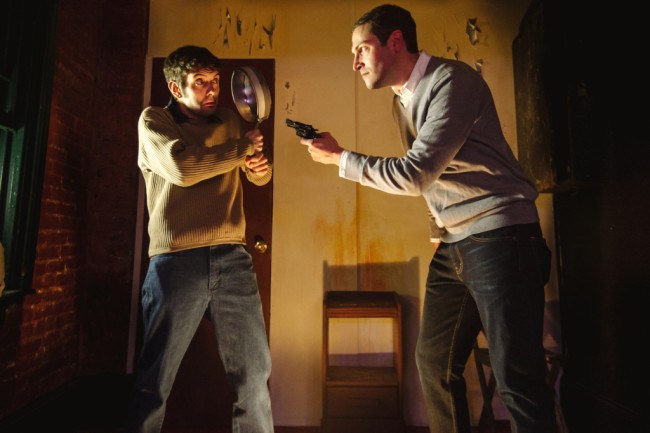 It goes without speaking that Walter's sculptures, as witnessed in the performance, are breathtaking. The detail alone and lifelike authenticity of these pieces are truly marvelous, especially considering the way they fit into the twisted plot. While the entire review could be devoted to these works alone, it is with great caution that further comment is reserved for fear of spoilers.
Director Melissa LaMartina grasps the 1959 art scene by its beatnik beard and hippy hair and thrusts it into a presentable submission while still capturing its unruly nature and wildly creative ephemerality. Her use of the space, particularly when it comes to blocking the performers among the crowd, is naturalistic and creates a sense of real time both flowing and happening during the play. LaMartina's work with the cast to expose dramatic tension and diffuse dark humor is rewarding and results in a thoroughly enjoyable, albeit disturbing, piece of art.
The live musical performance intertwined into the production by vocalist Kristina Green and guitarist Eddie Lee add a haunting element to the show. Green delivers murder ballads and old dark songs in her smoky tenor range with Lee accompanying her on acoustic guitar. Green's deliciously sinful rendition of "Mack the Knife" hangs in the air like salt off a fresh ocean morning's breeze; a disturbing but intoxicatingly intriguing combination that lingers in the back of your mind for the rest of the evening.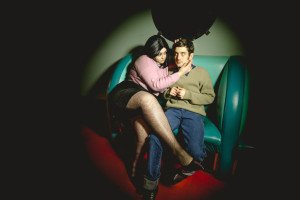 The character cadence and delivery in this production is stellar. Even minor cameo characters like Alice (Rachel Reckling) and Naolia (V Lee) are felt distinctively in the café. Lee's performance is melodramatic; driven by the art-noir hybrid character of the time, oversexed, over stimulated, and overdone. Reckling delivers this unspeakably arrogant aristocrat with a floating air of pretention that precedes her entrance to the café by a wide mile. Both women make their roles, however brief, pop right before your eyes.
Without hipsters— though were they called hipsters before the term hipster was popular?— a café filled with art would be nothing more than a Starbucks with fancier decorations. And as the play takes place long before the advent of Starbucks, Will (Kathy Carson) and Oscar (Scott Burke) give the atmosphere its charming beatnik flavoring. Carson and Burke are almost in a play world all their own; an appendage to but not directly involved in the play that is currently happening. Burke and Carson exist in a meta-existence of art and things that imitate art, like life, and they do an exceptional job of sticking to this vibe throughout the performance.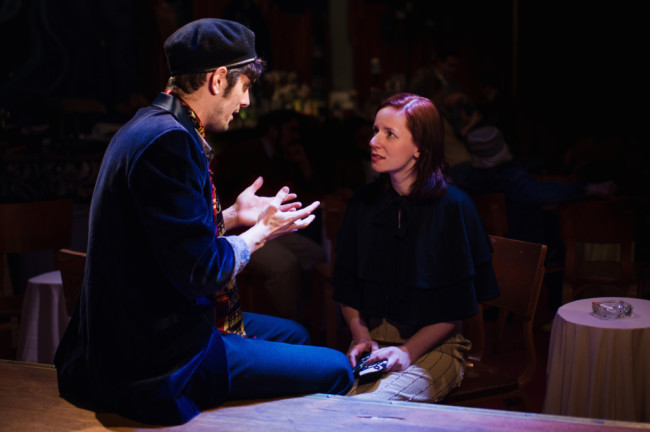 Carla (Katharine Vary) is your sweet girl-next-door artist who hangs her work in Leonard (Chaz Kedesla)'s café. Vary is noted for her candor in her performance while Kedesla should be noted for his suspicious nature and his reflexive facial expressions. The way he responds to Walter, especially once he becomes wise is both tragic and amusing; his worrisome expressions, particularly when discovering new work at Walter's apartment, are cause for some dark chuckles.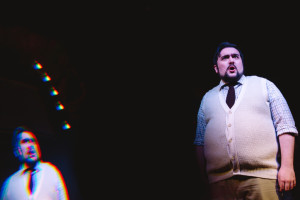 Pontificating poet Maxwell Brock (John Bennett) has a dizzying attraction about his very presence that is both nauseating and titular simultaneously. Bennett is a prize in this role, laboring through the loquacious moments of poetic paragon with dicey staccato rhythm that feels a bit like rapid fire verbal bullets to the ear; infectiously painful as they erupt with ecstatic bliss and emotion. His overly intense delivery of the character and by proxy the character's poetry seizes the audience's attention, unrelinquishing in his verbose grip. He creates a hazy poetic rapture that ensnares the listener's ear; forcibly mesmerizing them with a suave cheekiness that is poised like a viper but moves like slow boiled oil.
Bennett, despite the character's potential to remain dimensionally limited, delivers an impressive rollercoaster of moods and emotions, even if many of them are egocentric. Bennett's portrayal of Maxwell Brock sucks up all the air in the room creating a vacuum of emotion wherein all of the provocations art inspires swirl around darting from person to person. Even at his most obnoxious it is impossible to stop drinking in his every word. He somehow even manages to make praise for Walter Paisley (John Marra) turn around to reflect himself.  
Marra's portrayal of the bus-boy turned artist, is acting genius at its finest. Touched, disjointed, spaced; any of the aforementioned descriptors are just a glimpse into the deeply rooted psychological inertia Marra brings to the role. His physical commitment to the disturbed Walter is impeccable; slightly hunched shoulders, eyes cast downward, hands drawn close to his body and often cupped— all the hallmarks of mental imbalance in a socially awkward and incredibly shy and insecure character immediately brought to the forefront.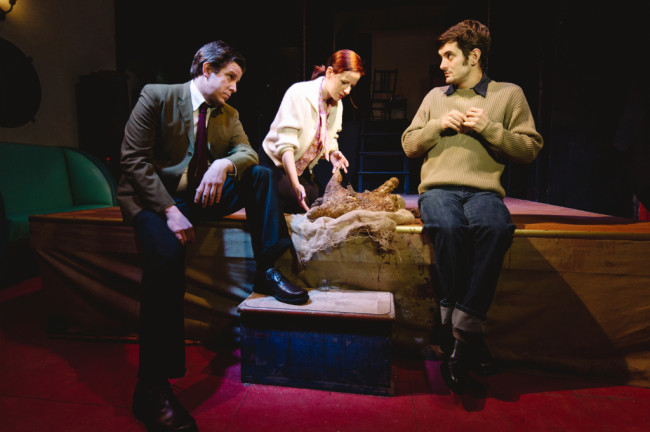 Marra nails the vaguely lit expression of Walter's character with subtle panache. Making Walter perpetually appear as if the lights are on but nobody is home, save for the tormented agonizing needs from deep within his psyche, Marra masterfully commands this character portrayal into something unsettling and off-putting. The versatility he brings to the role is astounding, from the delicately precious insecurities to the moderately misunderstood and humorous airs of artistic pretention once he is "discovered", Marra is a frightening sensation in the role and gives a phenomenal performance.  
Everything about the production is impressive, from the performances to the use of the space; costumes, props, lighting and sound design all falling into place. This unique theatrical experience is unlike anything happening anywhere else inside or even immediately outside the city, and definitely should be taken-in, perhaps with a nice heated cup of java, and slowly digested. Hideously amazing and modernly expressive, the production is ripe with dark elements that will make you ponder your own artistic existence.
Running Time: Approximately 80 minutes with no intermission
A Bucket of Blood plays through March 8, 2015 at Yellow Sign Theatre— 1726 N. Charles Street in Baltimore, MD. Tickets are available at the door and for a discount in advance online. Advance purchase is strongly recommended as several performances are already sold out.