When you're an Addams you need to have a taste for death! And there is plenty to taste over at Toby's Dinner Theatre with their regional premier of Andrew Lippa's The Addams Family musical. In a highly comical musical that reanimates the classic comic strip characters, this brilliant production sends the message to embrace your inner darkness and enjoy the world outside the boundaries of normal. What is normal anyway? In an exclusive series entitled "Move Toward the Darkness" readers of TheatreBloom will delve into the darkness with the cast of The Addams Family and find out just what being a part of this creepy and kooky production is like! First stop on our Darkness Tour is actress Julia Lancione, who not only plays the weeping bride in the ensemble but has just finished an 18-month leg of the National Tour.
If you could start off, I know you've been out on tour for the last 18-months, but if you could give us a little of your area performance background, that would be great!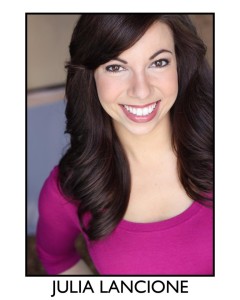 Julia Lancione: Ok, my name's Julia Lancione and I just spent 18 months with the national tour of The Addams Family. Right before that I had worked at Toby's Dinner Theatre for, gosh, probably three years on and off? Maybe longer than three years. My last show there was A Christmas Carol, I played the ghost of Christmas Future. I'm trying to work backwards and I'm blanking. Before that I think it was Legally Blonde, I played Tuptim in The King and I, I was Dorothy in Wizard of Oz, I think Joseph…was in there somewhere, way back I did White Christmas. What started it off was Mark (Director Mark Minnick) casting me in Oklahoma back in 2009.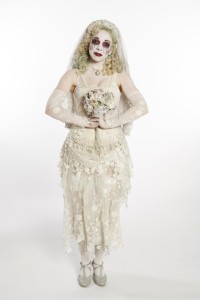 When I got back from tour I did Mary Poppins here at Toby's, we just closed a few weeks ago. I played the Bird Lady and was in the ensemble. Now I'm in the Toby's production of The Addams Family and I play the bride ancestor, the sad bride. I just come on and cry a lot.
You come on and cry a lot, that sounds like quite the character. Does the bride have a back story?
Julia: She does! I took it upon myself to name her Rose, Rose Addams. I was always told while rehearsing on tour that she had been jilted at the altar and then probably killed herself. It's pretty tragic.
You gave me the perfect segue there, thank you. How did you get involved with the tour?
Julia: I love this show. I saw it on Broadway. Two of my friends that I did the Cats tour with a few years back, they were in it on Broadway so I went to see them and I just fell in love with the show. When I saw that Phoenix (Phoenix Entertainment) was doing it I wanted to audition. I asked Mark what the process was and I went up to New York. I got a callback and went through that whole process and it worked out really well.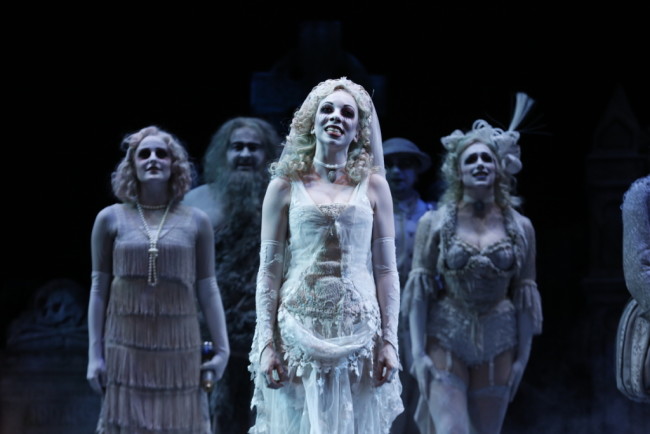 I'm actually playing the same character here at Toby's as I did on the tour. And when I was on the tour I understudied Wednesday Addams and Alice Beineke. It was a great experience to understudy both of those tracks. I never went in while on tour. I am understudying Wednesday here at Toby's, but I love my ancestor track.
How is what you did when performing on the tour different from performing the same role here at Toby's?
Julia: I'd say the biggest difference is the staging. Everything on tour was performed on a proscenium stage and Toby's is theatre in the round. Mark does a really good job with putting shows into the round. I'm always impressed with how he utilizes the space. As a performer this becomes a completely different show in the round. I just noticed during our opening week that just to get that immediate audience response— someone laughing two feet away from you as opposed to way over the pit and beyond a whole house away— you feel that difference. It's a new and exciting experience ot have them that close. The audience is right there laughing in your face and it's really cool to have them be right there.
What was your exposure to The Addams Family, besides having a familiarity with the musical, and how does that relate to you getting involved with the musical?
Julia: I remember the movies mostly. I can remember watching the sequel, Addams Family Values, a whole lot when I was a kid. I remember watching the first one as well. I wasn't too familiar with the TV show. I did become more familiar with it as I toured with the show, though. Our wig girl on the tour would always have them playing in her little office. So when we would come in to get wigs she always had the TV show playing, which was really cool to get prepped and ready for the show.
Do you have a favorite Addams character that you really relate to or really enjoy?
Julia: I don't think so? I really like them all for different reasons. Huh, that's a good question. I think Morticia is just the epitome of sexy and powerful and strong. I think I admire her.
 Mark Minnick is known for his intense and impressive choreography, he just received a Helen Hayes nomination for Choreography in Mary Poppins. How is what he's doing with the dancing in this show at Toby's different from what you did on tour?
Julia: It's actually very similar. He definitely uses themes and styles that reflect the overall "dead" movements. The jerkiness, the stiffness, those movement styles are along the same lines of what I had when I was on the tour. He definitely puts his own unique spin on it, though, and that's great. He said to me on day one "it's going to be just different enough to mess you up." It's been fun to learn a new rendition of the piece.
Were there any of the dance routines that were particularly challenging to perform in the round?
Julia: I don't know that any were any more challenging than the others. The tango in "Tango De Amor" was a little difficult, I guess. When we did that routine in proscenium on tour it was very much a layering effect where Morticia and Gomez were always at the front and we fell in behind them into the formation. In the round it's different because there is no "front" per say. We fall into the formation and come at you from all the sides. I think that was the most challenging. I have a good tango partner. I tango with the Pilgrim (Ariel Messeca) and we fall into the routine all around Gomez and Morticia; they sort of end up at the center.
The show has changed a great deal since it opened on Broadway back in 2010 and every production seems to feature the ancestors in a different light. How are the ancestors fitting into this production?
Julia: The ancestors fit into the Toby's show in a very similar way to the how they were used on the tour. We kind of move the story along. We kind of carry the characters to where they're going. Fester (played by Shawn Kettering) has this strong relationship with the ancestors. He's kind of the narrator of the story in a way and we're like his sidekicks. We're always watching and observing what's happening to our family.
Do you have a favorite moment in the show that just gets you super excited every night?
Julia: My favorite part of the show has always been— and this is both from the tour production and from our current production at Toby's— but it's always been the opening number. It's so unique as far as opening numbers go because it's immediately in your face exciting. Right off the bat it does this really great job of introducing every single character, especially the ancestors.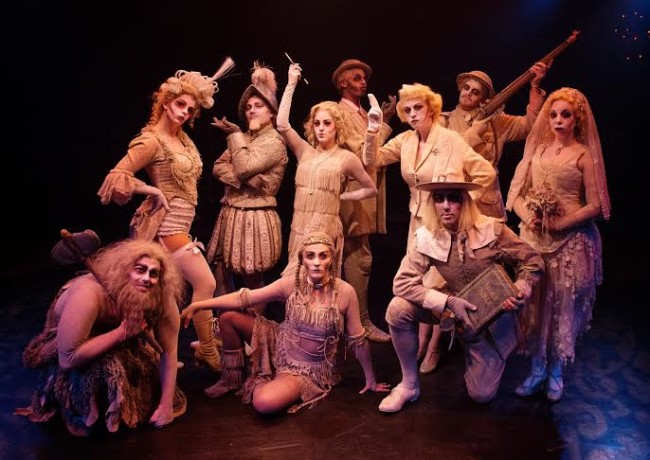 I've always loved how in this ensemble you're not just the second girl from the left in a gold unitard in the chorus line. You're not just in some dance outfit blending in with everyone. Everyone gets their own unique character, everyone has their own entrance. I love that each ancestor gets their own identity. Rose, as I've named her, is fun and I love to get to play her. You really get to have fun with her because the crying is so ridiculous. She weeps a lot and I like it.
These costumes are amazing. How do having costumes this awesome impact the show?
Julia: They are so beautiful. Someone in the cast the other day was saying they hadn't realized how detailed they are. If you step up to us and look at us closely— actually anyone sitting on the floor doesn't even have to  move— you can really see all the detail in these costumes. They're perfect for a venue like Toby's because you can't see all the little intricate nuances that make these costumes so beautiful from a proscenium stage in a big auditorium. They're just so beautiful. And when you look good in a costume it's so much easier to have fun with your character and put on a great show.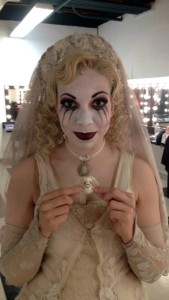 The makeup is just awesome. I did Cats and I think it's very similar to that; the makeup adds to the overall "complete package" in really creating these unique characters. We each have our own specific looks. No two ancestors look the same. I mean we all look the same in that we're all shades of white and gray because we're all dead. But nobody has the same makeup it's all different makeup plots. I think that's really cool because again it adds to the sense that you are your own character and not just randomly in the ensemble. You are the Flapper. Or you are the Bride. Or you are the Pilgrim. The makeup really extends that sense of awesome individuality.
"Move Toward the Darkness", which is the closing number of the show, talks about embracing your inner darkness. What does that mean to you as a performer?
Julia: It's funny you ask that because I actually love that number. Other than the opening number it's my favorite number in the show. It's so gorgeous; the music is so beautiful just the way it comes in waves with the piano underneath, I just love it. I think it means to kind of always embrace your faults or embrace what might not always be perfect about yourself and to move forward with it. Move forward with it Addams' style. Toward the darkness, toward the inner light, however you want to look at it, it's really inspirational. It wraps up the whole story.
It tells us that no matter what happens, if the family gets torn apart, no matter what the conflict is you can always fix it and come back together. It brings you back to reality. I think the line in the song says "when you face your nightmares then you know what's real" and it means that you are able to experience things and learn from them.
What has coming off the tour and back into this show taught you about yourself as a performer?
Julia: I think on tour it was a very rigorous schedule. It put into practice all the things I had learned during my training. Keeping yourself healthy, keeping yourself ready to go at a moment's notice as an understudy; all of those things come into play. I was actually one of a very few people on our tour who did not miss a single performance during our run and I'm kind of proud of that. It taught me to really be smart and to not necessarily go out and party every night. You really do have to be smart, you have to protect your body and protect your voice.
This show is very high for the sopranos, and I sang the soprano line on tour and now at Toby's. You have to take care of yourself because it's a challenge. Ross Scott Rawlings, who is our music director at Toby's, really stresses that fact to us too. The show is vocally demanding; it's full-throttle, in-your-face chorus arrangements and you can't succeed at that if you're not taking care of yourself.
You had mentioned going all over the country while on the tour and I just remembered that your tour actually went to Singapore. What was that like?
Julia: We spent the summer in Singapore, Hong Kong, and two other cities in mainland China. It was amazing. I was in South America when I toured with Cats, but I had never been to Asia and I had never dreamed that I would get to go to Asia. It was really a great experience. The audiences there were amazing. We weren't sure how they were going to react to the show because we weren't sure what their exposure had been to The Addams Family culturally. We did sing in English. There were subtitle translations above and next to the stage.
It was such a great experience. Just getting to go out and experience another country with another culture, knowing that we still bond over musical theatre, it was amazing. A friend of mine and I went up to Beijing and did the Great Wall of China and the Forbidden City. It was a really great experience; an opportunity to get to see the landscape and do the show for foreign audiences. That was so much fun; the audiences were just so welcoming and so appreciative. It's kind of a new thing to them, I think. Musical theatre is becoming more popular there but it's not their primary theatre exposure or experience.
It's funny, Mark teased me because I was hesitant to go. I was a little afraid. I'm not sure what I was afraid of, I guess not knowing the language, but I'm so glad I got to go. I really branched out and tried as many different things as I could while I was there. It was an amazing, once in a lifetime experience and I never in my wildest dreams thought that I would hike the Great Wall of China, but being on tour with this incredible show provided me the opportunity to do that. Please note we did the Great Wall on our days off, not like one morning before a show.
Was there ever a moment when you were out on tour that sort of defined the tour for you, other than the amazing Asian experience you just shared with us?
Julia: I have to say the first thing that comes to mind is that we did our tech at the Shubert Theatre in New Haven, Connecticut. That's where so many classic golden era and beyond musicals have done their tech before opening on Broadway or done their pre-Broadway run. That was amazing. There are all kinds of plaques there telling you who all has performed there from Julie Andrews to just everybody you can think of. Most of my idols have performed there. So it was just really, really cool to know that you were on that stage where they had once stood and once worked. That was just very, very cool.
What is the strangest thing you've encountered with this show?
Julia: I'm trying very hard to think of a fun backstage story. The first thing that comes to mind is something from the tour. You know the moment in the show where they are about to do the tango? Morticia unlaces her dress to reveal her legs and Gomez says "creature of constant surprises, you have legs!" Well, there was one time where the understudy was on— she and Gomez were dating at the time, they're now married— but something had happened to her dress. Wardrobe or someone or something, I don't know the string didn't get undone but basically the string did not pull out therefore she couldn't open her dress.
She's fiddling with it and fiddling with it and all the ancestors are standing there behind her waiting to sweep in to tango and she just couldn't get it undone. Luckily our Gomez was fantastic with improv. He broke the fourth wall and turned to the audience and said "I hope she's worth the wait." He started ad-libbing with them, and she eventually had to leave the stage and wardrobe had to come and cut her out of the dress. That was really funny. It was incredible to see how the cast handled that crisis in a pinch and it really worked and the audience literally ate it up. It's one of those shows where if something happens you can totally break the fourth wall and the audience will love it. I think Gomez especially can really go nuts if something like that happens.
There is, as you know, this great number at the end of Act I called "Full Disclosure." Our readers require a full disclosure from Rose Addams, the bride, and also from Julia Lancione, the actor.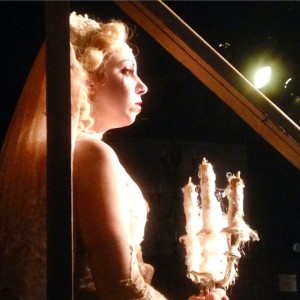 Julia: Hmm. I have to think about this one. I guess for Rose Addams…full disclosure? She loves it when Alice loses her mind and she's so happy when it happens! My subtext for myself during "Waiting" is "Yes! You go girl!" She's just so happy to see her bust out. So that's Rose's confession. Full Disclosure.
Can we come back to a full disclosure for me, I think I need to think about it some more.
Alright, I'll put you onto the final question while you ruminate over your Full Disclosure. What is it that you are hoping audiences will take away from seeing The Addams Family at Toby's?
Julia: I think audiences will love this. It's just a fun show. My husband, for example, he's not a fan of the deep musicals. Those ones that delve into the emotional pit, like Les Mis or Next to Normal. He wants to be entertained. This musical is one of those shows where you are just going to walk away so entertained and so happy. But there is this hidden lesson. They say "family first and family last" and it is. It really is all about the family. Toby's really makes you feel like part of a family. Even just coming back after being gone for 18 months I'm fortunate to fit right back in. I'm working with a lot of people that I've worked with before and it really is in a sense like coming home. We reconnect as friends, as actors on stage, and it's really cool to come home to that welcoming environment.
The show is all about accepting who you are. The whole "Define Normal" theme is really prevalent. Our stage manager made us buttons that said "Define Normal" for opening night, I know we had t-shirts with that phrase on it that we sold during the tour. It really encourages people to just be themselves and to not only be themselves but to be okay with being themselves and with being "not normal."  And I think this production is going to help people take that message home with them.
It's really interesting, jumping back to when the tour was in Asia, a lot of the girls in the audience loved Wednesday. She was like a pop-star celebrity to them. She got so much fan mail about how this show really taught these people to really be themselves, to appreciate their quirks, and to not have to be this perfect blonde-barbie-doll image. They were really able to identify her and they thanked her for letting them into her darkness which helped them embrace themselves. They thanked her for showing them that it's ok to be who you are.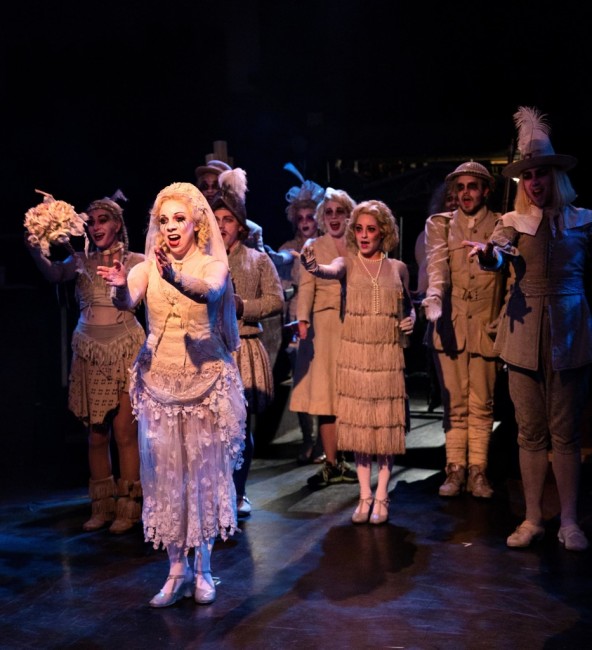 I think the intimate staging at Toby's brings that message through that much more strongly to the audience because they are close to us. They are right in the middle of the Addams family, who are strange and kooky and anything but normal, but that's okay! I hope that when audiences leave at the end of the show that they realize it's okay to just be who you are. The Addams don't' care what other people think about them and they're happy.
Alright, Julia, time for your Full Disclosure.
Julia: Okay…here's one that's embarrassing but I'm going to put it out there. Full Disclosure: I love to cook and bake. Sometimes when I'm home alone I narrate what I'm doing as if I'm Giada De Laurentiis, as if I have my own cooking show. There you go. Everyone can make fun of me now, which I'm sure they will. But I'm embracing it!
The Addams Family plays through April 19, 2015 at Toby's the Dinner Theatre of Columbia— 5900 Symphony Woods Road in Columbia, MD. For tickets please call (301) 596-6161 or purchase them online.
To read the TheatreBloom review of The Addams Family, click here
Part 2 of the Move Toward the Darkness Interview Series can be found here. 
Part 3 of the Move Toward the Darkness Interview Series can be found here.
Part 4 of the Move Toward the Darkness Interview Series can be found here.