It's family first and family last and family by and by! When you're an Addams? You do what Addams' do or die! Finishing out the Move Toward the Darkness interviews, we bring the series to a close with the patriarch of the family, Gomez Florencia Addams. Toby's Co-Artistic Director is back to the stage after nearly a year's acting hiatus and is loving every minute of what this creepy and kooky papa character has to offer. Sitting down with Larry, we get this inside dish on what it's like to be an Addams.
Where have you been for the last year, we know we haven't seen you on stage.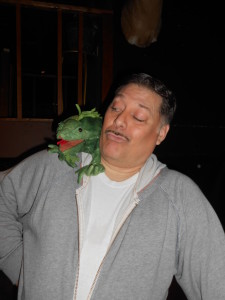 Lawrence B. Munsey: That's not entirely true, you know. You just haven't seen me on the Toby's stage. I was in the ArtsCentric production of Jesus Christ Superstar back in the fall of 2014. But other than that I've been behind the scenes, directing and costuming mostly. I directed Mary Poppins over Christmas, and Memphis just before that. Both of those were co-directed projects with Toby. (Toby Orenstein of Toby's Dinner Theatre) and then I costumed Pirates of Penzance last summer, I directed Shrek and before that I was on stage as King Arthur in Spamalot.
So you're playing Gomez. What was the appeal to come and do The Addams Family?
Larry: Gomez Florencia Addams. Why did I want to get back on stage? Why not? It's just a fun show! And it's a lot of people I like working with, plus Mark (Director Mark Minnick.) It's really a big show about family and Toby's is like my family.
Were you familiar with the show at all before you came out to auditions?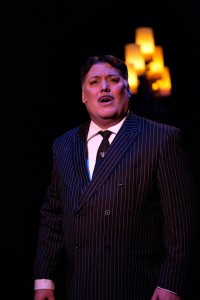 Larry: Yes. I had seen it on Broadway but I hated it. I absolutely hated it. It made no sense. It felt unfinished. There was a giant squid. It was awful. But then I saw the tour with all the rewrites and I loved it. They really fixed it up. I can't say this enough but it was just so much fun watching the tour version of the show, and it's sweet. Sweet and cute. And everyone needs a little sweet and cute in their lives once in a while.
Were you thinking Gomez when you came into it?
Larry: Yes. I wanted Gomez. I don't know, I wanted to play a Latin lover. Plus he's really pretty kooky and there's a lot of fun things you can do with his character and I wanted to do something where I could really just go crazy and have fun.
Did you have a familiarity with The Addams Family culturally before the musical?
Larry: Absolutely. Now I didn't watch the TV series while we working on the show, I know some people did. I had already watched the show, a long time ago. The reruns or whatever. Now, I don't know who it was— multiple people in this cast— who said they watched the originals on TV, but there is no way. Unless they were watching from inside the womb or fresh out of the womb. And if they remember that I want their memory. But I definitely watched the reruns growing up. So I knew who all the characters were, and they're easily recognizable. I think I watched the movies in the 90's. I can't remember.
Who's your favorite Addams character?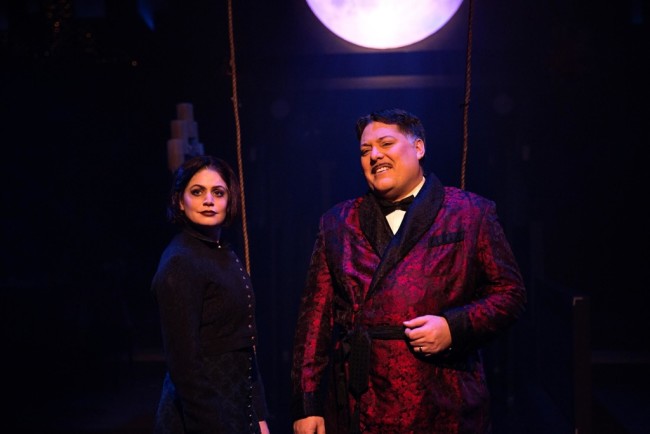 Larry: I think it would be…wow this is tougher than I thought. I don't know. I mean obviously I like Gomez because he's fun and quirky but I think I would actually say Wednesday. She is never afraid to be herself. It makes me feel like I've done my job as a father.
So you're the family patriarch. How do you relate to Gomez and how are you different from him?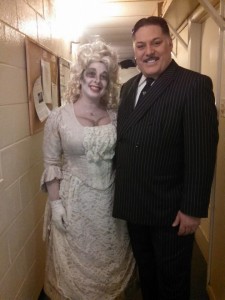 Larry: I think that the sense of family is very close to me. And how an entire family can live all in the same house under one roof and be very happy? I would love that. I would love for my whole family to be living under the same roof. Now, different? Well I'm not Latin! But other than that? I don't know. I mean I feel I'm fun and vibrant just like he is, we have a lot of similarities between us. I guess I don't have any kids. So that's one way we're different. But I have my niece and nephews that are just as important to me as Wednesday and Pugsley are to Gomez. I really guess it's just that I'm not Latin. And I'm not married. Though I was married once.
You get a pretty big chunk of the singing in this musical. Three big solo numbers and you get to lead a fair bit of the ensemble numbers. What has that been like as a performer for you?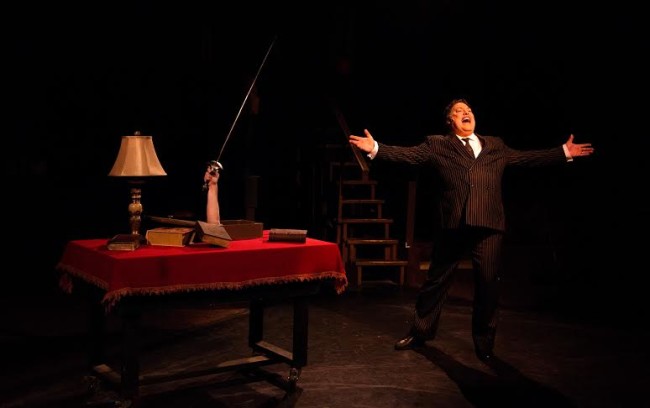 Larry: Good. Fine. Fun! It's written in a very easy place in my voice so I don't have to do as much vocal resting. It's not too low, it's not too high, it's in a sweet spot. I like that it sits easily— that's not to say I don't have to work to make it sound great every night, it just means that I'm not really exhausting myself vocally to get it there every night. All roles should be written in the performer's sweet spot and they should have as much fun with these songs as I'm having if they can help it.
Do you have a favorite of your three solos numbers?
Larry: I think it's "Happy/Sad." I really think it's just a sweet and simple song. There is nothing like a father's love. Gomez gets to show that with that number. He's about to give away one of the most precious gifts that he can give, his daughter, and it's just tender and touching. Now I'm very close with my father so that song really strikes an emotional chord for me. Come to think of it, he was pretty emotional at my wedding. He's emotional over everything, actually. He's very sentimental. It's very sweet and the song reminds me a little bit of him. I love my dad. And my mom. I love my whole family.
You get to do a fair bit of dancing in this show too. At least more than you did in Spamalot. Do you have a favorite dance number?
Larry: Well it's fun to come back to dancing after I haven't done it in so long. You know aside from the break I took, I had two big lead roles before that that just didn't dance. King Arthur doesn't dance, that's all the knights. And there was definitely no dancing as Javert when we did Les Miserables in fall of 2013. So it's great to come back and get back in the swing of things. I have a dance background, I've been telling people for years I was a dancer first a singer second. And getting to dance as Gomez is just so much fun.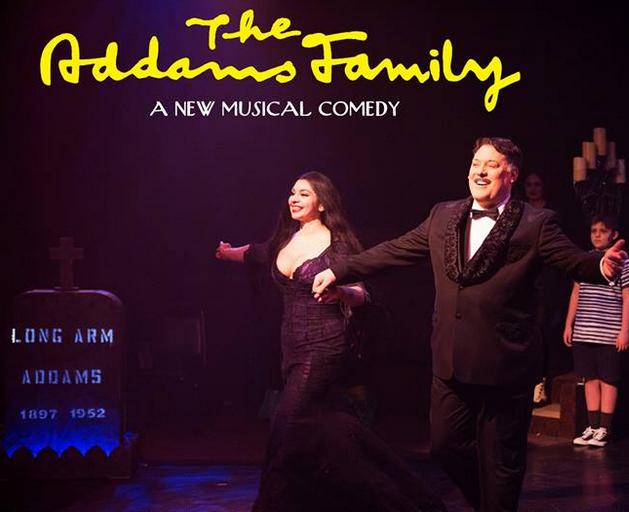 "Tango De Amor" absolutely no question. It's a tango. Who doesn't love a tango? And I've gotten to tango with both Priscilla (Priscilla Cuellar, Morticia) and Heather (Heather Beck, Morticia's understudy) now on stage during the show. There were a few matinees where Heather went in for Priscilla and I guess that makes me lucky getting two different tango partners. It's funny though because when you're dancing the tango it's all about timing. And you mark the timing one way with one of them, and then you get up there with the other one and the timing is completely different. It was a challenge, but it was a great deal of fun too. They both move really well and make beautiful dance partners.
What has taking on the role of Gomez Florencia Addams taught you about yourself as a performer?
Larry: It has taught me how to persevere. I know that sounds really stupid but I'm being serious. I had a cold— I almost never get sick during runs— but I had a cold, it was actually so bad I missed a night of the show— which again almost never happens— but I love this show so much and it's so much fun I didn't even want to miss the one night I missed. This show has taught me how to work through that. You know where to place things, how to still get a good quality character and vocal sound despite not being at 100% health. It's also definitely taught me how to pace myself so that I'm not burning out in the middle of an eight show week at only four shows in.
What is the moment of the show that really speaks to you or defines the show for you?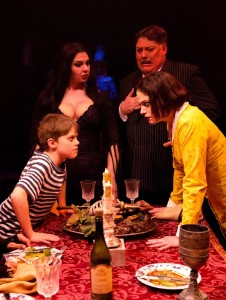 Larry: I really think that it would have to be at the end, it's the song. You've got to embrace it. Everyone has darkness. Everyone has despair. So you embrace it. You make it your own and it no longer has the daunting effect and it can't run your life and rule you. It's nowhere black. And besides, who says black is not a pretty color?
That was the perfectly formulated answer that segues into this next question. "Move Toward the Darkness" is that big final number, what does that mean to you as a performer?
Larry: It means that we, through all our differences, can still be one and cohesive and not change. 
Why come see The Addams Family at Toby's?
Larry: It's a family show! Literally! I mean, yes bring the kids, by all means the more the merrier. But it's actually a show about family. No matter how kooky or how crazy, you're all in it together. Every family has one, and if you're southern you have several. I can say that I'm southern. Come see it because it just has great family values in it. It's home and hearth, you stick up for each other, you protect each other, and you love each other unconditionally.
And our final question. We need a full disclosure from Gomez Addams. And a full disclosure from Larry Munsey.
Larry: Gomez would like to get one thing straight. Grandma Addams disclosed that she's a dealer? Well we'd love to know where all of that money is going. She said she uses it to pay rent? We've never seen a dime. But getting back to Gomez…I think Gomez keeps many secrets from Morticia. Many. Full Disclosure.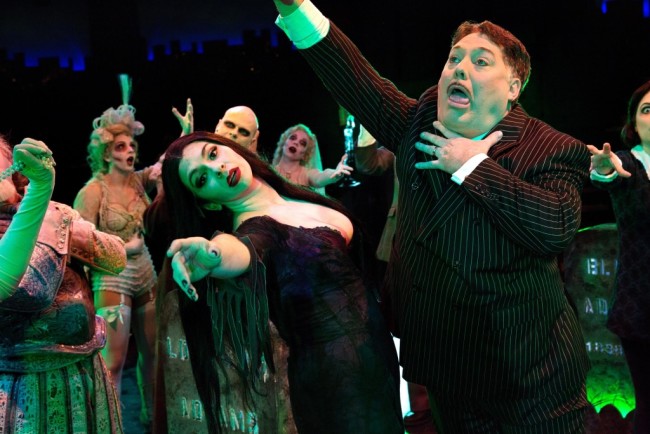 My full disclosure is…I don't know if this is a full disclosure but my nephews fill my heart. It's probably not; everybody knows how much I love my nephews and how much they mean to me. Let's see…I kind of live like an open book. I don't keep secrets. I have major hearing loss. I don't actually think people know that. From childhood; I never went to a regular elementary school starting out. I went to a specialty school because I had to be tested all the time for my hearing. My speech was bad because I couldn't hear. I was in that special school until third or fourth grade. So that's mine. Full Disclosure. 
The Addams Family plays through April 19, 2015 at Toby's the Dinner Theatre of Columbia— 5900 Symphony Woods Road in Columbia, MD. For tickets please call (301) 596-6161 or purchase them online.
To read the TheatreBloom review of The Addams Family, click here.
To read Part 1 of Move Toward the Darkness: Ancestor Addams— Julia Lancione click here.
To read Part 2 of Move Toward the Darkness: Lurch Addams— David Bosley-Reynolds click here.
To read Part 3 of Move Toward the Darkness: Grandma Addams— David James click here
To read Part 4 of Move Toward the Darkness: The Beinekes— Darren McDonnell and Elizabeth Rayca click here.
To read Part 5 of Move Toward the Darkness: Wednesday and Lucas— MaryKate Brouillet and AJ Whittenberger click here.
To read Part 6 of Move Toward the Darkness: Morticia Addams— Priscilla Cuellar click here.