Scars heal, glory fades, and all we are left with are the memories made. Boom Theatre Company is assuring that you make potent new memories of what intense emotional theatre is meant to feel like with their production of Rajiv Joseph's Gruesome Playground Injuries. Directed by Ryan Nicotra, this two-person show is an intense look at the way traumatic injury experiences can inexplicably bind friends in emotions that dig much deeper than the surfaces of the average friendship. Joseph's incredible writing under Nicotra's skilled direction results in an hour-long drama that clutches tightly at the audience's heartstrings while deliberately destabilizing the expectations of friendship, love, and life experience.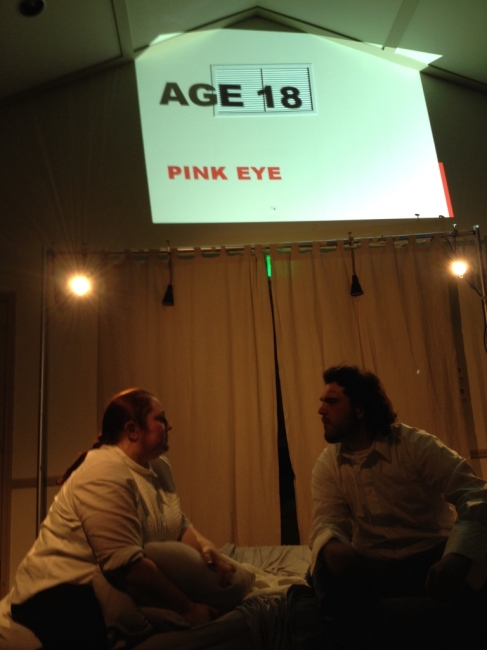 While Boom Theatre Company's current found space theatre causes some scene change issues, the pacing of the show is otherwise exceptionally tight. The emotional momentum, which Joseph has layered into each non-linear sequence, grows exponentially as the play progresses despite the skips in time. Nicotra's guidance forces the characters to focus on the three key components of every scene— their ages, which is reflected through mannerisms, vocal adjustments, and their physicality, and their injuries— the external physical ones and the internal emotional ones.
The show is hardly meant to focus on the disgusting scars and wounds which the two characters incur throughout its progressions, but Gore and Make-Up FX Artist Samantha Allen should be noted for her realistic approach to scarification, especially on the Kayleen character. Many of her wounds are meant to have existed for quite some time, and Allen's approach makes them look authentically aged; faded but still a very raw part of her anatomy.
Nicotra's use of a projector between scenes to inform the audience of the varying non-sequential age shifts is clever, and once it is projected directly over the main play space, rather than off to the side of house right, the audience will perceive its effectiveness more fully. Nicotra's set is an interactive notion that draws the audience more fully into the experience. Patrons are asked to fill out a sheet telling their own personal gruesome injury story and to pin it to the string that frames the play area. The set will not be complete until the final performance of the show on November 22, when the last audience member's story has been added. This is a unique and unusual way for theatergoers to feel as if they've incorporated their own experiences into the shared experience of the actors in the show.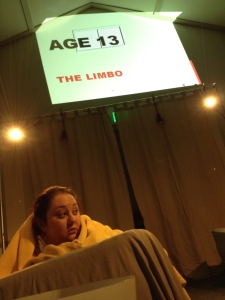 The bond that Kayleen (Jennifer Hasselbusch) and Doug (Anthony Chanov) share runs deep and is twisted fiercely around their injuries. Hasselbusch and Chanov give intense performances throughout, and play mainly on an even field with one another though there are times where Chanov's expressions and vulnerability supersede those of Hasselbusch's if only briefly.
Hasselbusch masters the moody repugnance of a teenage girl who doesn't have a handle on her own hormonal emotions during the scenes where her character is still experiencing adolescence. The epitome of brooding emo teen comes seeping out of her physicality during the school dance scene and every girl who lived through middle school can relate to her in this moment. Her portrayal of Kayleen at age five is her most impressive; fully grounded in the character's childish mannerisms and vocal patterns that make her as a young tyke very believable.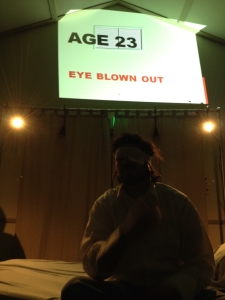 Chanov is emotionally grounded in the intensity that his character brings to each scene. Despite the dark humor of being accident prone, his most striking scene comes during his return from college; a solid moment of trying to address the reality of drifting apart from someone to whom he was once close. Chanov carries a consistent intensity through every scene, even when he's playing his character's younger self, creating a striking presence throughout this performance.
The show is moving; inspiring in a sense, encouraging the audience to examine more closely their own personal relationships and how injuries both physical and emotional have impacted their lives along the way.
Running Time: Approximately 75 minutes with no intermission
Gruesome Playground Injuries plays through November 22, 2014 at Boom Theatre Company at the Unitarian Universalists of Fallston— 1127 Old Fallston Road in Baltimore, MD. Tickets are available for purchase at the door or in advance online.