All the world's a stage and the men and women of the Shakespeare Theatre Company are divine players in the 2014/2015 season opening production of As You Like It. One of Shakespeare's more amusingly confusing comedies with romantic subplots twisted hither and thither all throughout, the play entreats theatergoers to delight in the marvels that are love, folly, and foolishness whether ye be man or woman. Directed by the critically acclaimed Michael Attenborough, the show's whimsy and bizarrely conceptualized themes engage the audience over the course of the evening and reminds the world that love can be a powerful potion when drunk in the eyes of truth.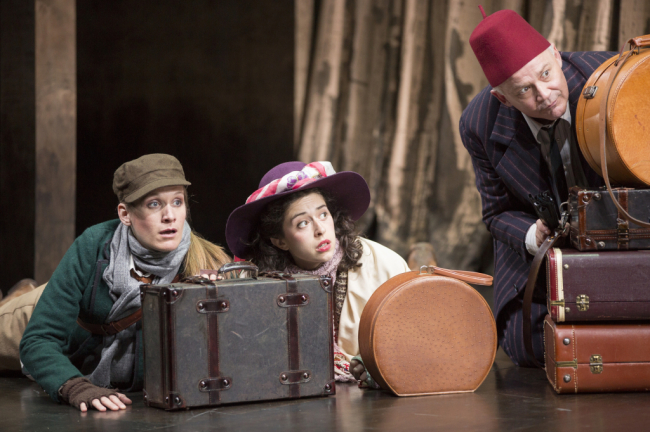 The show's aesthetic, albeit disjointed, is enticingly serene. The minimalist approach presented by Set Designer Jonathan Fensom falls short of delivering on true minimalism. While the wooded curtains that fly in and out of the space to shift locations throughout the Forest of Arden are delicate instruments of whimsy, they deliver a sense of underachievement in the overall design work. Fensom also serves as the show's Costume Designer and the period from which he draws his inspiration is vague at best. Though the costumes are radiant, particularly the gowns on Rosalind and Celia in the opening scenes, there is no consistency with them to each other nor to the minimalist approach to the set. This perpetuates one of the show's major issues— a sense of cleverly crafted elements that do not work as a part of a cohesive functioning show when they all come together.
Lighting Designer Robert Wierzel and Sound Designer Steve Brush create similar moments of artistic genius that just don't quite fit into the overall picture. Wierzel and Brush's moment of inspiring beauty often fall into alignment in tandem in extraneous action moments without text. These moments— like when Rosalind is first presented, or when the Duke very painstakingly switches in and out of his garments to show that the same actor is playing both Dukes— feel almost like picturesque still-captures from a film. The cinematographic element that is infused into the story, albeit beautiful, feels disjointed. Composer Thomas Newman, whose original compositions underscore these moments, should be commended for his creations as they do stir emotions quite soundly in their brief existence.
Director Michael Attenborough drives modernity into the production and in places it works while in others it does not. Attenborough does, however, keep the show moving and continuously building momentum, each scene clipping upon the last's heels. His inclusion of Hymen (Te'La Curtis Lee) while fascinating in concept feels arbitrary in execution. She wanders in and out of scenes, sometimes presenting them as if they were her story, with little rhyme or reason for which scenes this occurs. Sometimes the actress lingers watching the events of the scene, other times she does not. Her full purpose is clear in the final scene, though her orchestration of the intro to the final dance would had been better served if she had remained a silent entity. Her singing of the wedding ceremony, though Lee's voice is gorgeous, feels strangely superfluous. Choreographer Karma Camp deserves a nod for her intense routine featured at the wedding celebration; another out-of-place visual spectacle but fascinating to behold just the same.
The only performance falling short of STC's high performance standards are that of Celia (Adina Verson.) Playing the logical cousin of the two, Verson's performance feels stifled and at the best of times lukewarm in comparison to everyone else upon the stage. This may have been in an attempt to allow the lovesick exuberance of Rosalind to radiate through more strongly, but in doing so it made Verson's character feel flat and one dimensional. Despite her lack of stage presence, her physical closeness with Rosalind was executed without exception, the pair looking like porcelain bookends when pressed together in their opening scene gowns.
Minor comic roles like Corin (Happy Anderson) Audrey (Tara Giordano) and William (Jonathan Feuer) served their purpose with brilliance. Even Sir Oliver Martext (Jeff Brooks) played up the affectations of his character's caricaturesque arrival and departure. Giordano and Feuer both mastered an absurd country-bumpkin accent and played up their rural simplicity to comic ends. Silvius (Stephen Pilkington) and Phoebe (Valeri Mudek) were of a similar inclination; both performers working the minutia of their characteristics into heightened portrayals of what made them stand out from the educated folks of court.
Timothy D. Stickney, playing both Duke Frederick and Duke Senior (a not entirely uncommon practice in this production) gave a noteworthy performance in his dual roles. As Duke Frederick, Stickney delivered a visceral temper that was biting with arrogant rage. As the exiled duke his performance was softened a great deal; regal and wise but steady in his delivery and his movements.
If ever there were a fool, Touchstone (Andrew Weems) be he. Weems finds an exceptional balance in his character's comic humors; working with shtick, wit, physical comedy, and all manner of amusing vices in-between. Dressed a bit like various incarnations of Doctor Who, Weems understanding of comic timing and delivery is impressive, particularly when engaging with or at the very least in front of the melancholy Jaques (Derek Smith.)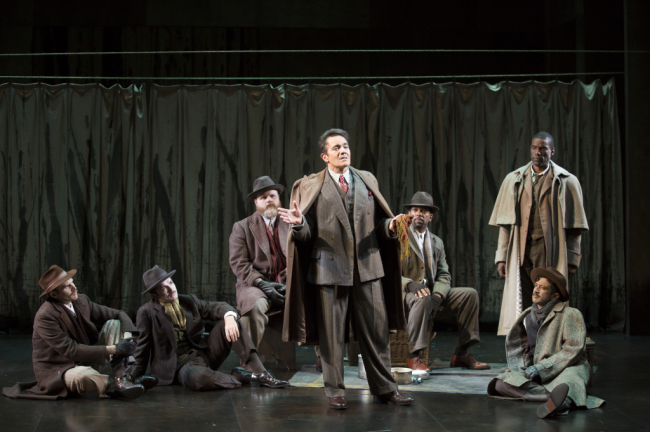 As the moody and melancholy Jaques, Derek Smith delivers a striking and wildly captivating performance. Despite the character being more of a cameo fit, Smith makes his presence felt and Jaques becomes a focal point every time he is in a scene. The flippancy and sarcastic nature of Smith's delivery is humorously laced with undertones of the character's misery. Smith delivers the seven stages of man monologue with intrigue; an enigmatic moment that draws the audience to his every word, leaving a profoundly striking impression in its wake. Smith's performance left the audience craving more; even his departure in the final scene a uniquely remarkable ending for his character.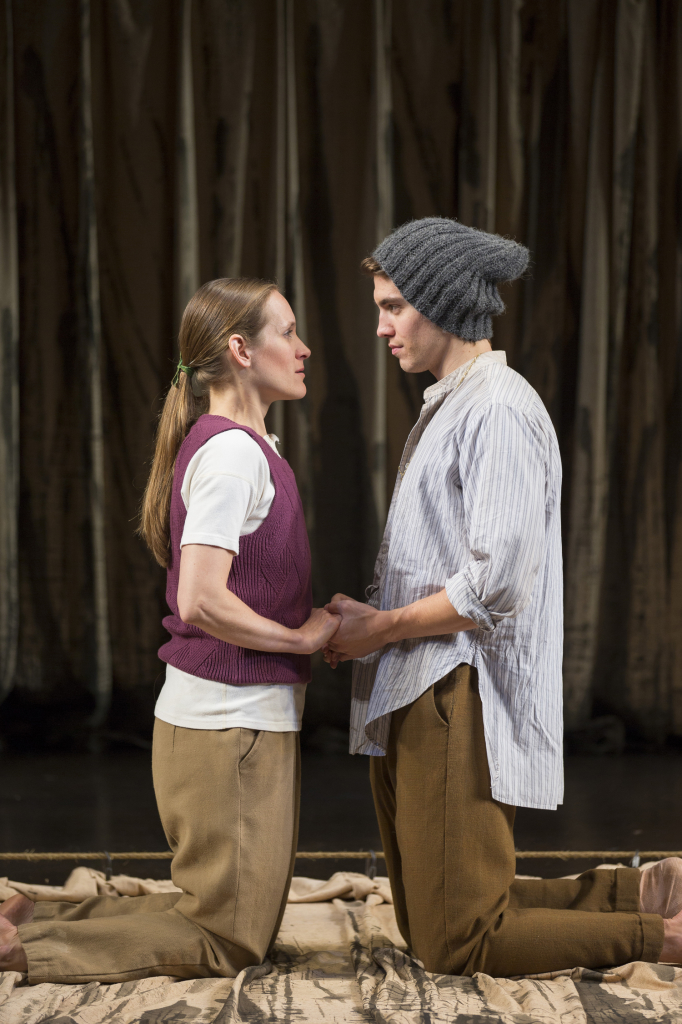 A Shakespearean comedy is little more than a tragedy without death if it isn't for the lovers, in this case Orlando (Andrew Veenstra) and Rosalind (Zoë Waites.)  Veenstra and Waites both give dynamic performances, well-rounded in the growth of their characters as well as the startling shifts they make from the beginning of the performance through to the end. Veenstra delivers vicious fury in the opening scene against his brother Oliver (Gregory Wooddell) which is expressed at the height of his abilities. Seeing his temperament settle into the gushing lovestruck tomfoolery as he encounters Rosalind is a delight.
Their initial meeting after the wrestling match is loaded with giddy stupidity on both sides; a comic gem of a moment for the audience to enjoy. Once Veenstra encounters Waites in guise as Ganymede their banter is both swift and compelling to the audience's eye. Waites gives a stellar performance throughout, both as the doting and lovesick Rosalind, and in guise as her masculine counterpart. The excitement and enthusiasm that surges through her, often resulting in comically hastened delivery of lines, is irrepressible. Her understanding of how to express emotions through the thick vernacular of the Bard's dated language is exceptional and the pains of her lovesick mood are felt hard and felt often throughout the performance.
Be you man or woman the show will provide three hours amusement even if conceptually all the puzzle pieces don't quite fit into place just yet. As You Like It will serve any romantic wishing for a good evening at the theatre well, and should be seen during this fall season.  
Running Time: 3 hours and 15 minutes with one intermission
As You Like It plays through December 14, 2014 at the Shakespeare Theatre Company on their Lansburgh Theatre Stage— 450 7th Street in Washington, DC. For tickets call the box office at (202) 547-1122 or purchase them online.