TheatreBloom rating:
Warning: The theatre is no longer safe. The infection has spread. There are rules to follow to remain safe and save what remains of mankind. Follow the rules and you might survive. Single Carrot Theatre is no longer safe. Social Creatures is taking over. Instructions for basic survival as well as all dialogue witnessed inside the containment collective has been documented by Jackie Sibblies Drury. Kellie Mecleary previously served as a director of operations, ensuring that the remainder of human kind worked to follow Drury's rules, but much like Drury has gone missing in action and is now listed as vanished from the roster of surviving human beings. Follow the rules and you might survive. A fully immersive high-intensity experience is your only hope for survival. The past no longer matters; who you were, who they were. Basic instincts kick in, survival is the only goal. You have been warned.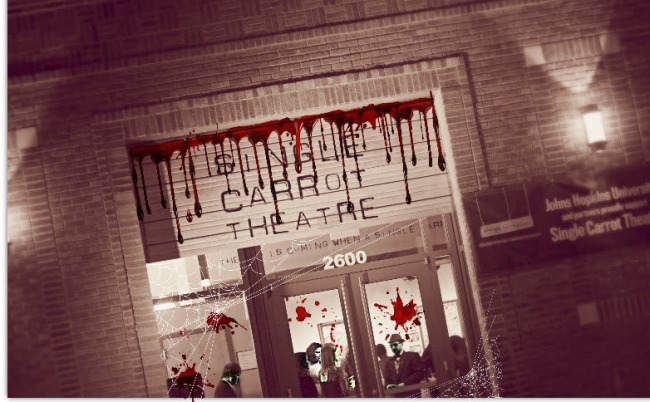 The premises have been temporarily secured. Now missing and no longer accounted for Visual Architect Sarah Lloyd has ensured that full camp-like constructs have been erected inside the derelict remnants of this theatre building. For the safety of any taking refuge in this makeshift shelter, Lloyd working alongside former CDC member Claire K. Brooks— now also missing in action— have created a fully sealed hermetically protected biohazard quarantine. This has been developed for use in the event of an invasion or intrusion. Sanguinologist Samantha Kuczynski was consulted on the quarantine's ability to contain high volume blood spatter as well as other unsavory bodily contents, but like the other two aforementioned members of this production force is now vanished from the roster of humanity.
Before the infection, of which very little is known, spread to the masses the encampment was known to be a socially experimental testing grounds, designed ideally to contain the creative and artistic endeavors of performance artists. The space had previously been fitted with lighting fixtures, compliments of master electrician Joseph Walls. This, however, proves mostly forfeit in regards to usefulness in the facility's current condition as Walls' lighting are prone to outages, flickering, and bouts of terrifying atmospheric disturbance. Audiologist Steven Krigel was brought in to consult on the noise frequency of the space before it became condemned and unsafe. It was discovered that the slightest sounds— even those of phantom sourced electronics— would be a great disturbance to any participating in the social experiment, and that pop music in particular would be highly effective for mood elevation in times of weary morale.
What is about to be unveiled is a breach of protocol at best, and may cost you your life on the other end of the spectrum, so read on at your own risk, you have been warned. Follow the rules. The major rule is to know nothing of the past. A concentrated force of what remains of humanity has been documented by vanished Videographer Matthew Kelley. Watching seven individuals try to stay alive in the face of a mortal crisis reveals the true nature of humanity and how quickly situations can escalate when tempers are explosive and resources are limited.
Very little is known about the seven individuals— previously eight until Mr. Smith (possibly previously known as Dustin C.T. Morris) went missing. Mr. and Mrs. Jones (aliases James Bunzli and Sophie Hinderberger respectively) appear to be the head of the collective with Mrs. Jones being a neurotic control-freak at the best of times. Mr. Johnson (formerly Michael Salconi) is a crotchety old curmudgeon that keeps to himself. Mrs. Wilson (previously Joan Crooks) and Mrs. Williams (in a time long forgotten she was Marianne Angelella) have a curious, albeit unspoken, intimacy that does raise questions. Mrs. Smith (once known as Genevieve De Mahy) is bereft and beside herself since the disappearance of her husband.
The rules of civility are secondary to the rules of survival in this event. Mrs. Jones in particular sees to that with her spastic authoritative outbursts. Mrs. Smith is completely inconsolable and takes solace in getting high on cleaning chemicals; the physical effects of which are immediately present. But the real drama starts when an unknown stranger, referred to as Mr. Brown (identified previously as Joshua Thomas) breaches the barrier of the shelter and stumbles into their midst. Mr. Brown does have a sense of genuine humor about him, despite his experiences outside in the wasted remnants of the world. The nurturing nature of Mrs. Smith and eventually the kindness of Mr. Johnson bring the quarantine situation to a head and everything comes to a rather disturbing head relatively quickly. Anyone favoring Taylor Swift's latest "Shake it Off" will be quickly remedied of that illness if you're lucky enough to survive the outbreak.
There are rules. Follow them. Protect yourself, learn from these seven so that when the outbreak spreads to your local theatre you are aware.
Running Time: Approximately 90 minutes with no intermission
Social Creatures plays through November 2, 2014 at Single Carrot Theatre— 2600 N. Howard Street in Baltimore, MD. For tickets call the box office at (443) 844-9253 or purchase them online.