TheatreBloom rating:
The Strand Theatre is alive and well in Baltimore, presenting a newly furnished work written, created, and performed by Michelle Antoinette Nelson aka LOVE the poet. An hour-long explorative piece of theatre that confronts God in the modern world through the voices of eight individual characters where the ninth voice is meant to be that of the audience, Nelson's new work brings a series of creative mediums together in one performance that is provocative and touching as well as poignant and relevant to anyone that ventures out to see it.
While Nelson's piece is still in its workshop phase, with adjustments to be made to the performance throughout, the show's message is clear. If this is God's country where is God? The dialogue that arises between the voices on stage— all performed by Nelson— asks this question not in mockery but in true introspection. The pacing is impressive for a one-woman show, particularly as there are moments of conflicting interaction between the voices of Nelson's characters. Her ability to slide easily in and out of these characters is also noteworthy as she transitions fully from one to the next often in a quick blink of an eye.
The thing about Nelson's work that is most notable is her inclusion of poetry. Steeped liberally into every character regardless of age, gender, sexuality, background, or artistic ability, there is a rhythmic notion that is infused into all of their speeches. At first some are more subtle than others, but eventually the repetition of LOVE the poet shines through all of these characters, making them more extrapolated personas of herself than fully separate characters. This is not necessarily a bad thing as the words, messages, and meanings found in these poetic segments are quite profound.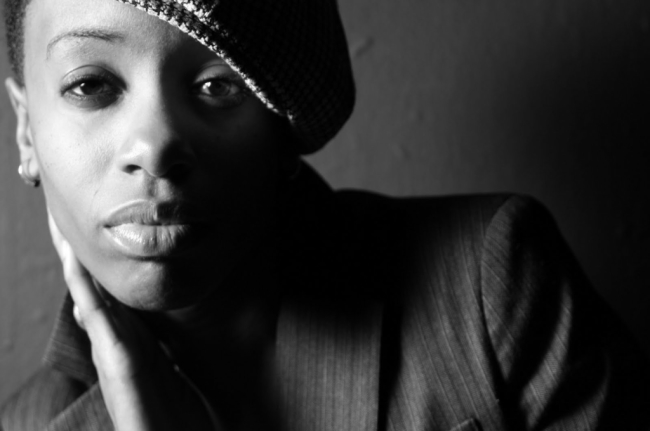 The structure of the performance is what hinders the overall experience. Presetting the stage would boost the momentum of the production as a good five to ten minutes is spent prepping the seats of the bible study with the accessories or costume pieces that will help her transition into these characters. Rather than flashing through each of these setup moments have these props and costume pieces preset. Nelson's writing and crafting of the characters is all the introduction needed because they are so fully fleshed out even as segments of her own psyche that the preset involved in the performance feels superfluous.
Lighting Designers Brad Norris and Lana Riggins also don't do her work a great deal of justice, bathing her in harsh blues during these segments. The show speaks well enough on its own and could do without the color floods. A similar note could be made for the prerecording of LOVE's extra poetry; while impressive it feels extraneous to the performance piece as she spends a great deal of the show at the microphone as LOVE delivering poetry from her book. Let these moments radiate and shine rather than being bogged down with the excessive background of the poetry loop at the beginning and end of the show.
An empowering show for women of all races and religions; this show provokes intense questions about self identity as well as religion and God in the modern world and an audience discussion with the artist is encouraged after each performance.
Running Time: Approximately 70 minutes with no intermission
God's Country: One Woman. Nine Voices. One Nation. Under God? plays through October 19, 2014 at The Strand Theatre currently housed at St. Mark's Lutheran Church— 1900 St. Paul Street in Baltimore, MD. Tickets may be purchased at the door or in advance online.