TheatreBloom rating:
Adventure! Amelia Earhart vanishes over the Pacific Ocean: 1937. Mystery! Agatha Christie disappears from roadside, her car is found but she is not: 1926. Spectacle! Aimee Semple McPherson disappears in the ocean without reason: 1926. All three of these enigmatic exciting tales are coming together under one roof in one brand new musical at Stillpointe Theatre Initiative this fall. As the opening show in their 2014/2015 season, Vanishing Point, a new musical with Books and Lyrics by Rob Hartmann & Liv Cummins, Music by Rob Hartmann and Additional Lyrics by Scott Keys, this adventurous journey is exhilarating and fascinating. Three exceptionally talented voices taking flight on life's greatest journey in this performance; the show has an angle for every type of individual that goes to the theatre. Directed by Ryan Michael Haase, with Musical Direction by Ben Shaver, this Baltimore area premier is the musical to catch this fall if you need excitement and thrills in your life.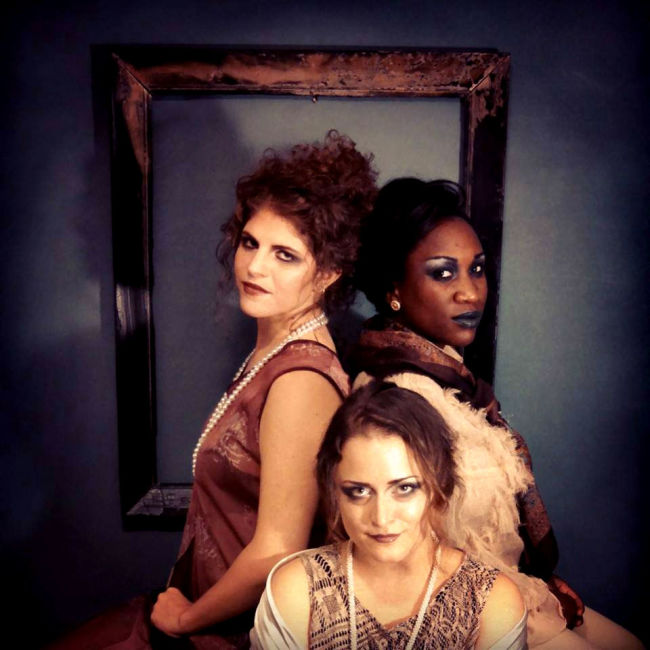 The concept of the musical is ingenious; the construction of it even more so. Creator Rob Hartmann delves deep into the psyche of these three powerful females who changed history and put their names on the map with his work. Each character is fully fleshed out and defined by their failures and insecurities as well as their relationships with men and their mothers. Hartmann's unique approach to the show— having only three women perform multiple side-character roles as well as their core figure— creates a fascinating concept to experience. Each main character is given their own style of music in Hartmann's score; Amelia Earhart has the soaring melodies that are crisp and clean like a high flying breeze. Agatha Christie has patter tunes that slink along in bouncy shadows with clarinets oodling along in suspense, while Aimee McPherson is given the rollicking sounds of the holy rolling gospel. When their songs intertwine the musical styles shift and move like a fourth living entity in this production; something truly wondrous to experience.
Hartmann's music is haunting, starkly unsettling at times, which makes it perfect for the overarching themes of adventure and mystery throughout the show. It's original, inspiring sounds really give the three performers a great deal to work with in regards to creating beautiful striking moments upon the stage. The lyrical brilliance of the score is stunning; the way each story from the core characters unfolds in a truly vulnerable but determined fashion is groundbreaking. The variety of musical style is as impressive as the compositions themselves, jazz and ballad, patter and whimsically entertaining numbers as well. Hartmann's work must be experienced to be believed in all its resplendent glory.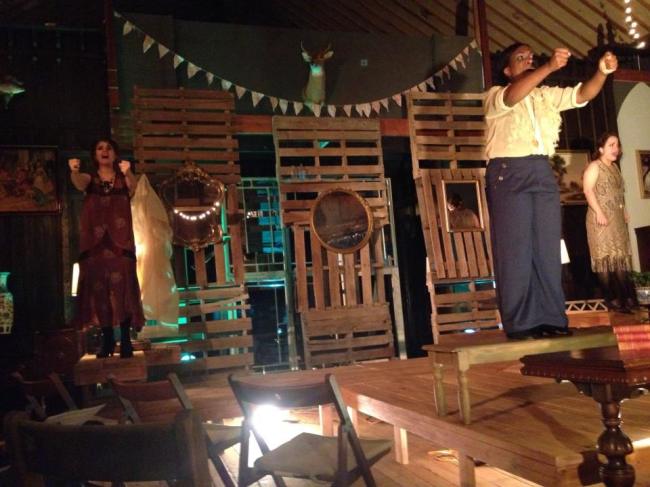 Director Ryan Michael Haase makes bold casting choices with the three performers of the show; strong woman of forceful vocal power, emotional depth, and concentrated acting ability— a trifecta of performance perfection. Haase's lighting in the intimate space inspires those feelings of the show's main three concepts: adventure, spectacle, and mystery. Lighting the stage from underneath creates shadows in curious places as well as a glow that sometimes follows the characters when they trod the boards. Haase's Scenic Designer work (aided by Alexander Fox and Church & Company) further extrapolates the core of these concepts. The mirrors on the wall— each suited in style for the character they reflect— draws even further meaning into the piece and showcases Haase's brilliance as both a Director and a Designer.
Indescribable is the best way to attempt to articulate the honest vocal magic that performers Zoe Kanter, Nina Kauffman, and Ines Nassara are producing. Songs where their voices blend in spectacular harmony, like "All Mothers Do" a number where they are singing as each other's character's mother, are blossoming moments of aural bliss that start of quietly and grow into stupendous sound. "Leave it Behind" results in a similar sound quality; three voices crying out in spiritual agony as their souls spiral up in a heated burst of flames. It is a truly striking way to end the first act.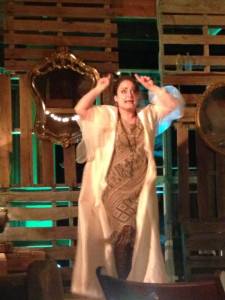 Nina Kauffman plays the rebellious Aimee McPherson; a spitfire religious roller who has energy for miles. The level of versatility that Kauffman brings to the character is intense; being able to switch from fearlessly determined in the first act to broken and uninspired in the second. Her ferocious rendition of "Yes to No" reignites a passionate flame within her dwindled spirit that is fueled raw ripping anger and regret. It is one of her most exposed moments in the performance; raw and on the edge of emotional destruction. "The Heat" is another number that proves Kauffman's performance talent. Underscored by the haunting piano and clarinet (played by Stacey Antoine) she is vocally healed with ecstasy in this song but only momentarily before sliding down into this intensely inconsolable sorrow; one song with a range of emotions a mile wide. Not that there is any question of her vocal ability, but her performance of "On the Way" showcases an extensive range as well as style and control over her vocal technique.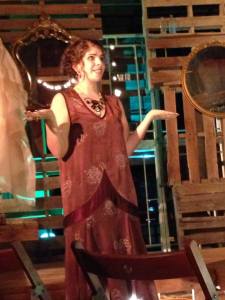 Zoe Kanter as the enigmatic and quirky Agatha Christie is an effervescent breeze that tickles the senses in this performance. Her accent alone and crisp articulation creates a mirthful amusement in her portrayal that works as a shield, albeit thinly, to the inner core of Christie. Kanter's ability to patter through "The Plot" (and its various recurring renditions throughout the performance) is commendable as a great deal of her humorous eccentricities are laced into the lyrics of these numbers. Kanter spends more time acting as a result of the way the character is worked into the show and her choices sparks a suspenseful vigor into Agatha Christie. Though not given as many ballad style songs as the other characters, Kanter seizes the opportunity when it comes with "Mysterious Affair" her voice slowly deliberate and loaded heavily with melancholy. Achieving a gorgeous lower range here, this song easily leaves you reeling at its beauty not only in Kanter's performance but in the striking way it combines all three of their stories while meaning to only be about Agatha Christie.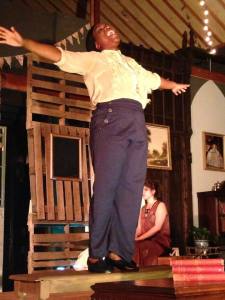 Grabbing her piece of history, Ines Nassara is the next Audra McDonald in the making with the vocal talent to blast her way through the role of Amelia Earhart. With heart, soul, and a phenomenal voice, Nassara soars through this show with flying colors. From the opening number "Adventure, Spectacle, Mystery" Nassara brings a triumphant sound to Amelia Earhart, bursting with 'can-do' spirit as if she were actually channeling the vanished pilot right into the song. There is an unsettling determination surging through her number "The Atlantic" and her versatility is second only to the ever changing flight patterns of her character's whims. "Vanity and Gravity" becomes a soul-splitting song that pushes Nassara's performance both emotionally and vocally to the brink and back; an inspiring moment ripe with intensity, a truly sensational performance. Nassara is perfection in the role; an inspiration to singers everywhere as she takes on the iconic character, particularly with her performance of "I Am the Wind."
This is the show that will change your heart. This is the show that will upend your mind. This is the show that will speak to your soul. The mystery of the novelist. The spectacle of the evangelist. The adventure of the aviatrix. Don't miss your chance to see Stillpointe Theatre Initiative's Vanishing Point before it disappears off the road late one night in the fog…or in the ocean without a trace…or just plain vanishes out at sea and is never to be found again.
Running Time: Approximately 2 hours and 15 minutes with one intermission.
Vanishing Point plays through October 19, 2014 at Stillpointe Theatre Initiative playing at Church & Company— 3647 Falls Road in Baltimore, MD. Tickets are available at the door or in advance online.