TheatreBloom rating:
What do you do to make your friends so supportive? Chaos. Agony. Emotions. Destruction. A disconnected final note from a disturbed playwright at the end of her wits? Or a wildly animated look inside the notion of psychosis in its final stages of enlightened madness. Be the judge yourself as Iron Crow Theatre kicks off its 2014/2015 season with Sarah Kane's last work 4.48 Psychosis. Often interpreted as the playwright's suicide note, or final goodbye, the work now appearing at Iron Crow as Directed by Ryan Clark leaves a great deal of room for conjecture and interpretation. A largely collaborative and movement-influenced piece of art work, the performance structure leaves a lot to the audience as far as what message they take away from it and what experience they have with it.
The words to best describe the piece are disconnected and jarring. The constant shifts in aesthetic create an unsettling notion for the audience to behold. But if you approach the piece with the notion of psychosis rather than suicide in mind, this creates a unifying them amid the perpetually moving chaos of the production. Director Ryan Clark focuses on tying the scattered notions of the brain's experience of psychosis into what the audience sees through audio-visual stimuli, text, and movement; all culminating in a dizzying and disorienting experience.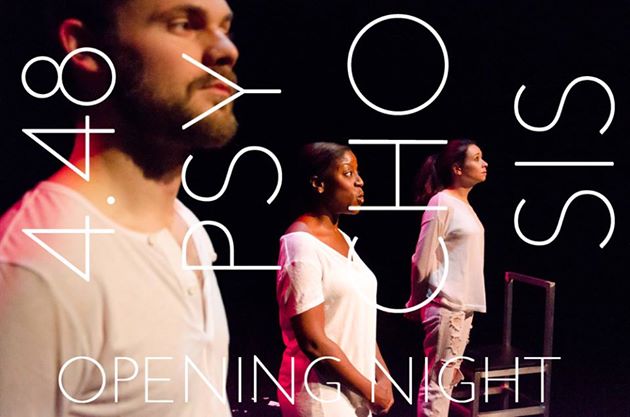 Movement coordinator Nick Horan bridges gaps between what physically happens with the performers on stage and Sarah Kane's text throughout the performance. Struggle is a heavily handled thematic element Horan plays with constantly. When the text accelerates and builds emotional momentum these speeches and monologues are often intertwined with physical restriction— fighting against a rope or tether, struggling with chairs, or some other constraint. This creates a potential symbolic representation of the constant tug-of-war with the mind against the body in a state of madness. There is something frenetic and constant about the movement that Horan infuses into the work, even during moments of stillness, there is an undercurrent of jittering motion that often echoes in the audio or visual design of the show.
Lighting Designer Alex Lawson, working with Projection Designer Travis Levasseur and Director Ryan Clark as the show's Sound Designer, create a litany of incoherent stimuli that washes over the actors throughout the performance. Clark measures out the piece with a metronome clicking away in the background; sometimes fast and sometimes slow and sometimes not at all. This stark sound of time recorded juxtaposed against some of the more disturbing imagery created by Levasseur's projections easily disrupts any attempt at connectivity as far as linear passage goes. But considering the nature of the show's subject matter, this is not necessarily a bad thing. At times the combined designs of Lawson, Levasseur, and Clark surge together in an intense moment of overstimulation, but again this seems to suit the theme of Kane's work.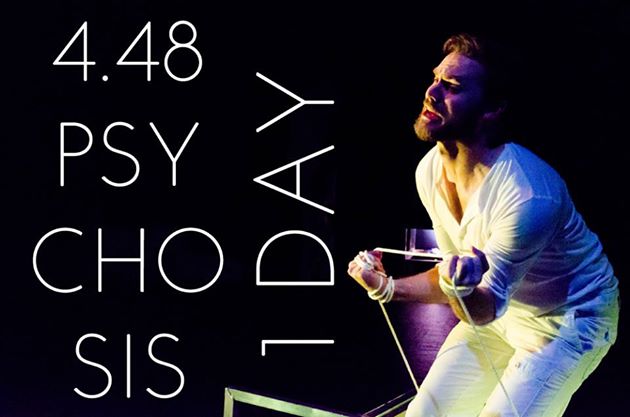 The performances, despite feeling in and out of contextual focus, are strong and delivered with vehement outcries of emotion. There are no moments of subtlety. One of the most impressive guided moments comes about three quarters of the way into the performance where the three actors— Nick Horan, Katie Keddell, and Chè Lyons stand discussing pills, symptoms, and treatments while a waterfall of medicine rains down on either projection screen. This orchestration of what could be called a scene brings an outside vantage point to the internalized insanity of the show's main conceit; showcasing how psychosis or mental instability in general can be viewed through the lens of science.
Lyons and Keddell give stunning performances, as does Horan, but it is Horan's moments of vulnerability that stand out the most in this show. This is not to say that Lyons and Keddell fail to deliver sincerity or raw emotions, only that Horan works with text that is more readily exposed to these conditions. Each of the three performers takes turns playing both the patient of whom madness has struck up residence inside their mind and the doctor trying to aide them. It is a dizzying dance to watch them shift roles so frequently, but a commendable effort for whirling through them as they do.
The performance will not be for everyone; those that do not enjoy interpretative work or that which follows no linear structure whatsoever may have trouble connecting with the piece. But there are a series of interesting messages laden within the work that make it well worth investigating.
Running Time: Approximately 60 minutes with no intermission
4.48 Psychosis plays through October 18, 2014 at Iron Crow Theatre at The Baltimore Theatre Project— 45 W. Preston Street in Baltimore, MD. For tickets call the box office at (443) 637-2769 or purchase them online.