TheatreBloom rating:
Rapunzel! Rapunzel! Let down your hair! The classic fairytale that has transcended time with its whimsical tale of the maiden trapped high in the tower with long golden hair now appears with a big screaming *POOF* at the The Puppet Company at Glen Echo Park to start their fall season on their main stage. Performed solo by company co-founded Christopher Piper, this children's fairytale classic is a fascinating engagement into the world of puppetry.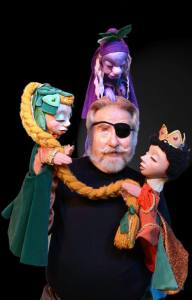 Puppet shows of this caliber are a gem of a find in live theatre these days, especially when it comes to being geared appropriately toward children of all ages, including toddlers under five. The story is simplistic enough, and the overall performance features a great deal of engaging moments for younger audiences. While the show does move quickly to keep the attention span of younger theatergoers there are moments of both and haste that could be sped up and slowed down respectively to even out the performance. There are also a great many moments, though mostly only when Witch Wartsmith tries working her magic, that the puppets are screaming so loud that it overshoots the microphone and this at times can be a little scary for the children. These minor stumbles aside, it is a wonderful experience for children and families alike.
Christopher Piper is a genius with control of these extraordinarily exquisite puppets. Unique in their style, these hand puppets are sculpted with precision and the utmost attention to detail. Crafted in tribute to the style of old-school punch-n-Judy puppets, watching these regal characters move about under the skilled guidance of Piper's masterful puppeteering is a trip down memory lane for any adult that has ever attended a puppet show and a brand new discovery for any child that has yet to do so.
His ability to play more than one character at a time makes for an entertaining show and his versatility to change and throw his voice, working with a script as well as improvised moments keeps the well-oiled machine of puppetry in theatre functioning smoothly. The miniature puppet sets are nearly as dazzling as the puppets themselves and there are even little hints of humor sprinkled throughout the performance for the adults attending with their children.
The Puppet Company has crafted an exceptional experience for young theatergoers and what better way to do so than with a vibrant and familiar fairytale where everyone lives happily ever after?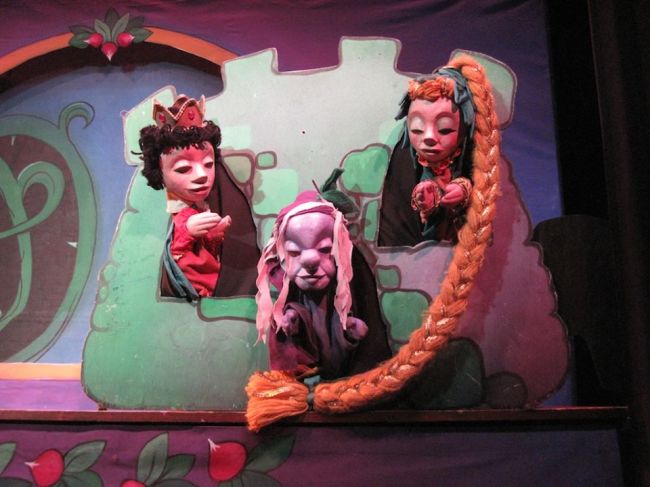 Running Time: Approximately 40 minutes with no intermission
Rapunzel plays through October 12, 2014 at The Puppet Company in Glen Echo Park— 7300 MacArthur Boulevard in Glen Echo, MD. For tickets call the box office at (301) 634-2270 or purchase them online.