TheatreBloom rating:
It's the bottom of the 9th; the bases are loaded with two outs and the home team trailing by four. Up to the plate is 1st Stage's first production of their seventh season— Take Me Out— an exceptionally moving and poignant drama that will smash home a win for theatergoers all across Washington. Directed by Doug Wilder, this intensely relevant and exceptionally well-written play stirs deep emotions in theatre and sports lovers everywhere. A gift to America's past time and the modern generation, this work is compelling and seeks out truth in a variety of topics that wends their way into daily life, even when it comes to baseball.
The notion of staging a production inside of the clubhouse locker room sounds extravagant but Set Designer Ruthmarie Tenorio crafts the epitome of atmosphere into her scenic design without distracting from the raw emotions and engaging scenes that occur between the players. With working showers and hardwood floors, Tenorio's interior design is classy but quaint; comforts one might expect for the home team. Working with Lighting Designer Jane Chan, the enormous round bulbs of the stadium glaze out over the audience to allow for a simplistic transition from inside the clubhouse to outside of the field without ever having to really change the set. For a play so heavily grounded in reality Tenorio's attention to detail— including the team logo etched into the floor of the clubhouse locker room— creates an atmosphere of true authenticity.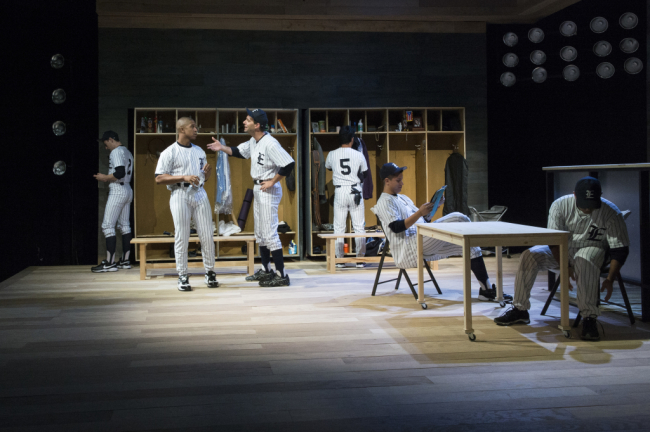 It's Sound Designer Neil McFadden that infuses an additional layer of reality into the production. The epitome of balance when it comes to underscoring scenes with soundscapes or background din, McFadden's volume levels are perfect in every moment of the performance. The bar scene has just the right hum of atmospheric sound in the background for the audience to hone in on the shift in location without distraction from the action between the characters in that moment. The dull roar of a game in progress— sounds of America's favorite pastime— filling the house pre-show to heighten the experience for the audience; all of the subtleties of McFadden's work serving to truly enhance the overall performance experience.
Director Doug Wilder brings together a group of men in this production and finds the depth of their emotional hearts and souls. There are moments of raw gnashing explosions from these characters for which no catharsis could ever be big enough to alleviate the anguish erupting from them. Wilder's director for the show allows for the performance to move a bit like a baseball game; an set series of scenes without time to hinder them, the audience enjoying every moment as it progresses to the climactic conclusion.
Supporting performances of note come from Jacob Yeh— playing team pitcher Takeshi Kawabata— and Devyn Tinker, who plays as Davey Battle, the man on the other team. Both Yeh and Tinker are featured sparingly but in the moments when their characters are present there is a resounding echo of unspoken truths radiating out from within them. This is particularly true of Yeh as his character speaks no English and he spends most of the play in silence, or cursing in another language. The brilliance of his performance is the little bursts of comic moments caused by the language barrier juxtaposed against his final monologue, which is truly striking. Tinker's character vacillates far less between extremes, playing the middle ground until his more explosive scenes near the end of the production. There is a pious sincerity that smacks of modern belief threaded seamlessly through his character portrayal as well, striking a stark dynamic between his character and that of Darren's.
Koovitz (Ray Navorio) and Jason (Tim Torre) are drawn into the sexual preference controversy as their characters confront Darren throughout the production. Navorio, playing a thick-headed and dimmer-witted individual, masters the poetry of the ignoramus, succeeding in making his character look absurd every time he spouts off at the mouth. Torre, at first eager and strung out when encountering Darren, becomes guarded and irritating. Both performers handle their nude confrontations with priceless reactions that showcase the true colors of their characters' insides.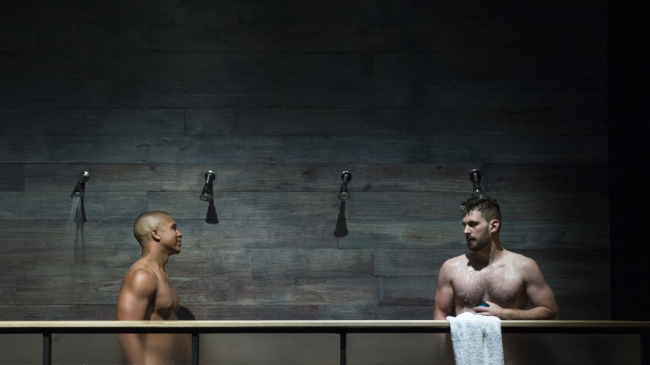 Shane Mungitt (Ryan Kincaid) is easily at first mistaken for the strong and silent type. His muddled accent that covers portions of the backwoods country Midwest keeps his back story intentionally vague. Kincaid gives a raw and gritty portrayal in this role, finely tuning his expressions to that of true ignorant simplicity. His final scene shared with Darren and Kippy is both striking and harrowing; the unsettling reality of his situation roaring out of him like a fire flaring upon contact with oxygen. There is sincerity in his words, even if they are difficult to hear and swallow as members of politically correct society.
Baseball is a game of three. Kippy (Sun King Davis) Darren (Jaysen Wright) and Mason (Adam Downs.) The triple crown of performance, character, and experience; all developed to flawless perfection in these three actors. It is impossible to eloquate with precision how truly exceptional these three performances are given their dynamic nature and the myriad of emotions that go along with their portrayals.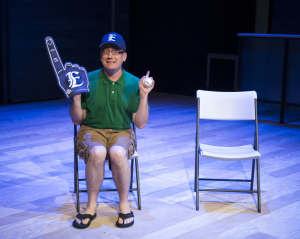 Adam Downs is all but stealing home plate with his performance. At first his obnoxious voice and tweaked out uber-nerd persona is unbearable, but much like a fungus it grows on you and before you're even away you're infested with and absolutely adoring this tweedy little insecure man for all of his flaws, even his voice. The commitment, consistency, and consciousness that Downs brings to this character is phenomenal; balancing the emotional turmoil of triumphs and failures within this terribly pitiable human being so that the audience is in love with him and cheering for him by the end of the show. What starts as a fluffy comic monologue quickly finds gravity and emotional weight under Downs skilled tongue, the relevance of his reality being extremely relatable. His moments of enthusiasm and sheer elation burn brighter than the stadium lights and there is a truly endearing quality to his character development.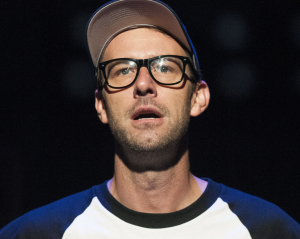 Sun King Davis, as the narrative figure, is truly the show's translator in both a physical and metaphorical sense. Davis' avid enthusiasm for explaining the game and the situation revolving around Darren to the audience creates a bond between his character and those watching. His ability to articulate emotions, actions, and souls makes him inviting and fascinating; a true interpreter for the pathos of this performance whether it happens literally during dialogue exchanges or more metaphorically as he explains things that only he can see to the audience. Davis gives a versatile performance that is both astonishing and heartwarming; the unrestrained hurricane of raw emotions that blows out of him toward the end of the show being striking.
As for Jaysen Wright as the main baseball superstar, he commands respect from center stage with little effort. The most impressive thing about Wright's performance is the unshakeable front he puts forth; tough guy attitude with skin thicker than a god's. When shocking events crack a fissure in his exterior and the raw intensity of his repressed emotions begin to seep through the experience is astonishing. There is a congeniality to Wright's portrayal despite the character's guarded nature; a humanity that is reachable and relatable to all watching. It is in his moments with Mason that he is most vulnerable and exposed; a remarkable progression from their initial encounter to the end of the show.
Words are a beautiful way to name things; to articulate the brilliance that it happening on the stage, but a better justice to this exceptional production would simply be to go and see it. Whether it's baseball you love or theatre, or both; this show has everything and will leave you humbled, harrowed, intrigued, engaged and above all, in touch with your own personal humanity. Don't strike out by missing this show before the game is over.   
Running Time: 2 hours and 30 minutes with one intermission
Take Me Out plays through October 12, 2014 at 1st Stage— 1524 Spring Hill Road in McLean, Virginia. For tickets call the box office at (703) 854-1856 or purchase them online.