TheatreBloom rating:
Jumpin' Jehoshaphats! Annie Get Your Gun is barrelin' its way over the stage of The Way Off Broadway Dinner Theatre this fall season! Shoot, it's a surefire thing that in this heartless world of glitter and grease paint there's no business like show business and what better way to experience that than with the original show business love story between Miss Annie Oakley and Mister Frank Butler? Darn tootin' it's a good thing! There's singin' and dancin' and lots of shootin'! Heck, maybe even a little bitta kissin' if yer lucky! Directed by Bill Kiska with Musical Direction by Jordan B. Stocksdale, this Irving Berlin classic is sure to tickle the tarnation right outta ya, between the gushy love story bits and all the great character actin' happenin' up on that thar stage.
On par with the impressive scenery that WoB often puts forward, both Musical Director and Director Jordan B. Stocksdale and Bill Kiska undertake the task of creating incredible sets in an incredibly limited space. Their combined scenic elegance and working knowledge of how transform such a space results in the perfect amount of spectacle to impressive the audience while adding a hint of Broadway flare without overburdening the space. The ease of transition from one wildly elaborate location to the next should be commended; Stockdale and Kiska's work speaks for itself from Buffalo Bill Cody's Big Top to the luxurious New York City Brevoort hotel ballroom and every place else in-between.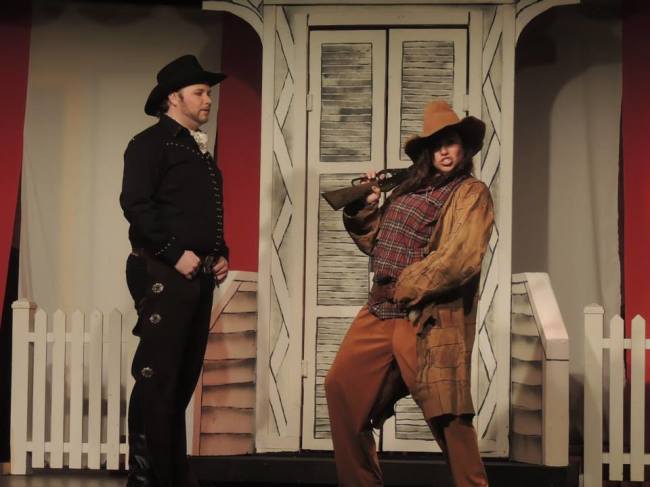 Accenting the show's aesthetic Kiska throws his hat into the ring with various outfits across the board, co-created by Costumers Jessica Billones and Samn Huffer. The trio provide the actors with a veritable menagerie of old western style costumes, from hats and chaps to vests and jackets with fringes a mile long. Even Chief Sitting Bull has an extravagant headdress that is as long as he is tall! The spectacle never ends in this show about show business with these three creating the costumes; a perfect fit for a show of this nature.
Choreographer Dee Buchanan sidles in a fair bit of fleet-footed boot-scootin' throughout the production to really ground the notion of the wild-west into the dancing elements of the show. While the dances are not always executed in the most perfect of synchronization, they are on the whole quite crisp and relatively clean. "My Defenses Are Down" becomes a hilarious routine with the backup cowboys sloopin' and scootin' all across the stage while "I Got the Sun in the Morning" becomes a great show of classier dance moves.
Volume at times becomes an issue for the performers. There are voices that fade off from some of the supporting characters; jokes and one-liners that are lot due to a lack of projection. This happens occasionally in some of the solo numbers featuring Frank Butler (Jordan B. Stocksdale) as well. But projection issues aside, the show is charming, humorous and a feel-good classic that keeps the audience involved right down to the finale number.
Musical Director Jordan B. Stocksdale works the ensemble into something that resembles the sound of an old vaudeville show; just the right amounts of camp and sincerity balanced against one another. Three voices in his ensemble stand out during "Moonshine Lullaby" labeled only as 'the trio.' Charlie Cizek, Daniel Hafer, and Thomas Stratton blend a trio of harmonies in the background of Annie's solo that are so sweet it is easy to drift off into their sound. Another voice that sails above the ensemble is soprano Melissa Ann Martin, clearly recognizable with her upper range during "I Got the Sun in the Morning."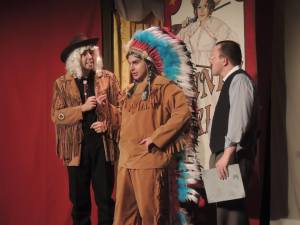 Little moments of comedy and true character development spring forth from supporting characters like Chief Sitting Bull (Brady Love) Buffalo Bill Cody (Ariel Messeca) and Charlie Davenport (Trey T. Kiska.) Each brings a unique dash of spice to the flavorful show, whether it's Kiska and his zingers aimed at Dolly Tate, Love's heap big presence and panache with comic timing, or Messeca's yeehaw attitude, they're shaking up the cameo characters into full-fledged fabulousness. Love's voice can also be heard clear as crystal above the ensemble at the end of "I Got the Sun in the Morning" with a striking deep hold and perfect pitch. Messeca lends his stunning artistic talents to the show by crafting the gorgeous posters of Annie and Frank reminiscent of something straight out of the traveling big top shows of the era.
Along comes Miss Dolly Tate (Tori Weaver) who although never sings a solo in the production, makes her character widely known and easily enjoyed. Weaver's larger than life portrayal of the fussy Dolly Tate is hilarious. Between her nattering at Winnie and her fickle fawning over Frank, she's got the character nailed down to the railroad tracks. It seems unlikely that a character without featured songs in a musical performance would warrant mention, but Weaver's personality is bursting through her tightly trussed corset and the confrontation scene between her character, Chief Sitting Bull and Charlie Davenport is nothing short of uproarious.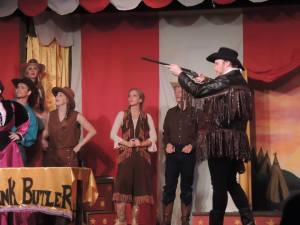 He's the best shot there is in the old west, Mister Frank Butler (Jordan B. Stocksdale) but he's really no contender for the wily Annie Oakley (Jamie Lea Kiska.) Congenial frenemies from the start, it don't take long for a rollercoaster of love and hate and plenty of other things to spring up between them. Stocksdale and Lady Kiska are the smokin' guns of the old west as it were in this production. Stocksdale's cool and collected nature makes him a shoe-in with that slightly pompous characterization needed to achieve a successful portrayal of Frank Butler. His opening solo for "There's No Business like Show Business" is sweet, serene and one of his strongest moments in the show. He gets a hiccup in his heartstrings for "My Defenses are Down," and croons along to this old cowboy song with melodious ardor. The duet that Stocksdale shares with Kiska, "Anything You Can Do" is an absolute scream; the pair playing the song up to its full comic potential.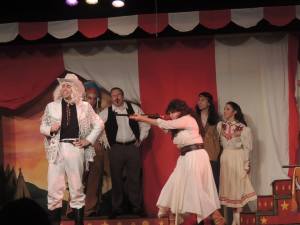 Jamie Lee Kiska is truly a diamond glittering in the rough. In the extremely filthy, crass, and murky rough, mind you, but she sparkles with great radiance amid all the grime regardless. Her portrayal of the gritty gun-totin' vagrant is second to none in this production; her characterization so fully committed that you'd believe she really was a backwoods hick. Her accent is exceptional, a real caricature of the character's nature and her starting gestures and postures are as far from feminine as the wild west is from France. Watching the evolutionary process that Kiska takes the character through is impressive as there are still elements of wild Annie left inside the polished and educated version. Rounding out her performance with bliss is Kiska's singing voice; strong and robust yet gentle where it needs to be like in "Moonshine Lullabye." Comic and giddy for "You Can't Get a Man with a Gun," and broken for the reprise of that same song; Kiska runs the gambit of emotional excellence in this production. A true star, she is worthy of the title role and does the character a great justice with her portrayal.
Running Time: 2 hours and 20 minutes with one intermission
Annie Get Your Gun plays through October 11, 2014 at The Way Off Broadway Dinner Theatre— Willowtree Plaza at 5 Willowdale Lane in Frederick, MD. Tickets are available for purchase by calling (301) 662-660 or by stopping by the box office in person during normal business hours.